Daily Review for January 29, 2021
January 29, 2021, 10:49
Yesterday the market recovered part of Wednesday's losses. However, the pandemic is pushing assets lower today
Portfolios have hedged with silver leaving out Gold and Bitcoin
EURUSD waiting for trend. Traders await German GDP data
Dow Jones and global stock indexes remain in the red zone. European opening bearish and traders waiting for Wall Street to set the trend
DAX down and towards 13,000 points. Traders are paying attention to the conflict between the European Union and AstraZeneca
---
SILVER +2.48%
Silver continues its upward momentum. Yesterday, it rose 5%. It is currently up 2.48% and is trading at USD$26.55. The euphoria on Wall Street has generated strange but interesting moves in the market. During this week, Reddit, a forum for retail traders, started to mark buy positions in Gamestop. With millions of followers, Gamestop share price rose 635% in five days. Another event that happened this week was one of Elon Musk's tweets, where he told his followers to use Signal, an instant messaging app, basically a competitor to Whatsapp. However, Wall Street found with the name Signal, a small-cap pharmaceutical company and started strong buying positions, which drove the share price up by 1,500%. These movements have caused investment funds and institutional investors to hedge their portfolios in silver.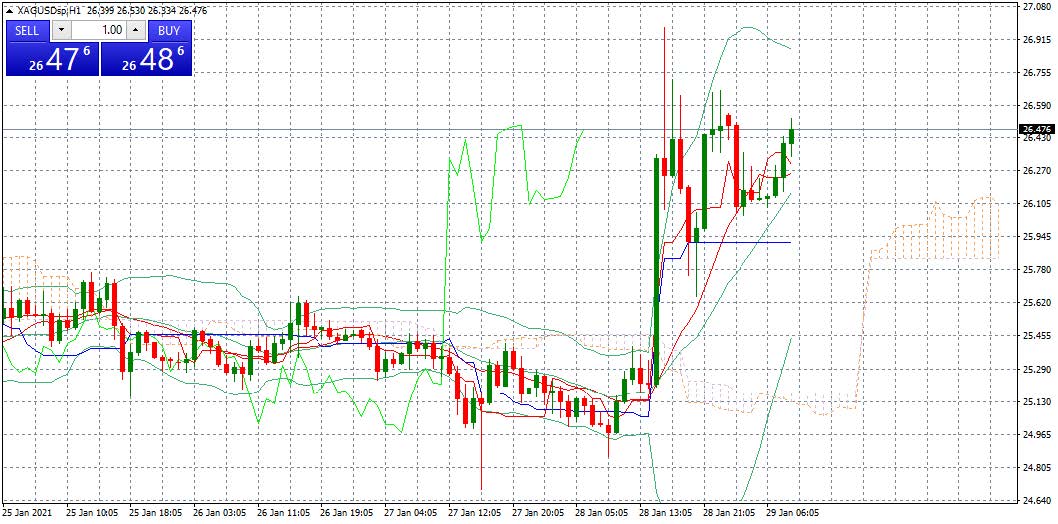 Support 1: 22.90
Support 2: 21.13
Support 3: 18.60
Resistance 1: 28.27
Resistance 2: 29.86
Resistance 3: 30.74
Pivot Point: 25.14
The bullish trend of the metal may place the price at the Bulls target of USD$29.86 and then reach the resistance of USD$30.74. Main support is at USD$24.
---
EURUSD -0.13%
The currency is currently down 0.13% and is trading at 1.2099. In today's market session we will see the German GDP data, which may generate volatility in the currency. Meanwhile, traders marked positions and the currency reacted to the 4% USA GDP data for Q4 2020 that was released yesterday. Market analysts expect the German economy to contract by 3.4% in Q4 2020.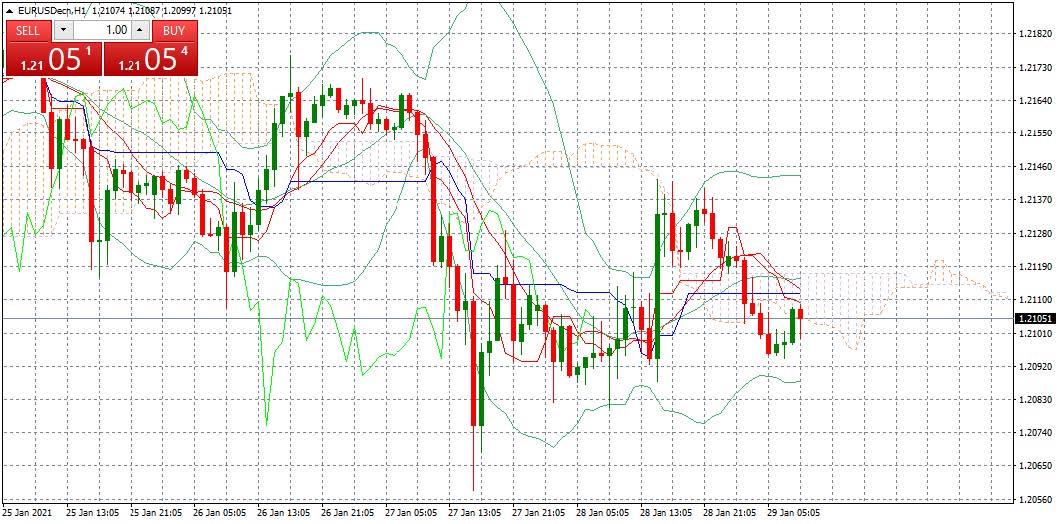 Support 1: 1.2145
Support 2: 1.2011
Support 3: 1.1911
Resistance 1: 1.2239
Resistance 2: 1.2336
Resistance 3: 1.2409
Pivot Point: 1.2111
The currency is into a downtrend. Price is above the 1.2050 support. Bearish crossover between the 25-day and 15-day moving averages. Bears are pointing to 1.2000 support. Pivot point at 1.2111.
---
DOW JONES -1.27%
On Wednesday 27th 2020 the market witnessed the most significant sell-off in the last 3 months. The Dow Jones had dropped 600 points. The fall in market asset prices was caused by the sell-off of hedge funds, which punished retail traders, who had inflated the price of assets such as Gamestop and Signal. Yesterday, the market recovered much of the fall, but today, the market opened in Europe in a bearish zone as a result of vaccine delays and the pandemic. Meanwhile the index is currently down 1.27% and is trading at 30,159.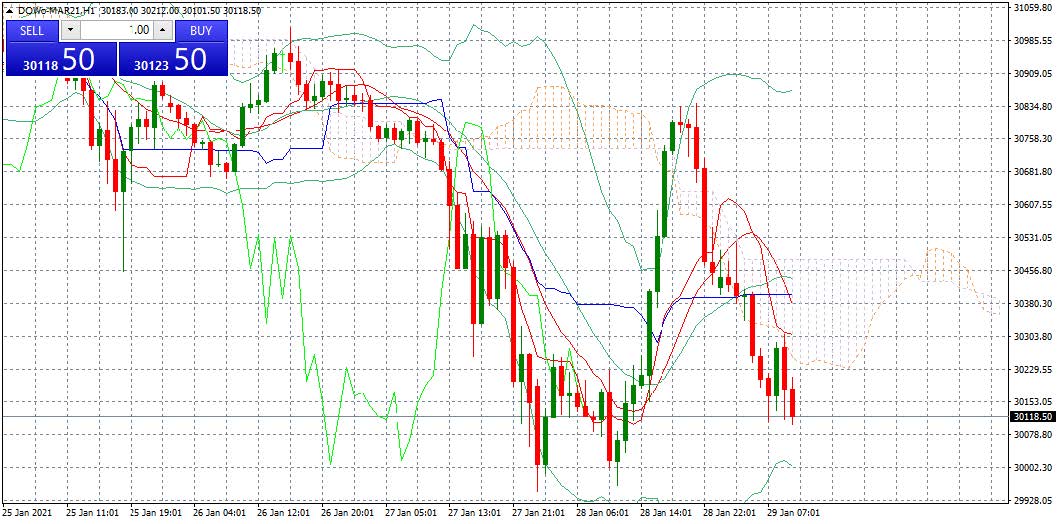 Support 1: 30,108.4
Support 2: 30,015.2
Support 3: 29,913.4
Resistance 1: 30,303.4
Resistance 2: 30,405.2
Resistance 3: 30,498.4
Pivot Point: 30,210.2
Expected trading range between 30,108 and 30,498. Pivot point for change in trend at 30,210. Bulls have managed to keep the index above the 30,000 support. Traders are aware of volatility today. Possible correction of assets mainly equities. Neutral outlook.
---
DAX 30 – 1.28%
The German index has entered a downward phase. It is currently down 1.28% and is trading at 13,490. One of the reasons for this sharp fall is due to the current conflict between the European Union and AstraZeneca over the failure to deliver covid-19 vaccines for Europe. Germany was one of the EU members that recommended the AstraZeneca vaccine, so the market is punishing the index. The market is waiting for Germany's Q4 2020 GDP data.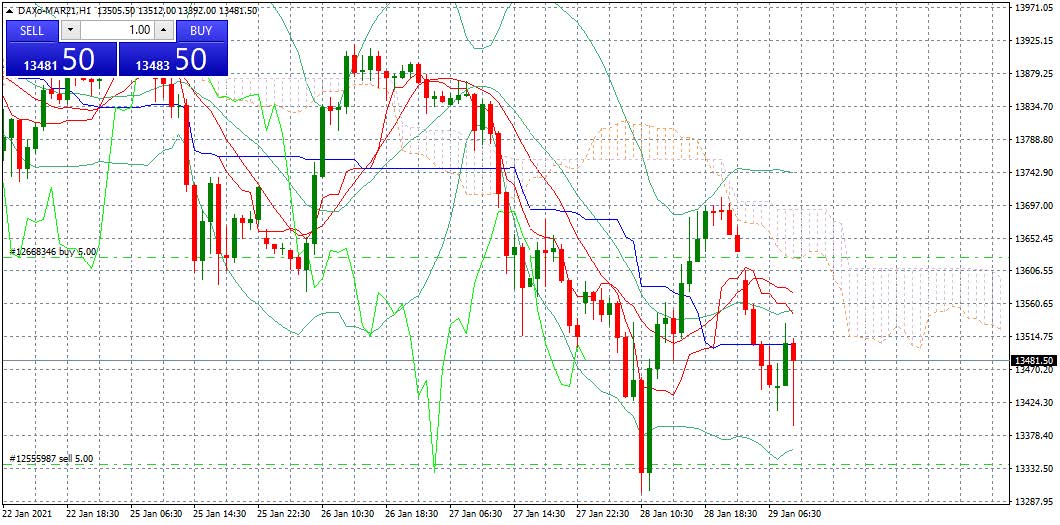 Support 1: 13,447.4
Support 2: 13,412.2
Support 3: 13,369.4
Resistance 1: 13,525.4
Resistance 2: 13,568.2
Resistance 3: 13,603.4
Pivot Point: 13,490.2
The index formed a retracement triangle and is forming a shoulder head shoulder pattern, which could mean further decline. The Bears are looking to break the 13,000 support and take the price back to the 12,800 area. Pivot point at 13,490.
---
Sources
Reuters
Market watch
Bloomberg
Capitalix Market Research
Risk Disclaimer
Any information/articles/materials/content provided by Capitalix or displayed on its website is intended to be used for educational purposes only and does not constitute investment advice or a consultation on how the client should trade.
Although Capitalix has ensured that the content of such information is accurate, it is not responsible for any omission/error/miscalculation and cannot guarantee the accuracy of any material or any information contained herein.
Therefore, any reliance you place on such material is strictly at your own risk. Please note that the responsibility for using or relying on such material rests with the client and Capitalix accepts no liability for any loss or damage, including without limitation, any loss of profit which may arise directly or indirectly from the use of or reliance on such information.
Risk Warning: Forex/CFDs trading involves significant risk to your invested capital. Please read and make sure that you fully understand our Risk Disclosure Policy.
You should ensure that, depending on your country of residence, you are allowed to trade Capitalix.com products. Please ensure that you are familiar with the company's risk disclosure.
Want to read more?
Login and enjoy all Daily Analysis articles