Daily Review for September 27, 2021
September 27, 2021, 6:54
The market starts the week with upward movements in Wall Street indices, mixed movements in Europe, Asia in positive territory, cryptos up, as well as commodities in the energy segment.
Traders are watching the results of the German elections. The partial results show a near tie between the Social Democrats and the Conservatives.
WTI is approaching USD$80 per barrel. 16% of Gulf of Mexico production capacity remains idle.
Crypto market not opaqued by China's restrictions. Bitcoin seeks USD$45,000.
Wall Street indices in positive territory. Traders are keeping an eye on Evergrande.
---
DAX 40 +0.33%
Traders are awaiting the final results of the German elections. Partial results show the Social Democrat Olaf Scholz as the winner. Meanwhile, the DAX 40 is up 0.33% and is trading at 15,584. On the other hand, stock indexes in Europe are mixed, awaiting statements from the European Central Bank and the German BUBA (German Central Bank). In Asia, markets are in positive territory for the moment, awaiting statements from Evergrande.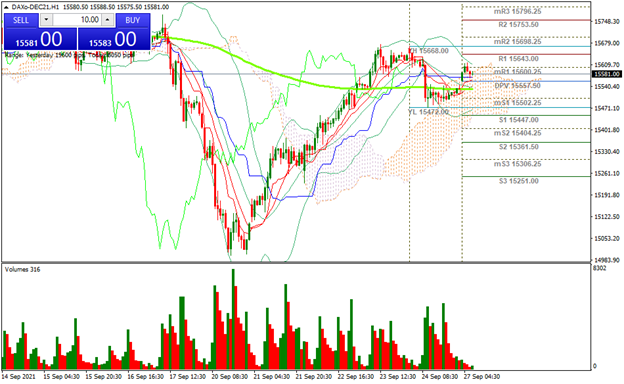 Support 1: 15,574.1
Support 2: 15,567.3
Support 3: 15,561.1
Resistance 1: 15,587.1
Resistance 2: 15,593.3
Resistance 3: 15,600.1
Pivot Point: 15,580.3
The index closed the week at 15,668. During the Asian session, the price dropped to support 1, and has been recovering positions above the 200-day moving average and at the level of resistance 1. Trading range between 15,561 and 15,600. Pivot point for trend change at 15,580.
---
WTI +1.42%
Crude oil is currently up 1.42% and is trading at USD$75.03 per barrel. Commodity prices in the energy segment are rising significantly. Natural Gas is up 3.10%. Brent is up 1.23% and is close to USD$80 per barrel. The price of energy in Europe continues to rise, and other continents are also experiencing an increase in energy prices. 16% of the oil production in the Gulf of Mexico continues without operation.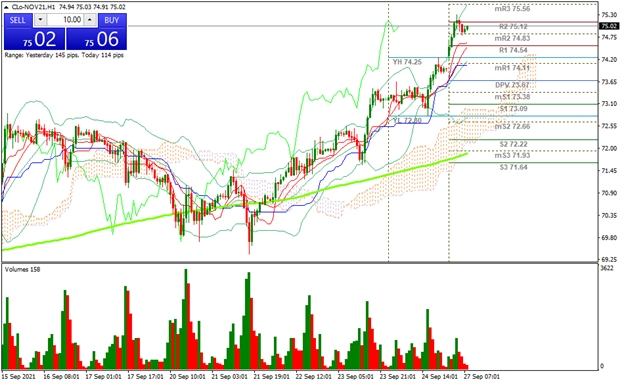 Support 1: 74.87
Support 2: 74.78
Support 3: 74.70
Resistance 1: 75.04
Resistance 2: 75.12
Resistance 3: 75.21
Pivot Point: 74.95
Price is at resistance 2. Good rally from the support of USD$69.80. Next Bulls target is USD$80 per barrel. Trading range between USD$74.70 and USD$75.21. Pivot point at USD$74.95. RSI in overbought zone.
---
BITCOIN +4.66%
The cryptocurrency market is in positive territory. China's restrictions of the market did not have a major impact on cryptocurrency prices. Bitcoin is currently in a recovery phase where it is up 4.66% and is trading at USD$44,037. Ethereum is currently up 10.13% and is trading at USD$3,128.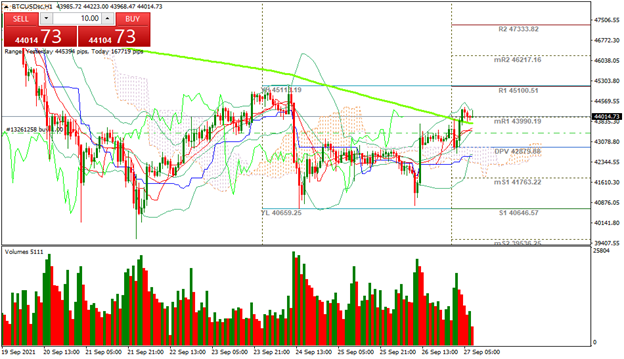 Support 1: 43,931.0
Support 2: 43,837.3
Support 3: 43,764.2
Resistance 1: 44,097.9
Resistance 2: 44,171.1
Resistance 3: 44,264.7
Pivot Point: 44,004.2
The price is looking for resistance 1 at USD$45,100. If this level is reached, a double top would be formed, so the volume of long positions should be greater than shorts positions in order that the price reachs the next target level of USD$47,333. Pivot point at USD$44,001. RSI neutral.
---
DOW JONES +0.51%
On Wall Street, the week begins with stock index futures in positive territory. The Dow Jones is currently up 0.51% and is trading at 34,850. The S&P500 is up 0.47% and the Nasdaq 100 is up 0.42%. Traders are keeping an eye on the Evergrande case. The company's auto branch has filed for insolvency. In the event that the company defaults, it could generate a contagion effect in the markets, since it would default on payments to banks, which have a high exposure to the company's debt.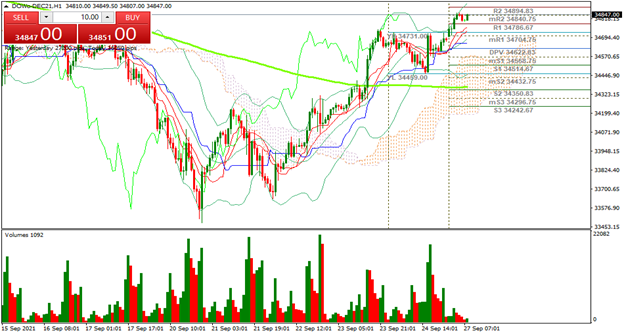 Support 1: 34,933.7
Support 2: 34,924.2
Support 3: 34,916.7
Resistance 1: 34,950.7
Resistance 2: 34,958.2
Resistance 3: 34,967.7
Pivot Point: 34,941.2
Price is at resistance 2. Expected trading range between 34,916 and 34,967. Pivot point for trend change at 34,941. RSI in overbought zone. Bulls' next target is 35,058.
---
Sources
Reuters
Market watch
Bloomberg
Capitalix Market Research
Risk Disclaimer
Any information/articles/materials/content provided by Capitalix or displayed on its website is intended to be used for educational purposes only and does not constitute investment advice or a consultation on how the client should trade.
Although Capitalix has ensured that the content of such information is accurate, it is not responsible for any omission/error/miscalculation and cannot guarantee the accuracy of any material or any information contained herein.
Therefore, any reliance you place on such material is strictly at your own risk. Please note that the responsibility for using or relying on such material rests with the client and Capitalix accepts no liability for any loss or damage, including without limitation, any loss of profit which may arise directly or indirectly from the use of or reliance on such information.
Risk Warning: Forex/CFDs trading involves significant risk to your invested capital. Please read and make sure that you fully understand our Risk Disclosure Policy.
You should ensure that, depending on your country of residence, you are allowed to trade Capitalix.com products. Please ensure that you are familiar with the company's risk disclosure.
Want to read more?
Login and enjoy all Daily Analysis articles