Daily Review for September 23, 2021
September 23, 2021, 7:32
Equity markets rebound. Fixed income and metals down.
Evergrande reaches a first agreement for the payment of the obligation due today.
Global financial analysts track Evergrande's debt and liquidity levels to mark the level of contagion.
Dow Jones and Wall Street indices in positive territory on the Fed's decision to leave interest rates unchanged.
The Fed would start tapering with the reduction of bond purchases from November 2021 with a duration of one year.
Cryptos rebound. El Salvador started buying at the USD$40,000 level. Traders re-enter the market, looking for the target at USD$48,000.
German elections continue. The index seeks to get out of the market turbulence and resume the uptrend.
---
DOW JONES +0.32%
The equity market is rebounding strongly, following the liquidity injection to be obtained by Evergrande and the agreement with one of its creditors for the payment of the financial obligation due today (USD$35.9 million to be paid by the company today, on USD$83 million of debt outstanding today). Indices are also rising in response to statements by Jerome Powell as Fed Chairman, who said that interest rates will remain unchanged at 0.25% and that the start of tapering will be from November 2021. Initially it will be focus on the reduction of bond purchases that will last one year.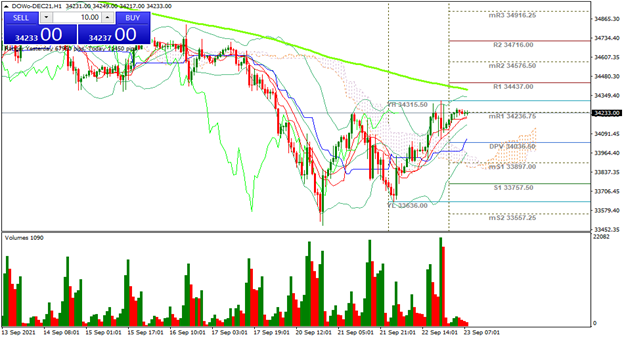 Support 1: 34,347.3
Support 2: 34,328.0
Support 3: 34,313.3
Resistance 1: 34,381.3
Resistance 2: 34,396.0
Resistance 3: 34,415.3
Pivot Point: 34,362.0
The index is at a double top at resistance 1. The price is approaching the 200-day moving average. Trading range between 34,313 and 34,415. Pivot point at 34,362. RSI approaching the overbought zone. If the upward momentum continues, the index could climb towards 34,716.
---
GOLD -0.71%
Fixed income instruments and metals are in negative territory, following the Fed's plan to start tapering in November. Bond yields were the first to be impacted, as the instrument on which the FED will start tapering on. Meanwhile, the equity rally is attracting investors' attention. Meanwhile, traders are looking ahead to the Bank of England meeting, where the BoE will make a decision on interest rates. Analysts expect the Bank to leave rates unchanged at 0.10%. This could have a reaction on the metal.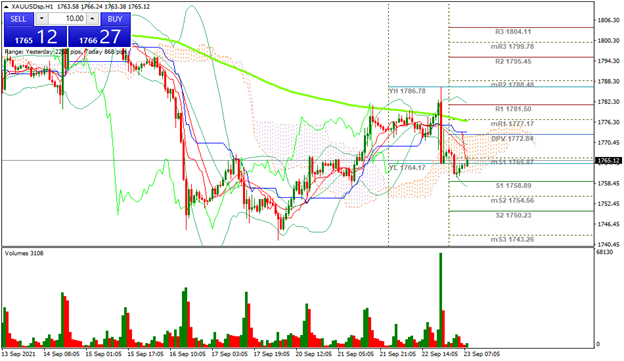 Support 1: 1,763.69
Support 2: 1,762.82
Support 3: 1,762.19
Resistance 1: 1,765.19
Resistance 2: 1,765.82
Resistance 3: 1,766.69
Pivot Point: 1,764.32
The price is in the Ichimoku cloud, which projects the price towards USD$1,770. Gold is below the 200-day moving average. Trading range between USD$1,762 and USD$1,766. Pivot point for trend change at USD$1,764. RSI neutral.
---
BITCOIN +4.55%
Cryptos are starting to rebound after two days of declines. Bitcoin is currently up 4.55% and is trading at USD$43,912. El Salvador started buying the crypto, when the Bitcoin fell to the USD$40,000 support level. Traders have started to enter the market after Evergrande is reportedly reaching payment agreements with creditors and that the Fed kept interest rates unchanged. If investor interest increases, the price could climb towards USD$48,000.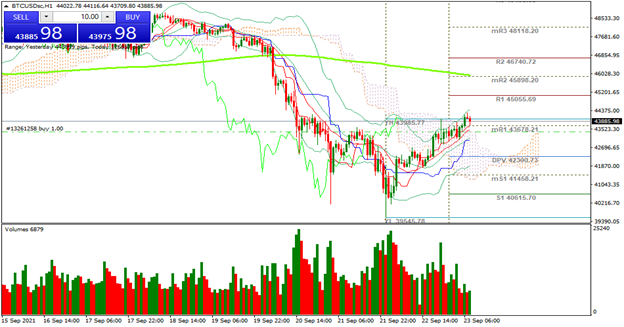 Support 1: 43,960.3
Support 2: 43,874.9
Support 3: 43,717.4
Resistance 1: 44,203.3
Resistance 2: 44,360.9
Resistance 3: 44,446.3
Pivot Point: 44,117.9
The price marked an interesting rebound, after the decline towards USD$39,390. From this level, investors started buying, pushing the price to the current level. Expected trading range between USD$43,717 and USD$44,446. RSI neutral. As long as the price is above USD$40,000, the Bulls can gain ground.
---
DAX 40 +0.63%
Traders continue to follow the outcome of the German elections. Everything seems to indicate that the candidate Olaf Scholz of the Social Democratic Party will win the election. Germany's private sector is watching carefully the transition of power. Companies CEOs do not know whether Scholz will maintain Merkel's economic policy or whether there will be unexpected changes. Meanwhile, the DAX 40 is up 0.63% and is trading at 15,588. Traders are keeping an eye on Germany's composite, manufacturing and services PMI.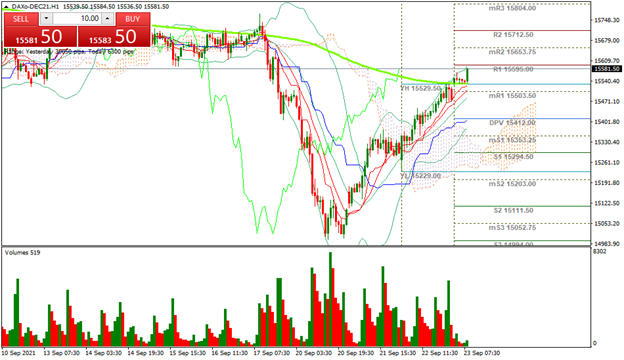 Support 1: 15,543.0
Support 2: 15,526.0
Support 3: 15,517.0
Resistance 1: 15,569.0
Resistance 2: 15,578.0
Resistance 3: 15,595.0
Pivot Point: 15,552.0
Good rebound from the 14,983 level. Uptrend. After Evergrande's turbulence, the index could resume the uptrend, driven by the diversification of the index. If the trend continues, the price could reach 15,804. Pivot point at 15,552. RSI in overbought zone.
---
Sources
Reuters
Market watch
Bloomberg
Capitalix Market Research
Risk Disclaimer
Any information/articles/materials/content provided by Capitalix or displayed on its website is intended to be used for educational purposes only and does not constitute investment advice or a consultation on how the client should trade.
Although Capitalix has ensured that the content of such information is accurate, it is not responsible for any omission/error/miscalculation and cannot guarantee the accuracy of any material or any information contained herein.
Therefore, any reliance you place on such material is strictly at your own risk. Please note that the responsibility for using or relying on such material rests with the client and Capitalix accepts no liability for any loss or damage, including without limitation, any loss of profit which may arise directly or indirectly from the use of or reliance on such information.
Risk Warning: Forex/CFDs trading involves significant risk to your invested capital. Please read and make sure that you fully understand our Risk Disclosure Policy.
You should ensure that, depending on your country of residence, you are allowed to trade Capitalix.com products. Please ensure that you are familiar with the company's risk disclosure.
Want to read more?
Login and enjoy all Daily Analysis articles