Daily Review for September 21, 2021
September 21, 2021, 7:01
Equities start to rebound, looking to recover part of yesterday's fall.
Banks evaluate their exposure to Evergrande's debt. S&P expects the company to default. On Thursday it has an obligation to pay the maturity of a big financial obligation. Traders are holding gold and fixed income in portfolios.
If the market gets the confidence it needs, the Dow Jones could recover the 600 points it fell yesterday. FOMC meets to discuss Evergrade contagion level. Tapering remains on the agenda this week.
Christine Lagarde will present the ECB's stance on the economy and Evergrade contagion in European markets.
Metals are sideways as traders set the trend.
Cryptos remain in negative territory. El Salvador initiates purchases at this level to increase its Bitcoin reserves.
---
DOW JONES +0.67%
After yesterday's major market correction, stock index futures are turning around and starting to rebound. At the moment, the Dow Jones is up 0.67% and is trading at 34,198. Yesterday, Wall Street closed with significant losses. Dow Jones fell 614 points, the S&P500 fell 75 points, and the Nasdaq 100 fell 330 points. Today, we will have the U.S. building permits data, which is an indicator of the economy's performance. The FOMC will have a meeting to evaluate the Evergrande contagion in the markets. According to some members, tapering is still on the agenda for this week.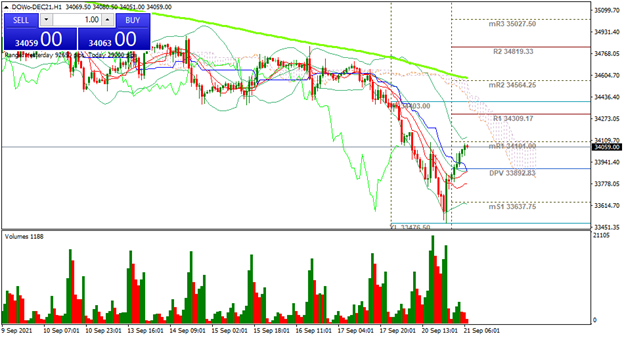 Support 1: 34,157.4
Support 2: 34,102.3
Support 3: 34,071.0
Resistance 1: 34,243.8
Resistance 2: 34,275.1
Resistance 3: 34,330.2
Pivot Point: 34,188.7
Price started the recovery from support 1. At this moment it is heading to resistance 1. Trading range between 34,071 and 34,330. Pivot point for trend change at 34,188. RSI neutral. If there is a complete rebound, the price could reach 34,800.
---
DAX 40 +0.58%
The DAX 40 had a turbulent opening. However, today the index is changing its trend. The main factor behind the market decline was the risk of default on Evergrande's debt maturity. A block of the company's debt matures on Thursday, and the company is experiencing liquidity problems. Due to the above and the size of the company, it could generate a contagion effect to the global markets. At the moment, the DAX 40 is up 0.58% and is trading at 15,188. Today we will have statements from ECB President Christine Lagarde.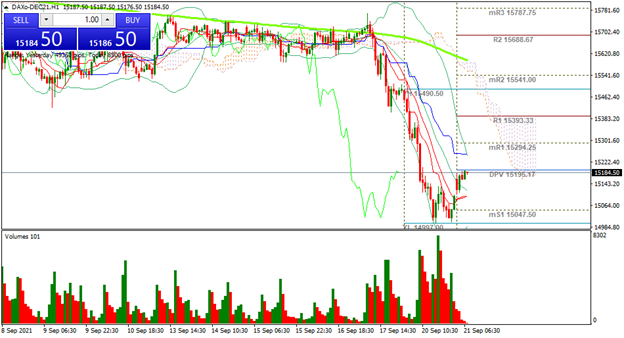 Support 1: 15,164.6
Support 2: 15,146.8
Support 3: 15,134.1
Resistance 1: 15,195.1
Resistance 2: 15,207.8
Resistance 3: 15,225.6
Pivot Point: 15,177.3
The index is bouncing from support 1. At the moment it is at the pivot point, so it can generate a change of trend. Trading range between 15,134 and 15,225. Pivot point at 15,177. RSI neutral.
---
GOLD -0.07%
Gold prices showed an interesting rise yesterday as the equity market collapsed. However, during today's Asian session, the metal started to decline 0.07% to the current level of USD$1,760 per troy ounce. Traders are nonetheless keeping their position in the metals, ahead of a possible major correction considering that Evergrande has a block of debt maturing with a high probability of default on Thursday.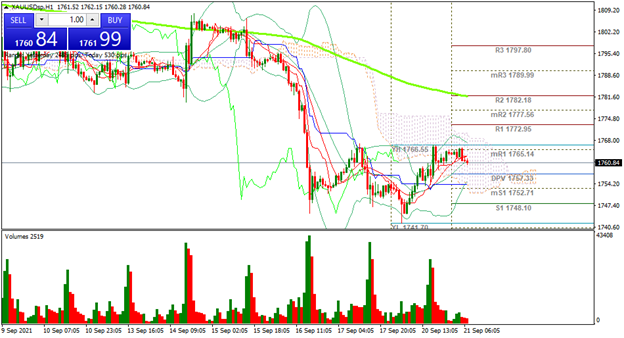 Support 1: 1,761.81
Support 2: 1,761.18
Support 3: 1,760.11
Resistance 1: 1,763.51
Resistance 2: 1,764.58
Resistance 3: 1,765.21
Pivot Point: 1,762.88
The metal could move sideways while traders confirm the trend. The price is between resistance 1 and the pivot point. Trading range between USD$1,760 and USD$1,765. Pivot point at USD$1,762. RSI neutral.
---
BITCOIN -7.19%
Equities and fixed income remain in positive territory. Equities are looking for a rebound and fixed income because traders are holding positions to mitigate volatility risk. Cryptos have failed to rebound from yesterday's drop and remain in a downtrend today. Bitcoin is currently down 7.19% and is trading at USD$42,390. With the current drop, El Salvador stated that it started buying the crypto to increase its Bitcoin reserves. Traders are expecting a turnaround, driven by the Nasdaq 100.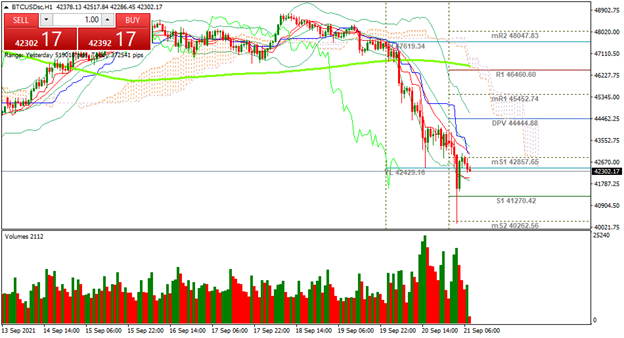 Support 1: 42,222.8
Support 2: 42,014.3
Support 3: 41,712.6
Resistance 1: 42,733.0
Resistance 2: 43,034.7
Resistance 3: 43,243.1
Pivot Point: 42,524.5
The price is below the 200-day moving average, which is a bearish signal for Bitcoin. At the moment, the price is at support 1. Bitcoin reached USD$40,262, but managed to bounce to the current level. Pivot point at USD$42,524. RSI neutral.
---
Sources
Reuters
Market watch
Bloomberg
Capitalix Market Research
Risk Disclaimer
Any information/articles/materials/content provided by Capitalix or displayed on its website is intended to be used for educational purposes only and does not constitute investment advice or a consultation on how the client should trade.
Although Capitalix has ensured that the content of such information is accurate, it is not responsible for any omission/error/miscalculation and cannot guarantee the accuracy of any material or any information contained herein.
Therefore, any reliance you place on such material is strictly at your own risk. Please note that the responsibility for using or relying on such material rests with the client and Capitalix accepts no liability for any loss or damage, including without limitation, any loss of profit which may arise directly or indirectly from the use of or reliance on such information.
Risk Warning: Forex/CFDs trading involves significant risk to your invested capital. Please read and make sure that you fully understand our Risk Disclosure Policy.
You should ensure that, depending on your country of residence, you are allowed to trade Capitalix.com products. Please ensure that you are familiar with the company's risk disclosure.
Want to read more?
Login and enjoy all Daily Analysis articles