Daily Review for September 01, 2021
September 1, 2021, 7:36
Commodity traders are attentive to the OPEC+ meeting. Crude oil inventories decreased by 4 million in the US. Crude oil prices are close to USD$70 per barrel. Possible continuation of gradual monthly production increase.
European indices start the month with significant gains. Traders have sold the spot and started to buy futures. The market is attentive to the German elections. Retail sales did not exceed market expectations. Bundesbank President Jens Weidmann will announce the bank's economic outlook.
Wall Street indices also start the month in green. High trading volume is expected during September as a result of the full trading operation of Hedge Funds. The S&P500 is projected to reach 5,000 points.
Gold prices are trying to form a bullish channel. Traders have started to buy the metal in order to profit from the NFP. Likewise, they do not want any surprises ahead of the Non-Farm Payrolls.
---
CRUDE OIL +0.80%
OPEC+ will hold a meeting today to assess the current level of production, demand and the impact of the Delta variant on the crude oil market. Crude oil inventories in the United States decreased by 4 million barrels, which could provide a margin in the market balance to slightly increase crude oil production in the short term. This has generated an upward movement in the price, which is currently up 0.80%. A barrel of crude oil is trading at the moment at USD$69.11.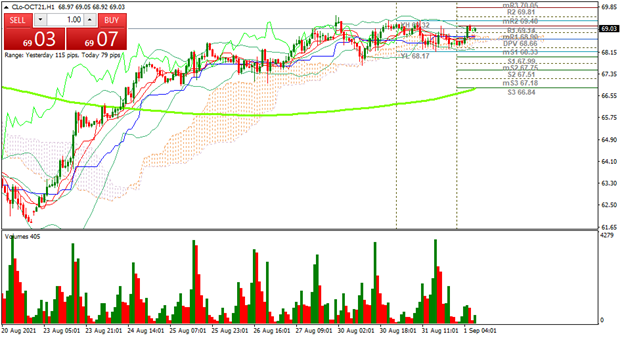 Support 1: 68.93
Support 2: 68.90
Support 3: 68.85
Resistance 1: 69.01
Resistance 2: 69.06
Resistance 3: 69.09
Pivot Point: 68.98
The price is above the 200-day moving average. Possible triple top at USD$69. Sideways movement above this area. RSI neutral, so the price could continue above the resistance. Price could go directly above USD$70 depending on OPEC+ conclusions.
---
DAX 30 +0.37%
September begins and traders and investment funds are fully back in the market. The German elections are approaching, and traders start to evaluate the scenarios. On the other hand, Bundesbank President Jens Weidmann will announce the bank's economic outlook. Meanwhile, the DAX 30 reacts to German retail sales, which failed to beat market expectations. Despite this, the DAX remains bullish, with investors now focusing on the manufacturing PMI and the unemployment rate.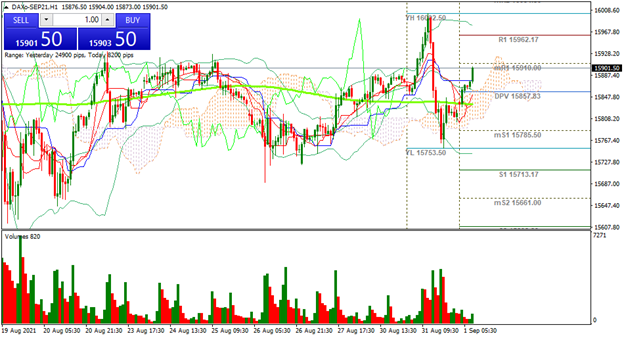 Support 1: 15,868.5
Support 2: 15,860.0
Support 3: 15,853.0
Resistance 1: 15,884.0
Resistance 2: 15,891.0
Resistance 3: 15,899.5
Pivot Point: 15,875.5
The index reached 16,000 points, however retail sales made it correct to 15,753 points. From this level, the price rebounded and is at the resistance 1. Trading range between 15,853 and 15,899. Pivot point at 15,875. RSI neutral.
---
DOW JONES +0.32%
Wall Street indices start the month in positive territory. A significant trading volume is expected during the month, as a result of the start of operations of investment funds that were in medium capacity during August. The Dow Jones closed the month at 35,360 points. At this moment the index future is up 0.32% and is trading at 35,473, which indicates that traders have started to sell the spot and buy the future. The global indices remain in positive territory.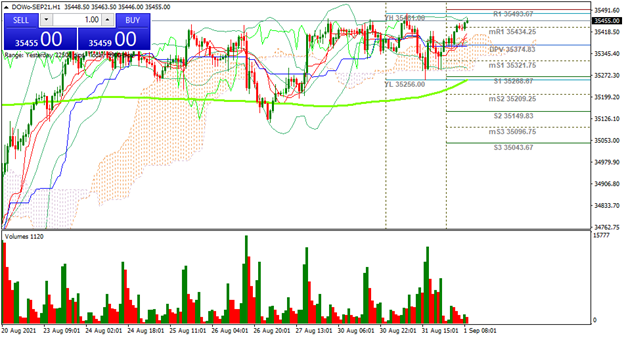 Support 1: 35,440.0
Support 2: 35,423.7
Support 3: 35,412.0
Resistance 1: 35,468.0
Resistance 2: 35,479.7
Resistance 3: 35,496.0
Pivot Point: 35,451.7
The price is above the 200-day moving average. Triple top zone, so the index could overcome this area and reach 35,600 or retreat towards 35,300. Expected trading range between 35,412 and 35,496. Pivot point for trend change at 35,451. RSI neutral.
---
GOLD +0.10%
The price of gold is currently up 0.10% and is trading at USD$1,815 per Troy ounce. Traders are starting to buy gold to take advantage of the volatility of the NFP. Although the U.S. economy is in full recovery, and companies are hiring a significant volume of staff, traders do not want surprises in the non-farm employment indicator. Bulls see the possibility of USD$1,850 close. Even with new variants of the virus emerging, the price could reach USD$2,000.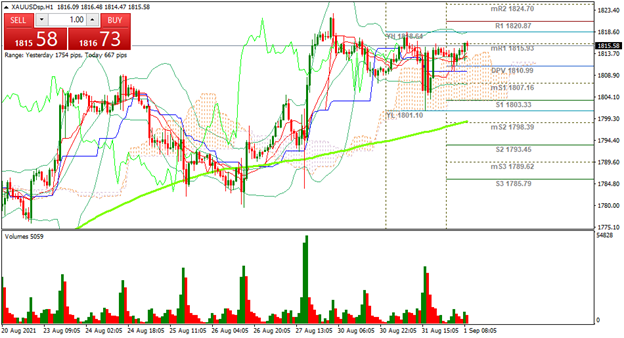 Support 1: 1,813.56
Support 2: 1,811.73
Support 3: 1,810.68
Resistance 1: 1,816.44
Resistance 2: 1,817.49
Resistance 3: 1,819.32
Pivot Point: 1,814.61
Price is at resistance 1 and looking for USD$1,824. Possible bullish channel formation. Trading range between USD$1,810 and USD$1,819. Pivot point at USD$1,814. RSI neutral.
---
Sources
Reuters
Market watch
Bloomberg
Capitalix Market Research
Risk Disclaimer
Any information/articles/materials/content provided by Capitalix or displayed on its website is intended to be used for educational purposes only and does not constitute investment advice or a consultation on how the client should trade.
Although Capitalix has ensured that the content of such information is accurate, it is not responsible for any omission/error/miscalculation and cannot guarantee the accuracy of any material or any information contained herein.
Therefore, any reliance you place on such material is strictly at your own risk. Please note that the responsibility for using or relying on such material rests with the client and Capitalix accepts no liability for any loss or damage, including without limitation, any loss of profit which may arise directly or indirectly from the use of or reliance on such information.
Risk Warning: Forex/CFDs trading involves significant risk to your invested capital. Please read and make sure that you fully understand our Risk Disclosure Policy.
You should ensure that, depending on your country of residence, you are allowed to trade Capitalix.com products. Please ensure that you are familiar with the company's risk disclosure.
Want to read more?
Login and enjoy all Daily Analysis articles