Daily review for October 29, 2021
October 29, 2021, 7:23
Companies reporting results today:

U.S. GDP for Q3 2021, failed to beat market expectations. Traders are now focusing on macroeconomic data from Europe.
Investors evaluate the allocation of metals in their portfolios to mitigate the inflationary effect.
Apple and Amazon failed to beat market expectations. Despite this, Nasdaq 100 continues its upward channel.
Gold is attracting traders' attention. Bulls are looking to take it to USD$1,800.
Europe's natural gas reserves dwindle. Governments warn of possible power outages.
---
SILVER -0.57%
U.S. GDP for Q3 2021 came in lower than anticipated. It was reported at 2% vs. 2.7% expected. This indicates that domestic demand is declining, as the main component of US GDP is household consumption. Also, the European Central Bank left interest rates unchanged. The bank kept them at 0%. Today, France reported GDP growth of 3% vs. 2.1% expected for Q3 2021. Traders are now aware of Germany's GDP and Eurozone inflation. As such, positions in metals could to increase, due to the possible impact of macroeconomic data on equities.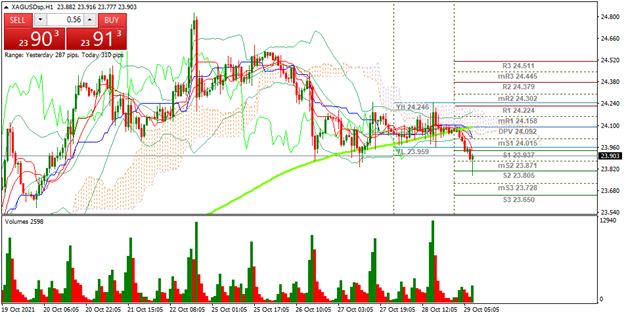 Support 1: 23.985
Support 2: 23.958
Support 3: 23.939
Resistance 1: 24.031
Resistance 2: 24.050
Resistance 3: 24.077
Pivot Point: 24.004
The price is below the 200-day moving average. At the moment it is in the zone of support 1 and 2. Pivot point for trend change at USD$24. RSI near the oversold zone.
---
NASDAQ 100 -0.87%
The index is currently down 0.87% and is trading at 15,641 points. Yesterday, Apple and Amazon presented their results. Starting with Apple, the company obtained an EPS of USD$1.24 vs USD$1.23 expected. However, the crisis in the supply of microchips impacted the company's revenue, which stood at USD$83.36 billion vs USD$84.85 billion expected. On the other hand, Amazon did not exceed investors' expectations, presenting an EPS of USD$6.12 vs USD$8.91 expected and sales of USD$110.81 Billion vs USD$111.62 Billion expected. Stocks are presenting downside movements in the pre market of -3.53% for Apple and -4.05% for Amazon.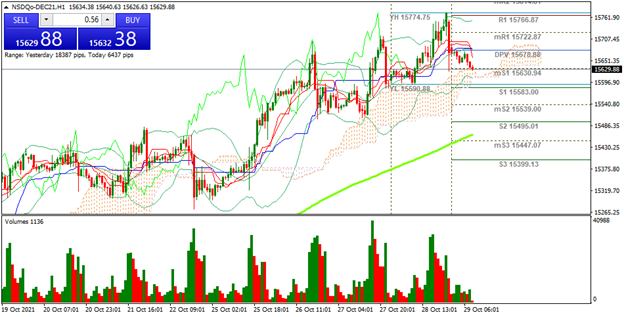 Support 1: 15,645.4
Support 2: 15,637.0
Support 3: 15,628.1
Resistance 1: 15,662.7
Resistance 2: 15,671.6
Resistance 3: 15,680.0
Pivot Point: 15,654.3
The index remains above the 200-day moving average. The ascending channel continues to be marked. Bulls are looking for 16,000 points. Expected trading range between 15,628 and 15,680. RSI neutral.
---
GOLD -0.36%
Inflation continues to be the main topic in the markets. Today we will have the CPI report in the Euro Zone, which is expected to come in at 3.7% YoY. If inflation rises more than expected, there could be an increase in the volume of purchases in metals, in order to mitigate the inflationary effect on portfolios. At the moment, the price of gold is down 0.36% and is trading at USD$1,796.15.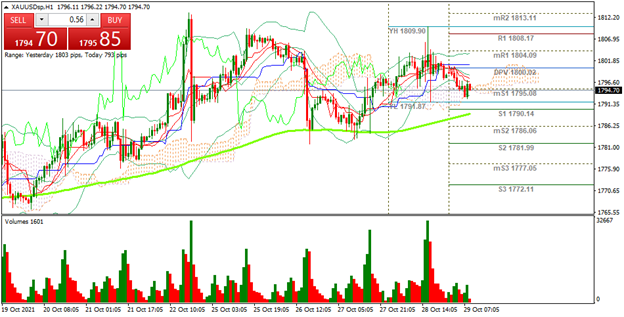 Support 1: 1,796.79
Support 2: 1,795.42
Support 3: 1,794.49
Resistance 1: 1,799.09
Resistance 2: 1,800.02
Resistance 3: 1,801.39
Pivot Point: 1,797.72
Gold is trading slightly above the 200-day moving average. The Ichimoku Cloud is projecting sideways movement above the pivot point area, indicating that traders are aware of the inflation data and taking positions in the metal. Pivot point at USD$1,797. RSI neutral.
---
NATURAL GAS +0.65%
Natural Gas price started to change its trend again after the level of reserves in Europe keep falling. The price broke the USD$6 per BTU zone. At the moment, the commodity is up 0.65% and is trading at USD$5.76 per BTU. Energy prices continue to rise in Europe, and even heads of state have warned the population about possible blackouts. Today Exxon Mobil and Chevron, two of the best integrated Oil & Gas companies in the world, present results.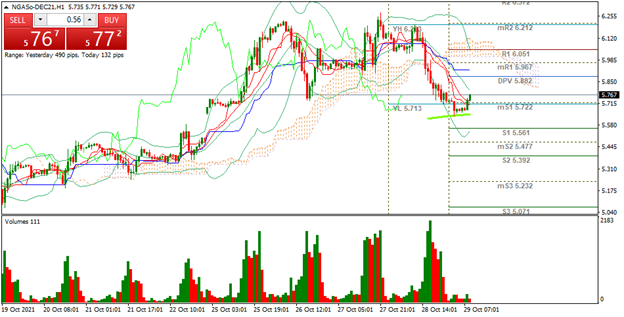 Support 1: 5.691
Support 2: 5.645
Support 3: 5.615
Resistance 1: 5.767
Resistance 2: 5.797
Resistance 3: 5.843
Pivot Point: 5.721
Price is at support 1. Bulls are looking to drive the price towards the USD$6.54 per BTU area. Expected trading range between USD$5.61 and USD$5.84. Pivot point at USD$5.72. RSI neutral.
---
Sources
Reuters
Market watch
Bloomberg
Capitalix Market Research
Risk Disclaimer
Any information/articles/materials/content provided by Capitalix or displayed on its website is intended to be used for educational purposes only and does not constitute investment advice or a consultation on how the client should trade.
Although Capitalix has ensured that the content of such information is accurate, it is not responsible for any omission/error/miscalculation and cannot guarantee the accuracy of any material or any information contained herein.
Therefore, any reliance you place on such material is strictly at your own risk. Please note that the responsibility for using or relying on such material rests with the client and Capitalix accepts no liability for any loss or damage, including without limitation, any loss of profit which may arise directly or indirectly from the use of or reliance on such information.
Risk Warning: Forex/CFDs trading involves significant risk to your invested capital. Please read and make sure that you fully understand our Risk Disclosure Policy.
You should ensure that, depending on your country of residence, you are allowed to trade Capitalix.com products. Please ensure that you are familiar with the company's risk disclosure.
Want to read more?
Login and enjoy all Daily Analysis articles