Daily review for October 28, 2021
October 28, 2021, 8:45
Companies reporting results today:

Bank of Japan kept its interest rate stable (-0.10%).
Crude oil inventories in the United States increased by 4.2 million barrels.
The ECB will make its interest rate decision today. Monetary policy announcements are expected for the end of the year.
Traders are aware of the results of Apple and Amazon. Investors are concerned about the impact of the microchip supply concern on Apple's financials.
Natural Gas corrects. However, inventories of the commodity in Europe are the lowest of the year.
---
WTI -1.26%
WTI price retreated from the USD$85.10 zone after global supply began to recover demand levels. According to the IEA, crude oil inventories in the United States increased by 4.2 million barrels. The supply build-up impacted the prices of crude oil, Brent and derivatives. WTI is currently down 1.26% and is trading at USD$81.61 per barrel. Today, traders are paying attention to the US GDP data, which is the most important indicator of demand. Analysts expect it to come in at 2.7% for Q3 2021.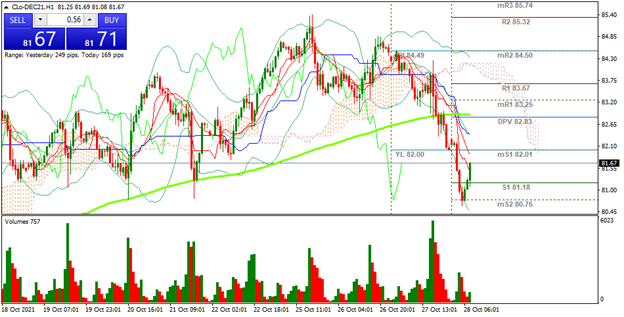 Support 1: 81.10
Support 2: 80.92
Support 3: 80.82
Resistance 1: 81.38
Resistance 2: 81.48
Resistance 3: 81.66
Pivot Point: 81.20
The price is trying to bounce from the support 2. At the moment it is below the 200-day moving average. Triple floor in the current area, so the price could recover the level of resistance 1. Trading range between USD$80.82 and USD$81.66. Pivot point at USD$81.20. RSI leaving the oversold zone.
---
DAX 40 +0.22%
Traders are aware today of several macroeconomic data releases that may indicate signs of economic recovery in Europe. Among them, Spain's CPI, Germany's unemployment rate, the ECB's interest rate decision and Germany's CPI. Finally, the ECB will present its monetary policy results and economic outlook. At the moment the DAX 40 is up 0.22% and is trading at 15,697. Analysts expect economic expansion, driven by the economic stimulus presented by the ECB for market recovery.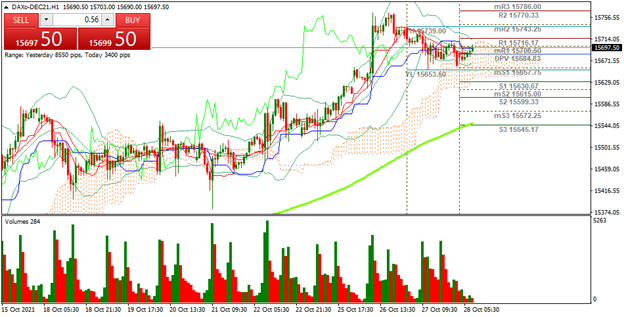 Support 1: 15,684.0
Support 2: 15,677.0
Support 3: 15,673.0
Resistance 1: 15,695.0
Resistance 2: 15,699.0
Resistance 3: 15,706.0
Pivot Point: 15,688.0
Price is above the 200-day moving average. The index is entering the Ichimoku cloud, where it is at the same level of the pivot point, which could lead to a change of trend. The Bulls continue to search for the 16,000 level. RSI neutral.
---
NASDAQ 100 +0.12%
Nasdaq 100 is currently up 0.12% and is trading at 15,619. Today, Apple, Amazon, Baidu, among other companies, will present results. Traders are watching the impact of the microchip supply on Apple's results. On the other hand, traders are watching the U.S. GDP as an indicator of demand. If GDP exceeds expectations, a rally in equities could be presented.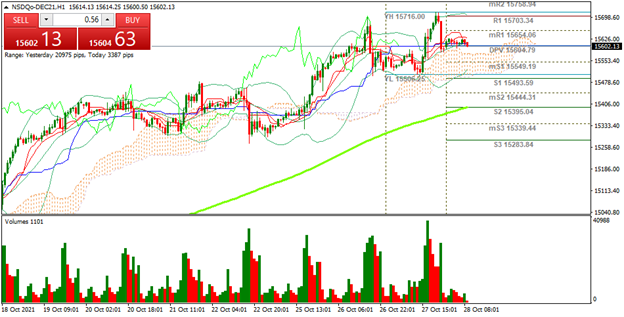 Support 1: 15,620.3
Support 2: 15,614.2
Support 3: 15,603.5
Resistance 1: 15,637.1
Resistance 2: 15,647.8
Resistance 3: 15,653.9
Pivot Point: 15,631.0
The index is still above the 200-day moving average. The price has retreated from the resistance 1 level. At the moment it is close to the pivot point where a change of trend could occur. Trading range between 15,603 and 15,653. Pivot point at 15,631. RSI neutral.
---
NATURAL GAS -1.30%
Natural Gas price is currently falling 1.30% and is trading at USD$6.07 per BTU. Russia's Gazprom started to reduce natural gas exports to Europe. European natural gas reserves are the lowest of the year. As a result, the price could change its trend. Meanwhile, traders are keeping an eye on Royal Dutch Shell's financial results. The ECB is also expected to give its views on the energy crisis in Europe.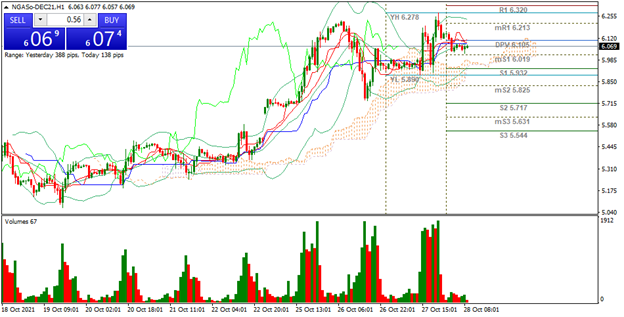 Support 1: 6.038
Support 2: 6.004
Support 3: 5.984
Resistance 1: 6.092
Resistance 2: 6.112
Resistance 3: 6.146
Pivot Point: 6.058
At this moment the price is at the pivot point, so a change of trend could occur. If the price bounces, it would try to look for the USD$6.70 zone. Expected trading range between USD$5.98 and USD$6.14. Pivot point at USD$6.05. Neutral RSI.
---
Sources
Reuters
Market watch
Bloomberg
Capitalix Market Research
Risk Disclaimer
Any information/articles/materials/content provided by Capitalix or displayed on its website is intended to be used for educational purposes only and does not constitute investment advice or a consultation on how the client should trade.
Although Capitalix has ensured that the content of such information is accurate, it is not responsible for any omission/error/miscalculation and cannot guarantee the accuracy of any material or any information contained herein.
Therefore, any reliance you place on such material is strictly at your own risk. Please note that the responsibility for using or relying on such material rests with the client and Capitalix accepts no liability for any loss or damage, including without limitation, any loss of profit which may arise directly or indirectly from the use of or reliance on such information.
Risk Warning: Forex/CFDs trading involves significant risk to your invested capital. Please read and make sure that you fully understand our Risk Disclosure Policy.
You should ensure that, depending on your country of residence, you are allowed to trade Capitalix.com products. Please ensure that you are familiar with the company's risk disclosure.
Want to read more?
Login and enjoy all Daily Analysis articles