Daily review for October 20, 2021
October 20, 2021, 7:40
Gold price continues above the USD$1,770 area looking for the USD$1,780 level. Traders maintain long positions in gold, silver and other metals, to mitigate the risk of corporate results in the portfolios.
WTI and energy commodities are correcting at the moment. Global supply is catching up with demand levels, and with it, discounts in forward deliveries are beginning to appear.
Bitcoin continues the bullish channel. During the Asian session it reached USD$64,000. Bulls are looking for all-time highs. Great debut of the Bitcoin ETF called BITO.
---
GOLD +0.29%
Allocation in treasury bonds is starting to increase, as is exposure in gold and other metals. Investors are holding long positions in Wall Street-listed stocks. To mitigate and hedge volatility risks arising from corporate earnings, investors have chosen to allocate part of their capital in metals and bonds, while maintaining equity levels. At the moment the price of gold is up 0.29% and is trading at USD$1,774 per Troy ounce.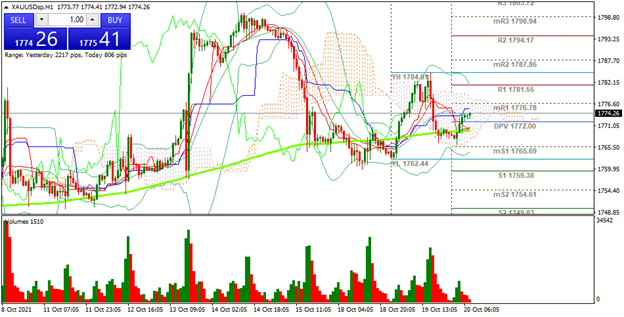 Support 1: 1,773.56
Support 2: 1,772.86
Support 3: 1,772.33
Resistance 1: 1,774.79
Resistance 2: 1,775.32
Resistance 3: 1,776.02
Pivot Point: 1,774.09
The price is slightly above the 200-day moving average. Bulls have managed to defend the USD$1,770 zone. The price is approaching the pivot point where it could generate a change of trend. Trading range between USD$1,772 and USD$1,776. Pivot point at USD$1,774. RSI neutral.
---
WTI -0.53%
WTI, Brent and Natural Gas prices are correcting at the moment. WTI is down 0.53% and is trading at USD$82.11 per barrel. Traders are paying attention to the IEA report, which expects an increase in US oil inventories by 1.8 million barrels. The increase in global production has caused prices to stabilize above the USD$80 zone. If demand and industrial production of importers increases, the price of crude oil and energy commodities could move upwards, which, in addition to the winter, could push the price of WTI towards USD$90 per barrel.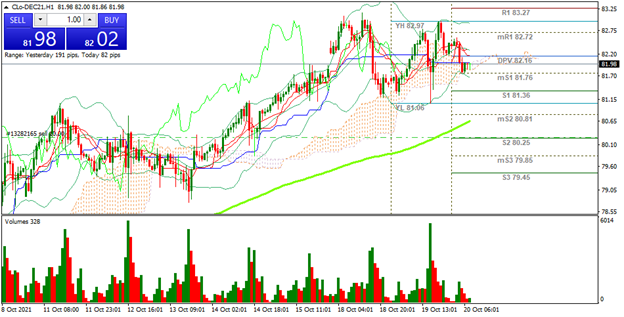 Support 1: 81.91
Support 2: 81.80
Support 3: 81.74
Resistance 1: 82.08
Resistance 2: 82.14
Resistance 3: 82.25
Pivot Point: 81.97
The price remains above the 200-day moving average. At the moment, it is at the pivot point, where a change of trend could occur. To continue the ascending channel, the price must overcome the double top at USD$82.97. If it is reached, the next level is USD$84.63. RSI neutral.
---
BITCOIN +1.93%
Great start for the Bitcoin ETF called BITO. On the first day of trading, the ETF managed to rise 1.35%, closing at 41.43. Bitcoin continues to climb, this time rising 1.93% and trading at USD$63,573. During the Asian session, the price reached USD$64,000. Today, Tesla will present its corporate results. The company has a positive correlation with Bitcoin, as the company has Long positions in the crypto. In the meantime, traders are waiting for the next level of the crypto and the advance of the whales in the market.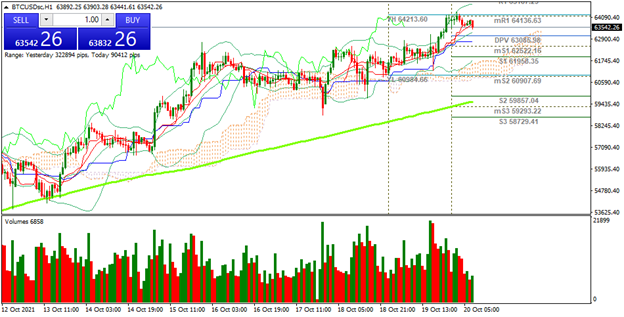 Support 1: 63,884.3
Support 2: 63,720.0
Support 3: 63,634.0
Resistance 1: 64,134.7
Resistance 2: 64,220.6
Resistance 3: 64,385.0
Pivot Point: 63,970.3
The price maintains the bullish channel and continues above the 200-day moving average. At the moment, it is at resistance 1. If it manages to overcome this zone, the next target for the Bulls is USD$65,751. Neutral RSI coming out of the overbought zone. Pivot point at USD$63,970.
---
SILVER +0.29%
Traders are holding long positions in silver to hedge portfolio volatility. They are also waiting for macroeconomic data on the UK CPI (3.2% y/y sp.) and the Euro Zone (3.4% y/y sp.). This would generate a reaction from the Bank of England and the ECB, who could communicate their assessment of the inflationary level and their strategy towards it. At the moment, silver is up 0.29% and is trading at USD$23.93. Traders continue to buy metals, due to the corporate results season.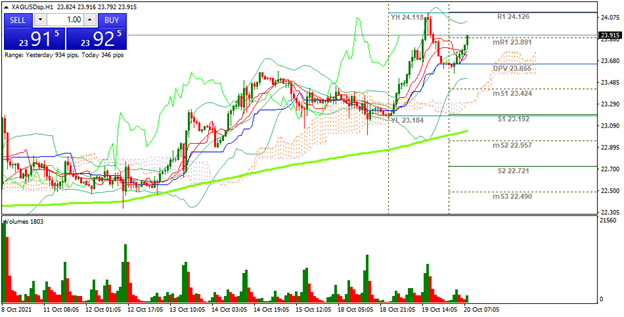 Support 1: 23.810
Support 2: 23.767
Support 3: 23.746
Resistance 1: 23.874
Resistance 2: 23.895
Resistance 3: 23.938
Pivot Point: 23.831
The price is above the 200-day moving average. At the moment, it is at resistance 1, looking for the USD$24.12 area. Expected trading range between USD$23.74 and USD$23.93. Pivot point at USD$23.83. RSI approaching the overbought zone.
---
Sources
Reuters
Market watch
Bloomberg
Capitalix Market Research
Risk Disclaimer
Any information/articles/materials/content provided by Capitalix or displayed on its website is intended to be used for educational purposes only and does not constitute investment advice or a consultation on how the client should trade.
Although Capitalix has ensured that the content of such information is accurate, it is not responsible for any omission/error/miscalculation and cannot guarantee the accuracy of any material or any information contained herein.
Therefore, any reliance you place on such material is strictly at your own risk. Please note that the responsibility for using or relying on such material rests with the client and Capitalix accepts no liability for any loss or damage, including without limitation, any loss of profit which may arise directly or indirectly from the use of or reliance on such information.
Risk Warning: Forex/CFDs trading involves significant risk to your invested capital. Please read and make sure that you fully understand our Risk Disclosure Policy.
You should ensure that, depending on your country of residence, you are allowed to trade Capitalix.com products. Please ensure that you are familiar with the company's risk disclosure.
Want to read more?
Login and enjoy all Daily Analysis articles