Daily review for October 19, 2021
October 19, 2021, 6:45
Traders globally are looking forward to the debut of the Bitcoin ETF. Investment funds are showing interest, so more liquidity is expected in the crypto market.
Nasdaq 100 is looking to maintain yesterday's rally. Traders are pending Netflix's financial results.
Investors' portfolios are currently concentrated in equities (tech stocks), oil, gold and silver. Treasury yields are in negative territory.
WTI continues to rise. Industrial production declined in the month of September in the United States. Traders continue to assess global demand.
---
BITCOIN -0.07%
Bitcoin ETF will begin trading today. The ProShares Bitcoin Strategy ETF (BITO), will debut today on Wall Street. Investment funds that by internal regulation could not invest directly in cryptos now have a new asset to participate in the market. Bitcoin is currently down 0.07% and is trading at USD$62,405. During the Asian session, the price managed to stay above resistance 1. This means that traders are still holding positions ahead of the start of ETF trading. Therefore, an interesting volatility is expected today for the crypto market.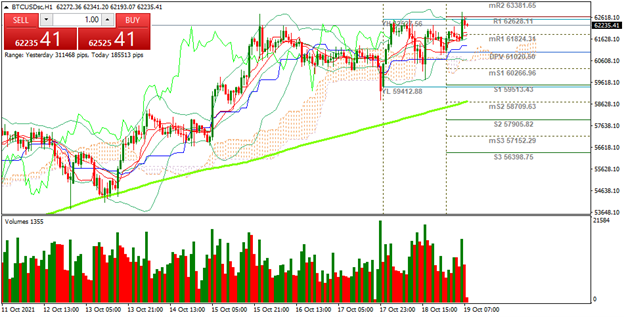 Support 1: 62,224.8
Support 2: 62,029.6
Support 3: 61,739.2
Resistance 1: 62,710.4
Resistance 2: 63,000.8
Resistance 3: 63,196.0
Pivot Point: 62,515.2
The price continues above the 200-day moving average, which is a bullish signal for Bitcoin. Expected trading range between USD$61,739 and USD$63,196. Pivot point for trend change at USD$65,515. RSI neutral.
---
NASDAQ 100 -0.02%
Nasdaq 100 closed yesterday with a significant gain of 0.84%, driven by traders buying volume in technology stocks. Today, the market is looking forward to the debut of the Bitcoin ETF. Several tech companies that are part of the Nasdaq 100 have bought Bitcoins over the past few months. Therefore, the index could present interesting volatility. Companies such as Tesla, Visa, Mastercard, among others, have positions in Bitcoin. At the moment, the Nasdaq 100 is down 0.02% and is trading at 15,297 points. Today, Netflix presents its results.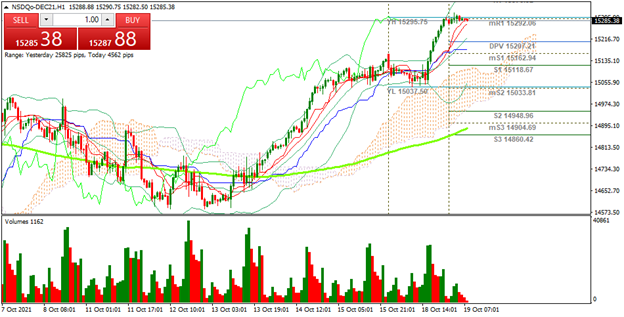 Support 1: 15,295.6
Support 2: 15,291.5
Support 3: 15,287.1
Resistance 1: 15,304.1
Resistance 2: 15,308.5
Resistance 3: 15,312.6
Pivot Point: 15,300.0
The price is above the 200-day moving average. It is currently above resistance 1. Trading range between 15,287 and 15,312. Pivot point for trend change at 15,300. RSI in overbought zone, which could generate a pullback to the pivot point or support 1.
---
GOLD +0.51%
Poor macroeconomic data from China generated significant purchases in gold and other metals. Treasury bond yields are in negative territory, so the allocation of investors' portfolios is concentrated in shares of technology companies, gold, silver and oil. In other words, a portfolio tilted towards equities. Today the market is focused on the debut of the Bitcoin ETF. Bulls are looking to drive the price to record highs. Conservative investors are keeping metals in their portfolios.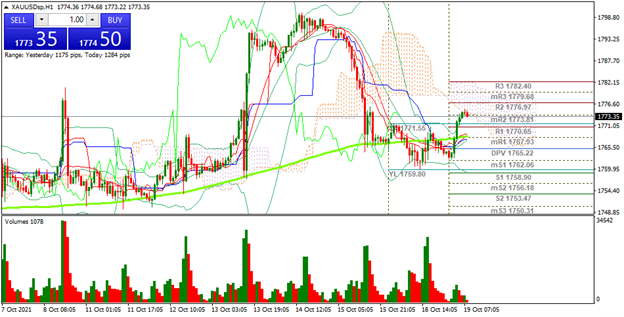 Support 1: 1,774.61
Support 2: 1,774.03
Support 3: 1,773.11
Resistance 1: 1,776.11
Resistance 2: 1,777.03
Resistance 3: 1,777.61
Pivot Point: 1,775.53
The price is above the 200-day moving average. At the moment it is between resistance 2 and 3. Expected trading range between USD$1,773 and USD$1,777. Pivot point for trend change at USD$1,775. RSI neutral.
---
WTI +0.42%
The price of WTI continues to rise. It is currently up 0.42% and is trading at USD$82.03 per barrel. Industrial production in the United States stood at 4.60% compared to 5.66% in the previous month. This gives evidence that the demand for crude oil in the United States is starting to decrease. For the time being, traders are keeping their analysis on international demand. They also focus on tomorrow's crude oil inventories report, which is expected to decrease by 2 million barrels. Goldman Sachs maintains the price projection at USD$90 by the end of the year.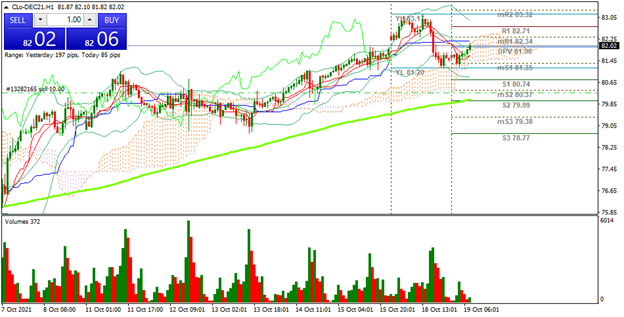 VSupport 1: 81.75
Support 2: 81.63
Support 3: 81.56
Resistance 1: 81.94
Resistance 2: 82.01
Resistance 3: 82.13
Pivot Point: 81.82
The price remains above the 200-day moving average. Expected trading range between USD$81.56 and USD$82.13. Pivot point for trend change at USD$81.82. RSI neutral. The Bulls are looking to consolidate the area and climb towards USD$83.
---
Sources
Reuters
Market watch
Bloomberg
Capitalix Market Research
Risk Disclaimer
Any information/articles/materials/content provided by Capitalix or displayed on its website is intended to be used for educational purposes only and does not constitute investment advice or a consultation on how the client should trade.
Although Capitalix has ensured that the content of such information is accurate, it is not responsible for any omission/error/miscalculation and cannot guarantee the accuracy of any material or any information contained herein.
Therefore, any reliance you place on such material is strictly at your own risk. Please note that the responsibility for using or relying on such material rests with the client and Capitalix accepts no liability for any loss or damage, including without limitation, any loss of profit which may arise directly or indirectly from the use of or reliance on such information.
Risk Warning: Forex/CFDs trading involves significant risk to your invested capital. Please read and make sure that you fully understand our Risk Disclosure Policy.
You should ensure that, depending on your country of residence, you are allowed to trade Capitalix.com products. Please ensure that you are familiar with the company's risk disclosure.
Want to read more?
Login and enjoy all Daily Analysis articles