Daily review for November 22, 2021
November 22, 2021, 9:08
Despite Austria's border closure, European stock markets open the week with upward movements.
Geopolitical tension in Europe increases. The U.S. warns about Russia's possible invasion of Ukraine. WTI corrects due to Japan's announcement of the possibility of releasing part of its strategic reserves.
Silver shows bullish movements. Energy commodities correct. The market is watching for fundamental events.
Cryptos correct. Bitcoin is in the area of USD$57,400. Analysts see an important floor at USD$56,500.
---
DAX 40 +0.27%
Austria closed its borders to contain the spread of Covid-19 cases in the country. On the news, the DAX 40 fell from 16,293 points to 16,085. The Bulls reacted from the support level. The index has bounced back to the actual level, right at the pivot point. At the moment the DAX 40 is up 0.27% and is trading at 16,184. The market is still not discounting the possibility of further border closures in Europe. European stock indexes start the week in green territory.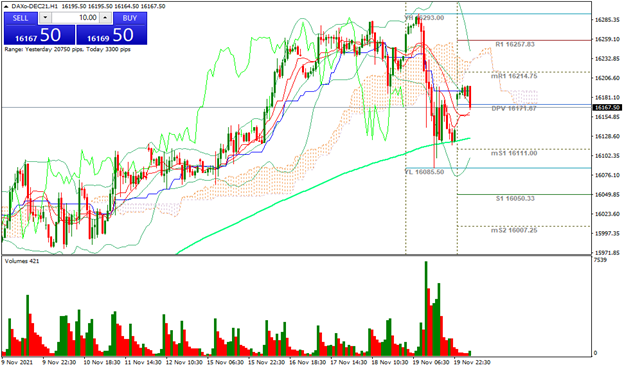 Support 1: 16,176.4
Support 2: 16,170.7
Support 3: 16,160.4
Resistance 1: 16,192.4
Resistance 2: 16,202.7
Resistance 3: 16,208.4
Pivot Point: 16,186.7
The index is above the 200-day moving average. The price is between the pivot point and resistance 1. Expected trading range between 16,160 and 16,208. Pivot point for trend change at 16,186. RSI neutral.
---
WTI -0.13%
Geopolitical tension between Russia and Ukraine is increasing. On the other hand, Japan announced the possibility of using its crude oil strategic reserves to help stabilize prices. Generally, when fundamental events such as the above occur, commodity prices rebound. At the moment, WTI is down 0.13% and is trading at USD$75.77 per barrel. For its part, the United States is campaigning for countries to release part of their strategic reserves in order to stabilize prices.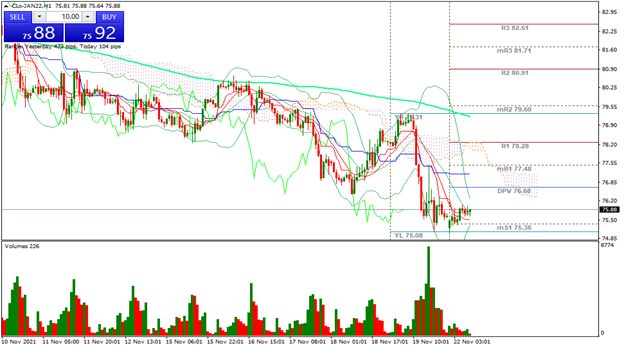 Support 1: 75.65
Support 2: 75.48
Support 3: 75.29
Resistance 1: 76.01
Resistance 2: 76.20
Resistance 3: 76.37
Pivot Point: 75.84
The price is below the 200-day moving average. At the moment, it is at support 1. The trend is bearish, however, the Bulls are looking to bounce from the current zone towards USD$78. On the other hand, if geopolitical tensions increase, commodities could rebound.
---
SILVER +0.16%
The week begins with bullish movements in global equities. Geopolitical tensions are rising in Europe, however, commodity prices are not yet discounting the events. Silver is currently up 0.16% and is trading at USD$24.80 per Troy ounce. Commodities in the energy segment are correcting after the United States announced that it would release strategic reserves to stabilize prices. Natural Gas is currently correcting 3.34%.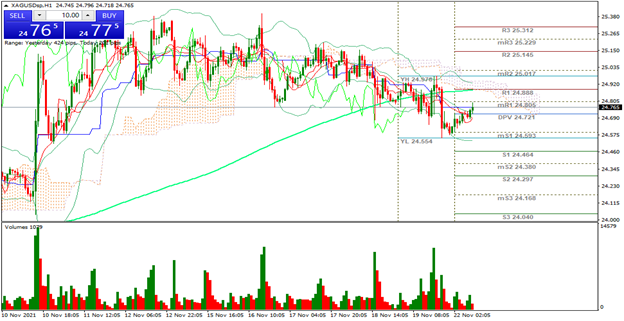 Support 1: 24.752
Support 2: 24.710
Support 3: 24.685
Resistance 1: 24.819
Resistance 2: 24.844
Resistance 3: 24.886
Pivot Point: 24.777
The price is below the 200-day moving average. At the moment silver has bounced off support 1, and is currently at resistance 1. If geopolitical tensions increase, the price could climb towards USD$25.31. Pivot point for trend change at USD$24.77. RSI neutral.
---
BITCOIN -2.88%
Ethereum options expired past friday, which caused crypto prices to correct a few points as the Bulls took profits. The Bitcoin price is currently down 2.88% and is trading at USD$57,475. Despite the correction, analysts see a significant floor at USD$56,500. Regardless of the significant correction of cryptos during the last week, there have been no liquidations from large holders or institutions, so the price remains in the area around USD$60,000.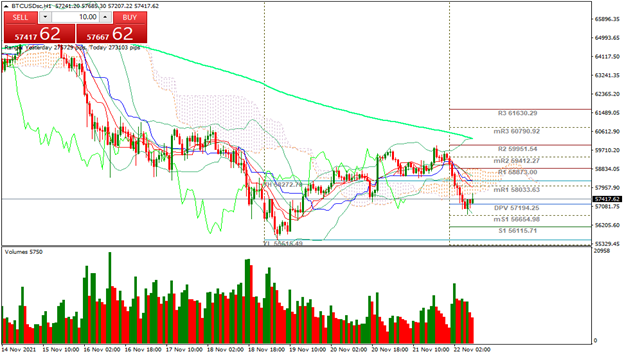 Support 1: 57,134.7
Support 2: 56,930.5
Support 3: 56,759.2
Resistance 1: 57,510.2
Resistance 2: 57,681.5
Resistance 3: 57,885.7
Pivot Point: 57,306.0
Bitcoin continues below the 200-day moving average, which is a bearish signal for cryptos. Expected trading range between USD$56,759 and USD$57,885. Pivot point for trend change at USD$57,306. Neutral RSI near the oversold zone.
---
Sources
Reuters
Market watch
Bloomberg
Capitalix Market Research
Risk Disclaimer
Any information/articles/materials/content provided by Capitalix or displayed on its website is intended to be used for educational purposes only and does not constitute investment advice or a consultation on how the client should trade.
Although Capitalix has ensured that the content of such information is accurate, it is not responsible for any omission/error/miscalculation and cannot guarantee the accuracy of any material or any information contained herein.
Therefore, any reliance you place on such material is strictly at your own risk. Please note that the responsibility for using or relying on such material rests with the client and Capitalix accepts no liability for any loss or damage, including without limitation, any loss of profit which may arise directly or indirectly from the use of or reliance on such information.
Risk Warning: Forex/CFDs trading involves significant risk to your invested capital. Please read and make sure that you fully understand our Risk Disclosure Policy.
You should ensure that, depending on your country of residence, you are allowed to trade Capitalix.com products. Please ensure that you are familiar with the company's risk disclosure.
Want to read more?
Login and enjoy all Daily Analysis articles