Daily review for November 19, 2021
November 19, 2021, 10:33
Stock indices rise globally, driven by the performance of retail sales in the UK and the US. Despite the level of inflation, retail demand continues to rise.
Covid-19 cases increase in Germany. In Europe, governments begin to evaluate containment measures.
Bitcoin continues to correct. Traders watch for expiration of USD$550 million in Ethereum options. Bulls look for the best entry levels.
Metals correct. Traders await Christine Lagarde's statement on tapering. Turkey's central bank cut interest rates.
---
DAX 40 +0.30%
Covid-19 cases are spreading in Germany. Angela Merkel's government is pressuring the population to get vaccinated as soon as possible. Germany has had a total of 5,233,821 cases, of which 546,452 are still active. On the other hand, European stock indices are currently in positive territory. The DAX 40 is up 0.30% and is trading at 16,286 points. Traders are also looking forward to the statements of Christine Lagarde (ECB) and Weidmann as President of the Bundesbank.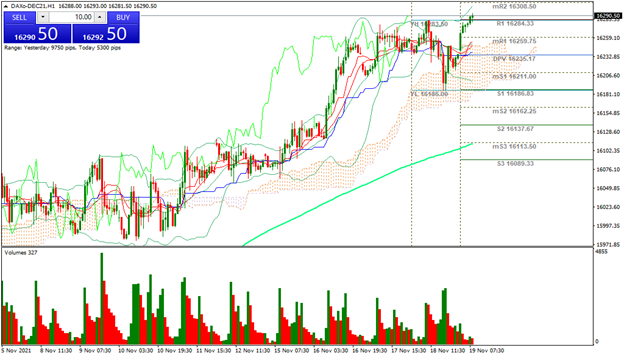 Support 1: 16,283.6
Support 2: 16,274.8
Support 3: 16,269.6
Resistance 1: 16,297.6
Resistance 2: 16,302.8
Resistance 3: 16,311.6
Pivot Point: 16,288.8
The index continues above the 200-day moving average. Bulls are looking for 16,381. Expected trading range between 16,269 and 16,311. Pivot point at 16,288. RSI neutral. Bullish trend.
---
BITCOIN -6.21%
The downward pressure on the crypto market continues. Bitcoin is currently down 6.21% and is trading at USD$56,116. The USD$57,000 support was breached by the Bears. Today traders are watching for further downward pressure stemming from the expiration of USD$550 million of Ethereum options. While Bulls see attractive entry levels, they prefer to wait for prices to discount additional points before re-entering the market. The rally that cryptos had shown in recent weeks was overshadowed by increasing regulation in the United States.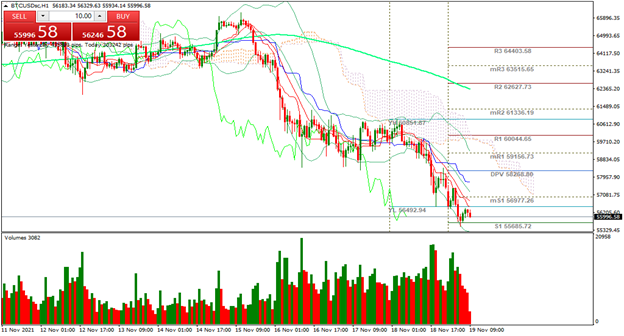 Support 1: 56,148.5
Support 2: 55,996.5
Support 3: 55,836.9
Resistance 1: 56,460.1
Resistance 2: 56,619.7
Resistance 3: 56,771.7
Pivot Point: 56,308.1
Bitcoin continues to trade below the 200-day moving average, which is a bearish signal for the crypto. At the moment the price is at support 1. Expected trading range between USD$55,836 and USD$56,771. RSI near the oversold zone. Selling volume continues to increase.
---
NASDAQ 100 +0.49%
Facebook, Apple, Amazon, Netflix, Google and chipmakers are again driving the index to record highs. Nvidia outperformed market expectations. The company's stock rebounded 8%. Shares of other chipmakers also rebounded. Among them AMD +2.4%, Micron Technology +2% and Qualcomm +1%. At the moment the Nasdaq 100 is up 0.49% and is trading at 16,570. Apple, meanwhile, continues to develop an electric car.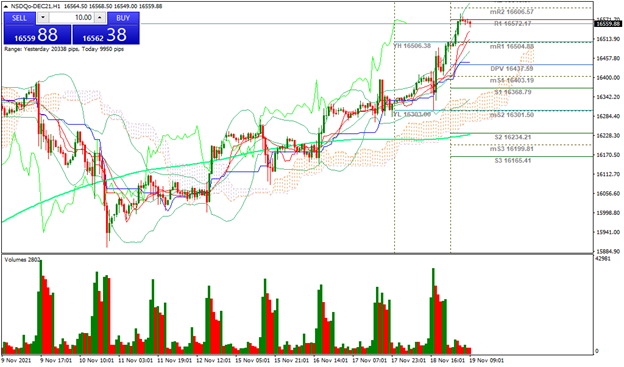 Support 1: 16,562.4
Support 2: 16,558.3
Support 3: 16,551.2
Resistance 1: 16,573.6
Resistance 2: 16,580.7
Resistance 3: 16,584.8
Pivot Point: 16,569.5
The index is at resistance 1. Expected trading range between 16,551 and 16,584. Pivot point at 16,569. RSI in overbought zone. Possible correction towards the pivot point. Bulls continue to look for 17,000 points.
---
SILVER -0.15%
Global stock indexes are in positive territory. Commodities are mixed, with upward movements in the agricultural and energy segments, and downward movements in metals. If equities continue to move higher, metals could continue to correct. Silver is currently down 0.15% and is trading at USD$24.86 per Troy ounce. Gold is down 0.15% and is trading at USD$1,858 per Troy ounce. Traders are looking forward to Christine Lagarde's press conference. If the tapering strategy in Europe is discussed, metals could change trend.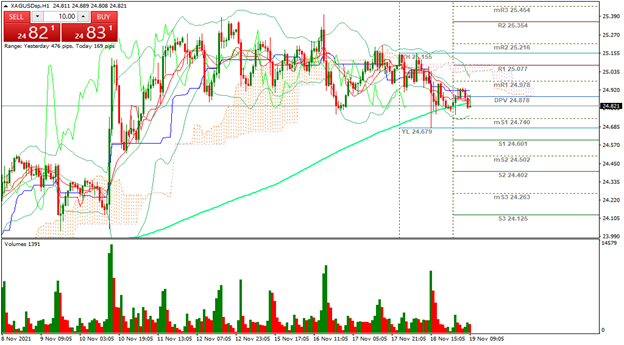 Support 1: 24.852
Support 2: 24.825
Support 3: 24.780
Resistance 1: 24.924
Resistance 2: 24.969
Resistance 3: 24.996
Pivot Point: 24.897
The price is crossing the 200-day moving average line. At the moment it is between the pivot point and support 1. Traders are looking for the optimal entry levels, right at the support 1 and 2. RSI neutral.
---
Sources
Reuters
Market watch
Bloomberg
Capitalix Market Research
Risk Disclaimer
Any information/articles/materials/content provided by Capitalix or displayed on its website is intended to be used for educational purposes only and does not constitute investment advice or a consultation on how the client should trade.
Although Capitalix has ensured that the content of such information is accurate, it is not responsible for any omission/error/miscalculation and cannot guarantee the accuracy of any material or any information contained herein.
Therefore, any reliance you place on such material is strictly at your own risk. Please note that the responsibility for using or relying on such material rests with the client and Capitalix accepts no liability for any loss or damage, including without limitation, any loss of profit which may arise directly or indirectly from the use of or reliance on such information.
Risk Warning: Forex/CFDs trading involves significant risk to your invested capital. Please read and make sure that you fully understand our Risk Disclosure Policy.
You should ensure that, depending on your country of residence, you are allowed to trade Capitalix.com products. Please ensure that you are familiar with the company's risk disclosure.
Want to read more?
Login and enjoy all Daily Analysis articles