Daily review for November 18, 2021
November 18, 2021, 9:22
Traders are aware of the decision of U.S. President Joe Biden on the next FED president.
Bitcoin and Ethereum are looking to hold current supports. Traders are looking ahead to this week's options expiration.
Crude oil inventories declined by 2 million barrels in the United States. However, Cuching inventories increased. The new hydrocarbon concessions make WTI correct. The market is discounting a significant growth in global production in the coming months.
Wall Street stock indexes are in positive territory. Traders are looking for more trading volume before the Christmas season begins, where markets remain flat.
---
GOLD -0.18%
Traders are watching the decision of U.S. President Joe Biden on the choice of the Fed President. The two options on the table are to continue with Jerome Powell or to choose Lael Brainard, who currently sits on the Fed's Board of Governors. The decision is very important, as it could affect the current monetary policy strategy. Meanwhile, the price of gold is down 0.18% and is trading at USD$1,867 per Troy ounce. The market is also watching the outcome of the bilateral meeting between the U.S. and China.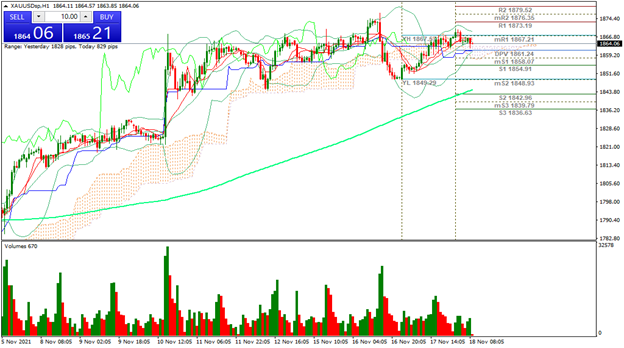 Support 1: 1,863.71
Support 2: 1,861.88
Support 3: 1,859.31
Resistance 1: 1,868.11
Resistance 2: 1,870.68
Resistance 3:1,872.51
Pivot Point: 1,866.28
The price is above the 200-day moving average. At the moment, right at resistance 1. Low trading volume for the moment. Expected trading range between USD$1,859 and USD$1,872. Pivot point for trend change at USD$1,866. RSI neutral.
---
BITCOIN +0.01%
Traders are keeping an eye on Bitcoin price performance ahead of tomorrow's options expiration. A significant trading volume is expected. Bulls will try to hold the current supports, and bears are looking for USD$58,000. Meanwhile, Bitcoin is up 0.01% and is trading at USD$59,566. On the other hand, many companies and governments globally, have started to accept Bitcoin and Ethereum as a means of payment. Transactions in both cryptos are on the rise in retail.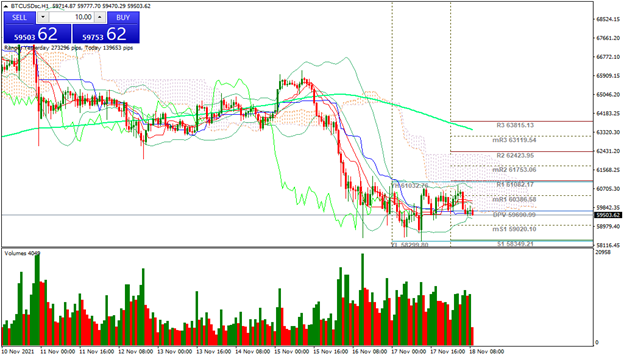 Support 1: 59,607.1
Support 2: 59,382.2
Support 3: 59,166.5
Resistance 1: 60,047.7
Resistance 2: 60,263.4
Resistance 3: 60,488.3
Pivot Point: 59,822.8
The price is still below the 200-day moving average, which is a bearish signal for Bitcoin. At the moment there is a sideways movement above the pivot point, which could generate a change of trend. If so, possible bounce towards USD$61,753. RSI neutral.
---
WTI -1.37%
Crude oil inventories in the United States decreased by 2 million barrels. This did not generate a change in the WTI price trend, as Cushing inventories increased by 216,000 barrels. In the United States, the highest hydrocarbon project campaign has began, with an estimated value of USD$192 million in new concessions. At this moment the price of WTI is falling 1.37% and is trading at USD$76.57 per barrel.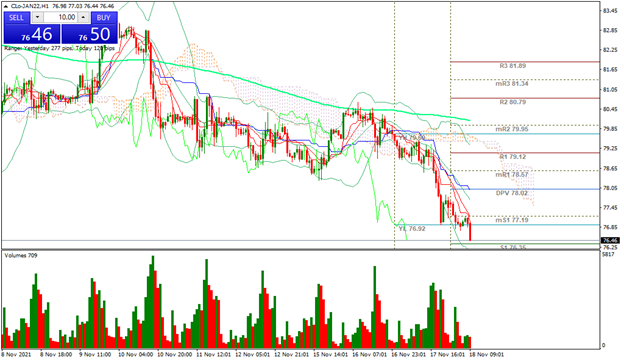 Support 1: 76.83
Support 2: 76.72
Support 3: 76.55
Resistance 1: 77.11
Resistance 2: 77.28
Resistance 3: 77.39
Pivot Point: 77.00
The price is still below the 200-day moving average. It is currently at support 1, with bearish trend. Expected trading range between USD$76.55 and USD$77.39. Pivot point at USD$77. RSI in oversold zone.
---
S&P500 +0.22%
Today Alibaba reports results. Analysts expect EPS of 11.95 and sales of USD$204.28 Billion. Like the Nasdaq 100 and the DJIA, the S&P500 is showing the lowest trading volume in the last 5 days. As a result, the S&P500 could be trading sideways as more data is released on inflation, monetary policy and growth projections for 2022. Meanwhile, the S&P 500 is up 0.22% and is trading at 4,694. Traders are paying close attention to the jobless claims data and the FED manufacturing index in the United States.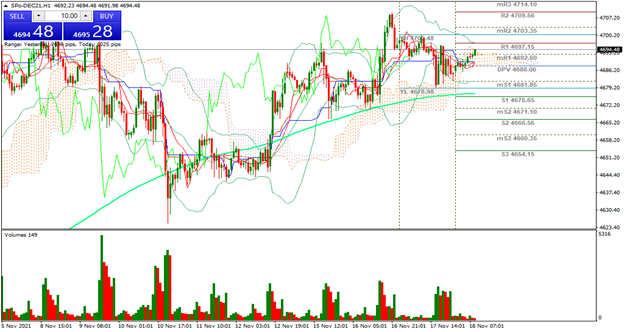 Support 1: 4,695.5
Support 2: 4,694.2
Support 3: 4,693.5
Resistance 1: 4,697.5
Resistance 2: 4,698.2
Resistance 3: 4,699.5
Pivot Point: 4,696.2
The index is above the 200-day moving average. At the moment it is at resistance 1. Expected trading range between 4,693 and 4,699. Pivot point for trend change at 4,696. RSI neutral.
---
Sources
Reuters
Market watch
Bloomberg
Capitalix Market Research
Risk Disclaimer
Any information/articles/materials/content provided by Capitalix or displayed on its website is intended to be used for educational purposes only and does not constitute investment advice or a consultation on how the client should trade.
Although Capitalix has ensured that the content of such information is accurate, it is not responsible for any omission/error/miscalculation and cannot guarantee the accuracy of any material or any information contained herein.
Therefore, any reliance you place on such material is strictly at your own risk. Please note that the responsibility for using or relying on such material rests with the client and Capitalix accepts no liability for any loss or damage, including without limitation, any loss of profit which may arise directly or indirectly from the use of or reliance on such information.
Risk Warning: Forex/CFDs trading involves significant risk to your invested capital. Please read and make sure that you fully understand our Risk Disclosure Policy.
You should ensure that, depending on your country of residence, you are allowed to trade Capitalix.com products. Please ensure that you are familiar with the company's risk disclosure.
Want to read more?
Login and enjoy all Daily Analysis articles