Daily review for November 16, 2021
November 16, 2021, 8:19
U.S. President Joe Biden signed the USD$1.2 trillion infrastructure plan.
Stock market indexes on Wall Street and in Europe are looking for upward movements, driven by demand in the United States.
Walmart and Home Depot present their results today. Analysts look to gauge the performance of U.S. household consumption.
Due to sideways movement above all-time highs, cryptos start to correct. Elon Musk continues to sell Tesla shares.
Traders are watching inflation data in France and Italy. Also the Euro Zone GDP.
---
DOW JONES -0.04%
Equities remain sideways ahead of the signing of U.S. President Joe Biden's infrastructure plan. The total value of the plan is USD$1.2 Trillion. The objective is to repair local infrastructure and expand broad band nationwide. The market's concern in this case is the growth of the debt level and inflation. At the moment the Dow Jones is down 0.04% and is trading at 36,071. Traders are looking forward to Biden's meeting with Chinese President Xi Jinping.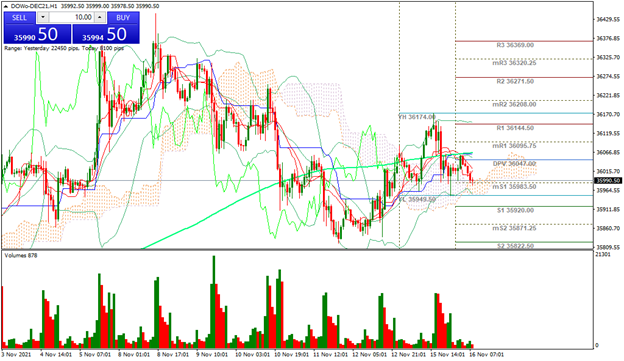 Support 1: 36,064.1
Support 2: 36,051.8
Support 3: 36,034.1
Resistance 1: 36,094.1
Resistance 2: 36,111.8
Resistance 3: 36,124.1
Pivot Point: 36,081.8
The index is below the 200-day moving average. At the moment the price is at support 1. Low trading volume at the moment, which could lead to a sideways movement before the market determines a trend. Pivot point at 36,081. RSI neutral.
---
NASDAQ 100 +0.06%
The index has evidenced interesting factors. Among them, the sale of Tesla shares by Elon Musk. Today, traders are paying attention to retail sales, which is one of the main indicator of demand behavior. Analysts are interested in the behavior of household consumption for the Christmas season. This will be a sign of the economy's performance. Today Walmart presents its results, where a EPS is expected to be 1.4 and sales of USD$135.42 Billion. It also presents Home Depot, which is expected to report a EPS of 3.41 and sales of USD$34.83 billion.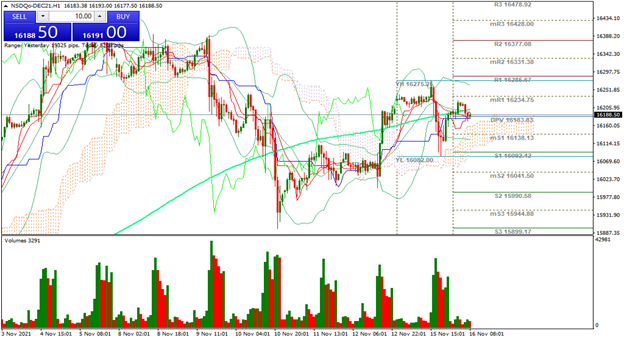 Support 1: 16,187.2
Support 2: 16,179.1
Support 3: 16,171.6
Resistance 1: 16,202.8
Resistance 2: 16,210.3
Resistance 3: 16,218.4
Pivot Point: 16,194.7
The index is slightly below the 200-day moving average. At this moment it is at the pivot point, so it can generate a change of trend. Expected trading range between 16,171 and 16,218. Pivot point at 16,194. RSI neutral.
---
BITCOIN -7.16%
Cryptos are correcting at the moment. Over the past few days, Bitcoin had been moving sideways, awaiting more volatility. Following Elon Musk's sale of Tesla shares, cryptos started to correct. The Bitcoin price is currently down 7.16% and is trading at USD$60,810. At the moment, traders are evaluating the performance of Bitcoin futures with respect to the spot market. It seems that a contango situation is developing.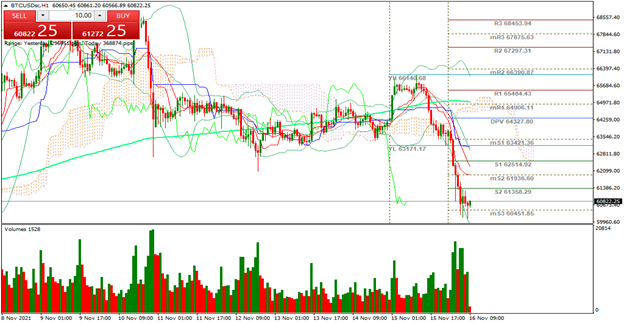 Support 1: 60,481.4
Support 2: 60,085.7
Support 3: 59,829.2
Resistance 1: 61,133.7
Resistance 2: 61,390.1
Resistance 3: 61,785.9
Pivot Point: 60,737.9
The price is at support 3, where it presents an important floor level. If the bears manage to overcome this zone, the next target is USD$58,120. On the other hand, the Bulls are looking to buy in the actual zone, in order to confirm the rebound and resume the uptrend for the end of the year. Pivot point at USD$60,737. RSI in oversold zone.
---
SILVER +0.05%
Biden's infrastructure plan was formalized, and now the market is expecting its execution. Metal futures are moving upwards. At the moment silver price is up 0.05% and is trading at USD$25.11 per Troy ounce. In the medium term, the infrastructure plan favors the price of silver, as the industrial use of the metal will boost its demand. Likewise, the likelihood of high inflation continues, so traders will choose to buy metals to protect their portfolios.
Support 1: 25.116
Support 2: 25.096
Support 3: 25.059
Resistance 1: 25.173
Resistance 2: 25.210
Resistance 3: 25.230
Pivot Point: 25.153
Silver is above the 200-day moving average. Possible sideways movement between the pivot point and resistance 1. Expected trading range between USD$25.05 and USD$25.23. RSI neutral.
---
Sources
Reuters
Market watch
Bloomberg
Capitalix Market Research
Risk Disclaimer
Any information/articles/materials/content provided by Capitalix or displayed on its website is intended to be used for educational purposes only and does not constitute investment advice or a consultation on how the client should trade.
Although Capitalix has ensured that the content of such information is accurate, it is not responsible for any omission/error/miscalculation and cannot guarantee the accuracy of any material or any information contained herein.
Therefore, any reliance you place on such material is strictly at your own risk. Please note that the responsibility for using or relying on such material rests with the client and Capitalix accepts no liability for any loss or damage, including without limitation, any loss of profit which may arise directly or indirectly from the use of or reliance on such information.
Risk Warning: Forex/CFDs trading involves significant risk to your invested capital. Please read and make sure that you fully understand our Risk Disclosure Policy.
You should ensure that, depending on your country of residence, you are allowed to trade Capitalix.com products. Please ensure that you are familiar with the company's risk disclosure.
Want to read more?
Login and enjoy all Daily Analysis articles