Daily Review for May 31, 2021
May 31, 2021, 8:03
Holidays in USA and UK. Market and traders focus on Europe and inflation data from Spain, Italy and Germany.
Crude oil prices continue to rise ahead of the OPEC+ meeting. Possible lifting of sanctions on Iran's oil exports could lead to an increase of 1 million barrels per day in the market.
DAX 30 with sideways movement, while the German inflation data and economic information from the Bundesbank are announced.
Bitcoin has failed to consolidate the USD$40,000 mark and is under pressure from potential regulators.
EURUSD is looking to regain the 1.2200 area. It all depends on inflation data from Europe.
---
CRUDE OIL +0.78%
Crude oil price starts the week up 0.78% and trades at USD$66.86 per barrel. The market is attentive to the sanctions on Iran's oil exports. There is a high probability that they will be removed and therefore the market supply could increase. Meanwhile, analysts are reviewing crude oil import data from China, Japan and USA as worldwide top consumers. Tomorrow we will have the OPEC+ meeting.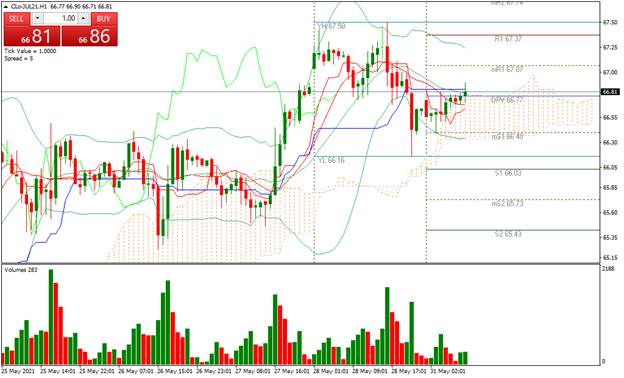 Support 1: 66.73
Support 2: 66.65
Support 3: 66.61
Resistance 1: 66.85
Resistance 2: 66.89
Resistance 3: 66.97
Pivot Point: 66.77
Price is between support 1 and resistance 1. Expected trading range between 66.61 and 66.97. Pivot point at 66.77. RSI neutral. Possible sideways movement as the result on Iran sanctions converge in the market.
---
DAX30 +0.04%
Markets in Europe open mixed due to the holiday in Wall Street and the UK, and as traders are aware of inflation data in Spain, Italy and Germany. Positive data is expected in all three countries, which could generate bullish movements in the capital markets. Meanwhile, the DAX 30 is up 0.04% and is trading at 15,494.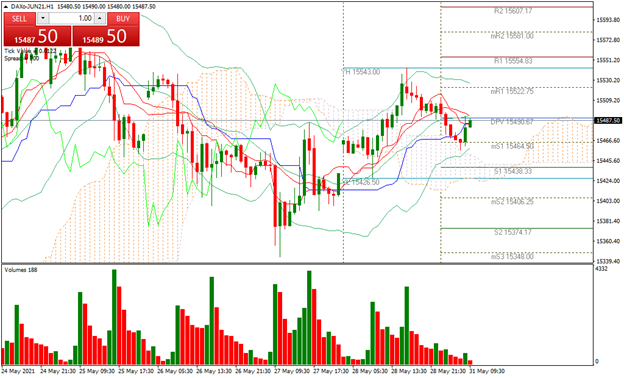 Support 1: 15,473.1
Support 2: 15,454.3
Support 3: 15,442.6
Resistance 1: 15,503.6
Resistance 2: 15,515.3
Resistance 3: 15,534.1
Pivot Point: 15,484.8
Expected trading range between 15.442 and 15.534. Pivot point at 15.484. RSI neutral. The price is reaching the pivot point after descending to support 1. Possible change of trend, depending on the inflation results in Europe. If the data is favorable, the index could move to 15,554.
---
BITCOIN -1.82%
Crypto traders are on the lookout for possible new regulation in the industry. Meanwhile the price of Bitcoin is falling 1.82% and is trading at USD$35,131. In the USA, the Office Controller of Currency is working together with the SEC and the CFTC on the regulatory framework for the market.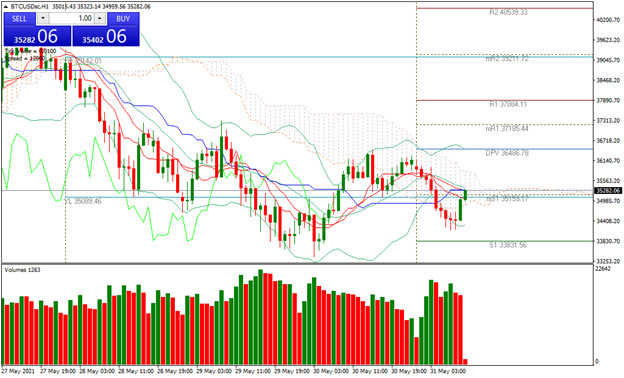 Support 1: 34,669.1
Support 2: 34,273.1
Support 3: 34,074.0
Resistance 1: 35,264.1
Resistance 2: 35,463.3
Resistance 3: 35,859.2
Pivot Point: 34,868.2
The price has failed to stay above the USD$40,000 mark. Bitcoin is below the 25- and 15-day moving average. Expected trading range between 34,074 and 35,859. Pivot point at 34,868. RSI neutral.
---
EURUSD +0.03%
The currency is awaiting inflation results from Europe, mainly from Germany. At the moment the currency is up 0.03% and is trading at 1.2195. In Spain, the annual CPI stood at 2.7%. For Italy it is expected at 0.4% per month and for Germany at 0.3% per month. In the afternoon, we will have statements from the Bundesbank, where domestic and Euro Zone economic issues will be discussed.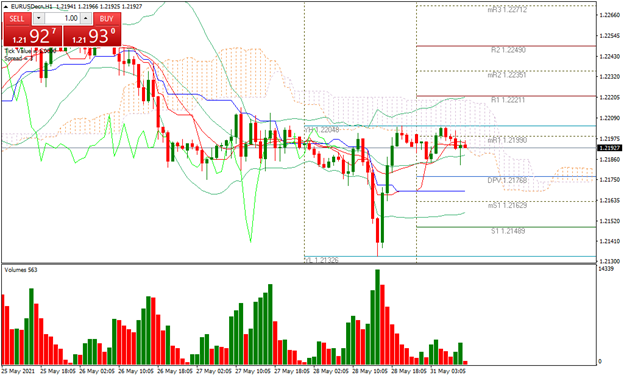 Support 1: 1.2184
Support 2: 1.2176
Support 3: 1.2169
Resistance 1: 1.2198
Resistance 2: 1.2206
Resistance 3: 1.2213
Pivot Point: 1.2191
Expected trading range between 1.2169 and 1.2213. Pivot point at 1.2191. RSI neutral. Possible downward movement as long as the trend towards 1.2175 is confirmed.
---
Sources
Reuters
Market watch
Bloomberg
Capitalix Market Research
Risk Disclaimer
Any information/articles/materials/content provided by Capitalix or displayed on its website is intended to be used for educational purposes only and does not constitute investment advice or a consultation on how the client should trade.
Although Capitalix has ensured that the content of such information is accurate, it is not responsible for any omission/error/miscalculation and cannot guarantee the accuracy of any material or any information contained herein.
Therefore, any reliance you place on such material is strictly at your own risk. Please note that the responsibility for using or relying on such material rests with the client and Capitalix accepts no liability for any loss or damage, including without limitation, any loss of profit which may arise directly or indirectly from the use of or reliance on such information.
Risk Warning: Forex/CFDs trading involves significant risk to your invested capital. Please read and make sure that you fully understand our Risk Disclosure Policy.
You should ensure that, depending on your country of residence, you are allowed to trade Capitalix.com products. Please ensure that you are familiar with the company's risk disclosure.
Want to read more?
Login and enjoy all Daily Analysis articles