Daily Review for May 28, 2021
May 28, 2021, 8:16
The market opens higher on the back of President Biden's proposed spending plan.
Leading indicators in Europe will present market participants' sentiment towards the economy.
Mario Draghi and Angela Merkel will close the Global Solutions Summit.
The Dow Jones and S&P500 with upward momentum driven by rotation from technology stocks to industrials.
Bitcoin failed to consolidate the USD$40,000 zone and is now under Bears pressure.
Gold corrects to USD$1,888. Credit Suisse forecasts the price at USD$2,075.
---
EURO STOXX 50 +0.25%
Markets open higher globally, boosted by Biden's investment plan. Asian indices continue to rise and drive the global market. The amount requested by Biden consist of USD$6 Trillion and will be discussed today at the US Federal Budget. On the other hand, today we will have economic data from France, Italy and Switzerland, such as Inflation, GDP, Bonds and leading indicators. Also the G20 driven Global Solutions Summit will end today with keynote speeches from Mario Draghi and Angela Merkel.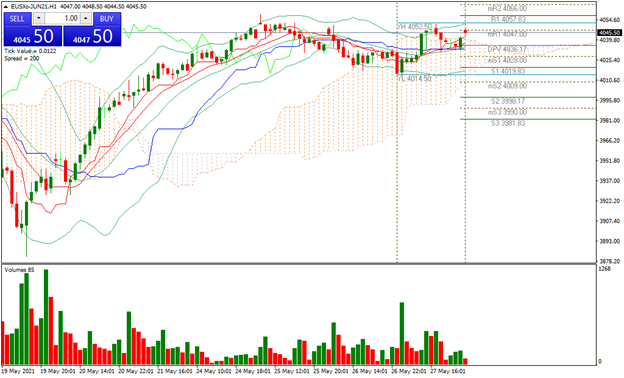 Support 1: 4047
Support 2: 4045
Support 3: 4042
Resistance 1: 4052
Resistance 2: 4055
Resistance 3: 4057
Pivot Point: 4050
The price is coming out of the Ichimoku cloud, which is a bullish sign. Price is between resistance 1 and 2. Possible escalation towards 4,066. Expected trading range between 4,042 and 4,057. Pivot point at 4,050. RSI neutral.
---
DOW JONES +0.45%
Investors rotation from technology stocks to industrial stocks continues. As a result, the Nasdaq 100 index closed in the red yesterday, while the Dow Jones and S&P500 closed in positive territory. In yesterday's speech, Biden encouraged the country's industrial sectors. At the moment the index is up 0.45% and is trading at 34,593.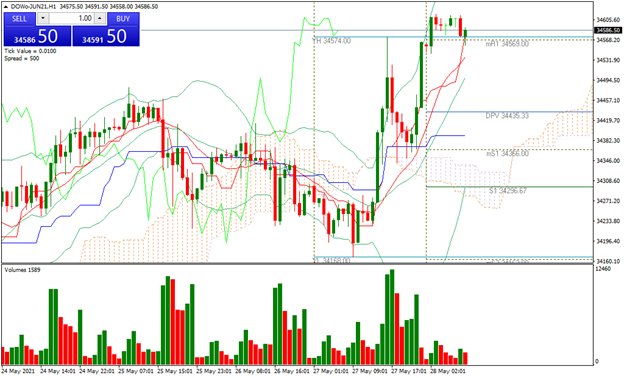 Support 1: 34,568.4
Support 2: 34,552.7
Support 3: 34,528.9
Resistance 1: 34,607.9
Resistance 2: 34,631.7
Resistance 3: 34,647.4
Pivot Point: 34,592.2
Price is at resistance 1. Expected trading range between 34,607 and 34,647. Pivot point at 34,592. Expected high trading volume today due to the US holiday on Monday. RSI in overbought zone. Possible pullback to 34,509, before resuming the uptrend.
---
BITCOIN -3.75%
Crypto market is trying to recover from the major correction evidenced in the last two weeks. However, the pressure continues with criticism from important market figures, including economist Nouriel Roubini. Bitcoin is currently down 3.75% and is trading at USD$36,679.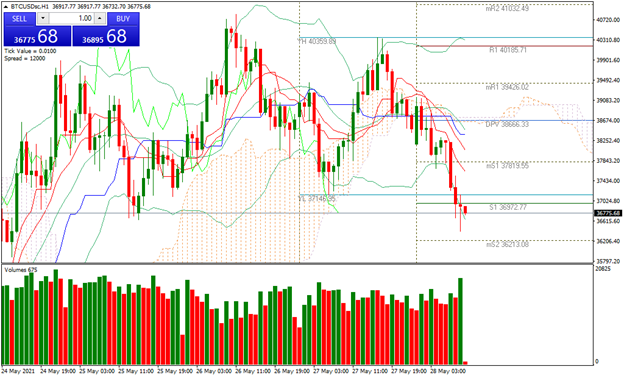 Support 1: 36,568.2
Support 2: 36,235.6
Support 3: 35,935.2
Resistance 1: 37,201.2
Resistance 2: 37,501.6
Resistance 3: 37,834.2
Pivot Point: 36,868.6
The price did not manage to resist the USD$40,000 mark and dropped to the current level of USD$36,000. Bearish pressure. Expected trading range between 35,935 and 37,834. Pivot point at 36,868. RSI in oversold zone. Possible rebound towards 38,000.
---
GOLD -0.35%
Gold price is currently down 0.35% and is trading at USD$1,889 per Troy ounce. Momentary correction of the metal due to the rebound of the indices of the last trading day. The metal is expected to move sideways today as markets consolidate. Analysts at Credit Suisse forecasts the metal at USD$2,075, based on the fact that gold will remain in investors' allocations for quite some time.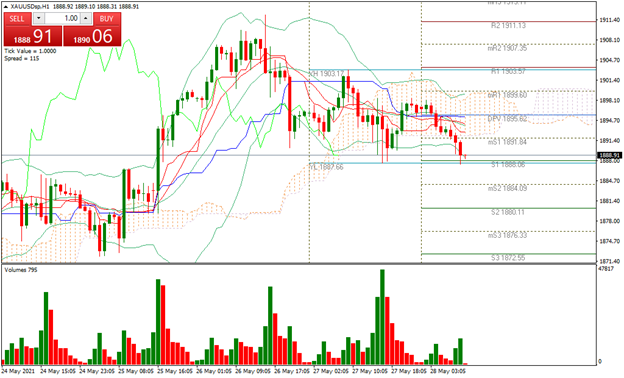 Support 1: 1,887.64
Support 2: 1,886.27
Support 3: 1,884.54
Resistance 1: 1,890.74
Resistance 2: 1,892.47
Resistance 3: 1,893.84
Pivot Point: 1,889.37
Main support at 1,884. Trading range between 1,884 and 1,893. Pivot point at 1,889. Price could drop to 1,880 before resuming the trend. RSI in oversold zone.
---
Sources
Reuters
Market watch
Bloomberg
Capitalix Market Research
Risk Disclaimer
Any information/articles/materials/content provided by Capitalix or displayed on its website is intended to be used for educational purposes only and does not constitute investment advice or a consultation on how the client should trade.
Although Capitalix has ensured that the content of such information is accurate, it is not responsible for any omission/error/miscalculation and cannot guarantee the accuracy of any material or any information contained herein.
Therefore, any reliance you place on such material is strictly at your own risk. Please note that the responsibility for using or relying on such material rests with the client and Capitalix accepts no liability for any loss or damage, including without limitation, any loss of profit which may arise directly or indirectly from the use of or reliance on such information.
Risk Warning: Forex/CFDs trading involves significant risk to your invested capital. Please read and make sure that you fully understand our Risk Disclosure Policy.
You should ensure that, depending on your country of residence, you are allowed to trade Capitalix.com products. Please ensure that you are familiar with the company's risk disclosure.
Want to read more?
Login and enjoy all Daily Analysis articles