Daily Review for May 27, 2021
May 27, 2021, 8:59
European markets open in red, but the trend is gradually changing. Accusations against Belarus continue, and sanctions are on the table.
On Wall Street, the indices remain in red, and the market is awaiting US Q1 2021 GDP data and durable goods orders. Both indicators to evaluate demand.
The EuroStoxx50 is looking to defend the 4,000 zone. If the bears break it, the index could see significant pressure before recovering.
The S&P500 is sideways as the US GDP data sets the trend.
Silver starts to correct, due to rising Treasury yields and tapering.
EURUSD recovers the uptrend and seeks to consolidate the 1.2200 area.
---
EURO STOXX 50 -0.12%
Futures in Europe remain in red due to new inflationary signals. Today, the market will be waiting for the US GDP data. Meanwhile, the Euro Stoxx 50 is down 0.12% and is trading at 4,021. The main declines in Europe are being seen in the Austrian stock market and in the German DAX. The EU trial against AstraZeneca starts today. The EU also continues with sanctions against Belarus, which has increased tensions between the EU and Russia.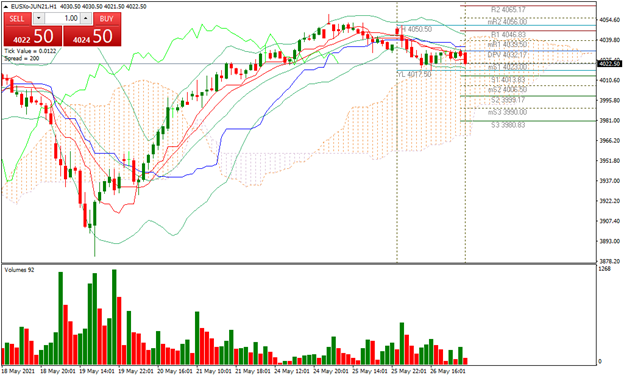 Support 1: 4,028
Support 2: 4,024
Support 3: 4,022
Resistance 1: 4,034
Resistance 2: 4,036
Resistance 3: 4,040
Pivot Point: 4,030
The price is entering the Ichimoku cloud, which presents possible sideways movement towards 4,039. The price is between the pivot point and support 1. Possible break of the 4,000 mark. Pivot point at 4,030.
---
S&P500 -0.30%
Futures on Wall Street are in red as a result of the development of trade talks between Chinese and US delegates. Meanwhile, the Biden administration gave the CIA 90 days to investigate the real origin of Covid-19. Tensions with China are rising. As for economic events, today we will have the quarterly GDP data in the US. Analysts estimate a reading of 6.5% for Q1 2021. The data will have a direct impact on the S&P500, as it is the index with the highest representation of economic sectors in the US.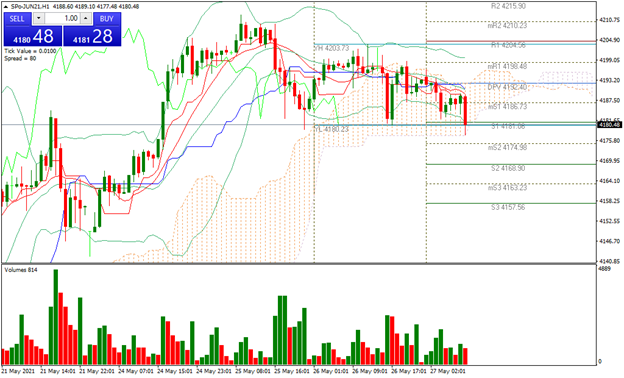 Support 1: 4,185.28
Support 2: 4,181.45
Support 3: 4,179.15
Resistance 1: 4,191.41
Resistance 2: 4,193.71
Resistance 3: 4,197.54
Pivot Point: 4,187.58
Price is at support 1. RSI neutral. Possible sideways movement until the US GDP announcement. If the downtrend continues, the price could head towards 4.157. Pivot point at 4.187.
---
SILVER -0.27%
Silver trend is starting to change. Treasury bond yields are rising, putting pressure on silver as a safe haven asset in times of market uncertainty. The rise in bond yields has been caused by the FED purchases of fixed income instruments and the slowdown of economic stimulus, a technique known as Tapering. The price of silver is currently down 0.27% and is trading at USD$27.70.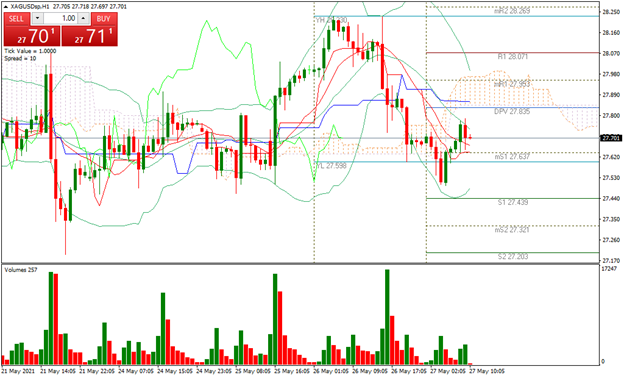 Support 1: 27.740
Support 2: 27.678
Support 3: 27.603
Resistance 1: 27.877
Resistance 2: 27.952
Resistance 3: 28.014
Pivot Point: 27.815
The price is below the Ichimoku Cloud and right between the pivot point and support 1. If it manages to change trend, the price could head towards 27.98. Bulls keep the target at 30. Pivot point at 27.81.
---
EURUSD +0.12%
EURUSD continue its upward trend and remains above the 1.2200 level. At the moment the currency is up 0.12% and is trading at 1.2205. In general terms, the meeting between trade delegates from China and the US generates optimism in the market. Also, rising bond yields and tapering have moderated stock market movements this week. Today, traders are waiting for US GDP data and durable goods orders. Both are demand indicators.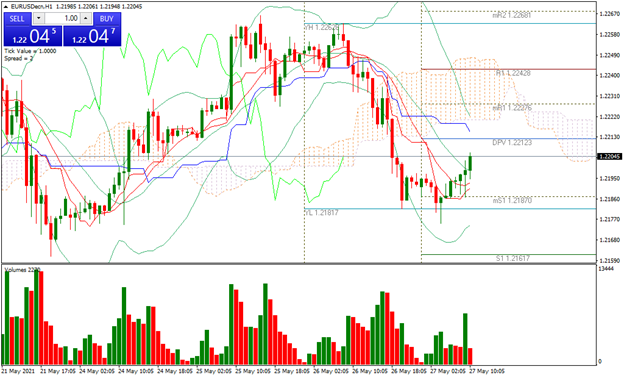 Support 1: 1.2188
Support 2: 1.2180
Support 3: 1.2173
Resistance 1: 1.2204
Resistance 2: 1.2210
Resistance 3: 1.2219
Pivot Point: 1.2195
Expected trading range between 1.2173 and 1.2219. Pivot point at 1.2195. RSI neutral. Bullish trend. Possible move towards resistance 1.
---
Sources
Reuters
Market watch
Bloomberg
Capitalix Market Research
Risk Disclaimer
Any information/articles/materials/content provided by Capitalix or displayed on its website is intended to be used for educational purposes only and does not constitute investment advice or a consultation on how the client should trade.
Although Capitalix has ensured that the content of such information is accurate, it is not responsible for any omission/error/miscalculation and cannot guarantee the accuracy of any material or any information contained herein.
Therefore, any reliance you place on such material is strictly at your own risk. Please note that the responsibility for using or relying on such material rests with the client and Capitalix accepts no liability for any loss or damage, including without limitation, any loss of profit which may arise directly or indirectly from the use of or reliance on such information.
Risk Warning: Forex/CFDs trading involves significant risk to your invested capital. Please read and make sure that you fully understand our Risk Disclosure Policy.
You should ensure that, depending on your country of residence, you are allowed to trade Capitalix.com products. Please ensure that you are familiar with the company's risk disclosure.
Want to read more?
Login and enjoy all Daily Analysis articles