Daily Review for May 25, 2021
May 25, 2021, 9:03
Markets opened bullish, and investors are awaiting the business confidence data from Germany and the US.
Germany reported a sharp GDP decline, so the DAX 30 is in correction phase at the moment.
Commodities continue to show an interesting rally. Silver is dropping a few points, but the uptrend remains.
The correlation of Nasdaq 100 with the crypto market is increasing. Coinbase and Tesla are benchmarks in this regard. Both companies closed with significant gains in their share prices yesterday.
Bulls are looking for USD$1,900 and USD$1,950 for gold. For the time being, the metal remains in investors' portfolios. The biggest concern at the moment is the cryptos volatility.
---
SILVER -0.32%
Commodity traders are analyzing the infrastructure plan in the USA. If political parties approve Biden's plan, the price of silver could climb towards USD$30 due to its industrial usage. Another factor that could contribute to the price rise is the decline in Treasury bond yields. Meanwhile, silver is down 0.32% and is trading at USD$27.76.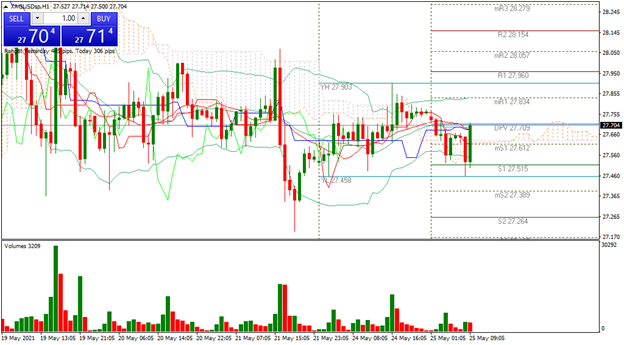 Support 1: 27.503
Support 2: 27.419
Support 3: 27.293
Resistance 1: 27.713
Resistance 2: 27.839
Resistance 3: 27.923
Pivot Point: 27.629
Sideways movement. Price is below the 25 and 50-day moving average. Expected trading range between 27.29 and 27.92. Pivot point at 27.62. RSI neutral.
---
NASDAQ 100 +0.68%
Nasdaq 100 and the cryptos correlation is increasing. As a result, cryptos market recovery has contributed to the index's bullish trading. Nasdaq-listed Coinbase closed yesterday up 0.50%. Tesla, which have exposure on Bitcoin, closed up 4.40%. Bitcoin is currently rising 7%, and its trading at USD$38.906.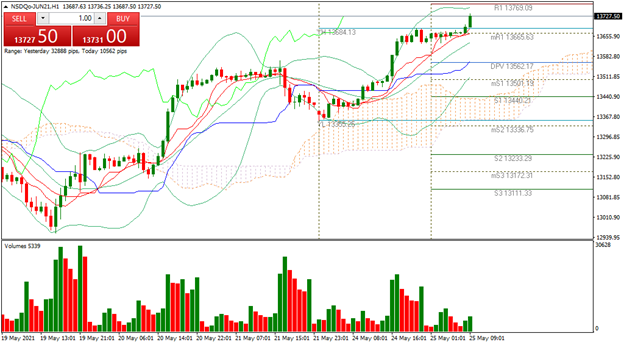 Support 1: 13,674.04
Support 2: 13,655.96
Support 3: 13,644.17
Resistance 1: 13,703.91
Resistance 2: 13,715.70
Resistance 3: 13,733.78
Pivot Point: 13,685.83
Price is above the Ichimoku Cloud, approaching resistance to 1. Bulls are looking for the 14,000 area again. RSI in overbought zone. Trading range between 13,644 and 13,733. Pivot point at 13,685.
---
DAX 30 -0.18%
DAX 30 starts the day with a drop of 0.18% due to a decline in Germany's GDP. The market was expecting a GDP decline of 1.7%. In the end, it was -1.8% for Q1 2021. In annual terms, German GDP was -3.4%. As a result, the index is trading at 15,548. Today, we will have the IFO business confidence data and the second day of the European leaders' summit.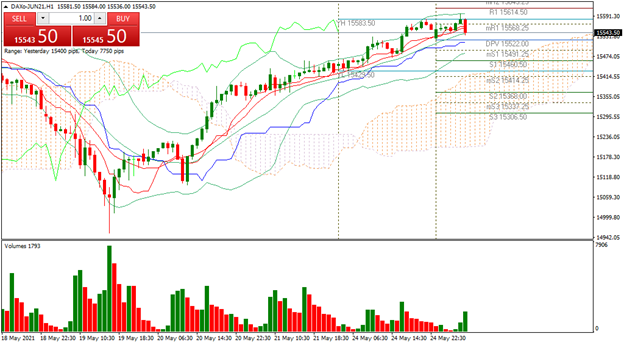 Support 1: 15,563.1
Support 2: 15,550.3
Support 3: 15,532.1
Resistance 1: 15,594.1
Resistance 2: 15,612.3
Resistance 3: 15,625.1
Pivot Point: 15,581.3
Despite the negative GDP data, the index remains in the upward channel. The price is between resistance 1 and the pivot point. Possible sideways movement while a trend is defined. RSI leaving the overbought zone.
---
GOLD +0.11%
Gold price has managed to stay above USD$1,880, indicating that the metal remains in investors portfolios. If bond yields continue to decline, gold price could reach USD$1,900. On the other hand, the FED maintains its stance that interest rates are not going to rise in the short term, therefore, the equity market continues in the recovery phase.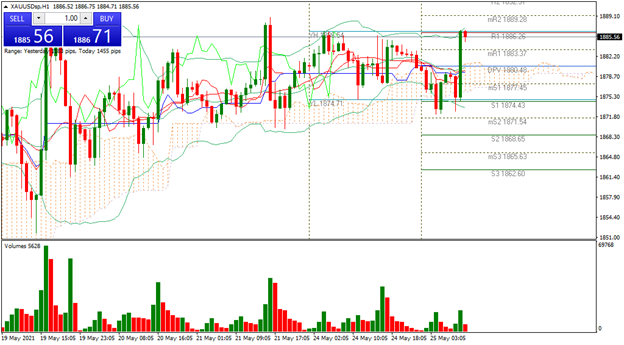 Support 1: 1,877.94
Support 2: 1,870.57
Support 3: 1,866.09
Resistance 1: 1,889.79
Resistance 2: 1,894.27
Resistance 3: 1,901.64
Pivot Point: 1,882.42
Price is above the Ichimoku cloud and is between resistance 1 and 2. Bulls are looking for 1,900, also 1,950. Expected trading range between 1,866 and 1,901. Pivot point at 1,882.
---
Sources
Reuters
Market watch
Bloomberg
Capitalix Market Research
Risk Disclaimer
Any information/articles/materials/content provided by Capitalix or displayed on its website is intended to be used for educational purposes only and does not constitute investment advice or a consultation on how the client should trade.
Although Capitalix has ensured that the content of such information is accurate, it is not responsible for any omission/error/miscalculation and cannot guarantee the accuracy of any material or any information contained herein.
Therefore, any reliance you place on such material is strictly at your own risk. Please note that the responsibility for using or relying on such material rests with the client and Capitalix accepts no liability for any loss or damage, including without limitation, any loss of profit which may arise directly or indirectly from the use of or reliance on such information.
Risk Warning: Forex/CFDs trading involves significant risk to your invested capital. Please read and make sure that you fully understand our Risk Disclosure Policy.
You should ensure that, depending on your country of residence, you are allowed to trade Capitalix.com products. Please ensure that you are familiar with the company's risk disclosure.
Want to read more?
Login and enjoy all Daily Analysis articles