Daily Review for May 24, 2021
May 24, 2021, 8:32
The week begins and the market shows significant volatility in cryptos. Bitcoin reached USD$30,000 over the weekend.
Bitcoin's market capitalization has dropped nearly 50% in one week.
The price of crude oil is above the USD$64 per barrel mark. Traders are long as they await the outcome of the Iran sanctions and China's restrictions on commodity speculators.
DAX 30 target the 15,600 zone. Traders are aware at the agenda of the EU Leaders Summit.
EURUSD fell from the 1.2200 area. However, the currency seeks to resume its uptrend taking advantage of the weakening of the USD and the fall in Treasury yields.
---
BITCOIN -3.06%
Bitcoin bearish trend continues mainly due to concerns about market regulation and China's restrictions. Bitcoin is currently down 3.06% and is trading at USD$35,690. On the weekend the price reached USD$30,000 due to massive panic selling. However, it managed to recover the level of support 2. Bulls target is to recover the price to USD$40,000.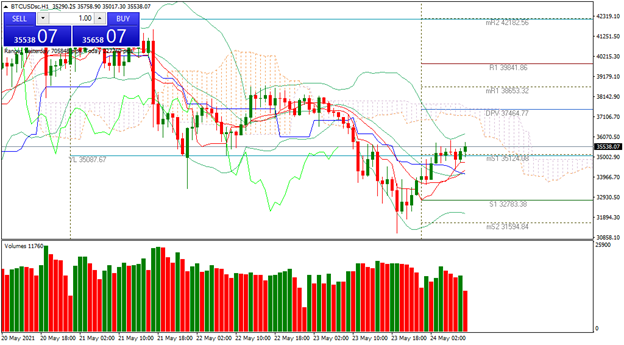 Support 1: 35,151
Support 2: 34,919
Support 3: 34,803
Resistance 1: 35,499
Resistance 2: 35,615
Resistance 3: 35,847
Pivot Point: 35,267
After a double top at 60,000, the price has dropped 50% and is currently below the 50-, 100- and 200-day moving averages. At the moment, the price is at the 50% Fibonacci retracement level. Two possible scenarios, the Bears pushing 25,000 and the Bulls towards 40,000.
---
CRUDE OIL +1.01%
Commodities traders are aware of the United Nations output on Iran nuclear inspection. Depending on the outcome, the United States could lift sanctions on the country's crude oil exports. Meanwhile, the price of crude oil is up 1.01% and is trading at USD$64.30 per barrel. On the other hand, China is trying to place sanctions on commodity speculators. So far the announcement has not impacted the energy markets.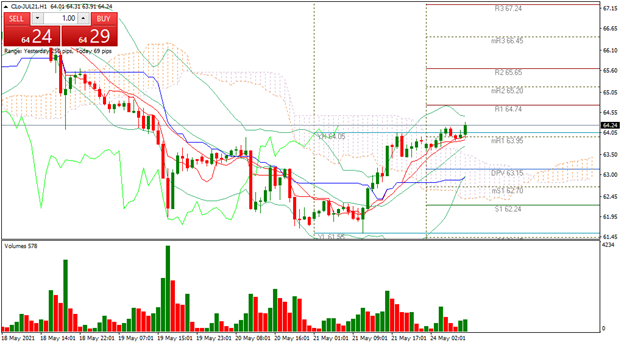 Support 1: 63.94
Support 2: 63.83
Support 3: 63.74
Resistance 1: 64.14
Resistance 2: 64.23
Resistance 3: 64.34
Pivot Point: 64.03
The price crossed the Ichimoku cloud, which denotes an uptrend. The price is between resistance 1 and 2. Possible movement towards 65. Expected trading range between 63.74 and 64.34. Pivot point at 64.03.
---
DAX 30 +0.35%
European markets open mixed awaiting the results of the European Union Leaders' Committee. At the moment, the DAX 30 is up 0.30% and is trading at 15,483. Several items will be on the leaders' agenda, including vaccines, the economic recovery plan, sanctions against Belarus, among others. The CAC and the IBEX are in negative territory, with -0.30% and -0.39% respectively.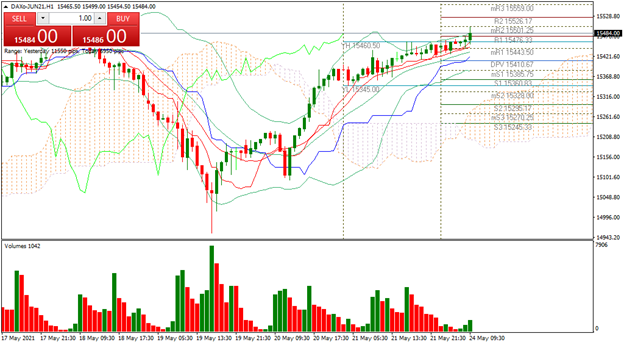 Support 1: 15,450.5
Support 2: 15,432.5
Support 3: 15,420.5
Resistance 1: 15,480.5
Resistance 2: 15,492.5
Resistance 3: 15,510.5
Pivot Point: 15,462.5
Expected trading range between 15,420 and 15,510. Pivot point at 15,462. Bullish trend. Price is between resistance 2 and 3. RSI in overbought zone.
---
EURUSD +0.12%
The currency is looking to climb to the 1.2202 area in response to the weakening USD and falling Treasury yields. Interesting fundamentals during the week. With a number of issues to be discussed at the EU leaders' summit today, the currency could see some interesting volatility. Traders continue to be concerned about the effect of inflation on the market. The FED remains passive and the ECB is trying to generate new leadership, but is also criticized for lack of action.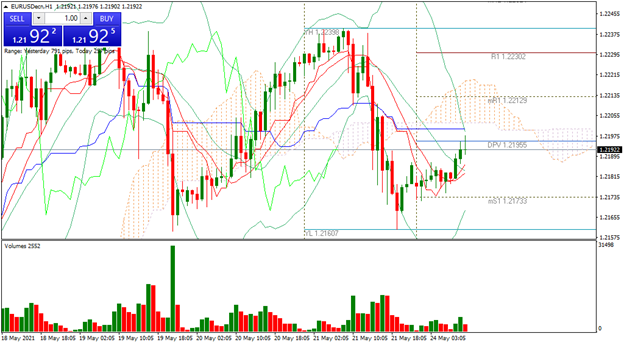 Support 1: 1.2185
Support 2: 1.2181
Support 3: 1.2175
Resistance 1: 1.2196
Resistance 2: 1.2201
Resistance 3: 1.2206
Pivot Point: 1.2191
Traders most important level to test is in the area of the 100-day moving average at 1.2120. Trading range between 1.2175 and 1.2206. Pivot point at 1.2191. RSI neutral.
---
Sources
Reuters
Market watch
Bloomberg
Capitalix Market Research
Risk Disclaimer
Any information/articles/materials/content provided by Capitalix or displayed on its website is intended to be used for educational purposes only and does not constitute investment advice or a consultation on how the client should trade.
Although Capitalix has ensured that the content of such information is accurate, it is not responsible for any omission/error/miscalculation and cannot guarantee the accuracy of any material or any information contained herein.
Therefore, any reliance you place on such material is strictly at your own risk. Please note that the responsibility for using or relying on such material rests with the client and Capitalix accepts no liability for any loss or damage, including without limitation, any loss of profit which may arise directly or indirectly from the use of or reliance on such information.
Risk Warning: Forex/CFDs trading involves significant risk to your invested capital. Please read and make sure that you fully understand our Risk Disclosure Policy.
You should ensure that, depending on your country of residence, you are allowed to trade Capitalix.com products. Please ensure that you are familiar with the company's risk disclosure.
Want to read more?
Login and enjoy all Daily Analysis articles