Daily Review for May 21, 2021
May 21, 2021, 8:07
Bitcoin manages to fend off shorts and is at USD$40,000.
EURUSD continues the uptrend and awaits the ECB statement.
RSI neutral on Gold, so the metal remains in investors' portfolios.
---
BITCOIN +0.32%
Bitcoin price has managed to stay above the USD$40,000 mark. Strong volatility evidenced during the week. The price has dropped to USD$29,000 and then recovered to the actual level. This weekend is key for the consolidation of this zone and rebound. Yesterday recovery rally was stopped by the US Treasury, which announced taxes on transactions above USD$10,000 in Bitcoin.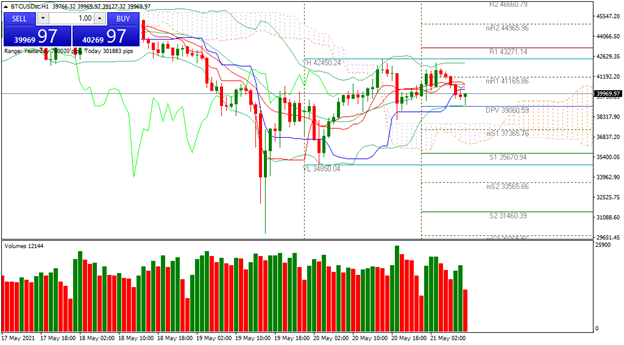 Support 1: 39,557.0
Support 2: 39,267.5
Support 3: 38,893.4
Resistance 1: 40,220.6
Resistance 2: 40,594.7
Resistance 3: 40,884.1
Pivot Point: 39,931.1
The price is above the level of the 200-day moving average at USD$40,073. RSI neutral. Trading range between 38,893 and 40,884. Pivot point at 39,931. The price is between the pivot point and resistance 1. If it breaks this zone and gain momentum, the price could climb to 46,000.
---
EURUSD +0.01%
The currency continues to move higher, now above the 1.2230 mark. Today, several economic data could impact the EURUSD performance. Most importantly, the ECB announcement. Traders will analyze BCE comments on the market and economic outlook. At the beginning of this week, the ECB distanced its strategy from the FED, so traders want to confirmed that today. If so, we could see a pro-market ECB.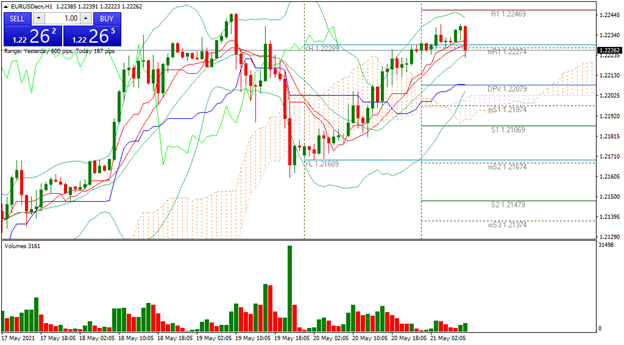 Support 1: 1.2233
Support 2: 1.2231
Support 3: 1.2229
Resistance 1: 1.2238
Resistance 2: 1.2241
Resistance 3: 1.2243
Pivot Point: 1.2236
Trading range between 1.2229 and 1.2243. Pivot point at 1.2236. RSI coming out of overbought zone. Price is above the 14-day moving average. Possible move towards 1.2250.
---
GOLD -0.42%
The equities markets are starting to show upward movements. At the moment, global stock markets are in positive territory. Traders are ready to test the trend depending on the economic data that will be published during the day. Also the ECB message is key for a positive close of the week. Gold prices are down 0.42% and are trading at USD$1,873.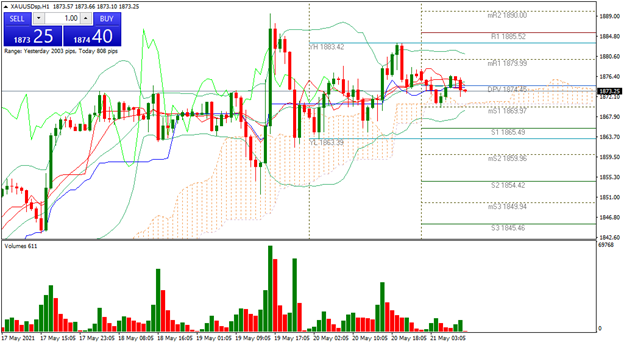 Support 1: 1,872.19
Support 2: 1,870.57
Support 3: 1,868.09
Resistance 1: 1,876.29
Resistance 2: 1,878.77
Resistance 3: 1,880.39
Pivot Point: 1,874.67
Possible sideways movement towards 1,874. Trading range between 1,868 and 1,880, with pivot point at 1,874. RSI neutral, so gold remains in investors' portfolios.
---
---
Sources
Reuters
Market watch
Bloomberg
Capitalix Market Research
Risk Disclaimer
Any information/articles/materials/content provided by Capitalix or displayed on its website is intended to be used for educational purposes only and does not constitute investment advice or a consultation on how the client should trade.
Although Capitalix has ensured that the content of such information is accurate, it is not responsible for any omission/error/miscalculation and cannot guarantee the accuracy of any material or any information contained herein.
Therefore, any reliance you place on such material is strictly at your own risk. Please note that the responsibility for using or relying on such material rests with the client and Capitalix accepts no liability for any loss or damage, including without limitation, any loss of profit which may arise directly or indirectly from the use of or reliance on such information.
Risk Warning: Forex/CFDs trading involves significant risk to your invested capital. Please read and make sure that you fully understand our Risk Disclosure Policy.
You should ensure that, depending on your country of residence, you are allowed to trade Capitalix.com products. Please ensure that you are familiar with the company's risk disclosure.
Want to read more?
Login and enjoy all Daily Analysis articles