Daily Review for May 20, 2021
May 20, 2021, 9:50
Global market tries to recover from yesterday's correction. Europe opens in green as the ECB focuses on the market. The FED proposal still fails to convince.
Crude oil starts to feel more pressure from increased supply and tightening demand.
Traders are looking forward to today's ECB announcement. The Bank has warned the market of irrational exuberance.
Wall Street futures remain in red. Traders look to turn the bearish trend.
Gold is looking for 1,900 and 1,950. Bitcoin fell 30% and recovered 30% in one day.
---
CRUDE OIL +0.50%
Crude oil prices dropped from resistance 2 at USD$66.92 per barrel, to the current trading level of USD$63.70. Concerns about demand returned to the market. Growing pandemic in India and the possible lifting of sanctions on Iran give mixed signals for demand and supply. In the US, crude oil inventories increased by 1.3 million barrels.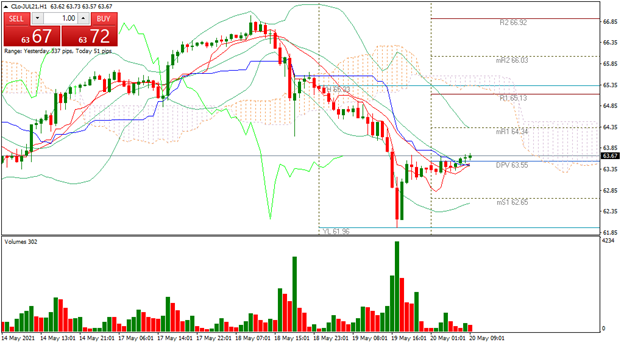 Support 1: 63.54
Support 2: 63.42
Support 3: 63.33
Resistance 1: 63.75
Resistance 2: 63.84
Resistance 3: 63.96
Pivot Point: 63.63
Price is at the Pivot Point, which could signal a change in trend. If the Bulls prevail, we could see price go as high as 65.13 to 66.03. If the Bears gain ground, 62.65 and 60.97. Pivot point at 63.63.
---
DAX 30 +0.40%
Markets in Europe open in positive territory. At this moment the DAX 30 is up 0.40% and is trading at 15,204. The ECB warned the market of "Irrational Exuberance", foreseeing important corrections in equities and real estate. It also warned of the risk of insolvency when economic stimulus ends. On the other hand, the European Union is coordinating the strategy for the opening of air borders to vaccinated travelers; thus, the tourism sector could start to recover. Today we will have announcements from Christine Lagarde, President of the ECB.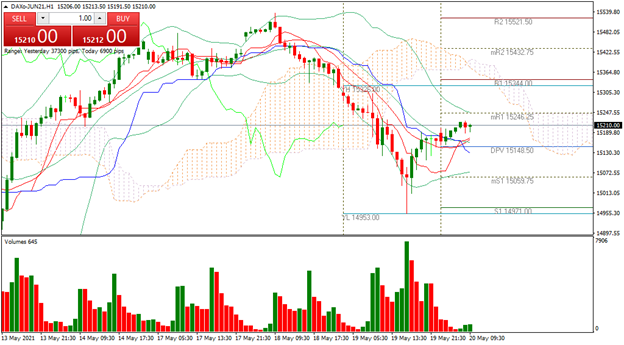 Support 1: 15,189.6
Support 2: 15,173.3
Support 3: 15,157.6
Resistance 1: 15,221.6
Resistance 2: 15,237.3
Resistance 3: 15,253.6
Pivot Point: 15,205.3
Expected trading range between 15,157 and 15,253. Pivot point at 15,205. Price is between support 1 and resistance 1. If the upward momentum continues, price could reach 15,521 again.
---
S&P500 -0.12%
From the market's perspective, the FED sounded very passive, so Wall Street closed in red and in Asia the market remained mixed. The FED minutes stated that the fixed income instrument purchase program to stabilize bond yields will continue. As a result, there is a shift away from the FED and the ECB strategies. The FED is more focused on inflation and the ECB on the market. Meanwhile, Wall Street indices remain in red, with the S&P500 down 0.12% at the moment.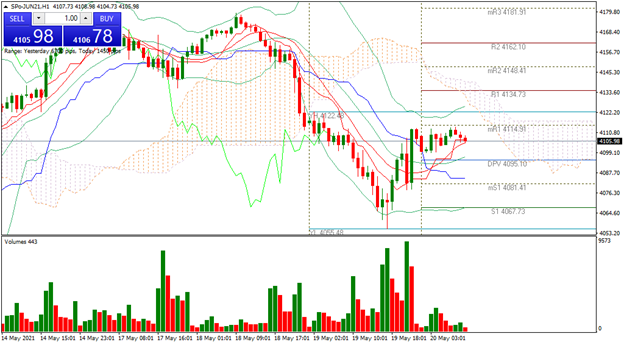 Support 1: 4,104.28
Support 2: 4,101.95
Support 3: 4,098.28
Resistance 1: 4,110.28
Resistance 2: 4,113.95
Resistance 3: 4,116.28
Pivot Point: 4,107.95
Price bounced a bit towards resistance 1 at 4,114 from support 1 in 4,067. Expected trading range between 4,098 and 4,116. Pivot point at 4,107. RSI neutral.
---
GOLD -0.51%
The metal has been the protagonist in investors' portfolios for the past two weeks. At the end of 2020, market analysts were saying that Bitcoin was the new hedge from inflation. However, this week with the significant volatility, the metal has once again gained market interest. At the moment the price of gold is down 0.51% and is trading at USD$1,870 per Troy ounce.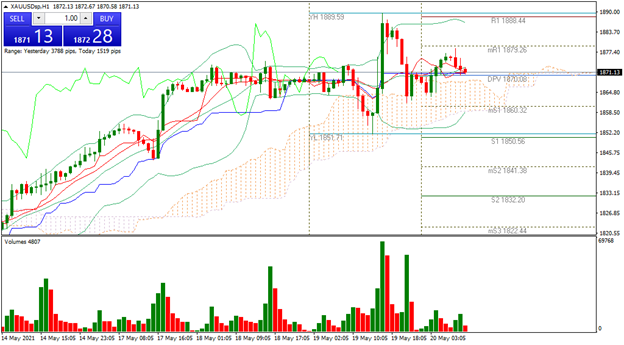 Support 1: 1,869.51
Support 2: 1,867.53
Support 3: 1,864.06
Resistance 1: 1,874.96
Resistance 2: 1,878.43
Resistance 3: 1,880.41
Pivot Point: 1,872.98
With the volatility of the market, the price reached USD$1,890. Possible sideways movement towards USD$1,870 before setting a new trend. Bulls are looking for USD$1,900, even USD$1,950.
---
Sources
Reuters
Market watch
Bloomberg
Capitalix Market Research
Risk Disclaimer
Any information/articles/materials/content provided by Capitalix or displayed on its website is intended to be used for educational purposes only and does not constitute investment advice or a consultation on how the client should trade.
Although Capitalix has ensured that the content of such information is accurate, it is not responsible for any omission/error/miscalculation and cannot guarantee the accuracy of any material or any information contained herein.
Therefore, any reliance you place on such material is strictly at your own risk. Please note that the responsibility for using or relying on such material rests with the client and Capitalix accepts no liability for any loss or damage, including without limitation, any loss of profit which may arise directly or indirectly from the use of or reliance on such information.
Risk Warning: Forex/CFDs trading involves significant risk to your invested capital. Please read and make sure that you fully understand our Risk Disclosure Policy.
You should ensure that, depending on your country of residence, you are allowed to trade Capitalix.com products. Please ensure that you are familiar with the company's risk disclosure.
Want to read more?
Login and enjoy all Daily Analysis articles