Daily Review for May 19, 2021
May 19, 2021, 8:33
Turbulence in the market. Inflation worries investors. Today the ECB and the FED will try to calm the markets. If the announcements are too passive, a larger correction could be witnessed.
China banned cryptocurrency transactions. The crypto market reacted with significant falls, including Bitcoin.
Wall Street falls. The S&P 500 is down 0.50%. Traders are aware of the FED.
Opportunity for gold to validate itself as a hedging instrument in the face of uncertainty and inflation. At the moment it is up 0.20%.
---
EUROSTOXX 50 -0.90%
Investors continue to be aware on inflation, and with it, equities are selling heavily on the main global stock exchanges. The Eurostoxx 50 is down 0.90% and is trading at 3,966. Traders are looking forward to the ECB announcements on Financial Stability and the FED minutes on monetary policy.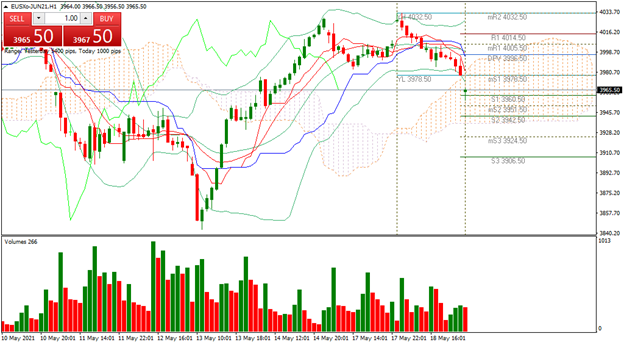 Support 1: 4,014
Support 2: 4,012
Support 3: 4,008
Resistance 1: 4,020
Resistance 2: 4,024
Resistance 3: 4,026
Pivot Point: 4,018
Expected trading range between 4,008 and 4,026. Pivot point at 4,018. RSI neutral, entering into the oversold zone. Price crossed the Ichimoku cloud, but continues to trend sideways. Bulls are looking to reach the 4,000 level again. Bearish pressure as long as there is no change in trend.
---
BITCOIN -12.54%
Significant downward pressure on Bitcoin as a result of the Chinese government's ban on cryptocurrency transactions. The Chinese announcement triggered a sharp drop in the entire crypto market. Bitcoin is currently down 12.54% and is trading at USD$39,300. Bank of America announced this week that Bitcoin was one of the most popular assets in the market, so we may see today a mix of long and short positions pushed by retail and big players in the industry.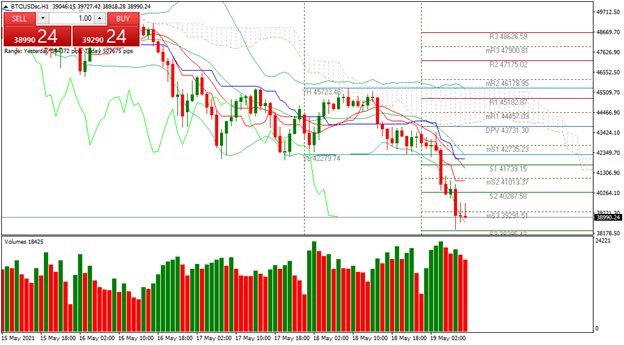 Support 1: 43,748.6
Support 2: 43,157.3
Support 3: 42,861.6
Resistance 1: 44,635.6
Resistance 2: 44,931.3
Resistance 3: 45,522.6
Pivot Point: 44,044.3
The price is below the Ichimoku cloud and right at support 3. If it breaks it, the next level could be 38,000. Expected trading range between 42,861 and 45,522. Pivot point at 44,044. RSI on oversold level.
---
S&P500 -0.50%
Investors are awaiting the FED minutes and monetary policy announcements. Inflation is the market's main concern. In Asia, markets continued in red and at the European open, stock markets continue to fall. The ECB will try to calm the markets; however, traders will be more attentive to the FED. Possible further correction of the S&P500 which is currently down 0.50%.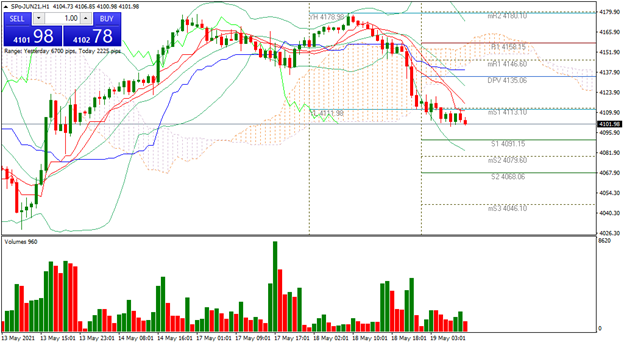 Support 1: 4,158.46
Support 2: 4,155.91
Support 3: 4,151.20
Resistance 1: 4,165.72
Resistance 2: 4,170.43
Resistance 3: 4,172.98
Pivot Point: 4,163.17
The price crossed the Ichimoku cloud. At the moment it is above the level of 4,109. Expected trading range between 4,151 and 4,172. Pivot point at 4,163. RSI in oversold level. Bears are looking to break the 4,000 level.
---
GOLD +0.22%
Opportunity for the metal to ratify itself as a hedging instrument in the face of market uncertainty. The price of gold is currently up 0.22% and is trading at USD$1,872. If the FED and the ECB fail to calm the sell-off in the market, we could see the metal reach USD$1,900. The VIX is currently at +4% and volatility is increasing. Inflation plus the fall of cryptos could cause a major correction in the markets.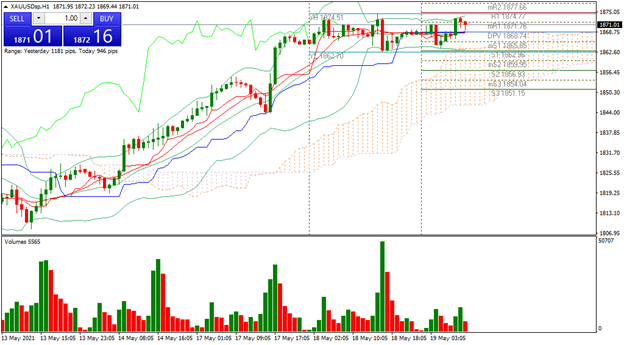 Support 1: 1,851.39
Support 2: 1,850.22
Support 3: 1,847.99
Resistance 1: 1,854.79
Resistance 2: 1,857.02
Resistance 3: 1,858.19
Pivot Point: 1,853.62
Bullish trend. The price is between resistance 1 and resistance 2. It is also above the Ichimoku cloud. Expected trading range between 1,847 and 1,858. Pivot point at 1,853. RSI neutral, so the buying volume of the metal could increase.
---
Sources
Reuters
Market watch
Bloomberg
Capitalix Market Research
Risk Disclaimer
Any information/articles/materials/content provided by Capitalix or displayed on its website is intended to be used for educational purposes only and does not constitute investment advice or a consultation on how the client should trade.
Although Capitalix has ensured that the content of such information is accurate, it is not responsible for any omission/error/miscalculation and cannot guarantee the accuracy of any material or any information contained herein.
Therefore, any reliance you place on such material is strictly at your own risk. Please note that the responsibility for using or relying on such material rests with the client and Capitalix accepts no liability for any loss or damage, including without limitation, any loss of profit which may arise directly or indirectly from the use of or reliance on such information.
Risk Warning: Forex/CFDs trading involves significant risk to your invested capital. Please read and make sure that you fully understand our Risk Disclosure Policy.
You should ensure that, depending on your country of residence, you are allowed to trade Capitalix.com products. Please ensure that you are familiar with the company's risk disclosure.
Want to read more?
Login and enjoy all Daily Analysis articles