Daily Review for May 18, 2021
May 18, 2021, 7:57
Dow Jones resumes the uptrend and seeks the 35,000 zone.
Analysts expect not so favorable results from Home Depot and Walmart due to lower retail sales and inflation in the US.
EURUSD is looking for the 1.2200 area. Traders are aware of the Euro Zone GDP data.
Gold continues to trend higher. Bulls are looking for USD$1,900 per Troy ounce. Declining Treasury yields, tech stocks sell off and a depreciating USD are supporting the trend.
Bitcoin is looking to recover from yesterday's drop. At the moment it is trading above USD$45,000.
---
DOW JONES +0.42%
Dow Jones recovers the upward trend, and is currently up 0.42%, advancing 150 points. Analysts see possible upward movements in the indices, ahead of the FED and ECB announcements to raise interest rates. On the other hand, the corporate results season is coming to an end. Today, we will have two important companies for the retail market. Walmart and Home Depot. For Walmart, analysts estimate an EPS of 1.21 and an operating income of USD$132.21 billion. Home Depot is expected to have EPS of 3.06 and operating income of $34.6 billion. Analysts are cautious due to lower US retail sales data and rising inflation.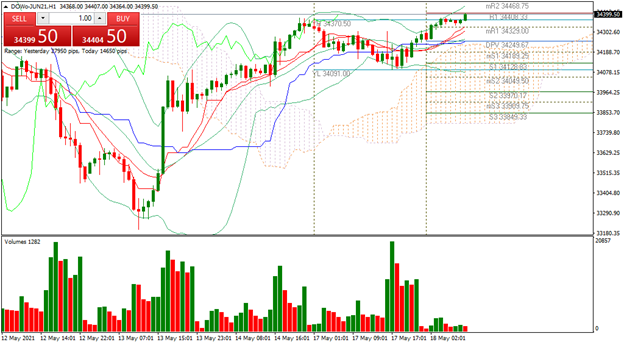 Support 1: 34,216.1
Support 2: 34,196.8
Support 3: 34,162.6
Resistance 1: 34,269.6
Resistance 2: 34,303.8
Resistance 3: 34,323.1
Pivot Point: 34,250.3
The price is above the ascending channel. It is also above the 25- and 50-day moving averages. The Bulls are looking for the 35,000 zone. Pivot point at 34,250.
---
EURUSD +0.30%
USD money supply has increased in the market since the beginning of 2021 to date, as a consequence of a significant increase in physical commodity transactions globally. This has led to a significant rise in agricultural, industrial and energy commodities prices. The EURUSD is currently up 0.30% and is trading at 1.2190. Traders are aware to the quarterly and annual GDP data in the Euro Zone. The market expects -0.6% and -1.8% respectively.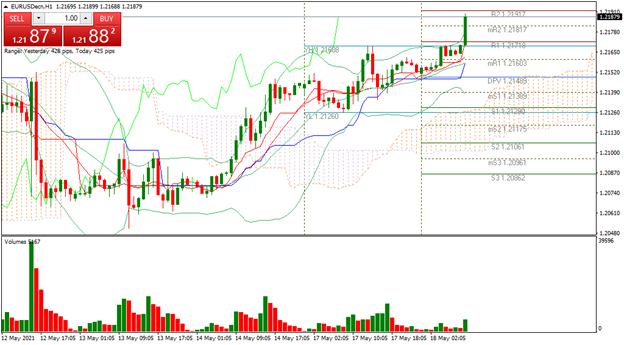 Support 1: 1.2125
Support 2: 1.2122
Support 3: 1.2119
Resistance 1: 1.2132
Resistance 2: 1.2136
Resistance 3: 1.2139
Pivot Point: 1.2129
The price is above the 15-day and 50-day moving averages. Bullish trend. Possible sideways movement in continuation of the Ichimoku cloud. Bulls are looking for 1.2200.
---
GOLD +0.17%
Declining Treasury bond yields, the sell-off in technology stocks and the depreciation of the USD have increased investors' interest in gold. The metal is currently up 0.17% and is trading at USD$1,869 per Troy ounce. Traders are now looking forward to tomorrow's Fed announcements, so the price could go sideways today, until a confirmation or change in trend.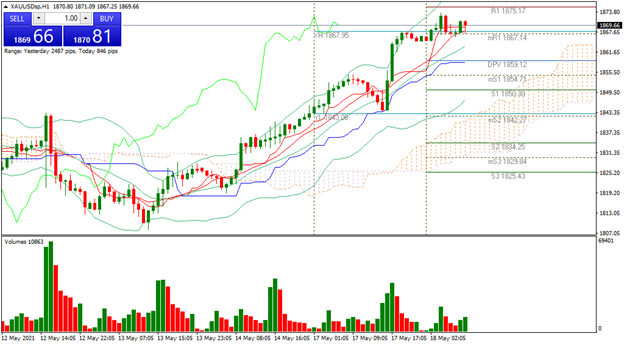 Support 1: 1,851.39
Support 2: 1,850.22
Support 3: 1,847.99
Resistance 1: 1,854.79
Resistance 2: 1,857.02
Resistance 3: 1,858.19
Pivot Point: 1,853.62
RSI in overbought zone. Expected trading range between 1,847 and 1,858. Pivot point at 1,858.19. Possible movement towards 1,850, before resuming the uptrend.
---
BITCOIN +1.33%
Bitcoin price has been under pressure for the past two weeks. The price reached an all-time high of USD$64,000 and then fell to the current level of USD$45,000. Today the cryptocurrency market is starting to recover from yesterday's drop. Bitcoin is currently up 1.33% and is trading at USD$44,880.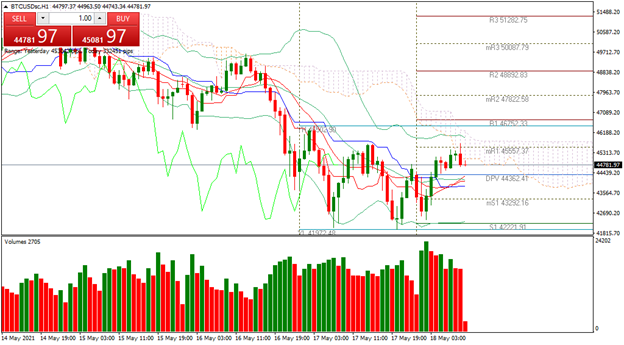 Support 1: 42,936.1
Support 2: 41,997.5
Support 3: 41,528.2
Resistance 1: 44,344.0
Resistance 2: 44,813.3
Resistance 3: 45,751.9
Pivot Point: 43,405.4
Possible sideways price movement towards the 45,550 area. Expected trading range between 41,528 and 45,751. Pivot point at 43,405. RSI neutral.
---
Sources
Reuters
Market watch
Bloomberg
Capitalix Market Research
Risk Disclaimer
Any information/articles/materials/content provided by Capitalix or displayed on its website is intended to be used for educational purposes only and does not constitute investment advice or a consultation on how the client should trade.
Although Capitalix has ensured that the content of such information is accurate, it is not responsible for any omission/error/miscalculation and cannot guarantee the accuracy of any material or any information contained herein.
Therefore, any reliance you place on such material is strictly at your own risk. Please note that the responsibility for using or relying on such material rests with the client and Capitalix accepts no liability for any loss or damage, including without limitation, any loss of profit which may arise directly or indirectly from the use of or reliance on such information.
Risk Warning: Forex/CFDs trading involves significant risk to your invested capital. Please read and make sure that you fully understand our Risk Disclosure Policy.
You should ensure that, depending on your country of residence, you are allowed to trade Capitalix.com products. Please ensure that you are familiar with the company's risk disclosure.
Want to read more?
Login and enjoy all Daily Analysis articles