Daily Review for May 03, 2021
May 3, 2021, 19:37
Market kick offs with positive movements due to vaccination progress in Europe. The EU negotiates new supply contract with Pfizer BioNTech.
Analysts keep an eye on PMI data in the Eurozone.
Increased demand of the Ethereum platform, drives its price towards USD$3,130. New BTC futures contract starts at the CME, and that brings dynamic to the sector.
Silver is consolidation period. Traders continue to follow the infrastructure plan in the US. Physical demand for the metal is increasing.
S&P500 closes the month of April with a 6% increase. Bulls are now trying to consolidate the 4,200 points zone.
---
DAX 30 +0.24%
The European Union's vaccination campaign continues to progress; by April 188 million vaccines had been administered. New agreement with Pfizer BioNTech for the supply of 1.8 billion vaccines during 2021 to 2023 has been closed. Similarly, EU delegates are negotiating with NovaRx a similar contract. On the other hand, Germany reported a 7.7% increase in retail sales in March 2021, exceeding the 3% expected by the market. We will have PMI reports in most of the EU countries today.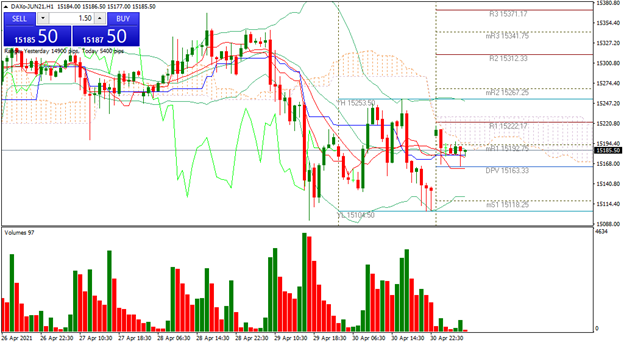 Support 1: 15,166.6
Support 2: 15,158.8
Support 3: 15,143.6
Resistance 1: 15,189.6
Resistance 2: 15,204.8
Resistance 3: 15,212.6
Pivot Point: 15,181.8
Sideway trend. It is above the Ichimoku cloud at 15,185. Expected trading range between 15,143 and 15,212. Pivot point at 15.181. RSI neutral.
---
ETHEREUM +6.06%
Significant increase in demand for Ethereum over the weekend. The cryptocurrency is currently up 6.06% and is trading at USD$3,081. The market cap of Ethereum is currently at USD$353 Billion. The increased usage of the Ethereum platform for apps development has contributed to the cryptocurrency's value generation. The new BTC futures contract on the CME started trading, and this has also generated more dynamics in the crypto market.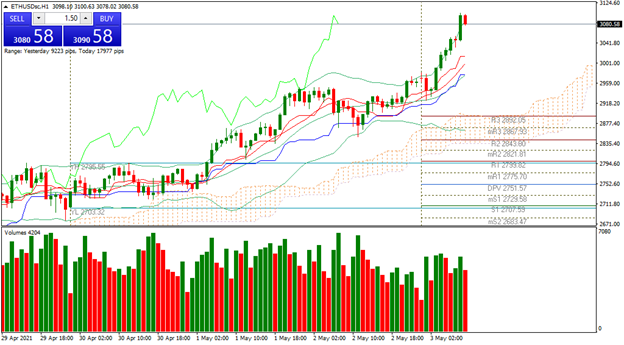 Support 1: 3,067.53
Support 2: 3,033.82
Support 3: 3,016.97
Resistance 1: 3,118.09
Resistance 2: 3,134.94
Resistance 3: 3,168.65
Pivot Point: 3,084.38
Bulls next target is 3,500. The price is in the ascending channel. The crypto continues above the short and medium-term moving average. RSI in overbought zone. Possible correction towards the Ichimoku cloud. Pivot point at 3,084.
---
SILVER +1.10%
Silver market is in a consolidation phase following the economic recovery. Physical demand for the metal is increasing. The price is currently up 1.10% and silver is trading at USD$26.11. Traders are following the infrastructure plan in the USA. During the execution of this plan, the demand for silver may continue to rise.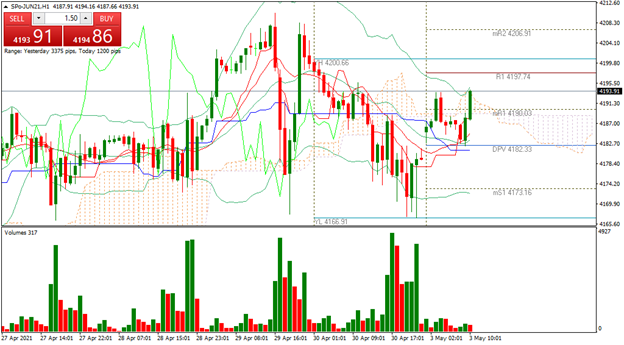 Support 1: 26.017
Support 2: 25.877
Support 3: 25.804
Resistance 1: 26.230
Resistance 2: 26.303
Resistance 3: 26.443
Pivot Point: 26.090
Consolidation period. The price is above the short- and medium-term moving average. RSI neutral. The price rebounded from the 25.80 zone and is rising towards the resistance 1. Pivot point at 26.09.
---
S&P500 +0.48%
The S&P500 evidenced a 6% growth during April 2021. The index closed the month with a price above 4,200 points. Analysts see several scenarios for Q2 2021. One is that companies will report better financial results and with that, the indices will receive an upward boost. Another scenario is that the increase in corporate taxes in the US begins to slow down the performance of companies and thus the stock markets. Finally, the third scenario is an increase in interest rates due to inflationary pressure.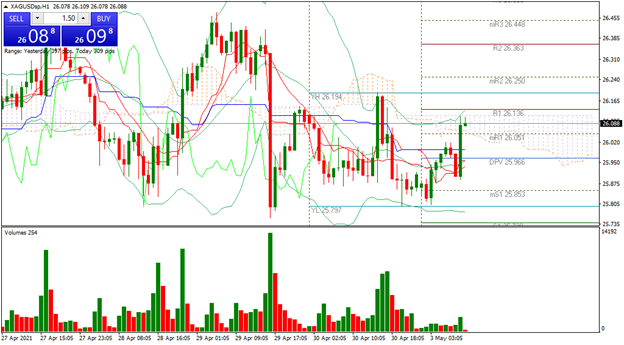 Support 1: 4,184.36
Support 2: 4,180.61
Support 3: 4,178.60
Resistance 1: 4,190.12
Resistance 2: 4,192.13
Resistance 3: 4,195.88
Pivot Point: 4,186.37
The price is at resistance 1, trying to recover the 4,200 points. If it manages to overcome this zone, the next level is at 4,206. Estimated trading range between 4.178 and 4.195. RSI neutral. Pivot point for trend change at 4.186.
---
Sources
Reuters
Market watch
Bloomberg
Capitalix Market Research
Risk Disclaimer
Any information/articles/materials/content provided by Capitalix or displayed on its website is intended to be used for educational purposes only and does not constitute investment advice or a consultation on how the client should trade.
Although Capitalix has ensured that the content of such information is accurate, it is not responsible for any omission/error/miscalculation and cannot guarantee the accuracy of any material or any information contained herein.
Therefore, any reliance you place on such material is strictly at your own risk. Please note that the responsibility for using or relying on such material rests with the client and Capitalix accepts no liability for any loss or damage, including without limitation, any loss of profit which may arise directly or indirectly from the use of or reliance on such information.
Risk Warning: Forex/CFDs trading involves significant risk to your invested capital. Please read and make sure that you fully understand our Risk Disclosure Policy.
You should ensure that, depending on your country of residence, you are allowed to trade Capitalix.com products. Please ensure that you are familiar with the company's risk disclosure.
Want to read more?
Login and enjoy all Daily Analysis articles