Daily Review for March 30, 2021
March 30, 2021, 10:19
Market opens higher, with main upward movements in Nikkei +1.39%, Ibex 35 +0.64% and in the FTSE 100 +0.62%. Main declines in the Nasdaq 100 with -0.20%.
Equities rally. For the time being, there is no sign of contagion from Archegon's debt default. Nomura and Credit Suisse, however, set off the alarm.
Pressure on gold. Bears look to break 1,700 support.
EURUSD at 4-month lows. Traders await Eurozone CPI and PMI data.
Bitcoin heading to 60,000. Corporates are increasingly accepting cryptocurrencies. Visa starts using Ethereum platform to make transactions on Blockchain.
---
DOW JONES +0.15%
Market has already absorbed the Archegon Margin Call, and is now focused on the bullish rally ahead of the NFP. At the moment the Dow Jones is up 0.15% and is trading at 33,073. Nomura commented that they have a USD$2 Billion exposure to Archegon debt. Credit Suisse did not mention the amount, but did comment that in the case of default it will create an important hole in their financial results.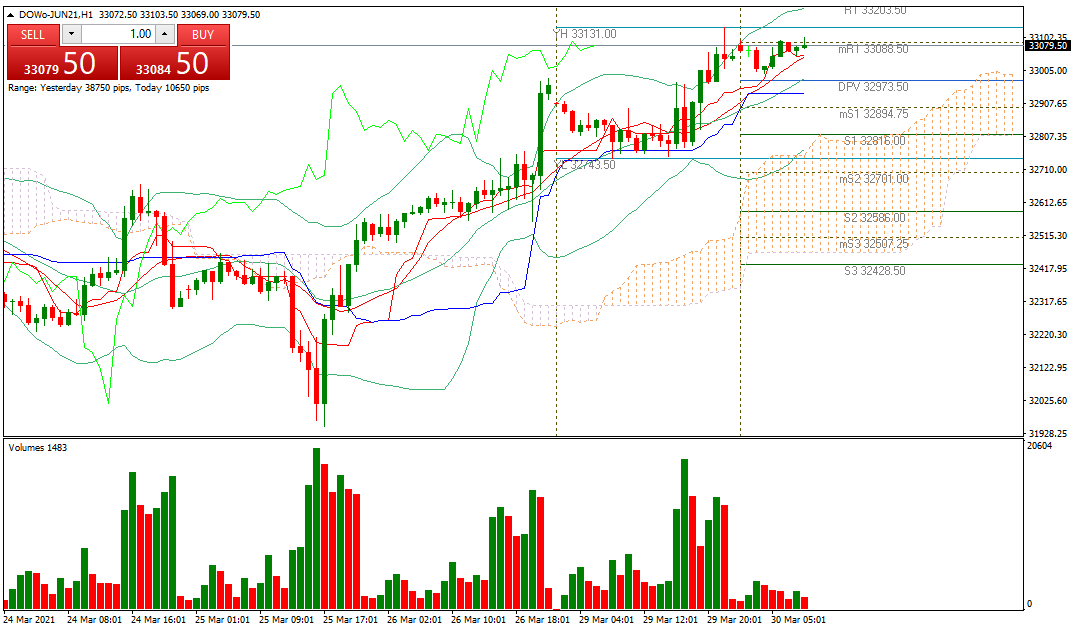 Support 1: 33,057.9
Support 2: 33,042.2
Support 3: 33,032.9
Resistance 1: 33,082.9
Resistance 2: 33,092.2
Resistance 3: 33,107.9
Pivot Point: 33,067.2
The price is heading towards historical highs at 33,200. It is currently above resistance 1, just above the Ichimoku cloud. RSI is into the overbought zone. We could see interesting rally and corrections before reaching 33.200. Pivot point at 33.067.
---
GOLD -0.57%
During yesterday's trading session in Wall Street, the stock indexes did a 180-degree turn and began to make significant gains, even reaching all-time highs. This has put pressure on gold, which is just above the 1,700 support. It is currently down 0.57% and is trading at USD$1,703. The recovery of the Suez Canal was welcomed by the market. Since the announcement, equities witnessed a rally that extended into the Asian session.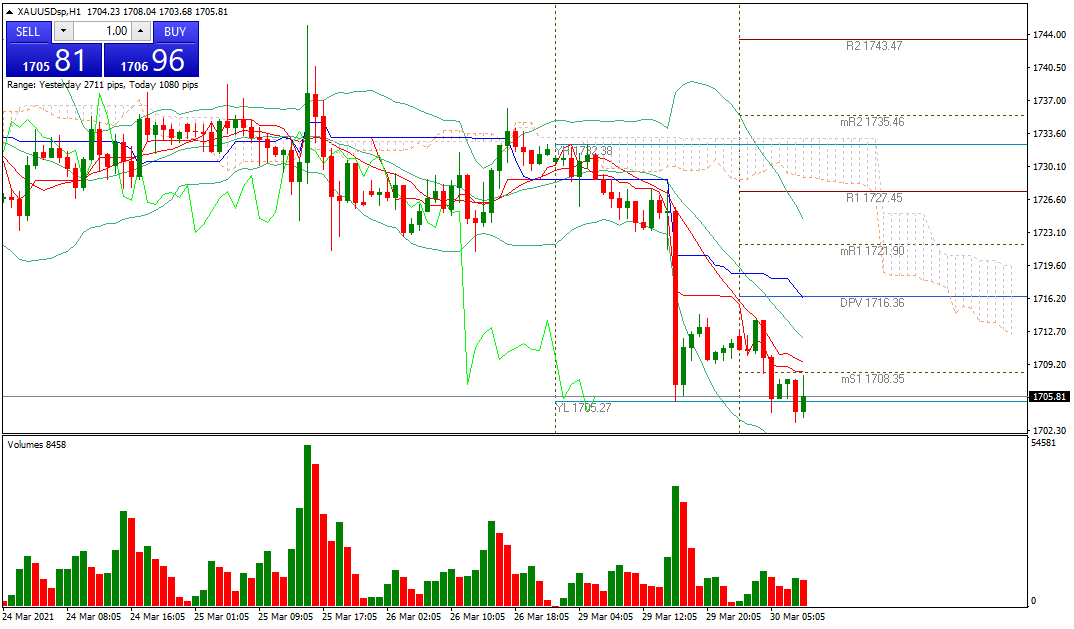 Support 1: 1,703.71
Support 2: 1,702.33
Support 3: 1,700.01
Resistance 1: 1,707.41
Resistance 2: 1,709.73
Resistance 3: 1,711.11
Pivot Point: 1,706.03
Price is at support 1. Bearish sentiment until there is a change of trend in the market. Ichimoku projects the price between a range of 1,719 and 1,712. Bears point to 1,650. RSI at oversold level. Possible bounce towards resistance 1 or 2. Pivot point at 1.706.
---
EURUSD -0.12%
Lowest level of the Euro in the last 4 months. The minutes of the central banks' meeting with the Bank for International Settlements have not been presented, therefore, the EURUSD has not changed its trend. Equity market is bullish, despite the possible contagion of Archegon's default on its financial obligations. Tomorrow we will have the CPI data in the Euro Zone and on Thursday the PMI. On Friday the NFP, but as the market is closed, volatility is likely to be evidenced on Thursday.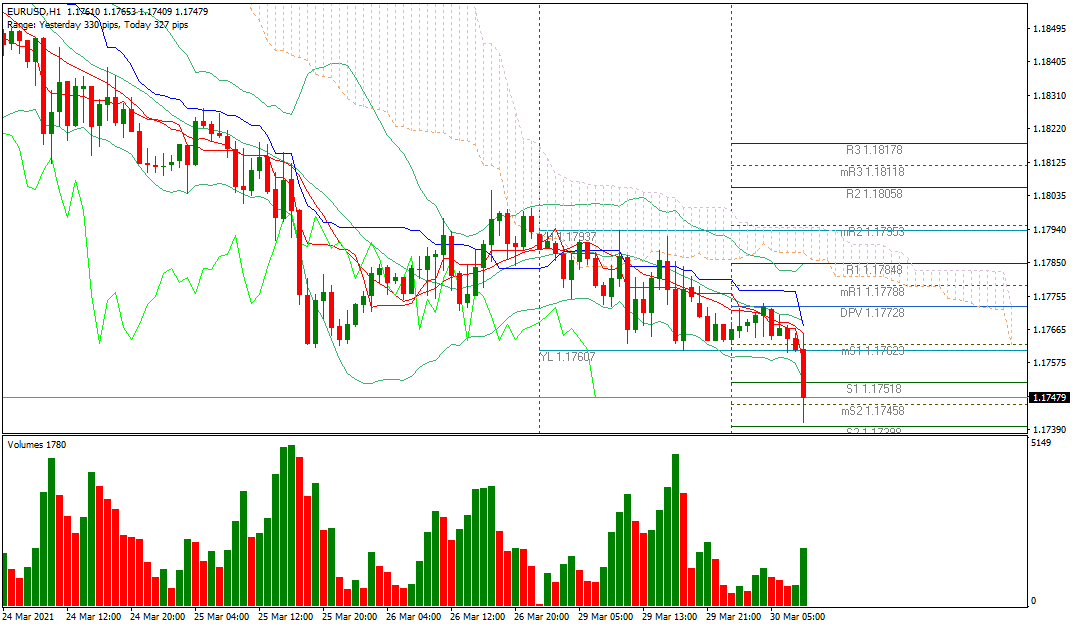 Support 1: 1.1759
Support 2: 1.1756
Support 3: 1.1752
Resistance 1: 1.1766
Resistance 2: 1.1770
Resistance 3: 1.1772
Pivot Point: 1.1763
Price is trading below 1.8000. The currency is at support 2 and in downtrend. RSI is at oversold level. Expected trading range between 1.1752 and 1.1772. Pivot point at 1.1763.
---
BITCOIN +4.81%
Crypto market is correcting last week's declines. Bitcoin is currently up 4.81% and is trading at USD$57,966. The uptrend in cryptos is being driven by new announcements from large companies such as Square and Visa to include Bitcoin in their Financial Statements and Balance Sheets. This strengthens cryptos in the corporate world.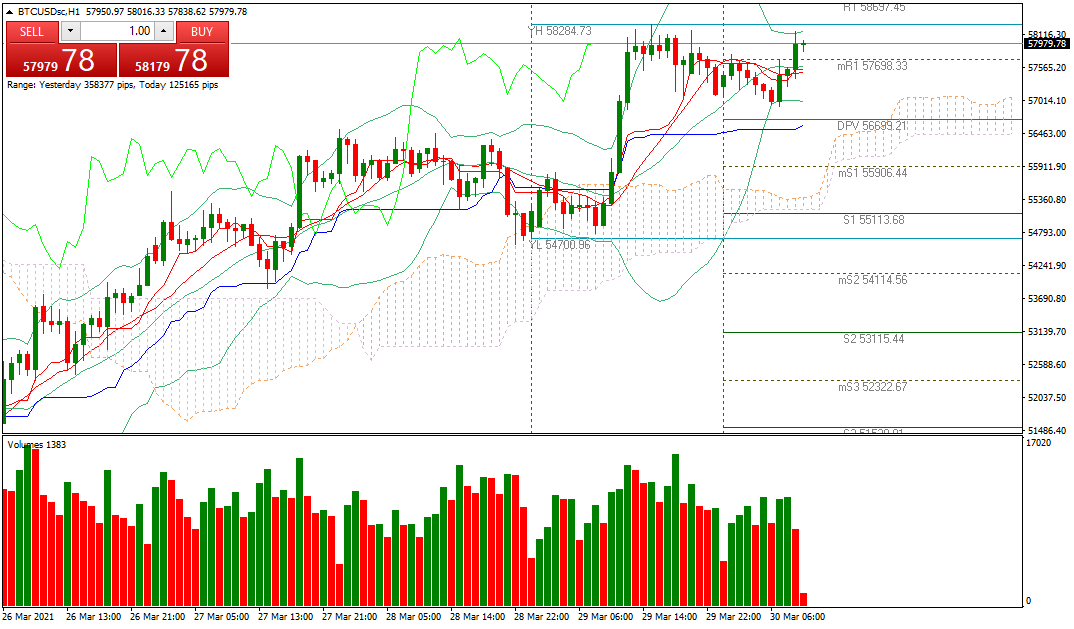 Support 1: 57,641.1
Support 2: 57,219.1
Support 3: 56,912.5
Resistance 1: 58,369.7
Resistance 2: 58,676.3
Resistance 3: 59,098.2
Pivot Point: 57,947.7
Bullish outlook. Bulls next target is 60,000. The price is above resistance 3. If it breaks this level, we could see a new rally towards all-time highs. RSI is at overbought level. Expected trading range between 56.912 and 59.098. Pivot point at 57.947.
---
SOURCES
Reuters
Market watch
Bloomberg
Capitalix Market Research
Risk Disclaimer
Any information/articles/materials/content provided by Capitalix or displayed on its website is intended to be used for educational purposes only and does not constitute investment advice or a consultation on how the client should trade.
Although Capitalix has ensured that the content of such information is accurate, it is not responsible for any omission/error/miscalculation and cannot guarantee the accuracy of any material or any information contained herein.
Therefore, any reliance you place on such material is strictly at your own risk. Please note that the responsibility for using or relying on such material rests with the client and Capitalix accepts no liability for any loss or damage, including without limitation, any loss of profit which may arise directly or indirectly from the use of or reliance on such information.
Risk Warning: Forex/CFDs trading involves significant risk to your invested capital. Please read and make sure that you fully understand our Risk Disclosure Policy.
You should ensure that, depending on your country of residence, you are allowed to trade Capitalix.com products. Please ensure that you are familiar with the company's risk disclosure.
Want to read more?
Login and enjoy all Daily Analysis articles