Daily Review for March 26, 2021
March 29, 2021, 7:54
Bullish market sentiment. The global stock market is in the green. 
Suez Canal issue extends oil tanker delays. Crude oil rises sharply. Bullish outlook. 
Nasdaq tech CEOs reassure US Congress. Biden sets a goal of vaccinating 200 million people in the next 100 days. 
Bitcoin has failed to regain all-time highs. It enters a period of consolidation. 
Merger between Bankia and Caixa generates optimism in the Spanish banking market. After the consolidation, they will form the largest banking group in Spain.
---
NASDAQ 100 +0.62%
The market turns green. Wall Street indices are in green, mainly the Nasdaq 100, which is up 0.62% at the moment and trading at 12,844. Yesterday, the CEOs of the main technology companies testified before the US Congress, which is seeking explanations about fanaticism in social networks. So far, the executives' answers have convinced the market. Meanwhile, investors are worried about a possible corporate tax hike on technology companies. On the other hand, Biden commented that he could reach 200 million people vacinated in the USA during the first 100 days of his mandate.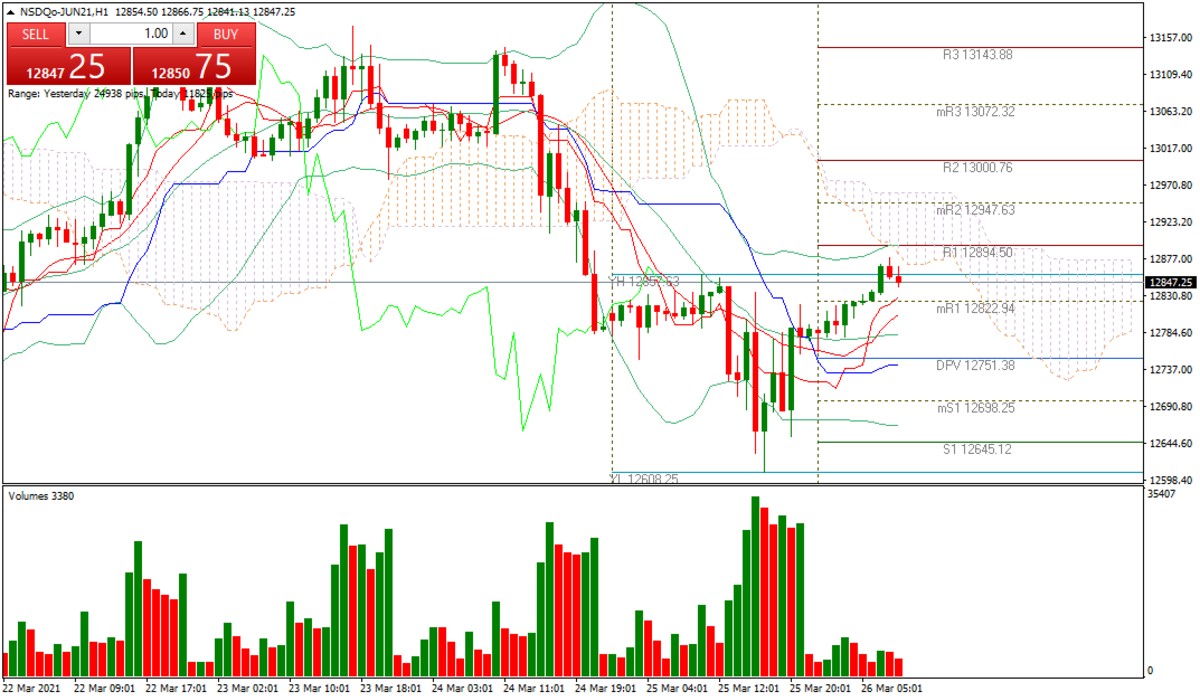 Support 1: 12,852.22
Support 2: 12,843.43
Support 3: 12,829.48
Resistance 1: 12,874.96
Resistance 2: 12,888.91
Resistance 3: 12,897.70
Pivot Point: 12,866.17
The price is at resistance 1. If it manages to break this level, the next target is 13,000 points. Ichimoku forecasts the trading range between 12,877 and 12,784. RSI neutral. Pivot point at 12.866.
---
BITCOIN +0.47%
In February Bitcoin reached an all-time high of 62,000. From this point on, the trend has been bearish. It is currently trading at 53,082. The Fidelity Fund in the US registered an ETF on Bitcoin with the SEC. This week Tesla announced that customers could buy vehicles with Bitcoin. The news did not have a major impact on the price, as the market had already discounted it since the first announcement of the company's USD$1.5 billion Bitcoin purchase.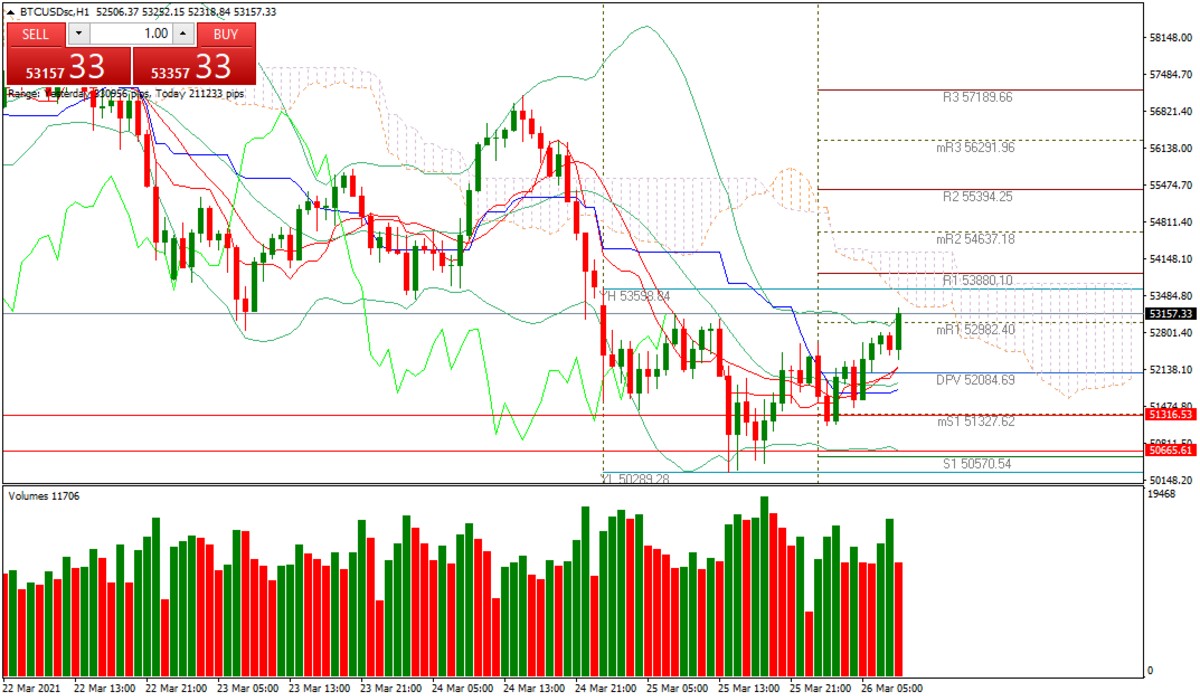 Support 1: 52,437.8
Support 2: 52,278.8
Support 3: 52,056.9
Resistance 1: 52,818.7
Resistance 2: 53,040.6
Resistance 3: 53,199.7
Pivot Point: 52,659.7
At the moment the price is in a consolidation phase. Prior to this, it formed a shoulder head shoulder pattern, and then continued the decline to the level of the 25 and 15 day moving average where it is currently at. Bulls are looking to regain the 60K level, while the Bears are looking to cut even below the 50K support. Pivot point at 52.659.
---
CRUDE OIL +2.23%
Crude oil prices continue to rebound as the Suez Canal blockade begins to create delays in global oil cargoes. As of today, physical oil traders have declared force majeure on part of their positions, which are right at the Suez Canal. The delay in deliveries is causing a significant decrease in supply, so the price continues to transmit this information to the market. At this moment it is up 2.23% and is trading at USD$60.04 per barrel.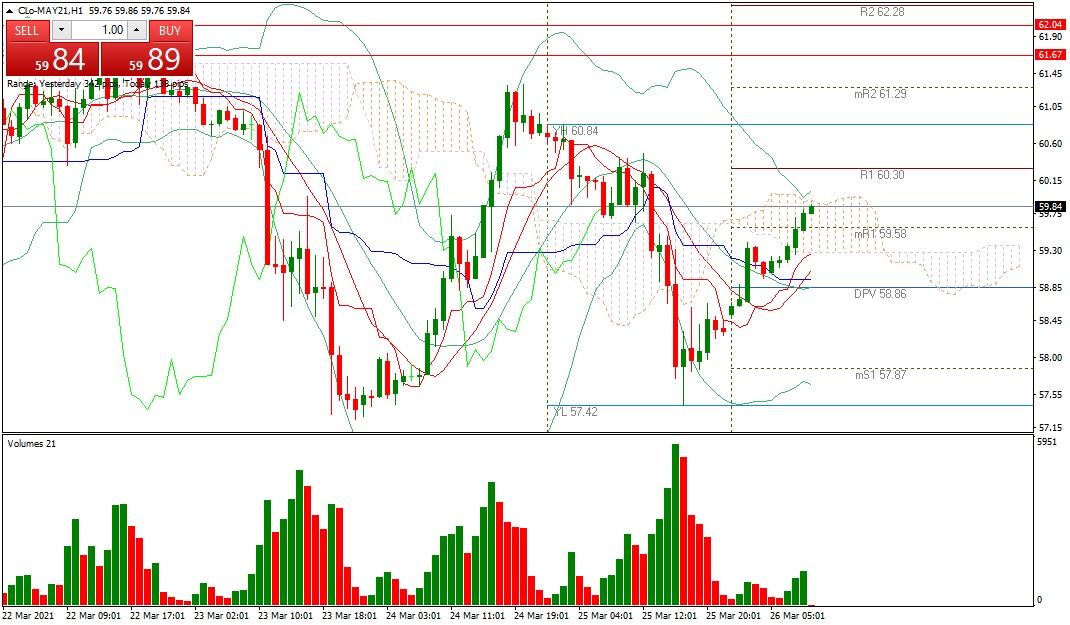 Support 1: 59.58
Support 2: 59.42
Support 3: 59.30
Resistance 1: 59.86
Resistance 2: 59.98
Resistance 3: 60.14
Pivot Point: 59.70
Bulls are starting to mark bullish volume. The price broke the Ichimoku cloud and is heading towards the 61.29 level. If it breaks this level, the next one is 62. Pivot point at 59.70.
---
IBEX 35 +1.30%
Today the merger between Bankia and Caixa will be consolidated. The new group will create the largest bank in Spain. Market sees the agreement with positive eyes and the message is shown in the opening and actual performance of IBEX 35. At the moment the index is up 1.30% and is trading at 8,498. In Europe all stock exchanges are in the green. In general, there is optimism for the strategy that the member countries are taking ragarding AstraZeneca vaccine. Meanwhile, progress continues to be made towards the implementation of the covid passport, in order to have economic openness.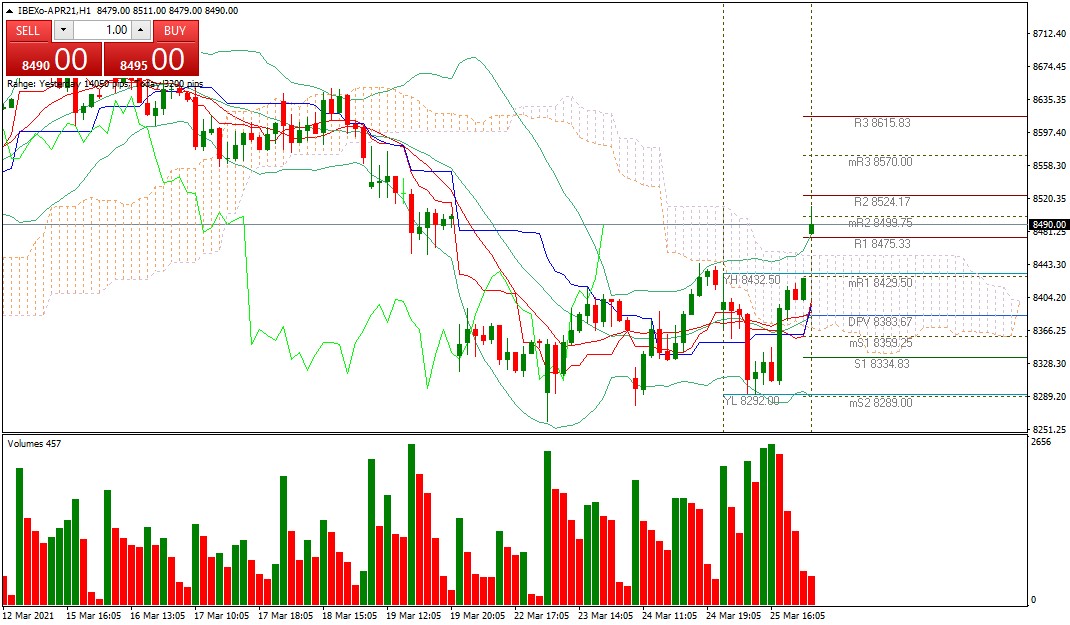 Support 1: 8,432.9
Support 2: 8,407.7
Support 3: 8,389.4
Resistance 1: 8,476.4
Resistance 2: 8,494.7
Resistance 3: 8,519.9
Pivot Point: 8,451.2
Expected trading range between 8,389 and 8,519. Pivot point at 8,451. Bulls are looking for the way to 8,600. RSI entering the overbought zone.
---
Risk Disclaimer
Any information/articles/materials/content provided by Capitalix or displayed on its website is intended to be used for educational purposes only and does not constitute investment advice or a consultation on how the client should trade.
Although Capitalix has ensured that the content of such information is accurate, it is not responsible for any omission/error/miscalculation and cannot guarantee the accuracy of any material or any information contained herein.
Therefore, any reliance you place on such material is strictly at your own risk. Please note that the responsibility for using or relying on such material rests with the client and Capitalix accepts no liability for any loss or damage, including without limitation, any loss of profit which may arise directly or indirectly from the use of or reliance on such information.
Risk Warning: Forex/CFDs trading involves significant risk to your invested capital. Please read and make sure that you fully understand our Risk Disclosure Policy.
You should ensure that, depending on your country of residence, you are allowed to trade Capitalix.com products. Please ensure that you are familiar with the company's risk disclosure.
Want to read more?
Login and enjoy all Daily Analysis articles