Daily Review for March 25, 2021
March 25, 2021, 9:40
Stock markets mixed. In Asian markets, volatility increases due to tensions between North Korea and Japan.
In the US, the market awaits the GDP report. Traders are also aware of AstraZeneca's vaccine data analysis by regulators.
In Europe, lockdowns in Germany could be more flexible than expected. Today some members of the EU resumed the use of AstraZeneca vaccines. The market also awaits the covid passport resolution, which could facilitate cross-border mobility, businesses and trade.
The damming of the Suez Canal could generate a rebound in commodity prices. Experts expect another week for the canal to return to normal operation.
Opportunity for EURUSD to regain upward momentum. ECB to present its view on inflation.
---
CRUDE OIL -1.54%
WTI crude oil prices rebounded yesterday as a result of the stalling of vessels in the Suez Canal. Possible delays in physical crude oil shipments caused the price to recover to the level of USD$62 per barrel. During the Asian session, the market began to discount points, leading crude oil to trade at the current level of USD$60.31 per barrel. One more week is expected for the Suez Canal to be normalized, so we could see an interesting rebound in the price of crude oil, Brent and all commodities.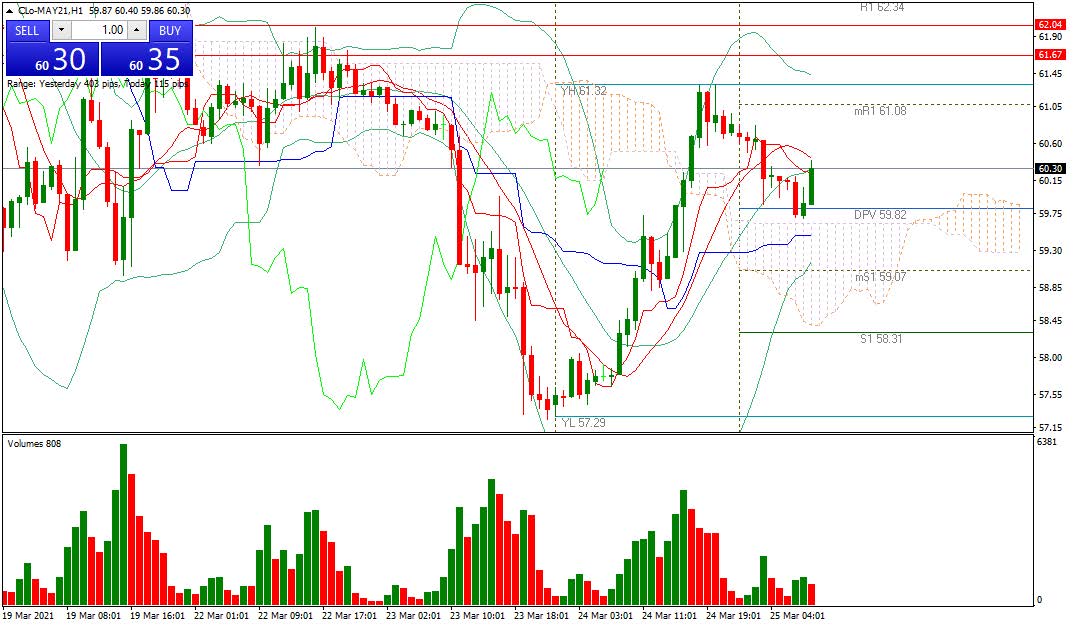 Support 1: 59.75
Support 2: 59.53
Support 3: 59.36
Resistance 1: 60.14
Resistance 2: 60.31
Resistance 3: 60.53
Pivot Point: 59.92
The price is at the 61.8% Fibonacci level. It is also above the 25 and 15 day moving averages. The RSI is neutral but approaching the overbought zone. Bulls are looking for the 61.08 zone. Pivot point at 59.92.
---
EURUSD +0.02%
The currency continues with a bearish pattern, but could have a change of trend as a result of the Suez Canal. The currency is currently up 0.02% and is trading at 1.1810. The blockage in the Suez Canal by an Evergreen cargo ship is causing delays in global trade. The Financial Times estimates that 10% of world trade passes through the Suez Canal. This may result in less EURUSD FX transactions, which could help the currency to climb higher. Today's announcement from ECB President Christine Lagarde could lead the way for currency movements.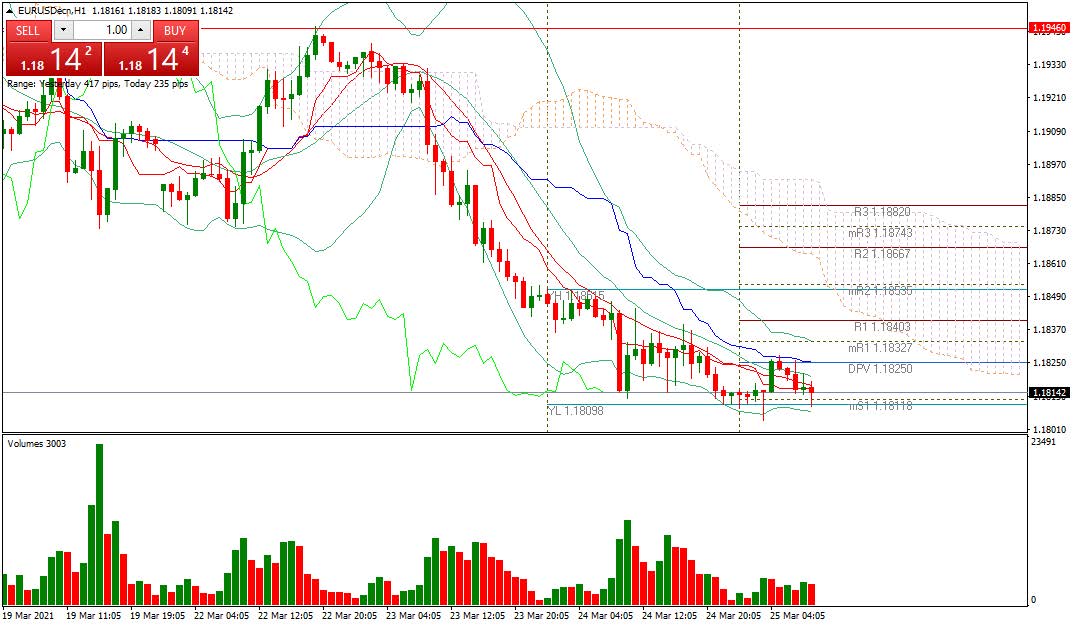 Support 1: 1.1813
Support 2: 1.1810
Support 3: 1.1805
Resistance 1: 1.1821
Resistance 2: 1.1826
Resistance 3: 1.1830
Pivot Point: 1.1818
Downward movement. The currency is currently sideways. RSI neutral, but approaching oversold area. Expected trading range between 1.1805 and 1.1830. Pivot point at 1.1818.
---
S&P 500 +0.12%
The index is currently up 0.12% and is trading at 3,883. Today we will have announcements on US GDP and unemployment claims data. Yesterday, the stock markets closed negative, caused by a significant volume of sales in the Nasdaq 100 index. Companies such as Apple, Netflix and Tesla closed with significant declines of more than 2% each. Meanwhile, futures are in the green, recovering part of yesterday's falls.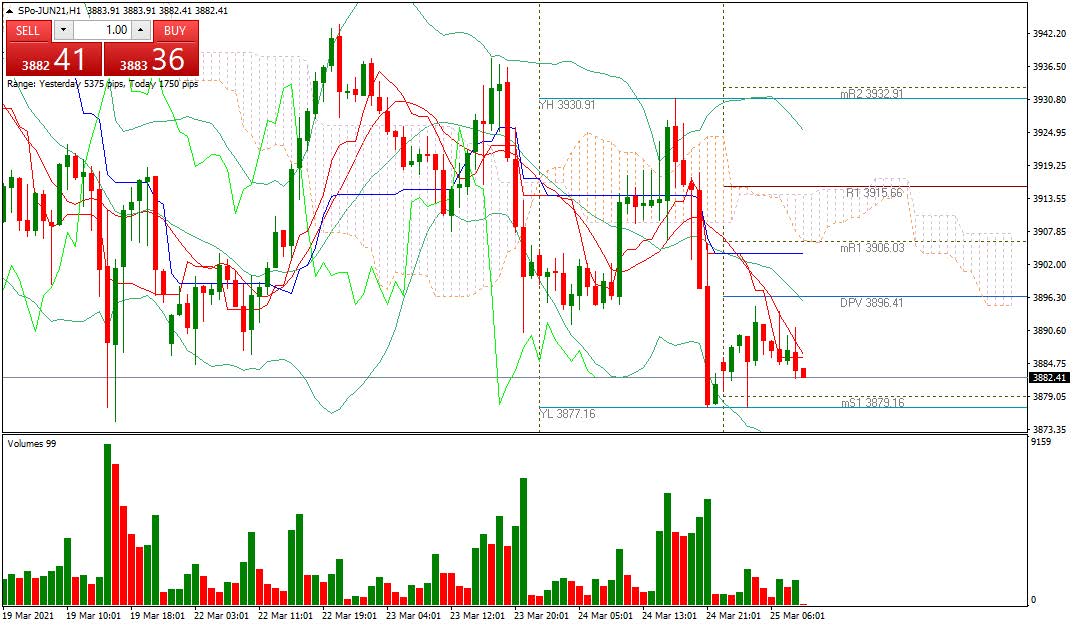 Support 1: 3,883.12
Support 2: 3,880.87
Support 3: 3,876.62
Resistance 1: 3,889.62
Resistance 2: 3,893.87
Resistance 3: 3,896.12
Pivot Point: 3,887.37
Price is below the Ichimoku cloud. Possible bounce towards the 3,907 area. Price is just above support 1. If Bulls manage to break out of there, the next target is 3,900. If, on the other hand, support is broken, the next level could be 3,876. Pivot point at 3,887.
---
DAX 30 +0.13%
Angela Merkel's change of tone on covid restrictions in Germany. Possible easing of measures. The above is pushing the DAX 30 higher at the moment. The index is trading at 14,596. In Europe, stock markets open mixed, with bearish movements on the CAC 40, MIB 40 and IBEX 35. Upward movements on the DAX30 and the EuroStoxx 50. The market remains aware of the reuse of AstraZeneca's vaccine. In the US, regulators are reviewing the test data of the vaccine R&D. The ECB will announce its inflation report today. Tensions rise between the EU and China.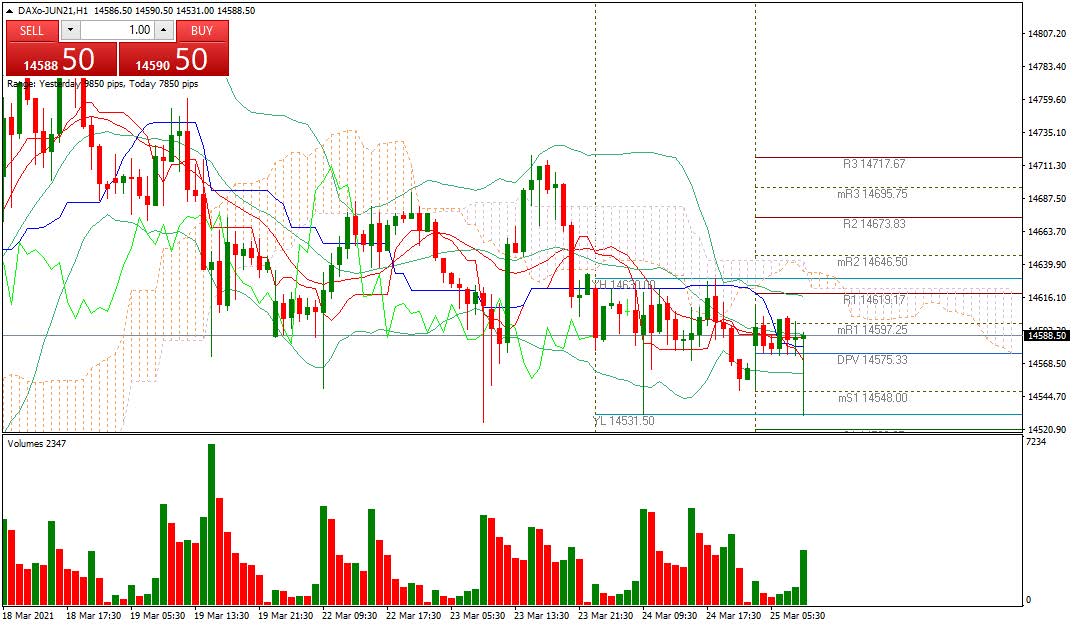 Support 1: 14,565.0
Support 2: 14,556.5
Support 3: 14,539.5
Resistance 1: 14,590.5
Resistance 2: 14,607.5
Resistance 3: 14,616.0
Pivot Point: 14,582.0
Trading range between 14.539 and 14.616. Pivot point at 14.582. Sideways trend. RSI neutral. If buying volume rises, the price could reach resistance 3.
---
Sources
Reuters
Market watch
Bloomberg
Capitalix Market Research
Risk Disclaimer
Any information/articles/materials/content provided by Capitalix or displayed on its website is intended to be used for educational purposes only and does not constitute investment advice or a consultation on how the client should trade.
Although Capitalix has ensured that the content of such information is accurate, it is not responsible for any omission/error/miscalculation and cannot guarantee the accuracy of any material or any information contained herein.
Therefore, any reliance you place on such material is strictly at your own risk. Please note that the responsibility for using or relying on such material rests with the client and Capitalix accepts no liability for any loss or damage, including without limitation, any loss of profit which may arise directly or indirectly from the use of or reliance on such information.
Risk Warning: Forex/CFDs trading involves significant risk to your invested capital. Please read and make sure that you fully understand our Risk Disclosure Policy.
You should ensure that, depending on your country of residence, you are allowed to trade Capitalix.com products. Please ensure that you are familiar with the company's risk disclosure.
Want to read more?
Login and enjoy all Daily Analysis articles