Daily Review for March 23, 2021
March 23, 2021, 10:42
Global market in the red due to the increase of covid-19 cases. 
In Europe, traders sell DAX 30 futures, anticipating increased restrictions in Germany.
GBPUSD depreciates due to UK employment data. Bank of England Governor and FED announcements on inflation and economic outlook coming soon. 
MSCI Turkey stock exchange index falls 9.96% in continuation of the dismissal of the head of the Central Bank. 
Nasdaq 100 had an interesting boost, but businessmen are worried about a possible rise in corporate tax rates. 
USD$6 Billion of Bitcoin options contracts expire on Friday. Possible interesting moves in the crypto market.
---
GBPUSD -0.11%
The currency continues to move sideways as the market reacts to the UK jobs announcement. At the moment the GBP/USD is down 0.11% and is trading at 1.3846. The Average Earnings Index for January was 4.8%. One percentage point above the market forecast of 4.9%. Following this result, we will have a statement from the Governor of the Bank of England today. Later in the day, we will also have the testimony from the FED and also the report on US New Home Sales.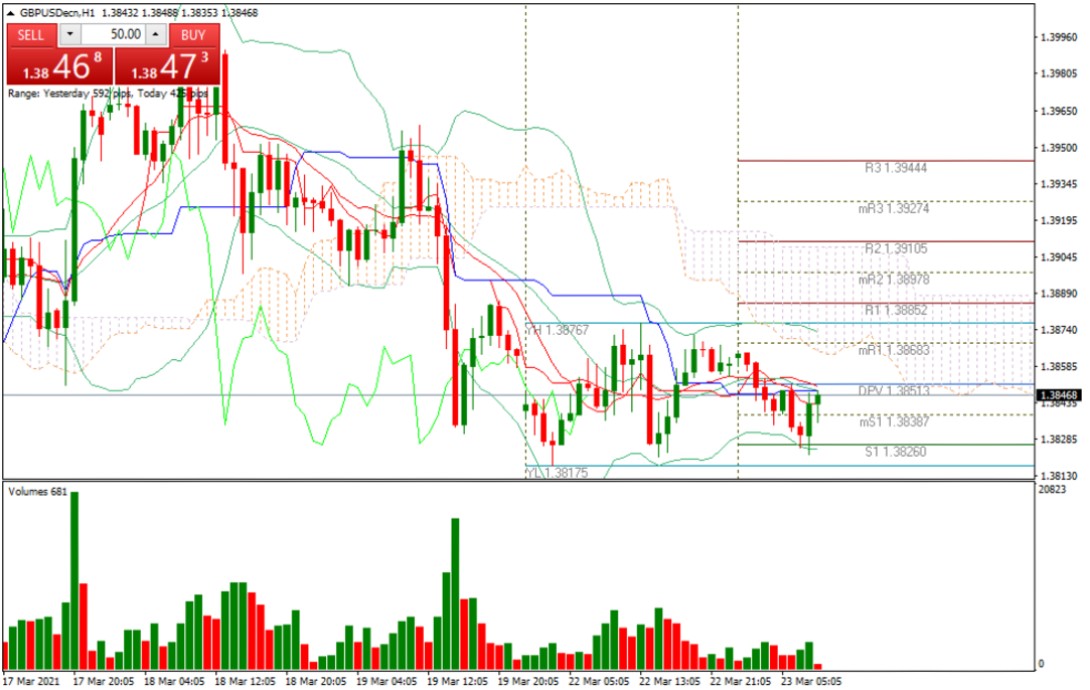 Support 1: 1.3824
Support 2: 1.3812
Support 3: 1.3802
Resistance 1: 1.3846
Resistance 2: 1.3856
Resistance 3: 1.3869
Pivot Point: 1.3834
Price continues in a sideways pattern. It is below the Ichimoku cloud. The currency is between support 1 and resistance 1. RSI Neutral. Pivot point at 1.3934.
---
DAX 30 -0.42%
The German index continues to float near all-time highs as the German government prepares to announce new restrictions. At the moment the index is down 0.42% and is trading at 14,622. Traders are starting to discount DAX price as the government's decision to extend the restrictions until April 18 approaches. Despite this, the index has shown an interesting recovery pattern, reaching 5.1% growth so far in March 2021. In March 2020, the price was at 8,900 points.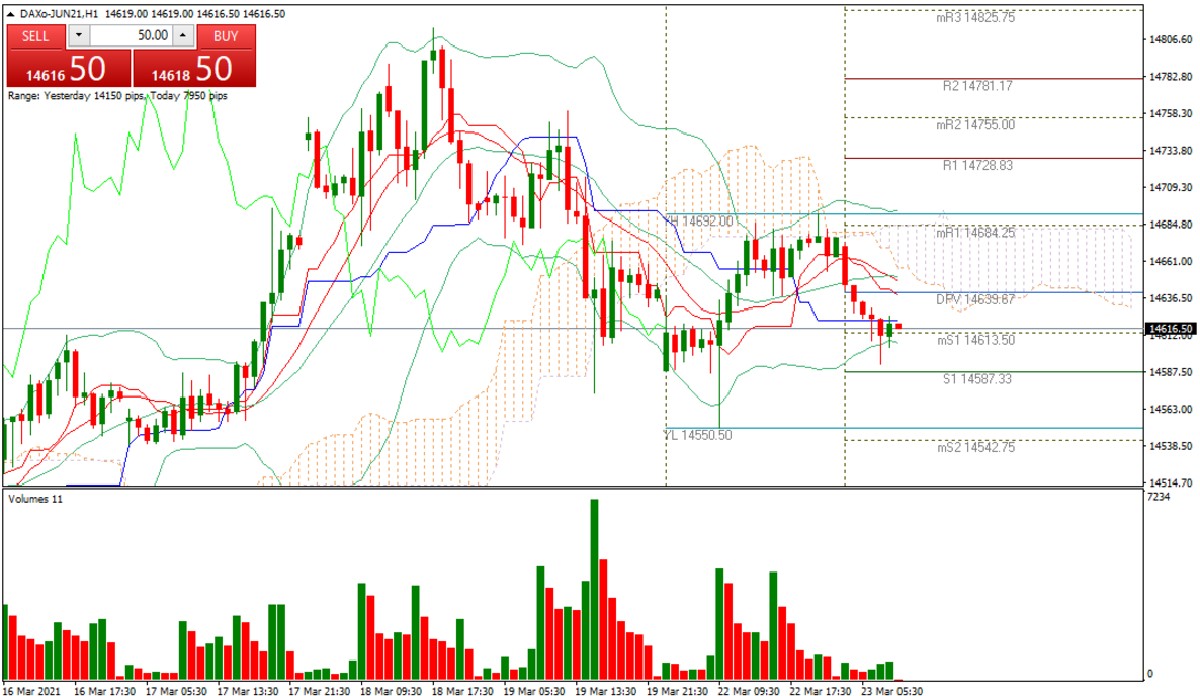 Support 1: 14,597.4
Support 2: 14,584.2
Support 3: 14,574.4
Resistance 1: 14,620.4
Resistance 2: 14,630.2
Resistance 3: 14,643.4
Pivot Point: 14,607.2
Bulls are defending support 1 and trying to bounce towards resistance 1. Expected trading range between 14.643 and 14.574. Pivot point at 14.607.
---
NASDAQ 100 -0.12%
The index closed yesterday with an interesting rise of 1.8%, driven by the fall in US bond yields and the stabilization of short-term interest rates. Today's at the FED announcement, the market could have a signal on inflation. In the meantime, the index continues with bullish strength. However, a potential blow to the index could be the Biden administration's possible increase in corporate taxes on technology companies, decision that could be announced in the coming weeks.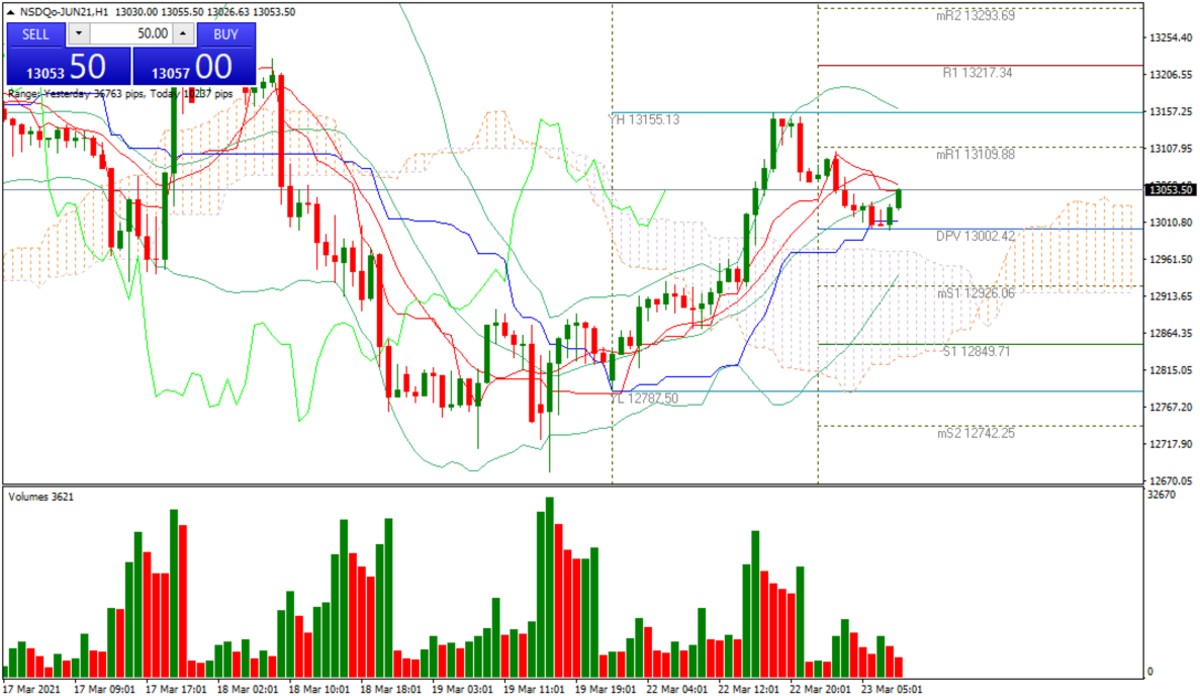 Support 1: 13,010.70
Support 2: 12,991.29
Support 3: 12,979.70
Resistance 1: 13,041.70
Resistance 2: 13,053.29
Resistance 3: 13,072.70
Pivot Point: 13,022.29
The price is below the 50-day moving average. Bulls are targeting the resistances of 13,260 and 13,600 in the medium term. If the Bears gain strength, the support to check is 12,700. Pivot point at 13,022.
---
BITCOIN -6.40%
This week the market is expecting interesting moves in Bitcoin as 100,000 Bitcoin options contracts expire on Friday. Meanwhile, the price is currently falling 6.40% and is trading at 54,050. Cryptocurrency traders are analyzing the effect of the global economic stimulus packages, and analyzing a possible inflation spike. Therefore, they have opened positions in cryptocurrencies to counteract this effect.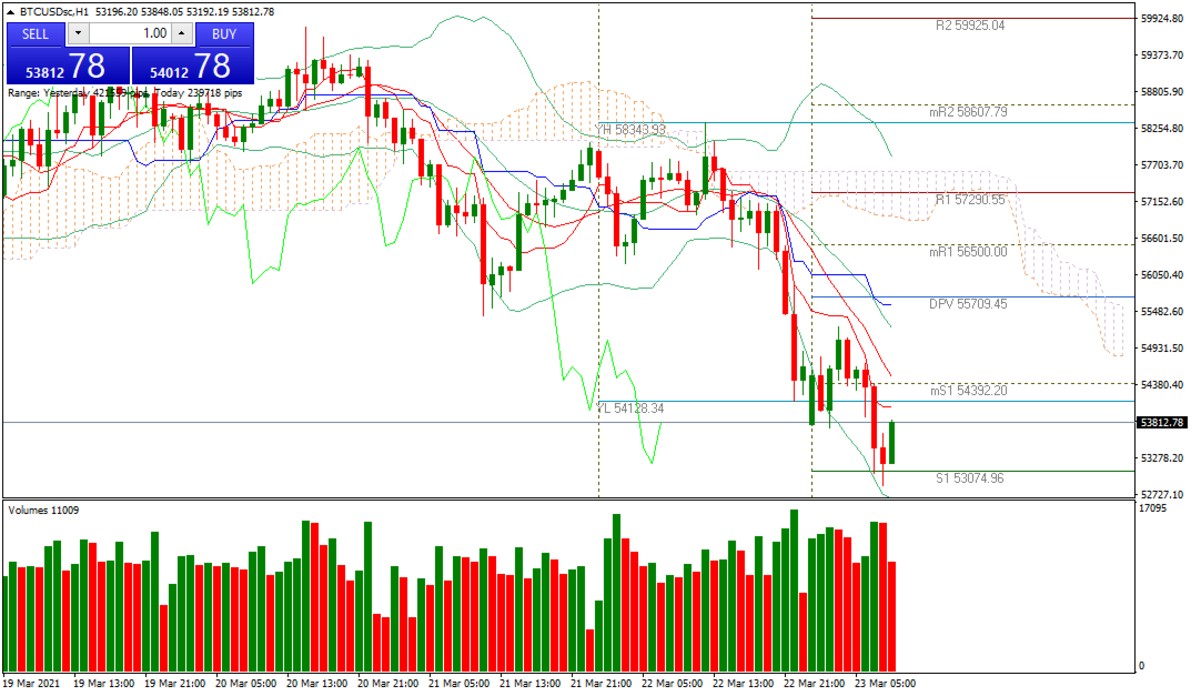 Support 1: 53,158.2
Support 2: 53,062.5
Support 3: 52,871.0
Resistance 1: 53,445.4
Resistance 2: 53,636.9
Resistance 3: 53,732.6
Pivot Point: 53,349.7
The price has been oscillating between 58,000 and 53,000 during the last few days. Price is above support 1. Bulls are trying to defend this level. RSI is coming out of the oversold zone. Possible price rebound towards 56.500. Pivot point at 53.349.
---
Sources
Reuters
Market watch
Bloomberg
Capitalix Market Research
Risk Disclaimer
Any information/articles/materials/content provided by Capitalix or displayed on its website is intended to be used for educational purposes only and does not constitute investment advice or a consultation on how the client should trade.
Although Capitalix has ensured that the content of such information is accurate, it is not responsible for any omission/error/miscalculation and cannot guarantee the accuracy of any material or any information contained herein.
Therefore, any reliance you place on such material is strictly at your own risk. Please note that the responsibility for using or relying on such material rests with the client and Capitalix accepts no liability for any loss or damage, including without limitation, any loss of profit which may arise directly or indirectly from the use of or reliance on such information.
Risk Warning: Forex/CFDs trading involves significant risk to your invested capital. Please read and make sure that you fully understand our Risk Disclosure Policy.
You should ensure that, depending on your country of residence, you are allowed to trade Capitalix.com products. Please ensure that you are familiar with the company's risk disclosure.
Want to read more?
Login and enjoy all Daily Analysis articles