Daily Review for March 22, 2021
March 22, 2021, 12:29
Crude oil continues to correct. Global commodities start the week in red. Traders  know that the delay of vaccines affects the physical trade of raw materials.
Fears in Europe over the possible third wave of covid 19. Traders sell silver and  buy bonds to mitigate uncertainty.
European stock markets open in red due to new lockdowns in France and Germany.
Global money markets are attentive to the Bank for International Settlements  summit, where central banks will discuss the crypto market.
---
CRUDE OIL -1.25%
Crude oil price forecast by Deutsche Bank has changed, and is now at USD$57 per barrel. Crude  oil rally stopped ending Q1 2021. AstraZeneca's issues and the delayed in the vaccines have  caused the commodity price to correct to the actual level of USD$60.71. On the other hand, Oil  demand has partially recovered; however, the market expects to reach pre-pandemic levels  before OPEC+ releases more supply to the market.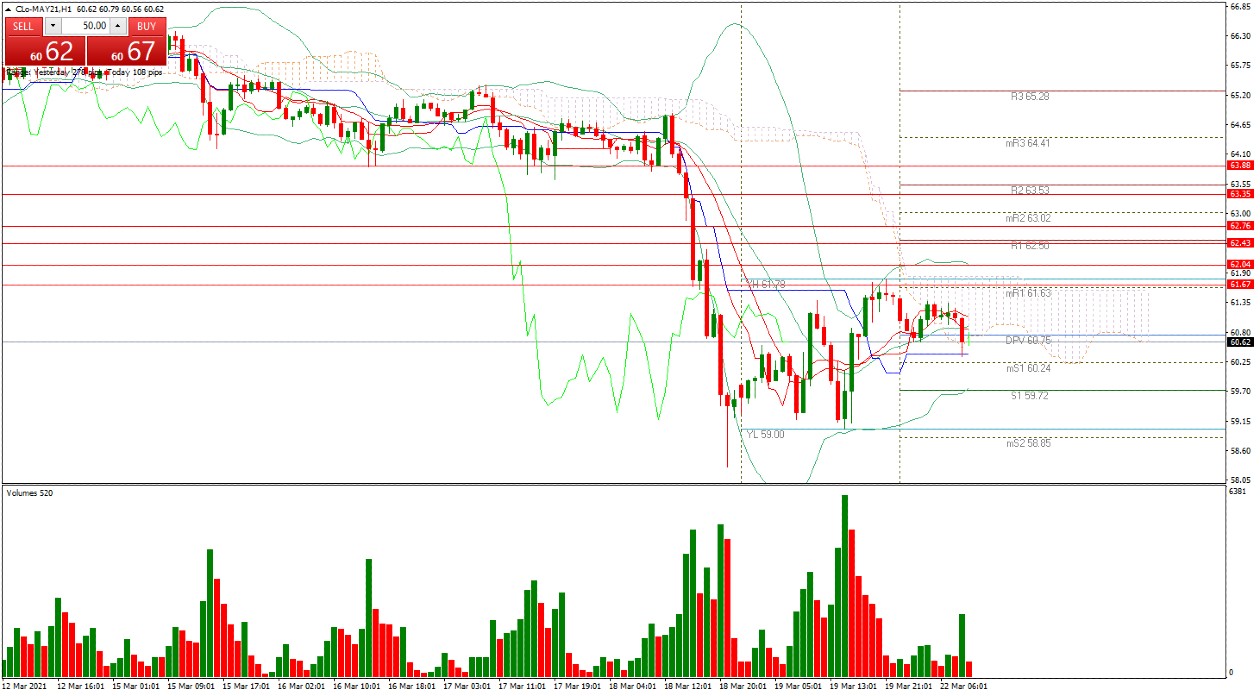 Support 1: 60,27 
Support 2: 59,92 
Support 3: 59,48 
Resistance 1: 61,06 
Resistance 2: 61,50 
Resistance 3: 61,85 
Pivot Point: 60,71
The price is currently down 1.25%. However, it is entering a sideways period. The Ichimoku cloud  projects a trading range between 62.04 and 60.87. Pivot point at 60.71.
---
SILVER -2.67%
Commodities start the week in red. Main fall is presented by silver with -2.57%, followed by  platinum -1.90% and Cocoa with – 1.63%. Sales volume in the market is mainly due to the delay  in the placement of vaccines and the possible third wave of the virus in Europe. This is hurting  the physical trade of raw materials and therefore the market is punishing its prices.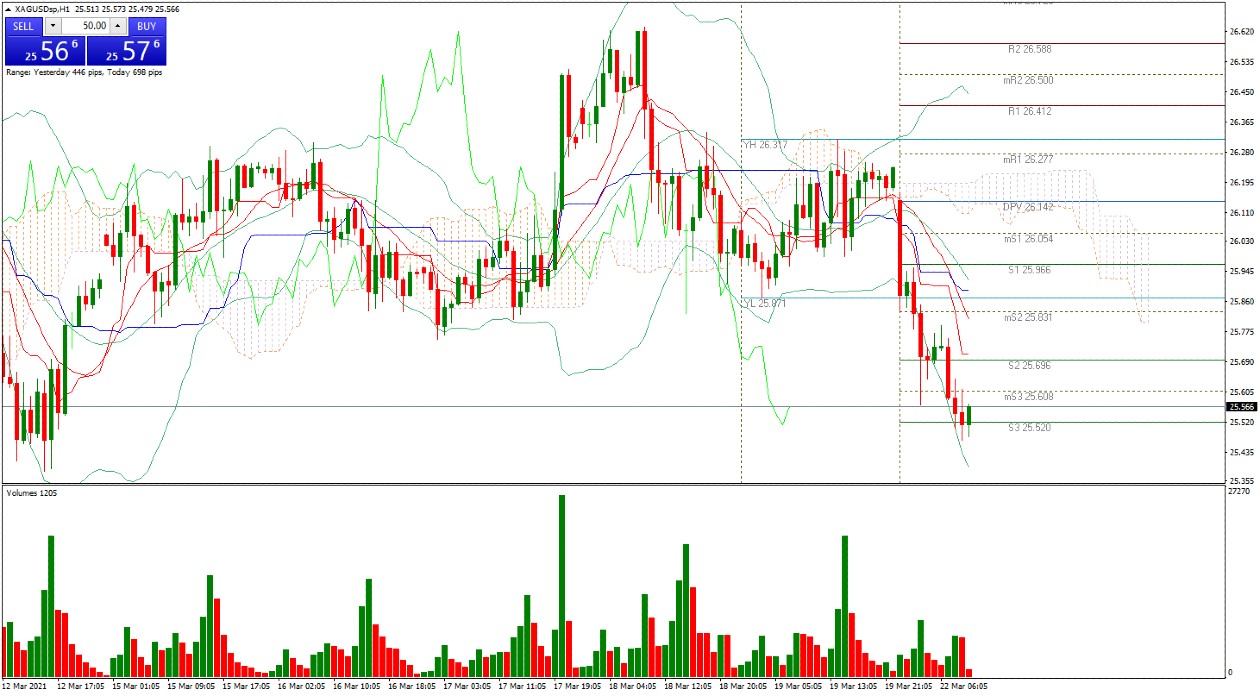 Support 1: 25.52 
Support 2: 25.45 
Support 3: 25.38 
Resistance 1: 25.67 
Resistance 2: 25.74 
Resistance 3: 25.81 
Pivot Point: 25.60
Silver price has fallen close to the 200-day moving average. Bears are projecting the price towards  the 61.8% Fibonacci level at 24.92. Major resistance at 26. Trading range for today between 25.38  and 25.81. Pivot point at 25.60.
---
DAX 30 -0.20%
The market opens lower in Europe, as a result of new lockdownsin Germany and France. German  Chancellor Angela Merkel has proposed to extend the restrictions until April 18, 2021. The French  government, for its part, has declared lockdowns in Paris and other cities and regions, to try to  contain the growing number of contagions. Meanwhile, the German index is down 0.20% and is  trading at 14,628 points. Traders in Europe are also looking ahead to today's presentation by FED Chairman Powell.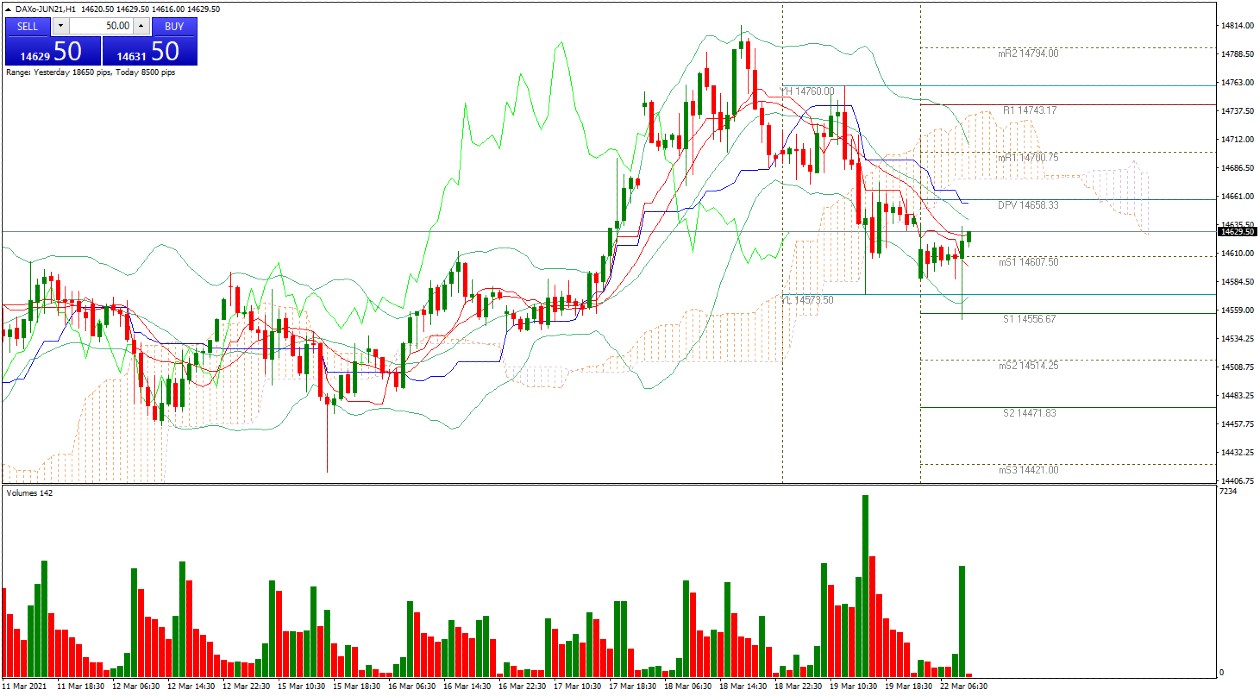 Support 1: 14,579.4 
Support 2: 14,570.7 
Support 3: 14,555.4 
Resistance 1: 14,603.4 
Resistance 2: 14,618.7 
Resistance 3: 14,627.4 
Pivot Point: 14,594.7
Expected trading range between 14,555 and 14,627. Pivot point at 14,594. Price is below the  Ichimoku cloud. Price could resume the bullish channel towards 14.737. RSI at neutral.
---
S&P500 -0.02%
According to Commerzbank's projections, the Wall Street index could reach 4,200 points during  2021. Since the index's deepest decline in February 2020, the S&P500 has made a V-shaped  recovery. The index is currently down 0.02% and is trading at 3,896 points. During this week, the  market is looking forward to Powell's and Janeth Yellen's announcements on the economic  outlook to the US House of Representatives. Also, the money market will be paying close  attention to the Bank for International Settlements Summit, where delegates from the world's  major central banks will meet to discuss cryptocurrencies and regulation.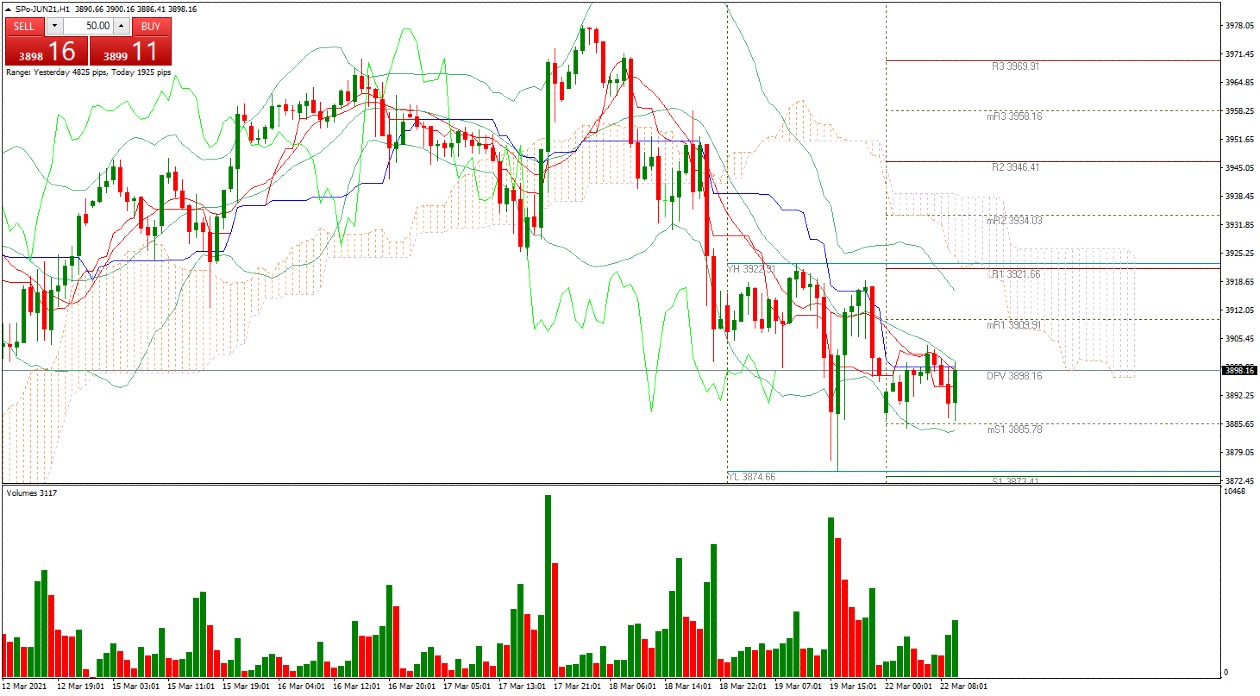 Support 1: 3,886.62 
Support 2: 3,881.37 
Support 3: 3,875.12 
Resistance 1: 3,898.12 
Resistance 2: 3,904.37 
Resistance 3: 3,909.62 
Pivot Point: 3,892.87
Expected trading range between 3,875 and 3,909. Pivot point at 3,892.87. Price is below the  Ichimoku cloud. Possible sideway move of the index as volatility is generated by central banks  and cryptos.
---
Sources
Reuters
Market watch
Bloomberg
Capitalix Market Research
Risk Disclaimer
Any information/articles/materials/content provided by Capitalix or displayed on its website is intended to be used for educational purposes only and does not constitute investment advice or a consultation on how the client should trade.
Although Capitalix has ensured that the content of such information is accurate, it is not responsible for any omission/error/miscalculation and cannot guarantee the accuracy of any material or any information contained herein.
Therefore, any reliance you place on such material is strictly at your own risk. Please note that the responsibility for using or relying on such material rests with the client and Capitalix accepts no liability for any loss or damage, including without limitation, any loss of profit which may arise directly or indirectly from the use of or reliance on such information.
Risk Warning: Forex/CFDs trading involves significant risk to your invested capital. Please read and make sure that you fully understand our Risk Disclosure Policy.
You should ensure that, depending on your country of residence, you are allowed to trade Capitalix.com products. Please ensure that you are familiar with the company's risk disclosure.
Want to read more?
Login and enjoy all Daily Analysis articles