Daily Review for March 1, 2021
March 1, 2021, 9:37
Global market in positive territory. Asia, Europe and US futures are currently rising more than 1%.
Silver is also recovering part of last week's fall. Market is this week aware of the results of Fresnillo and Polymetal.
Crude oil prices are heading towards 64. Tension in the Middle East could be a bullish opportunity for the commodity.
DAX 30 looks to secure the 14,000 area. Good manufacturing PMI data in Germany and the UK could consolidate this target.
Nasdaq 100 technology index is setting a trend. Investors evaluate technology companies for portfolio allocation.
---
SILVER +2.20%
Silver is currently recovering from last week's decline and is up 2.20%. Actual trading price is USD$26.93. During this week the metal could show interesting movements, mainly on Tuesday and Wednesday, as two large silver producers are going to report their financial results. These are Fresnillo and Polymetal. During this week investors are also aware of the approval of the USD$1.9T stimulus package by the US Congress.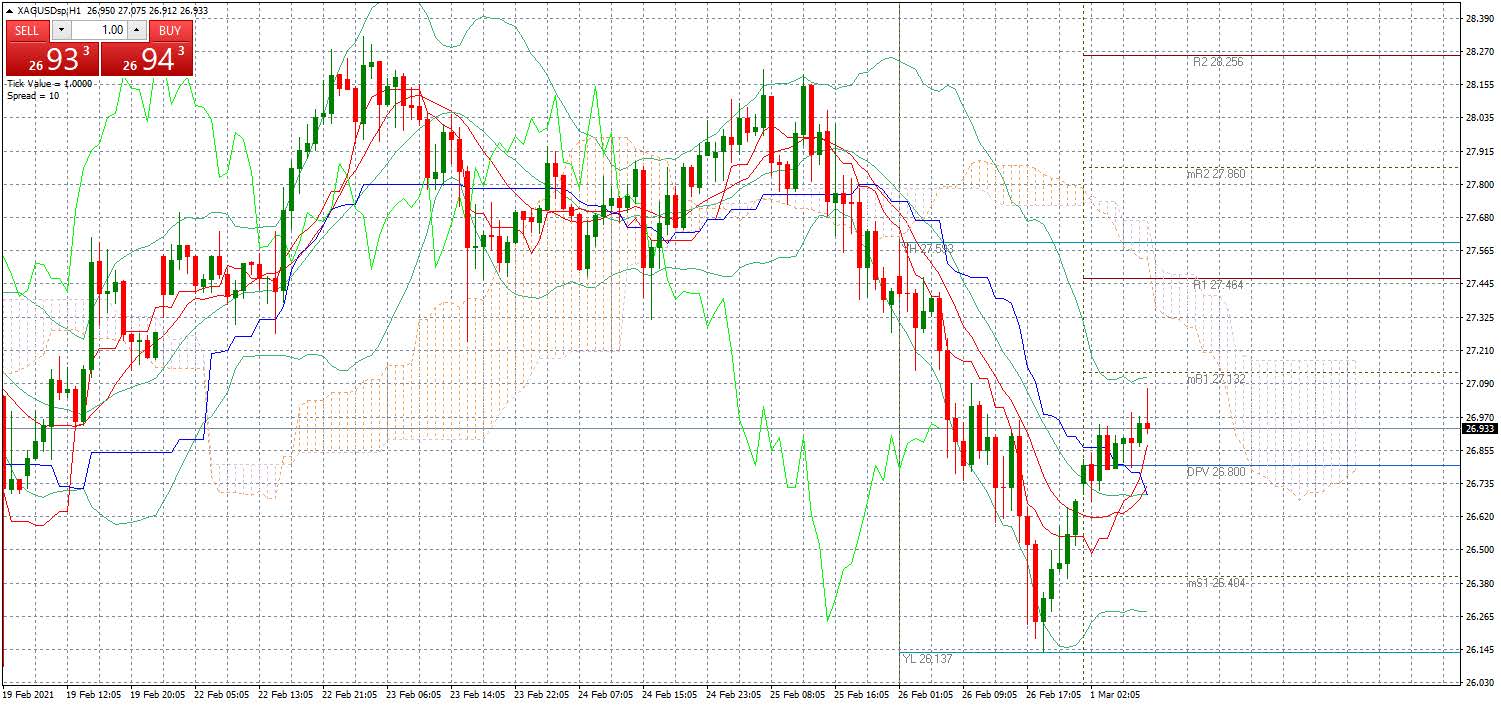 Support 1: 26.94
Support 2: 26.86
Support 3: 26.80
Resistance 1: 27.07
Resistance 2: 27.13
Resistance 3: 27.21
Pivot Point: 27
Price is forming an ascending triangle. It is above the short and medium term moving average. If the Bulls gain ground, the price could reach 30. Pivot point at 27.
---
CRUDE OIL +1.95%
Oil prices are consolidating above USD$60 per barrel mark, driven by Saudi Arabia's production cuts and the winter in Texas. WTI is currently up 1.95% and is trading at USD$62.63 per barrel. During this week, the market will be aware of the situation between Iran, USA and the European Union. Iran has rejected talks with its counterparts on nuclear weapons. Generally, when there is tension in the Middle East, crude oil prices tend to rise.
Support 1: 62.60
Support 2: 62.51
Support 3: 62.44
Resistance 1: 62.76
Resistance 2: 62.83
Resistance 3: 62.92
Pivot Point: 62.67
Uptrend. Price has moved above the 61.8% Fibonacci retracement level. The price is also above the 25 and 50 day moving averages. Bulls are targeting USD$70. Pivot point at 62.67.
---
DAX 30 +1.67%
DAX 30 starts the week rising 1.67%. It is currently trading at 13,969. Today in Europe, we will have the German Manufacturing PMI, where the market expects 60.6. The UK Manufacturing PMI, where the market expects 54.9, and announcements from ECB President Christine Lagarde on inflation and monetary policy. The market in Europe is also on the lookout for pandemic restrictions. Although some countries are beginning to relax measures, others are starting to determine new restrictions to mitigate a fourth wave of contagion. In the meantime, the EU could authorize the distribution of the Johnson & Johnson vaccine, which would mean that the EU would have four vaccines.
Support 1: 13,881
Support 2: 13,852
Support 3: 13,835.5
Resistance 1: 13,926.5
Resistance 2: 13,943
Resistance 3: 13,972
Pivot Point: 13,897.5
Expected trading range between 13,835 and 13,972. Pivot point at 13,897. Price is above the upper Bollinger band. Price is looking for the resistance 2 and 3, trying to climb up to 14,000 again.
---
NASDAQ 100 +1.62%
The index of technology companies in the USA is currently up 1.62% and is trading at 13,111. Last week, the market evidenced a significant drop during Thursday and Friday. Starting this week, global markets start in positive territory. Economists are analyzing the economic stimulus package in the USA, which could generate upward market movements in the short term and corrections in the medium term. Technology companies have performed well during the pandemic, therefore, if the market witnesses new restrictions, the index could show upward movements.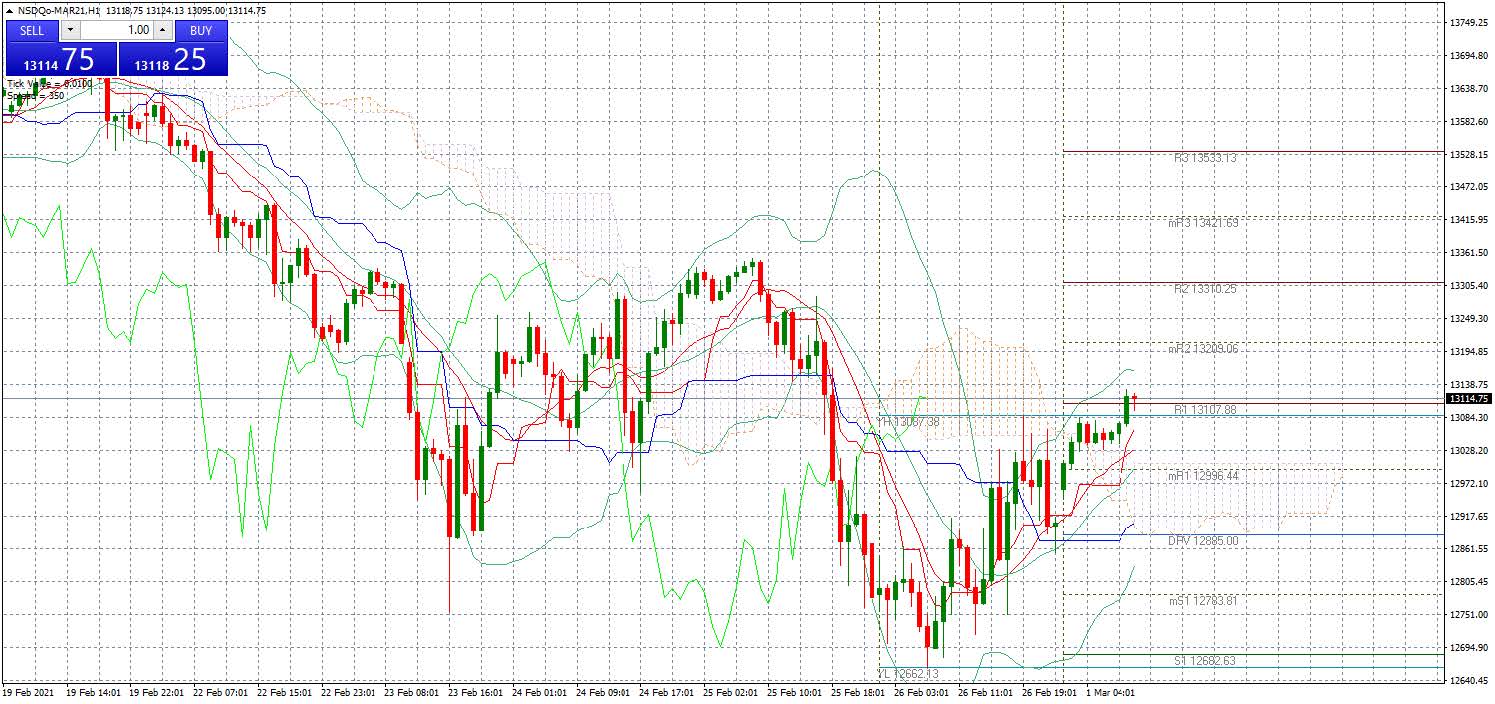 Support 1: 13,071.46
Support 2: 13,032.29
Support 3: 13,001.83
Resistance 1: 13,141.09
Resistance 2: 13,171.55
Resistance 3: 13,210.72
Pivot Point: 13,101.92
Expected trading range between 13,001 and 13,210. Pivot point at 13,210. Price is marking an ascending triangle. If it manages to continue it, the next target is resistance 2. At that point, the price would be free to go up to 14,000 points.
---
Sources
Reuters
Market watch
Bloomberg
Capitalix Market Research
Risk Disclaimer
Any information/articles/materials/content provided by Capitalix or displayed on its website is intended to be used for educational purposes only and does not constitute investment advice or a consultation on how the client should trade.
Although Capitalix has ensured that the content of such information is accurate, it is not responsible for any omission/error/miscalculation and cannot guarantee the accuracy of any material or any information contained herein.
Therefore, any reliance you place on such material is strictly at your own risk. Please note that the responsibility for using or relying on such material rests with the client and Capitalix accepts no liability for any loss or damage, including without limitation, any loss of profit which may arise directly or indirectly from the use of or reliance on such information.
Risk Warning: Forex/CFDs trading involves significant risk to your invested capital. Please read and make sure that you fully understand our Risk Disclosure Policy.
You should ensure that, depending on your country of residence, you are allowed to trade Capitalix.com products. Please ensure that you are familiar with the company's risk disclosure.
Want to read more?
Login and enjoy all Daily Analysis articles