Daily Review for June 30, 2021
June 30, 2021, 9:13
Global markets open mixed, with declines in European indices, and rises in Asia and the United States.
Main market concern is the fast spread of the Delta variant. Laboratories continue to analyze the degree of immunity of current vaccines against the new variant.
Biden's infrastructure plan and corporate earnings are creating optimism on Wall Street.
Traders in Europe are aware of UK GDP data, which could generate a change of trend in the European stock markets.
OPEC+ is looking for more time to analyze the current state of the market and evaluate projections, with a possible Delta scenario.
Gold is looking to set a trend depending on the NFP result. Today, we will have the ADP report.
---
DOW JONES +0.09%
Wall Street continue to climb due to the optimism of Biden's infrastructure plan and good corporate results. The Dow Jones is currently up 0.09% and is trading at 34,202. Analysts have given a positive outlook to 103 companies in the S&P500. Major banks also presented favorable liquidity results, which will allow them to distribute dividends in the next quarter. This has led to optimism in the market.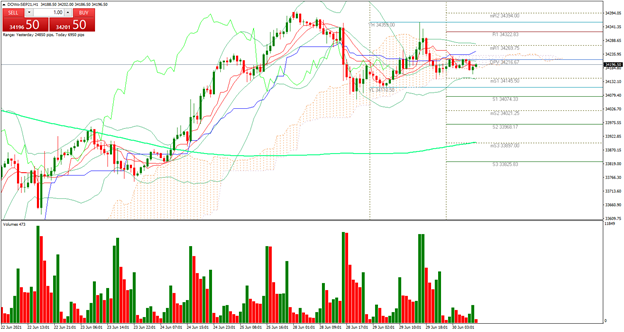 Support 1: 34,161.6
Support 2: 34,146.3
Support 3: 34,129.6
Resistance 1: 34,193.6
Resistance 2: 34,210.3
Resistance 3: 34,225.6
Pivot Point : 34,178.3
The price continues to head towards 35,000. The index is above the 50 and 25-day moving averages. Trading range between 34,129 and 34,225. Pivot point at 34,178. RSI neutral.
---
DAX 30 +0.05%
ECB President Christine Lagarde announced the need for a full monetary union of Euro Zone members. Today, we will have inflation data for France, Italy, Portugal, and the consolidated Euro Zone. We will also have GDP data for the UK and unemployment data for Germany. If the macro economic data surprises the market favorably, we could see a rebound in European stock indices. The main concern for traders is the Delta variant and its imminent arrival in Europe.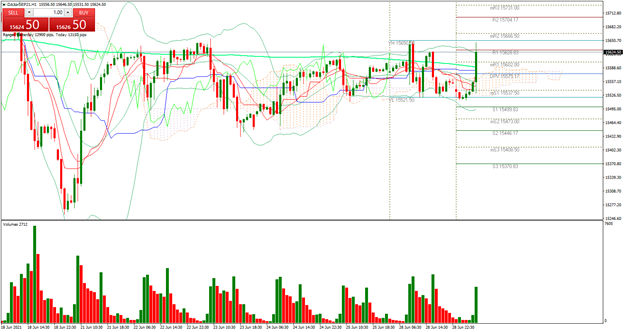 Support 1: 34,161.6
Support 2: 34,146.3
Support 3: 34,129.6
Resistance 1: 34,193.6
Resistance 2: 34,210.3
Resistance 3: 34,225.6
Pivot Point: 34,178.3
Price is between resistance 1 and the pivot point. From a technical point of view possible trend reversal. If so, the price could retake the 15,707 zone. Pivot point at 34,178. RSI neutral.
---
CRUDE OIL +0.49%
OPEC+ will meet on July 1, 2021 to discuss the current state and forecasts of the market. According to Goldman Sachs, the production of the club's members should increase in order to the market to stabilize by 2022. At the moment, crude oil is up 0.49% and is trading at USD$73.31 per barrel. Today we will have the IEA inventories report, where a reduction of 4.6 million barrels is expected.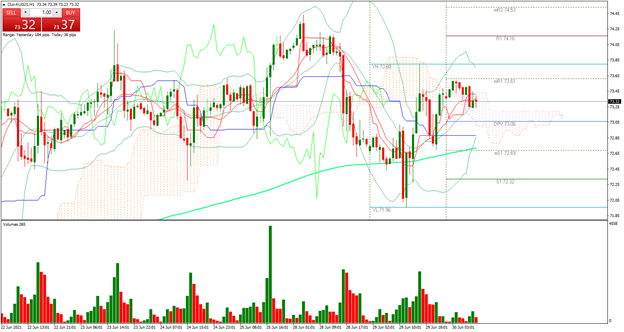 Support 1: 73,24
Support 2: 73,14
Support 3: 73,03
Resistance 1: 73,45
Resistance 2: 73,56
Resistance 3: 73,66
Pivot Point: 73,35
Price is coming out of the Ichimoku cloud and heading towards resistance 1 at 73.61. Expected trading range between 73.03 and 73.66. Pivot point at 73.35. RSI neutral. Volatility will depend on the outcome of the OPEC+ meeting and the US inventories data.
---
GOLD -0.34%
Gold continues to give up a few points, awaiting the results of the NFP data. Today's ADP Nonfarm Employment Change report will be released, where 600,000 new jobs are expected. In the meantime, traders are looking to take positions in the metal, which is currently down 0.34%.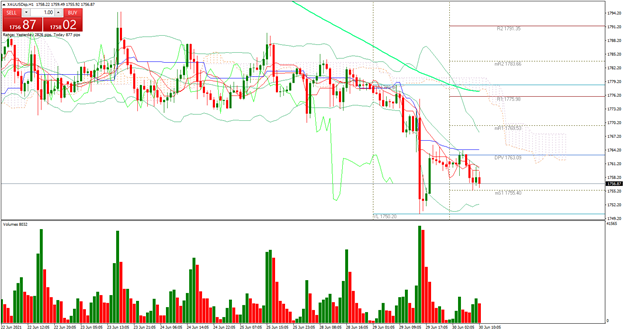 Support 1: 1,756.95
Support 2: 1,753.75
Support 3: 1,751.65
Resistance 1: 1,759.05
Resistance 2: 1,764.35
Resistance 3: 1,767.55
Pivot Point: 1,759.05
The price is close to support 1, where buying positions could increase, looking to climb to resistance 1. Expected trading range between 1,751 and 1,767. Pivot point at 1,759. RSI in oversold zone.
---
Sources
Reuters
Market watch
Bloomberg
Capitalix Market Research
Risk Disclaimer
Any information/articles/materials/content provided by Capitalix or displayed on its website is intended to be used for educational purposes only and does not constitute investment advice or a consultation on how the client should trade.
Although Capitalix has ensured that the content of such information is accurate, it is not responsible for any omission/error/miscalculation and cannot guarantee the accuracy of any material or any information contained herein.
Therefore, any reliance you place on such material is strictly at your own risk. Please note that the responsibility for using or relying on such material rests with the client and Capitalix accepts no liability for any loss or damage, including without limitation, any loss of profit which may arise directly or indirectly from the use of or reliance on such information.
Risk Warning: Forex/CFDs trading involves significant risk to your invested capital. Please read and make sure that you fully understand our Risk Disclosure Policy.
You should ensure that, depending on your country of residence, you are allowed to trade Capitalix.com products. Please ensure that you are familiar with the company's risk disclosure.
Want to read more?
Login and enjoy all Daily Analysis articles