Daily Review for June 29, 2021
June 29, 2021, 8:27
Commodity traders see a possible super cycle, driven by global demand recovery.
OPEC+ will assess current demand levels and analyze the possible impact of the Delta variant on future demand.
The rotation from value to growth stocks continues. The Nasdaq 100 could show upward movement, mainly due to investors' interest on its main companies.
European markets open higher. Traders are aware to the ECB. The concern of governments is the spread of the Delta variant, which could affect the progress of the economic opening and the summer.
Traders expect a possible change of trend in gold prices. This will happen as inflation data from the European Union becomes available.
---
CRUDE OIL -0.43%
Crude oil prices are correcting some points, just before the OPEC+ meeting, where member countries will review current market levels and analyze demand scenarios. The economic reopening continues; however, the Delta variant of covid-19 could present the highest risk to achieving economic targets. Australia and South Africa are placing new quarantines. The concern is that the new variant of the virus will spread faster than expected globally. On the other hand, analysts see a new commodity super cycle in the market.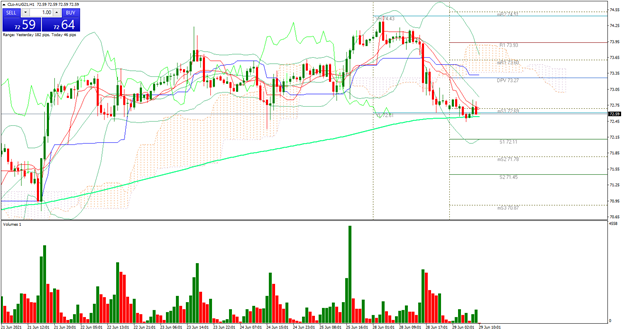 Support 1: 72.54
Support 2: 72.46
Support 3: 72.31
Resistance 1: 72.77
Resistance 2: 72.92
Resistance 3: 73.00
Pivot Point: 72.69
The price continues above the 200-day moving average, however, it is close to support 1 at 72.69. Trading range between 72.31 and 73. Pivot point at 72.69. RSI neutral. Possible trend reversal towards 73.60.
---
NASDAQ 100 -0.12%
The rotation from value stocks to growth stocks is on the rise. Yesterday the market showed significant rallies in technology stocks, including NIO +9.61%, NVIDIA +5.01%, Zoom +4.40%. The main cause of this is the increase in cases of the Delta variant, which is generating reactions from traders, who estimate possible new lockdowns globally, which could generate a good reaction in the Nasdaq 100. The index is currently down 0.12% and is trading at 14,495.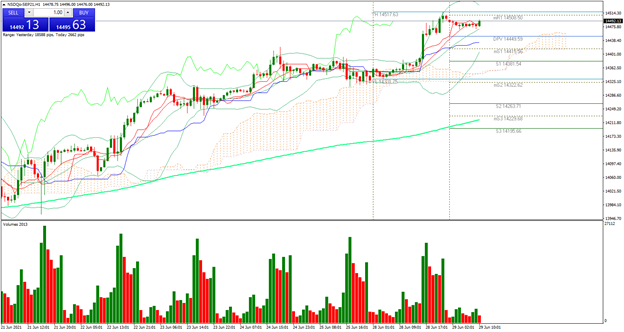 Support 1: 14.470,25
Support 2: 14.462,75
Support 3: 14.453,75
Resistance 1: 14.486,75
Resistance 2: 14.495,75
Resistance 3: 14.503,25
Pivot Point: 14.479,25
Price is near resistance 1 at 14,508. Trading range between 14,453 and 14,503. Pivot point at 14,479. RSI in overbought zone. Possible correction towards 14,415.
---
DAX 30 +0.50%
European markets open higher, with main movements in the MIB 40 +0.66 and in the Eurostoxx 50 +0.61%. Traders are attentive today to Christine Lagarde's statement, where she is expected to follow up on the economic plan, inflation and monetary policy in the Euro Zone. The market also awaits possible comments on the ECB's economic reaction to a Delta variant scenario. Meanwhile, the DAX30 is up 0.50% and is trading at 15,617.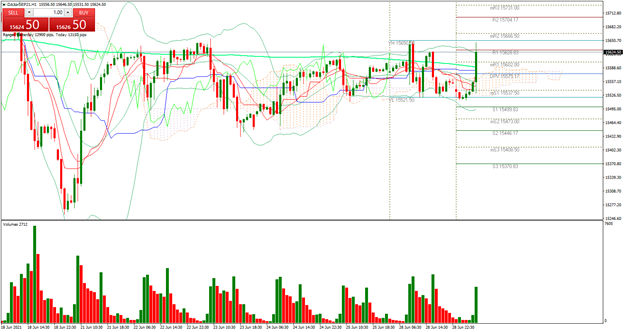 Support 1: 15,523.9
Support 2: 15,514.7
Support 3: 15,496.4
Resistance 1: 15,551.4
Resistance 2: 15,569.7
Resistance 3: 15,578.9
Pivot Point: 15,542.2
Price is trying to reach resistance 2 at 15,666. Trading range between 15,496 and 15,578. Pivot point at 15,542. RSI neutral, near the overbought zone. Bullish outlook ahead of the ECB statement.
---
GOLD -0.46%
The price of gold is currently down 0.46% and is trading at USD$1,773. Traders are aware for a possible change in trend in gold, mainly due to the need to hedge their portfolios against inflation. Therefore, it is possible to see a price rebound from the actual level. The demand for physical gold could also increase if the commodity super cycle is confirmed.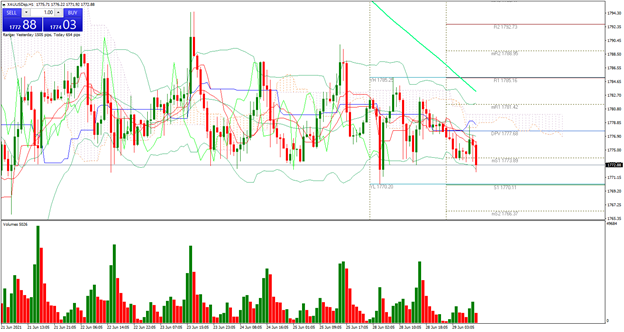 Support 1: 1,773.89
Support 2: 1,771.47
Support 3: 1,769.24
Resistance 1: 1,778.54
Resistance 2: 1,780.77
Resistance 3: 1,783.19
Pivot Point: 1,776.12
The price has been trying to hold above 1,785. However, it declined towards the current level of 1,773. Above this level, the metal is expected to rebound as traders start to demand the metal to hedge portfolios. RSI neutral. Pivot point at 1,776.
---
Sources
Reuters
Market watch
Bloomberg
Capitalix Market Research
Risk Disclaimer
Any information/articles/materials/content provided by Capitalix or displayed on its website is intended to be used for educational purposes only and does not constitute investment advice or a consultation on how the client should trade.
Although Capitalix has ensured that the content of such information is accurate, it is not responsible for any omission/error/miscalculation and cannot guarantee the accuracy of any material or any information contained herein.
Therefore, any reliance you place on such material is strictly at your own risk. Please note that the responsibility for using or relying on such material rests with the client and Capitalix accepts no liability for any loss or damage, including without limitation, any loss of profit which may arise directly or indirectly from the use of or reliance on such information.
Risk Warning: Forex/CFDs trading involves significant risk to your invested capital. Please read and make sure that you fully understand our Risk Disclosure Policy.
You should ensure that, depending on your country of residence, you are allowed to trade Capitalix.com products. Please ensure that you are familiar with the company's risk disclosure.
Want to read more?
Login and enjoy all Daily Analysis articles