Daily Review for June 28, 2021
June 28, 2021, 8:37
Europe kick offs the week with mixed markets. Traders are testing inflation levels that will be announced during the week.
VW announced that it will no longer have combustion engines in Europe from 2033 to 2035.
Crude oil reached USD$74 per barrel. Part of the funds of Biden's infrastructure plan will be supported by the sale of oil concessions in the USA for a value of USD$6 billion.
Despite the UK announcement on Binance, the crypto market is starting to regain the uptrend. Bitcoin seeks USD$35,000.
EURUSD seeks to increase its price driven by the demand for Euros due to the summer season. 
---
DAX 30 +0.09%
European markets open mixed, with main upward movements in the SMI 20 +0.24% and falls in the IBEX 35 – 0.43% and in the FTSE 100 -0.33%. The DAX 30 is currently up 0.09% and is trading at 15,616. Traders are evaluating important economic indicators this week, including inflation in Europe, the ISM in the US, the PMI and the labor market report in the US. Among the corporate news, we highlight VW's announcement that by 2033 to 2035 they will no longer have combustion engines in Europe. The Euro Finance Summit in Frankfurt starts today.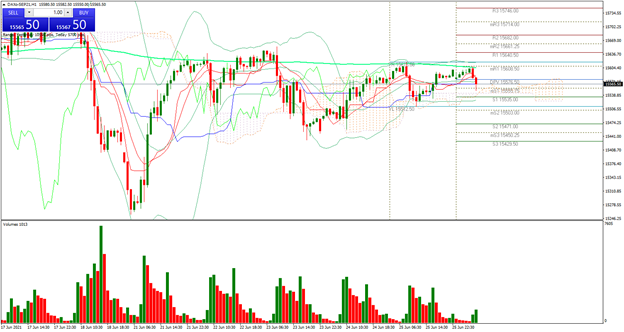 Support 1: 15,554.0
Support 2: 15,540.5
Support 3: 15,513.5
Resistance 1: 15,594.5
Resistance 2: 15,621.5
Resistance 3: 15,635.0
Pivot Point: 15,581.0
Price is above the 21-day moving average. Possible sideways movement above the 15,604 area. Trading range between 15,513 and 15,635. Pivot point at 15,581. RSI neutral, approaching the overbought zone.
---
CRUDE OIL +0.03%
Crude oil reached the level of USD$74 per barrel and maintains the bullish outlook. It is currently up 0.03%. The price increase is due to the increase in demand for Jet Fuel, as commercial flights and the opening of air borders are on the rise. On the other hand, part of the funds destined to Biden's infrastructure plan will be supported by the sale of USD$6 billion of oil concessions in the USA. Oil price projections remain at USD$100 per barrel.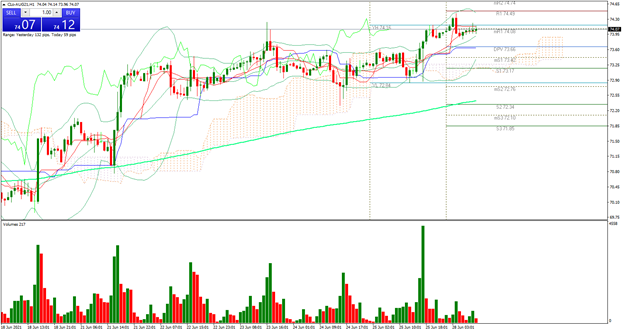 Support 1: 73.94
Support 2: 73.86
Support 3: 73.72
Resistance 1: 74.16
Resistance 2: 74.30
Resistance 3: 74.38
Pivot Point: 74.08
Price is above the 200-day moving average. Trading range between 73,72 and 74,38. Pivot point at 74,08. RSI neutral. The Bulls are looking for 75. To do so, they will have to overcome resistances 2 and 3 to clear the way.
---
BITCOIN +5.45%
Bitcoin has been raising for two consecutive days, so the crypto market is in positive territory. Bitcoin is currently up 5.45% and is trading at USD$34,909. Ricardo Salinas, president of Banco Azteca in Mexico, announced that his bank is working on a plan to start accepting Bitcoins. After the statement, Bitcoin approached the USD$35,000 zone. On the other hand, the UK regulator ordered Binance to cease its activity in the country.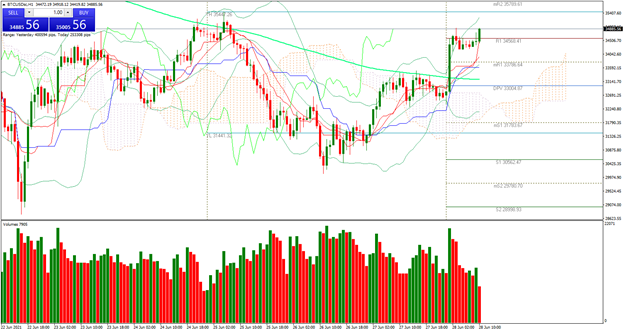 Support 1: 34,375.6
Support 2: 34,212.3
Support 3: 34,007.2
Resistance 1: 34,744.0
Resistance 2: 34,949.1
Resistance 3: 35,112.4
Pivot Point: 34,580.7
The price is above the 200-day moving average. Bitcoin marked a double bottom at USD$28.685, which is a bounce signal and therefore bullish. The next target for the Bulls is the 50-day moving average at $38.665. Pivot point at 34.580.
---
EURUSD +0.06%
Traders are focused on the inflation data that will be announced during this week. Meanwhile, the currency is up 0.06% and is trading at 1.1939. The ECB will announce its economic outlook today. Analysts expect the currency to move higher on the back of increased demand for Euros driven by the summer season.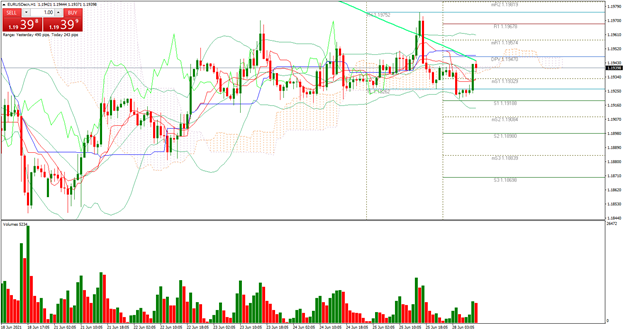 Support 1: 1.1925
Support 2: 1.1919
Support 3: 1.1915
Resistance 1: 1.1934
Resistance 2: 1.1939
Resistance 3: 1.1944
Pivot Point: 1.1929
Expected trading range between 1.1915 and 1.1944. Pivot point at 1.1929. RSI neutral. Price is above the 61.8% Fibonacci retracement level.
---
Sources
Reuters
Market watch
Bloomberg
Capitalix Market Research
Risk Disclaimer
Any information/articles/materials/content provided by Capitalix or displayed on its website is intended to be used for educational purposes only and does not constitute investment advice or a consultation on how the client should trade.
Although Capitalix has ensured that the content of such information is accurate, it is not responsible for any omission/error/miscalculation and cannot guarantee the accuracy of any material or any information contained herein.
Therefore, any reliance you place on such material is strictly at your own risk. Please note that the responsibility for using or relying on such material rests with the client and Capitalix accepts no liability for any loss or damage, including without limitation, any loss of profit which may arise directly or indirectly from the use of or reliance on such information.
Risk Warning: Forex/CFDs trading involves significant risk to your invested capital. Please read and make sure that you fully understand our Risk Disclosure Policy.
You should ensure that, depending on your country of residence, you are allowed to trade Capitalix.com products. Please ensure that you are familiar with the company's risk disclosure.
Want to read more?
Login and enjoy all Daily Analysis articles