Daily Review for June 22, 2021
June 22, 2021, 10:39
Crude oil price maintains its upward trend and manages to overcome the USD$70 per barrel resistance.
Trafigura analysts forecast oil prices at USD$100 per barrel, driven by the rebound in market demand.
Bitcoin and cryptos remain under pressure, pushed by China's restrictions. Prices continue to correct. Analysts are keeping an eye on the USD$30,000 area. If this support is beaten, the next area to watch is USD$24,000.
Jerome Powell will announce the Fed's economic outlook today. At the moment Wall Street indices are bullish.
Mario Draghi and Angela Merkel prepare the next European Summit. Both leaders are focused on the economic recovery of their economies and the Euro zone.
---
CRUDE OIL +0.07%
The price of crude oil overcame the resistance of USD$70 per barrel. At this moment the price is up 0.07% and is trading at USD$73.19 per barrel. Trafigura analysts forecast the price for this year at USD$100 per barrel, based on the economic recovery and industry demand. The prices of crude oil and Brent have increased during the last weeks, due to the reopening of air borders, more flights, higher demand for fuels.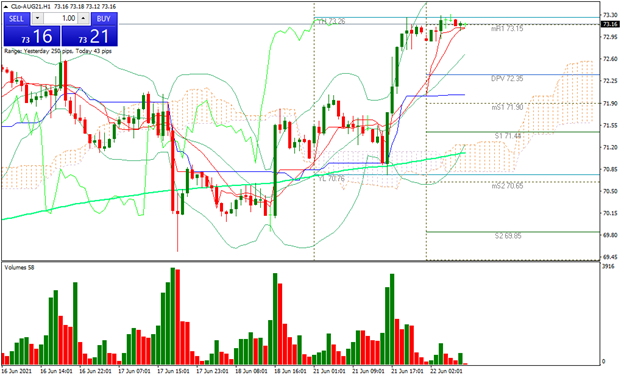 Support 1: 73.05
Support 2: 72.99
Support 3: 72.92
Resistance 1: 73.18
Resistance 2: 73.25
Resistance 3: 73.31
Pivot Point: 73.12
WTI price is above the Ichimoku cloud and the 200-day moving average. The current price is above resistance 1. If the Bulls continue the momentum, the price could reach the level of USD$74 per barrel. Pivot point at 73.12. RSI in overbought zone.
---
BITCOIN -5.18%
The correction on the cryptocurrency market continues. The price of Bitcoin is currently falling 5.18% and is trading at USD$32,687. Analysts have mixed opinions. On one hand, they think that the price has already reached the maximum support and that there could be a change of trend, considering the increase of buyers at this level. For example, Microstrategy bought an additional 13,005 Bitcoins. In total, the company has a position of 105,085 Bitcoins. On the other hand, analysts see pressure from the Chinese government influencing the price and also evaluate the technical level of Bitcoin, which is below the 200-day moving average. The level to watch now is USD$30,000.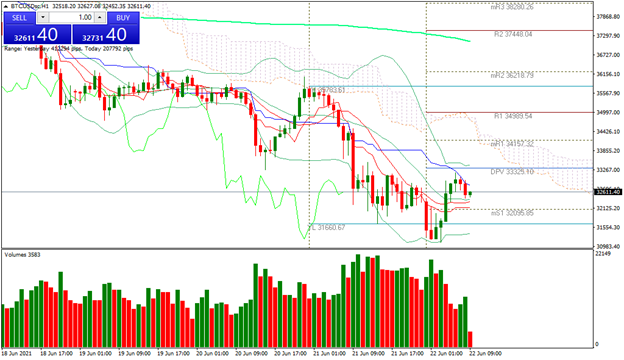 Support 1: 32,415.6
Support 2: 32,228.5
Support 3: 31,936.9
Resistance 1: 32,894.4
Resistance 2: 33,186.1
Resistance 3: 33,373.2
Pivot Point: 32,707.3
Bears are targeting the 24,000 support. If the Bulls manage to defend the current level, the price could climb again to 40,000 even 50,000. Pivot point at 32.707. RSI neutral.
---
S&P500 +0.17%
The market is in an uptrend at the moment. The S&P500 is up 0.17% and is trading at 4,219. The comments of the FED delegates announced that the bank could raise interest rates in 2022, which generated the recovery of the stock markets, which started yesterday in negative territory. Today we will have Jerome Powell's announcements. No abrupt changes are expected in his monetary policy speech.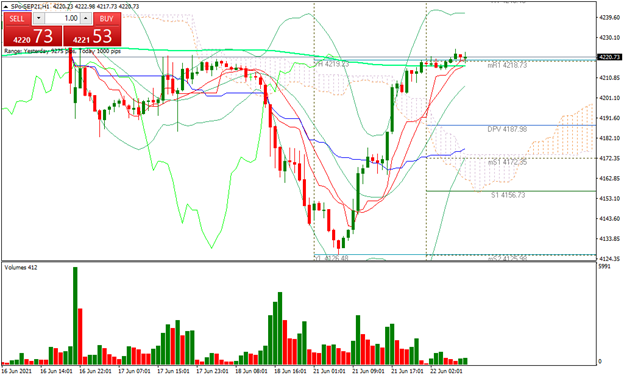 Support 1: 4,218.86
Support 2: 4,217.11
Support 3: 4,215.10
Resistance 1: 4,222.62
Resistance 2: 4,224.63
Resistance 3: 4,226.38
Pivot Point: 4,220.87
The price bounced from the 4,125 support to the current level at 4,218. Expected trading range between 4,215 and 4,226. Pivot point at 4,220. RSI overbought. Bullish trend.
---
DAX 30 -0.16%
Yesterday Mario Draghi and Angela Merkel had a meeting, where they talked about important issues to be discussed at the next European Summit. Both leaders are focused on the economic recovery of their economies and the European Union. They also discussed the strengthening of the ECB as a money market institution. At the moment, the DAX 30 is down 0.16% and is trading at 15,586. If Wall Street indices remain in green, it is possible that the DAX 30 will turn positive.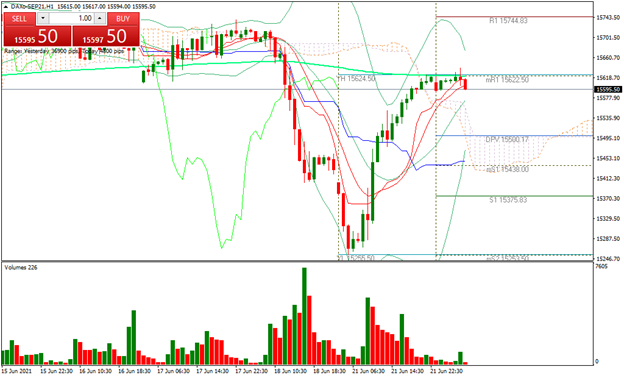 Support 1: 15,619.0
Support 2: 15,612.0
Support 3: 15,606.5
Resistance 1: 15,631.5
Resistance 2: 15,637.0
Resistance 3: 15,644.0
Pivot Point: 15,624.5
Price is falling a few points from resistance 1. Trading range between 15,606 and 15,644. Pivot point at 15,644. Neutral RSI coming out of the overbought zone.
---
Sources
Reuters
Market watch
Bloomberg
Capitalix Market Research
Risk Disclaimer
Any information/articles/materials/content provided by Capitalix or displayed on its website is intended to be used for educational purposes only and does not constitute investment advice or a consultation on how the client should trade.
Although Capitalix has ensured that the content of such information is accurate, it is not responsible for any omission/error/miscalculation and cannot guarantee the accuracy of any material or any information contained herein.
Therefore, any reliance you place on such material is strictly at your own risk. Please note that the responsibility for using or relying on such material rests with the client and Capitalix accepts no liability for any loss or damage, including without limitation, any loss of profit which may arise directly or indirectly from the use of or reliance on such information.
Risk Warning: Forex/CFDs trading involves significant risk to your invested capital. Please read and make sure that you fully understand our Risk Disclosure Policy.
You should ensure that, depending on your country of residence, you are allowed to trade Capitalix.com products. Please ensure that you are familiar with the company's risk disclosure.
Want to read more?
Login and enjoy all Daily Analysis articles