Daily Review for June 21, 2021
June 21, 2021, 20:10
The crypto market falls sharply in the wake of further restrictions on cryptocurrency mining in China.
Equities markets falls globally, as a result of the lack of determination from the FED and the ECB.
The delta variant opens global concerns.
Gold is looking for a recovery of the USD$1,800 area. Traders are watching this week's PMI data to assess the inflation performance.
EURUSD sideways awaiting Christine Lagarde. Traders are trying to change the market trend. At the moment indices are starting to recover.
---
BITCOIN -7.12%
Over the weekend, the cryptocurrency market fell, mainly due to the lack of interest from new investors, who are waiting for a major correction before re-entering the market. During Monday's Asian session, the Chinese government announced the suspension of bitcoin mining in Sichuan province, which is causing the Bitcoin price to drop 7.12% at the moment. The crypto is currently trading at USD$32,880.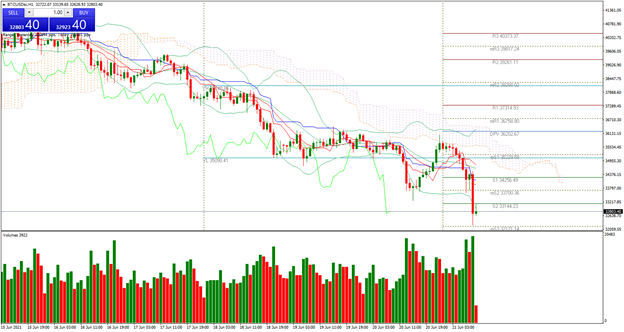 Support 1: 32,021.1
Support 2: 31,268.2
Support 3: 29,994.1
Resistance 1: 34,048.1
Resistance 2: 35,322.2
Resistance 3: 36,075.1
Pivot Point: 33,295.2
The price is below the 200-day moving average. At the moment it is at support 2, below the Ichimoku cloud, which is evidence of bearish pressure. Bulls are looking to defend support 3. Bears are looking to short the price below 30,000. RSI in oversold zone.
---
DAX 30 -0.76%
Global markets open in negative territory, due to the increase in cases of the Delta variant of the coronavirus in the United Kingdom. In Europe, the DAX 30 starts the week down 0.76%. The index is trading at 15,332. Air borders are beginning to reopen, and governments are looking to recover the economy for the summer. However, scientists have raised concerns about the new Delta variant of the virus.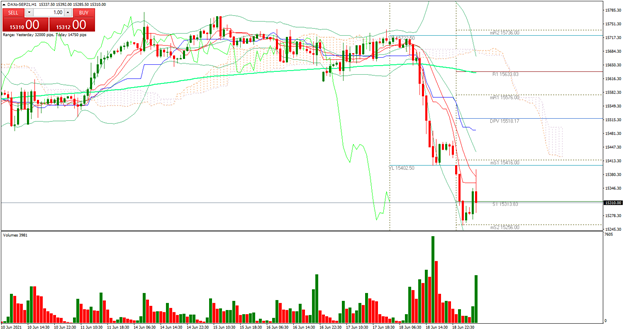 Support 1: 15,291.9
Support 2: 15,228.7
Support 3: 15,185.4
Resistance 1: 15,398.4
Resistance 2: 15,441.7
Resistance 3: 15,504.9
Pivot Point: 15,335.2
Price is at support 1. Trading range between 15,185 and 15,504. Pivot point at 15,335. RSI in oversold zone. Possible bounce towards the pivot point.
---
GOLD +0.36%
Due to the fall of indices and equity assets, traders started to buy gold, in order to mitigate volatility. Gold is currently up 0.36% and is trading at USD$1,776.10. Analysts are aware on PMI and Manufacturing data this week. If the data shows that inflation is on the rise, gold could show a recovery to USD$1,800. On Wednesday, the BOE will announce its monetary policy decision.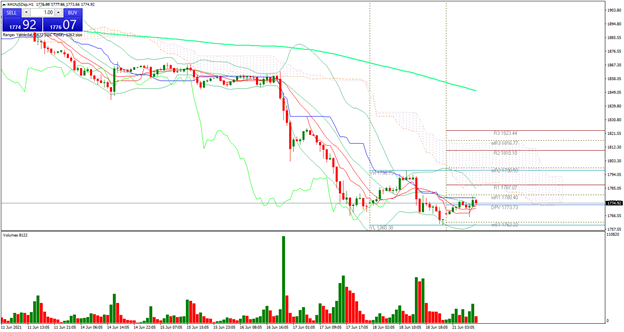 Support 1: 1,773.66
Support 2: 1,769.28
Support 3: 1,766.16
Resistance 1: 1,781.16
Resistance 2: 1,784.28
Resistance 3: 1,788.66
Pivot Point: 1,776.78
Important support at the 61.8% Fibonacci retracement level in 1,770. Trading range between 1,766 and 1,788. Pivot point at 1,776. Neutral RSI, which is evidence that if the market continues bearish, gold could show a significant rally.
---
EURUSD +0.09%
The currency is moving sideways, awaiting Christine Lagarde's statement as ECB president. Treasury yields are falling 1.87% for the 10-year and 0.69% for the 30-year. Traders are expecting more participation from the ECB and the FED in the market. For the moment, both banks have presented an adaptive strategy. At the moment the EURUSD is up 0.09% and is trading at 1.1873.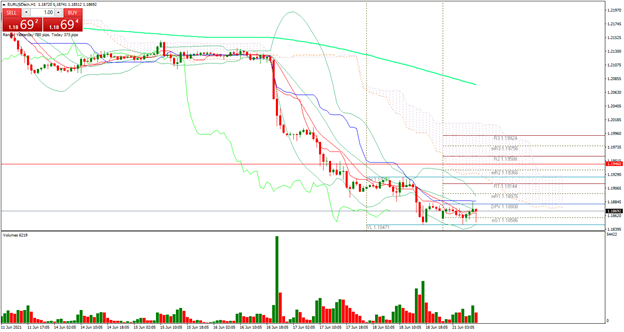 Support 1: 1.1866
Support 2: 1.1857
Support 3: 1.1848
Resistance 1: 1.1883
Resistance 2: 1.1893
Resistance 3: 1.1901
Pivot Point: 1.1875
Sideways movement towards the 1.1874 area. Price continues below the Ichimoku cloud. Expected trading range between 1.1848 and 1.1901. Pivot point at 1.1875. RSI neutral.
---
Sources
Reuters
Market watch
Bloomberg
Capitalix Market Research
Risk Disclaimer
Any information/articles/materials/content provided by Capitalix or displayed on its website is intended to be used for educational purposes only and does not constitute investment advice or a consultation on how the client should trade.
Although Capitalix has ensured that the content of such information is accurate, it is not responsible for any omission/error/miscalculation and cannot guarantee the accuracy of any material or any information contained herein.
Therefore, any reliance you place on such material is strictly at your own risk. Please note that the responsibility for using or relying on such material rests with the client and Capitalix accepts no liability for any loss or damage, including without limitation, any loss of profit which may arise directly or indirectly from the use of or reliance on such information.
Risk Warning: Forex/CFDs trading involves significant risk to your invested capital. Please read and make sure that you fully understand our Risk Disclosure Policy.
You should ensure that, depending on your country of residence, you are allowed to trade Capitalix.com products. Please ensure that you are familiar with the company's risk disclosure.
Want to read more?
Login and enjoy all Daily Analysis articles