Daily Review for June 18, 2021
June 18, 2021, 8:36
Global market opens undecided, mainly due to the lack of a strategic plan from the FED. The Bank send a message that it will follow an adaptive strategy, which does not convince investors.

In Europe, economic and finance ministers will meet today to review the European funds plan for economic recovery.

Gold corrects and falls towards the level of USD$ 1,793. Commodity traders begin to open trades in metals, looking for a price rebound.

Traders also open positions in EURUSD, looking to regain the 1.2100 area. Possible upward movement, due to the expiration of futures contracts and options on indexes and stocks today in the market.
---
DOW JONES +0.08%
The stock market begins with a rebound in Wall Street indexes. The Dow Jones is up 0.08%, the S&P500 +0.10% and the Nasdaq 100 +0.28%. Today, options and futures contracts on stocks and indices expire, which could lead to significant trading volumes. The week also ends with the Fed's message of a strategic plan to adapt to market developments.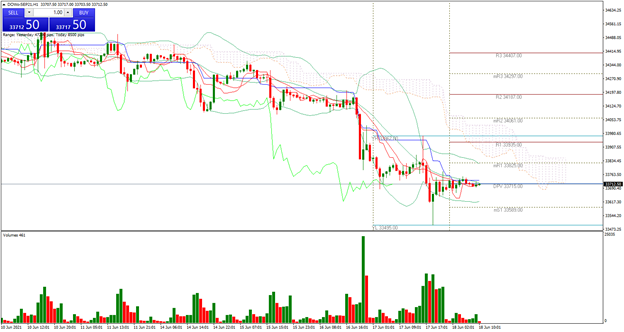 Support 1: 33,699.9
Support 2: 33,683.7
Support 3: 33,669.9
Resistance 1: 33,729.9
Resistance 2: 33,743.7
Resistance 3: 33,759.9
Pivot Point: 33,713.7
Price is below the Ichimoku cloud. Sideways movement towards 33,711. Pivot point at 33,713. Possible change of trend. Trading range between 33,743 and 33,759. RSI neutral.
---
EUROSTOXX 50 -0.48%
At the moment the index of the 50 largest companies in Europe is down 0.48% and is trading at 4,140. Today, the European Union's finance ministers will meet to discuss the European support funds. In the meantime, European stock markets are opening negative, awaiting a turnaround.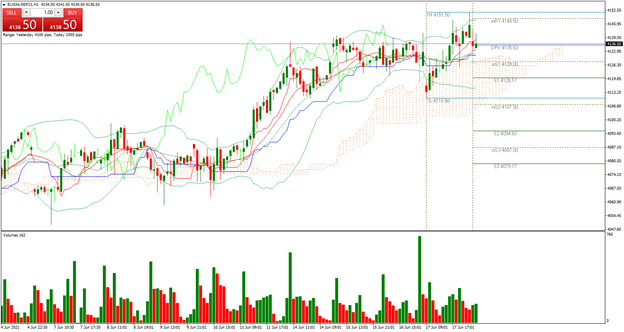 Support 1: 4,138
Support 2: 4,135
Support 3: 4,132
Resistance 1: 4,144
Resistance 2: 4,147
Resistance 3: 4,150
Pivot Point: 4,141
Price is between the pivot point and resistance 1. Trading range between 4,132 and 4,150. Pivot point at 4,141. RSI neutral. Bulls are looking to consolidate at 4,148.
---
GOLD +0.74%
Despite the market decline of the last two days, gold also corrected and dropped to the level of USD$1,769. At this moment it is recovering part of the fall. The current price is at USD$1,787 per Troy ounce. The FED is following the behavior of the market and with this they are going to focus their strategy towards an accommodative monetary policy. Therefore, traders are setting their strategies to place part of their capital in Fixed Income, before the FED raises interest rates.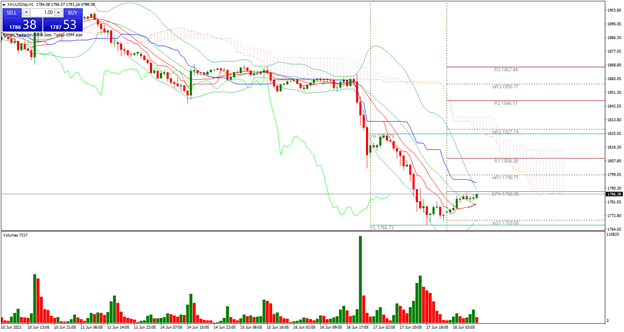 Support 1: 1,782.15
Support 2: 1,780.60
Support 3: 1,778.30
Resistance 1: 1,786.00
Resistance 2: 1,788.30
Resistance 3: 1,789.85
Pivot Point: 1,784.45
The price is at the pivot point at 1,784, which may create a change of trend. If the market remains mixed, the price could have a bullish day. If, on the other hand, it turns positive, the price of gold could enter into bearish pressure.
---
EURUSD -0.01%
The currency's started to fall from June 16, 2021, when the Fed's interest rate decision was announced. In this sense, the market adjustment program did not favor the EURUSD. On the other hand, analysts expect a recovery of the price towards the 1.2111 area, mainly due to the demand for Euros from vaccinated tourists, who will be able to enter the Euro Zone due to the reduction of restrictions.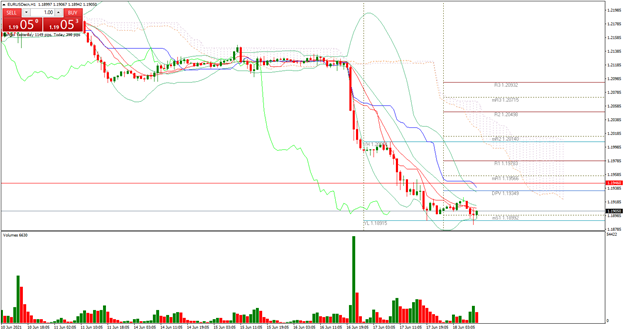 Support 1: 1.1880
Support 2: 1.1871
Support 3: 1.1856
Resistance 1: 1.1905
Resistance 2: 1.1919
Resistance 3: 1.1929
Pivot Point: 1.1895
RSI is below 30, in oversold zone. Possible price rebound towards the resistance zone 1 and 2. Trading range between 1.1856 and 1.1929. Pivot point at 1.1895.
---
Sources
Reuters
Market watch
Bloomberg
Capitalix Market Research
Risk Disclaimer
Any information/articles/materials/content provided by Capitalix or displayed on its website is intended to be used for educational purposes only and does not constitute investment advice or a consultation on how the client should trade.
Although Capitalix has ensured that the content of such information is accurate, it is not responsible for any omission/error/miscalculation and cannot guarantee the accuracy of any material or any information contained herein.
Therefore, any reliance you place on such material is strictly at your own risk. Please note that the responsibility for using or relying on such material rests with the client and Capitalix accepts no liability for any loss or damage, including without limitation, any loss of profit which may arise directly or indirectly from the use of or reliance on such information.
Risk Warning: Forex/CFDs trading involves significant risk to your invested capital. Please read and make sure that you fully understand our Risk Disclosure Policy.
You should ensure that, depending on your country of residence, you are allowed to trade Capitalix.com products. Please ensure that you are familiar with the company's risk disclosure.
Want to read more?
Login and enjoy all Daily Analysis articles