Daily Review for June 17, 2021
June 17, 2021, 9:44
Putin and Biden described their meeting as productive. The embassies of both countries will be reactivated.
FED kept interest rates unchanged. They remain at 0.25%.
Switzerland maintains interest rates at -0.75%.
Bond yields are rising globally as a result of unchanged interest rates.
Global markets is in negative territory.
In Europe, traders are aware of the Euro Zone CPI data.
Gold corrects and heads to the USD$1,800 area.
Crude oil traders take profits. The price of WTI stabilizes at USD$ 71.67 per barrel.
Wall Street remains in red and is waiting for a turnaround.
---
EUROSTOXX 50 -0.79%
Global market is turning negative after Jerome Powell's statements as FED Chairman, where he stated that tapering will begin in August 2021 and the FED's proposal is to raise interest rates by 2023. At this moment, the stock market indexes in Europe are in negative territory, mainly the FTSE 100 with a fall of -1.62%. For its part, the EuroStoxx 50 is falling 0.79%. Today we will have the interest rate decision in Switzerland. Also the CPI data in the Euro Zone.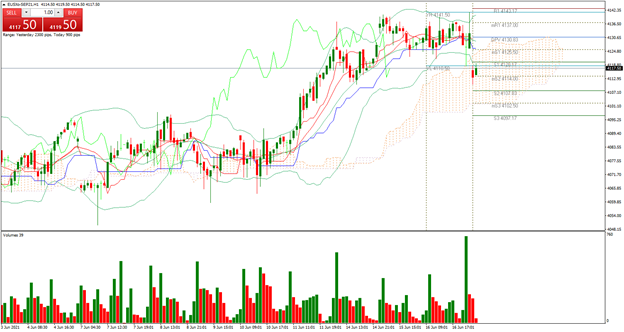 Support 1: 4,110
Support 2: 4,107
Support 3: 4,102
Resistance 1: 4,118
Resistance 2: 4,123
Resistance 3: 4,126
Pivot Point: 4,115
Price is in the Ichimoku cloud, which indicates an expected trading range between 4,102 and 4,126. Pivot point for trend change at 4,115. RSI neutral.
---
GOLD -2.66%
As the global equity correction begins, and interest rates remain unchanged, investors have started to buy treasury bonds. Low interest rates cause bond yields to rise, making it an attractive asset for traders. The yield on the Spanish 10-year bond is up 6.86%. The yield on the German 10-year bond is up 14.75%. Gold is currently being sold, and capital is being placed in bonds. The metal is currently falling 2.66%.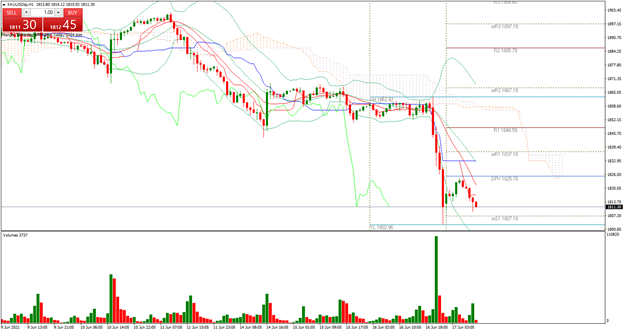 Support 1: 1,811.46
Support 2: 1,806.88
Support 3: 1,802.96
Resistance 1: 1,819.96
Resistance 2: 1,823.88
Resistance 3: 1,828.46
Pivot Point: 1,815.38
Expected trading range between 1,819 and 1,828. Pivot point at 1,815. RSI in oversold zone. Possible move towards resistance 1.
---
CRUDE OIL –0.58%
In July 2021, OPEC+ members will begin to increase crude oil production. This would generate more supply in the market, which could lead prices to begin to correct to the market's equilibrium or stability level. Current global production is at 96 million barrels per day. For the moment, oil traders have taken profits and the price has corrected to the current level of USD$71.42 per barrel.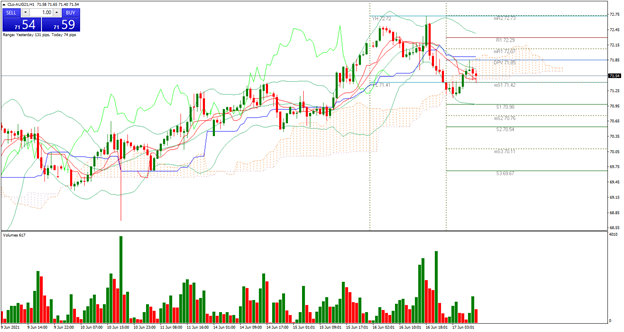 Support 1: 71.64
Support 2: 71.51
Support 3: 71.36
Resistance 1: 71.92
Resistance 2: 72.07
Resistance 3: 72.20
Pivot Point: 71.79
The price is crossing the Ichimoku cloud and is heading towards support 1. Trading range between 71.36 and 72.20. Pivot point at 71.79. RSI neutral.
---
S&P500 -0.34%
Wall Street indices remain in negative territory, as investors are assuming a slowdown in economic stimulus and rising interest rates in near term, which would cause a drag on equity market performance. As a result, bonds and fixed income are starting to gain interest from investors. Meanwhile, the S&P500 is down 0.34% and is trading at 4,199.62.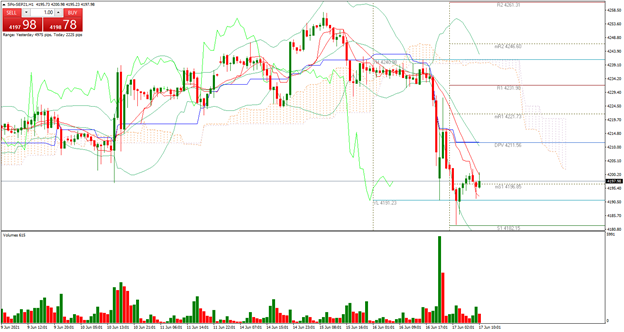 Support 1: 4,191.50
Support 2: 4,187.62
Support 3: 4,183.12
Resistance 1: 4,199.88
Resistance 2: 4,204.38
Resistance 3: 4,208.26
Pivot Point: 4,196.00
The index lost the 4,200 level and is trying to bounce from support 1. Possible sideways movement with bearish trend, while a change of trend is generated. Trading range between 4,183 and 4,208. Pivot point at 4,196. RSI in oversold zone.
---
Sources
Reuters
Market watch
Bloomberg
Capitalix Market Research
Risk Disclaimer
Any information/articles/materials/content provided by Capitalix or displayed on its website is intended to be used for educational purposes only and does not constitute investment advice or a consultation on how the client should trade.
Although Capitalix has ensured that the content of such information is accurate, it is not responsible for any omission/error/miscalculation and cannot guarantee the accuracy of any material or any information contained herein.
Therefore, any reliance you place on such material is strictly at your own risk. Please note that the responsibility for using or relying on such material rests with the client and Capitalix accepts no liability for any loss or damage, including without limitation, any loss of profit which may arise directly or indirectly from the use of or reliance on such information.
Risk Warning: Forex/CFDs trading involves significant risk to your invested capital. Please read and make sure that you fully understand our Risk Disclosure Policy.
You should ensure that, depending on your country of residence, you are allowed to trade Capitalix.com products. Please ensure that you are familiar with the company's risk disclosure.
Want to read more?
Login and enjoy all Daily Analysis articles