Daily Review for June 16, 2021
June 16, 2021, 9:53
UK inflation reported at 2.1% per year.
In Europe, the indices are in negative territory awaiting the meeting between Putin and Biden.
DAX 30 in consolidation zone. The EuroStoxx 50 is down 0.30% at the moment, awaiting the ECB statement and the FED interest rate decision.
Gold prices sideways. Bullish movements is expected ahead of the FED decision.
Crude oil remains above USD$70 per barrel. A significant reduction in US inventories is expected today, which could lead to a further price rally.
---
DAX 30 +0.03%
Stock markets open with mixed movements globally, awaiting the FED interest rate decision. In Europe, traders and the market are looking forward to Putin's meeting with Biden that will be held today in Geneva, Switzerland. DAX30 is showing a slight upward movement of 0.03% and is trading at 15,752. Today we will have statements from De Guindos, Vice President of the ECB.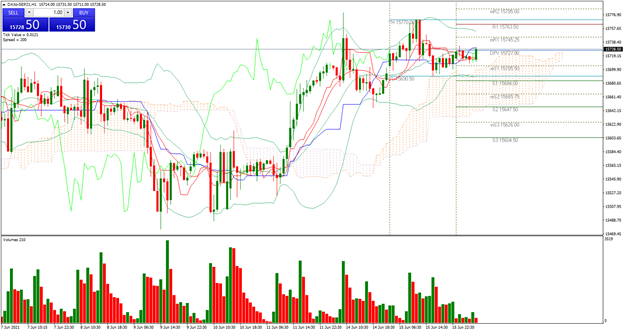 Support 1: 15,735.5
Support 2: 15,729.5
Support 3: 15,726.0
Resistance 1: 15,745.0
Resistance 2: 15,748.5
Resistance 3: 15,754.5
Pivot Point: 15,739.0
Bullish trend. First resistance line at 15,745. Price is between resistance 1 and support 1. Trading range between 15,726 and 15,754. Pivot point at 15,739. RSI neutral. Bulls are looking for the way to 15,900.
---
GOLD +0.27%
Gold price is trying to break out of the sideways trend. It is currently up 0.27% and is trading at USD$1,861.15. Due to the expected volatility by the FED decision, traders have started to buy the metal again, in order to hedge their portfolios. For today, gold is expected to move sideways with small upward movements before the FED announcement. After the announcement, gold may mark a definite uptrend or further correction.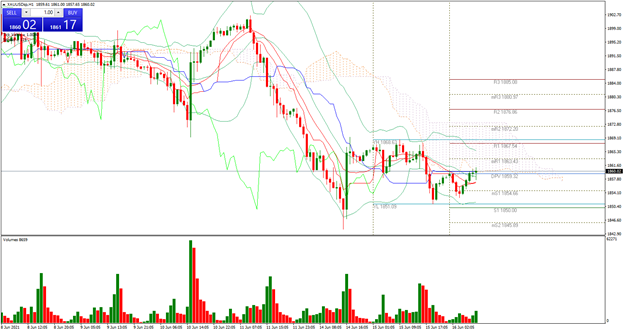 Support 1: 1,860.11
Support 2: 1,858.13
Support 3: 1,856.66
Resistance 1: 1,863.56
Resistance 2: 1,865.03
Resistance 3: 1,867.01
Pivot Point: 1,861.58
If the FED does not convince the market, the gold price could head towards 1,880, even 1,900. Expected trading range between 1,856 and 1,867. Pivot point at 1,861. RSI neutral.
---
EUROSTOXX 50 -0.27%
According to analysts at Credit Suisse, the EuroStoxx 50 could rise above 4,500 points. At the moment the index is down 0.27% and is trading at 4,134. The basis of CS analysis is the good macroeconomic data that has been presented so far by the European Union. Among the data, positive inflation numbers, reduction in unemployment rates, GDP growth, increase in the trade balance, among others.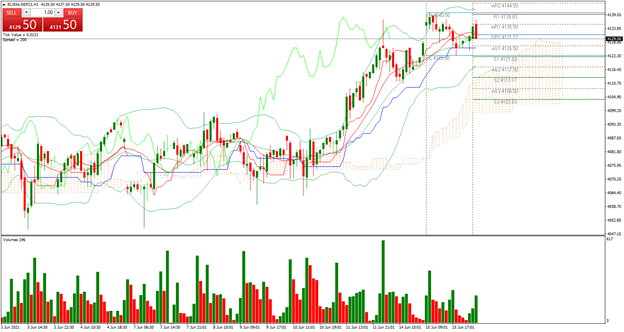 Support 1: 4,130
Support 2: 4,127
Support 3: 4,124
Resistance 1: 4,136
Resistance 2: 4,139
Resistance 3: 4,142
Pivot Point: 4,133
Expected trading range between 4,124 and 4,142. Pivot point at 4,133. RSI neutral. Price is defining the up leg above the consolidation zone at 4,139. Bullish trend. Review of consolidation levels on the FED announcement.
---
CRUDE OIL +0.50%
Crude oil prices managed to advance above the USD$70 per barrel zone. Today, we will have the IEA crude oil inventories report, where the market expects a reduction of 3.3 million barrels. At the moment the price is up 0.50% and is trading at USD$72.46 per barrel. Main market analysts forecast the price of crude oil at USD$100 per barrel.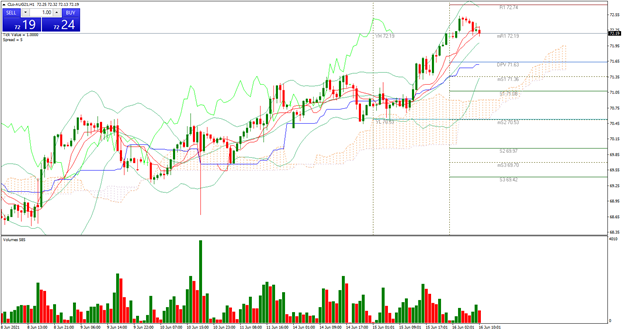 Support 1: 72.48
Support 2: 72.41
Support 3: 72.31
Resistance 1: 72.65
Resistance 2: 72.75
Resistance 3: 72.82
Pivot Point: 72.58
Expected trading range between 72.31 and 72.82. Pivot point at 72.58. RSI neutral coming out of the overbought zone. Price is above the Ichimoku cloud. Bullish trend until the inventory report is announced.
---
Sources
Reuters
Market watch
Bloomberg
Capitalix Market Research
Risk Disclaimer
Any information/articles/materials/content provided by Capitalix or displayed on its website is intended to be used for educational purposes only and does not constitute investment advice or a consultation on how the client should trade.
Although Capitalix has ensured that the content of such information is accurate, it is not responsible for any omission/error/miscalculation and cannot guarantee the accuracy of any material or any information contained herein.
Therefore, any reliance you place on such material is strictly at your own risk. Please note that the responsibility for using or relying on such material rests with the client and Capitalix accepts no liability for any loss or damage, including without limitation, any loss of profit which may arise directly or indirectly from the use of or reliance on such information.
Risk Warning: Forex/CFDs trading involves significant risk to your invested capital. Please read and make sure that you fully understand our Risk Disclosure Policy.
You should ensure that, depending on your country of residence, you are allowed to trade Capitalix.com products. Please ensure that you are familiar with the company's risk disclosure.
Want to read more?
Login and enjoy all Daily Analysis articles