Daily Review for July 29, 2021
July 29, 2021, 7:13
The price of crude oil has maintained the level of USD$72 per barrel for more than two weeks. Traders are waiting for August to evaluate the impact of the OPEC+ production increase on the price.
The FED kept interest rates at 0.25%.
Facebook exceeded market expectations, showing an increase in advertising sales after the pandemic. Amazon will report today.
Macroeconomic data in Europe could set the trend of the DAX 30. Spain and Germany will present inflation data.
The market is waiting for the US GDP data. The FED announced the continuation of an accommodative strategy to the market. No tapering is expected for the time being as the focus of economic analysis is now on the impact of the Delta variant.
---
CRUDE OIL +0.58%
The price of crude oil maintains a sideways trend above the level of USD$72 per barrel. Analysts foresee that the greatest impact that could be generated on oil is the increase of cases of the Delta variant. This would force the closure of air borders, which would create a decrease in the demand for Jet Fuel, one of the crude oil derivatives. At the moment, crude oil is up 0.58% and is trading at USD$72.78 per barrel. Analysts continue to evaluate the market balance. Traders continue to evaluate the price performance with a focus on the first days of August, when OPEC+ will start to increase production.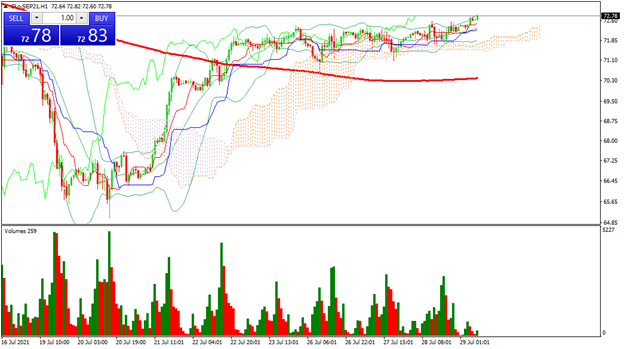 Support 1: 72.63
Support 2: 72.59
Support 3: 72.56
Resistance 1: 72.70
Resistance 2: 72.73
Resistance 3: 72.77
Pivot Point: 72.66
Expected trading range between 72.56 and 72.77. Pivot point for change in trend at 72.66. RSI approaching the overbought zone. Bulls maintain the target at USD$80 per barrel. Bears mark a target of USD$65.
---
NASDAQ 100 -0.17%
Facebook beat market expectations, achieving an EPS of 3.61 versus 3.04 expected. The company also reported an operating income of USD$28.1 Billion, versus USD$27.85 Billion expected. Today, we will have Amazon's results. Analysts expect the company to exceed market expectations, mainly due to the increase in e-commerce demand that has been evidenced during the pandemic. The Nasdaq 100 raised 0.70% yesterday. It is currently down 0.17% and is trading at 14,996.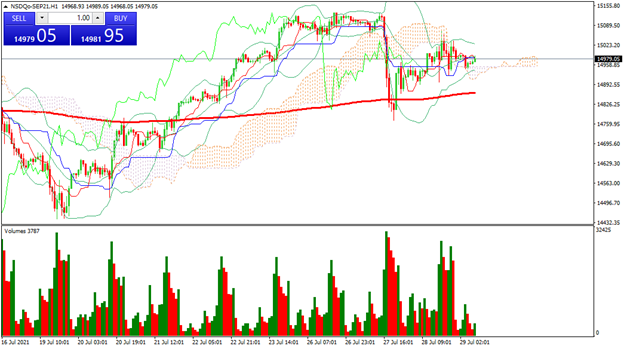 Support 1: 14,973.7
Support 2: 14,966.5
Support 3: 14,960.1
Resistance 1: 14,987.3
Resistance 2: 14,993.7
Resistance 3: 15,000.9
Pivot Point: 14,980.1
The price is above the 200-day moving average. If there is a change in trend, the index could regain 15,000 points. Expected trading range between 14,960 and 15,000. Pivot point at 14,980. RSI neutral.
---
DAX 30 -0.02%
Traders are aware of the CPI data in Spain, and Germany and the unemployment rate in Germany. They are also waiting for the ECB announcements. The Fed left interest rates unchanged. They remained unchanged at 0.25%. The ECB could present a similar view to the FED or orient its strategy on the market. The FED for the moment expressed an accommodative strategy. Meanwhile, the DAX 30 is down 0.02% and is trading at 15,537.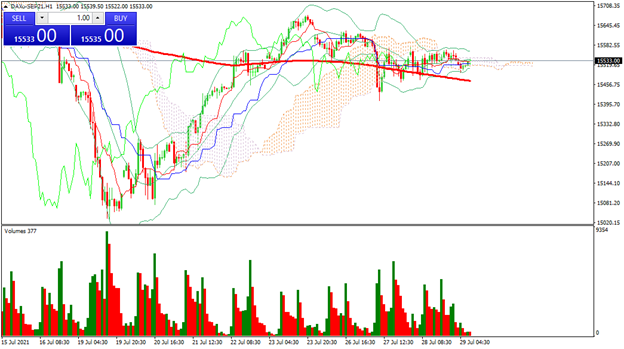 Support 1: 15,516.5
Support 2: 15,506.0
Support 3: 15,494.0
Resistance 1: 15,539.0
Resistance 2: 15,551.0
Resistance 3: 15,561.5
Pivot Point: 15,528.5
Sideway movement. The macroeconomic data could set the trend today. If the German economic data is favorable, the index could start to climb towards 15,708 points. Pivot point at 15,528. RSI neutral, which signals that traders are waiting for the data.
---
DOW JONES +0.22%
Dow Jones is currently up 0.22%, trading at 35,009 points. Today we will have the quarterly GDP data (Q2) for the United States. The market expects it to be 8.5%. Unemployment Claims will also be announced. If GDP beats expectations and claims are lower than the 380,000 estimated, the index and Wall Street could see a new rally.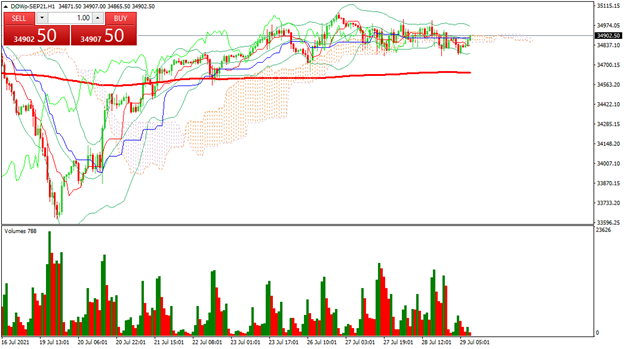 Support 1: 34,948.8
Support 2: 34,918.6
Support 3: 34,899.8
Resistance 1: 34,997.8
Resistance 2: 35,016.6
Resistance 3: 35,046.8
Pivot Point: 34,967.6
Sideways movement above the 34,903-point zone. To consolidate the 35,000 level, US macroeconomic data should exceed expectations. Expected trading range between 34,899 and 35,046. Pivot point at 34,967. RSI neutral. Price remains above the 200-day moving average.
---
Sources
Reuters
Market watch
Bloomberg
Capitalix Market Research
Risk Disclaimer
Any information/articles/materials/content provided by Capitalix or displayed on its website is intended to be used for educational purposes only and does not constitute investment advice or a consultation on how the client should trade.
Although Capitalix has ensured that the content of such information is accurate, it is not responsible for any omission/error/miscalculation and cannot guarantee the accuracy of any material or any information contained herein.
Therefore, any reliance you place on such material is strictly at your own risk. Please note that the responsibility for using or relying on such material rests with the client and Capitalix accepts no liability for any loss or damage, including without limitation, any loss of profit which may arise directly or indirectly from the use of or reliance on such information.
Risk Warning: Forex/CFDs trading involves significant risk to your invested capital. Please read and make sure that you fully understand our Risk Disclosure Policy.
You should ensure that, depending on your country of residence, you are allowed to trade Capitalix.com products. Please ensure that you are familiar with the company's risk disclosure.
Want to read more?
Login and enjoy all Daily Analysis articles