Daily Review for July 28, 2021
July 28, 2021, 7:26
Global markets remain mixed awaiting the Fed's interest rate decision.
Large technology companies managed to outperform market expectations. For the moment, the Nasdaq 100 has not presented any upward movements in this regard.
Today it is the turn of Facebook, Paypal and Pfizer to present their financial results.
Deutsche Bank outperformed market expectations and this could drive the DAX 30 higher.
Dow Jones seeks to consolidate the 35,000 point zone. Possible market rebound in the United States and Europe. China's stock markets show upward movements.
The price of gold seeks to consolidate the USD$1,800 zone. Due to the increase in volatility, traders continue buying the metal.
The fall of the Chinese market, apparently was due to the transition from Chinese equities to Cryptos.
---
NASDAQ 100 -0.20%
The index closed yesterday with a drop of 1.21% as a result of the panic generated in the Chinese stock markets. The index is currently down 0.20% and is trading at 14,927. Apple beat market expectations, reporting EPS of 1.3 above the 1.01 estimate. The significant increase in the sale of iPhones, help to achieve an operating income of USD$81.43 billion. Microsoft also exceeded market expectations, achieving an EPS of 2.17. Google increased its advertising sales, achieving an EPS of 27.26. Today we will have the financial results of Facebook, Paypal, Pfizer, among others.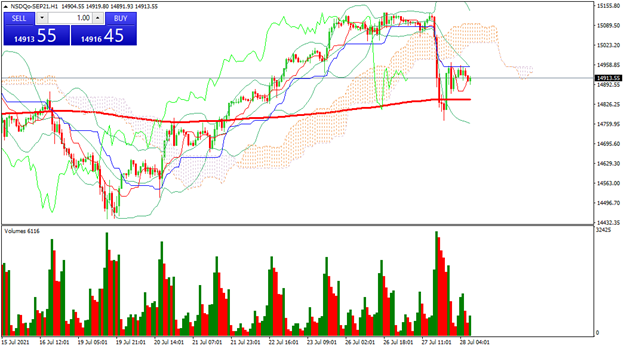 Support 1: 14,908.4
Support 2: 14,901.2
Support 3: 14,887.9
Resistance 1: 14,928.9
Resistance 2: 14,942.2
Resistance 3: 14,949.4
Pivot Point: 14,921.7
The price moved down from the resistance of 15,155, towards the current level of 14,930. Expected trading range between 14,887 and 14,949. Pivot point at 14,921. RSI neutral. Bulls are looking to regain the trend. At the moment the index has not materialized the good corporate results.
---
DAX 30 -0.02%
Deutsche Bank reported financial results, increasing its Profit Before Taxes by €1.2 billion. Its Net Income raised to €828 million. Therefore, the DAX 30 index could show a rebound against yesterday's market fall, as the Bank has a large component within the index. At the moment the DAX 30 is down 0.02% and is trading at 15,543. Traders are aware of the FED interest rate decision and its impact on the European markets.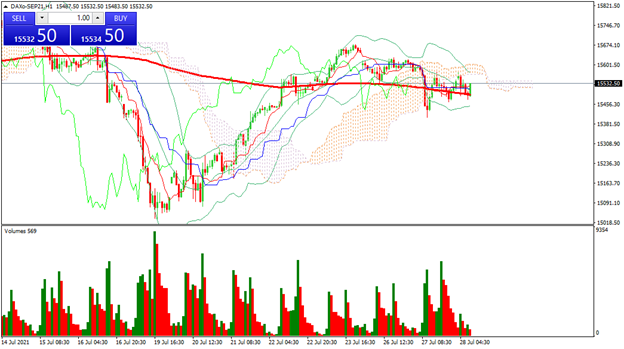 Support 1: 15,485.9
Support 2: 15,479.2
Support 3: 15,469.9
Resistance 1: 15,501.9
Resistance 2: 15,511.2
Resistance 3: 15,517.9
Pivot Point: 15,495.2
Possible price rebound towards resistance level 2 and 3. Expected trading range between 15,469 and 15,517. Pivot point at 15,495. Bulls keep the target at 16,000.
---
DOW JONES -0.16%
The index is looking to recover the 85 points lost yesterday. Traders today are aware of the FED. The market expects the bank to leave interest rates unchanged at 0.25%. Also, at the press conference, the Fed is expected to present its economic projections, including its inflation analysis. In previous press releases, the bank has been passive, without showing clear positions in the market. At the moment, the Dow Jones is down 0.16% and is trading at 34,875.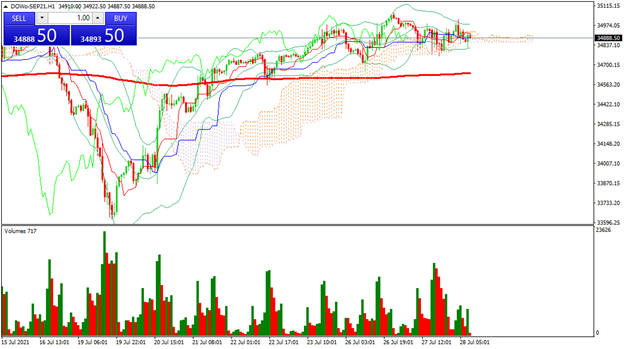 Support 1: 34,967.5
Support 2: 34,899.7
Support 3: 34,864.1
Resistance 1: 35,070.9
Resistance 2: 35,106.5
Resistance 3: 35,174.3
Pivot Point: 35,003.1
Sideways movement above the 34,876 area. Expected trading range between 34,864 and 35,174. Pivot point at 35,003. Bulls are looking to keep the index above the 35,000 mark. RSI neutral, so traders are waiting for the FED.
---
GOLD +0.35%
The price of gold is currently up 0.35%, trading at USD$1,806 per Troy ounce. The metal is gaining buying interest from investors, mainly to hedge portfolios ahead of the Fed announcement and anticipating volatility after the interest rate decision. As for commodities, the metals segment is rising strongly, with main upward movements in platinum (+0.96%), Palladium (+0.99%), Silver (+0.93%), Nickel (+0.80%). As for agricultural commodities, Arabica coffee is correcting 1.38% after rising 9.95% yesterday.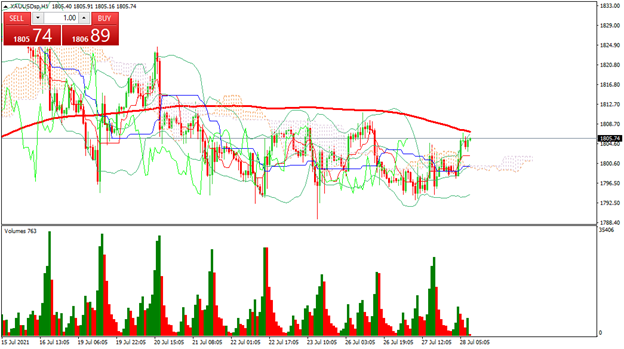 Support 1: 1,804.15
Support 2: 1,802.80
Support 3: 1,802.00
Resistance 1: 1,806.30
Resistance 2: 1,807.10
Resistance 3: 1,808.45
Pivot Point: 1,804.95
The price is looking for the USD$1,812 zone. If this level is surpassed, the next target is USD$1,824. Expected trading range between 1,802 and 1,808. Pivot point at 1,804. RSI approaching the overbought zone.
---
Sources
Reuters
Market watch
Bloomberg
Capitalix Market Research
Risk Disclaimer
Any information/articles/materials/content provided by Capitalix or displayed on its website is intended to be used for educational purposes only and does not constitute investment advice or a consultation on how the client should trade.
Although Capitalix has ensured that the content of such information is accurate, it is not responsible for any omission/error/miscalculation and cannot guarantee the accuracy of any material or any information contained herein.
Therefore, any reliance you place on such material is strictly at your own risk. Please note that the responsibility for using or relying on such material rests with the client and Capitalix accepts no liability for any loss or damage, including without limitation, any loss of profit which may arise directly or indirectly from the use of or reliance on such information.
Risk Warning: Forex/CFDs trading involves significant risk to your invested capital. Please read and make sure that you fully understand our Risk Disclosure Policy.
You should ensure that, depending on your country of residence, you are allowed to trade Capitalix.com products. Please ensure that you are familiar with the company's risk disclosure.
Want to read more?
Login and enjoy all Daily Analysis articles