Daily Review for July 27, 2021
July 27, 2021, 7:46
The market is awaiting the financial results of Apple, Microsoft and Google, which can confirm the bullish rally in Equities.
Tesla's results exceeded market expectations. The company's stock is up more than 1% in the pre market.
If Apple's results exceed expectations, the Dow Jones and the Nasdaq 100 could move higher, even above the all-time high.
Traders in Europe are waiting for Wall Street results. The TecDAX is looking for a trend reversal.
Commodities remain mixed. Arabica coffee is up 10% in NY. Metals are under pressure. Crude oil remains sideways. The main concern is the Delta variant.
---
NASDAQ 100 -0.15%
Traders are focus today to the movement of the index as a result of Tesla results. The company reported EPS of 1.45, beating market expectations of 0.9364. It also reported operating revenues of USD$11.96 billion vs. an estimated USD$11.53 billion. Finally, the company's market capitalization stood at USD$633.51 billion at yesterday's close. The company's stock closed yesterday at USD$657.62 and after the close has presented upward movements of 1.02%. Today, the technology giants Apple, Microsoft and Google will present their results.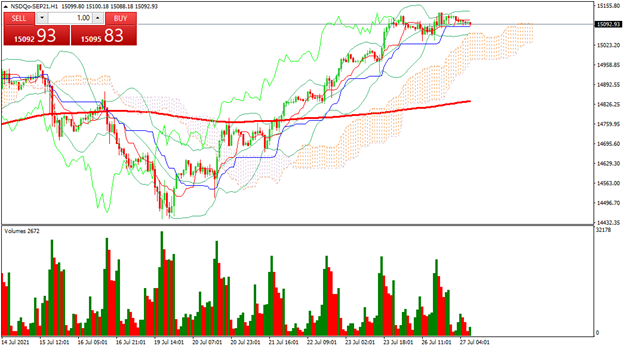 Support 1: 15,107.5
Support 2: 15,102.5
Support 3: 15,099.2
Resistance 1: 15,115.8
Resistance 2: 15,119.1
Resistance 3: 15,124.1
Pivot Point: 15,110.8
The price remains above 15,000 points. Expected trading range between 15,099 and 15,124. Pivot point at 15,110. RSI neutral. The index remains above the 200-day moving average. If Apple beats market expectations, the uptrend could continue.
---
DOW JONES -0.20%
The Dow Jones is down 0.20% at the moment and is trading at 35,077 points. The market is waiting for the U.S. Durable Goods report. Orders are expected to grow by 0.8%. Investors are also looking forward to the Conference Board's announcement to review the confidence level of market demand. Several companies in the index will report results today, including Visa, 3M and Apple, which is part of the DJIA and the Nasdaq 100.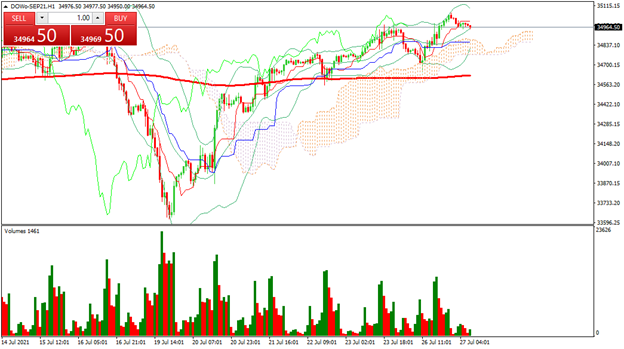 Support 1: 35,081.6
Support 2: 35,073.6
Support 3: 35,064.6
Resistance 1: 35,098.6
Resistance 2: 35,107.6
Resistance 3: 35,115.6
Pivot Point: 35,090.6
The price is above the 200-day moving average. Since July 19, 2021, the index has marked the rally. Bulls are looking for 36,000 points. Expected trading range between 35,064 and 35,115. Pivot point at 35,090. RSI neutral.
---
DAX 30 -0.27%
In Europe Stock index futures remain in negative territory. The DAX 30 is currently down by 0.27% and is trading at 15,567. The U.S. has started to place restrictions on travelers from the European Union. Traders in Europe are keeping an eye on the financial results of the tech giants. The TecDAX is currently down 0.79%; however, the trend could change depending on the Nasdaq 100 reaction to corporate results.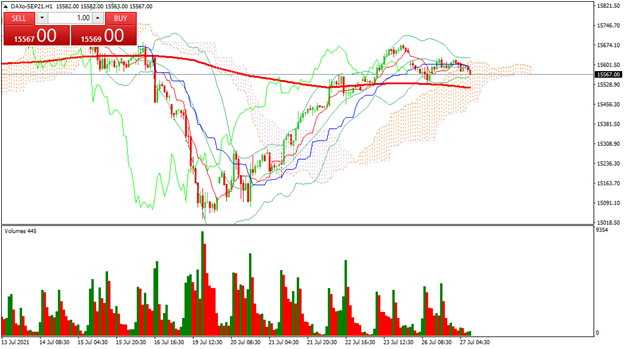 Support 1: 15,561.5
Support 2: 15,546.0
Support 3: 15,528.0
Resistance 1: 15,595.0
Resistance 2: 15,613.0
Resistance 3: 15,628.5
Pivot Point: 15,579.5
Price is near the 200-day moving average. Expected trading range between 15,528 and 15,628. Pivot point at 15,579. RSI neutral. Sideways trend, while Wall Street sets the trend.
---
CRUDE OIL +0.21%
The price of crude oil is moving sideways above the USD$72 per barrel zone. The increase in cases of the Delta variant has generated pressure on the physical trade of raw materials. Holders are looking to liquidate their positions quickly in order to obtain liquidity, foreseeing a pessimistic scenario of port closures. At the moment, analysts are evaluating the market balance, foreseeing an increase in OPEC+ production by August 2021.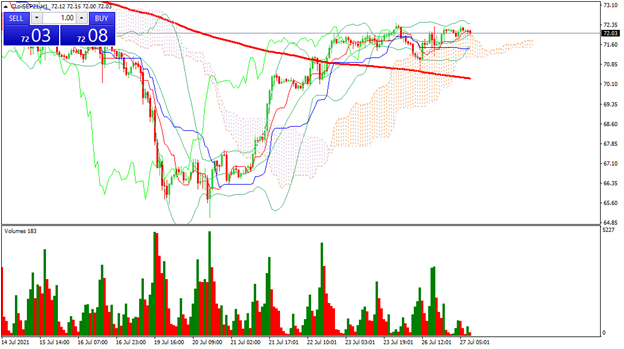 Support 1: 72.09
Support 2: 71.98
Support 3: 71.93
Resistance 1: 72.25
Resistance 2: 72.30
Resistance 3: 72.41
Pivot Point: 72.14
Expected trading range between 71.93 and 72.41. Pivot point at 72.14. RSI neutral. Price is near the Fibonacci retracement level of 78.6%. Sideways trend.
---
Sources
Reuters
Market watch
Bloomberg
Capitalix Market Research
Risk Disclaimer
Any information/articles/materials/content provided by Capitalix or displayed on its website is intended to be used for educational purposes only and does not constitute investment advice or a consultation on how the client should trade.
Although Capitalix has ensured that the content of such information is accurate, it is not responsible for any omission/error/miscalculation and cannot guarantee the accuracy of any material or any information contained herein.
Therefore, any reliance you place on such material is strictly at your own risk. Please note that the responsibility for using or relying on such material rests with the client and Capitalix accepts no liability for any loss or damage, including without limitation, any loss of profit which may arise directly or indirectly from the use of or reliance on such information.
Risk Warning: Forex/CFDs trading involves significant risk to your invested capital. Please read and make sure that you fully understand our Risk Disclosure Policy.
You should ensure that, depending on your country of residence, you are allowed to trade Capitalix.com products. Please ensure that you are familiar with the company's risk disclosure.
Want to read more?
Login and enjoy all Daily Analysis articles