Daily Review for July 26, 2021
July 26, 2021, 7:27
Week begins with bullish movements in the cryptocurrency market. Bitcoin is up more than 15%. All other cryptos continue the trend. Bulls are looking to break the USD$40,000 resistance.
Amazon is apparently evaluating the use of cryptos as a source of payment.
The equity market in Europe starts in negative territory. Traders are aware of the German business confidence data.
Last week of corporates financial results announcements for Q2 2021. Traders are keeping an eye at the Nasdaq 100, as large technology companies will present their results.
Gold price in trend-setting. If equities remain in the red, the metal could reach USD$1,826 per Troy ounce.
---
BTCUSD +13.86%
Investors ended up optimistic about the conclusions of the B Conference. With that, Bitcoin started the week moving up 13.86%, and trading at $38,510. Elon Musk stated that he personally has investments in Bitcoin and Dogecoin. Something that also created an interesting volume of purchases in cryptocurrencies. In addition, Amazon is apparently evaluating the acceptance of cryptocurrencies as a means of payment.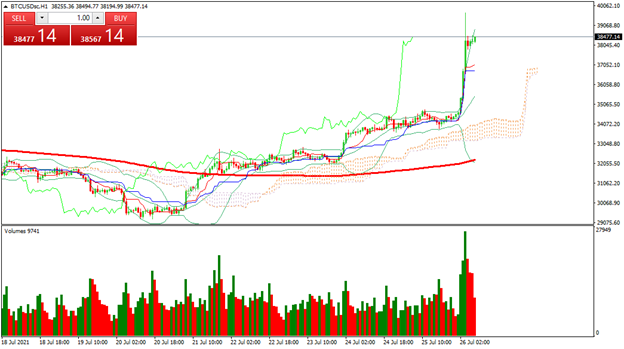 Support 1: 38,164.8
Support 2: 38,026.6
Support 3: 37,848.0
Resistance 1: 38,481.5
Resistance 2: 38,660.2
Resistance 3: 38,798.3
Pivot Point: 38,343.4
The price is above the 200-day moving average, which is a bullish signal for Bitcoin. Expected trading range between 37,848 and 38,798. If the Bulls manage to break through resistance 3, the price could go above USD$40,000. Pivot point at 38,343. RSI in overbought zone.
---
DAX 30 -0.50%
The week begins in the European equity markets, with bearish movements. The DAX 30 is down 0.50% and is trading at 15,574. Traders are awaiting data on business expectations in Germany, as well as the LFO index. On the other hand, the Delta variant continues to spread. To contain the effect, the EU has started to accelerate vaccination. For the time being, air borders remain open.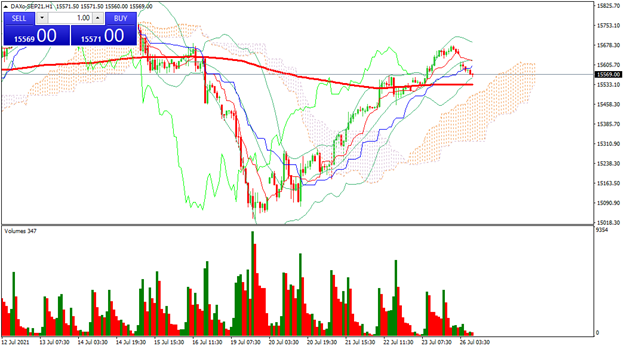 Support 1: 15,581,4
Support 2: 15,577,7
Support 3: 15,581,4
Resistance 1: 15,589,4
Resistance 2: 15,593,7
Resistance 3: 15,597,4
Pivot Point: 15,585,7
The price broke above 14,000 points, and traders are now looking to push the current level to 16,000 points. The chart is marking a double top at 15,678 resistance, which is a bearish signal. Expected trading range between 15,581 and 15,597. Pivot point at 15,585. RSI neutral.
---
NASDAQ 100 -0.13%
The index is currently down 0.13% and is trading at 15,100 points. During this week, interesting volatility is expected, due to the fact that large technology companies will present their financial results. Among them, Apple, Facebook, Paypal, AMD, Amazon, Google, Baidu, among others. Fundamental analysis on the companies point to good results with a high probability of exceeding market expectations, mainly driven by the increase in demand during the pandemic.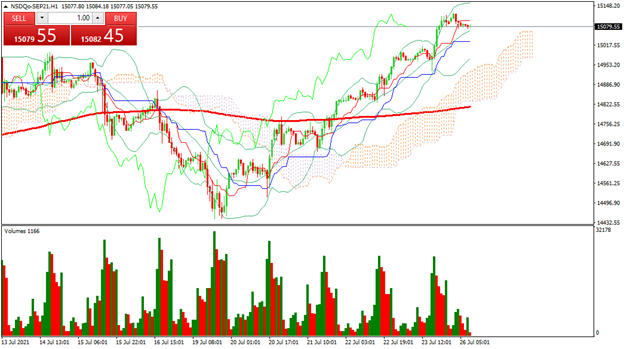 Support 1: 15,086.7
Support 2: 15,080.0
Support 3: 15,075.4
Resistance 1: 15,098.0
Resistance 2: 15,102.6
Resistance 3: 15,109.3
Pivot Point: 15,091.3
The price reached 15,000 points. Expected trading range between 15,075 and 15,109. Pivot point at 15,091. RSI leaving the overbought zone. The price is above the 200-day moving average.
---
GOLD +0.20%
Gold Trading continues above USD$1,800 per Troy ounce mark. If the equities market continues to decline, gold prices could see an interesting bullish day. Traders are looking forward to the Fed's announcements. Continuity of the expansionary monetary policy is expected. On the other hand, as bond yields are falling, investors may start to take long positions in gold.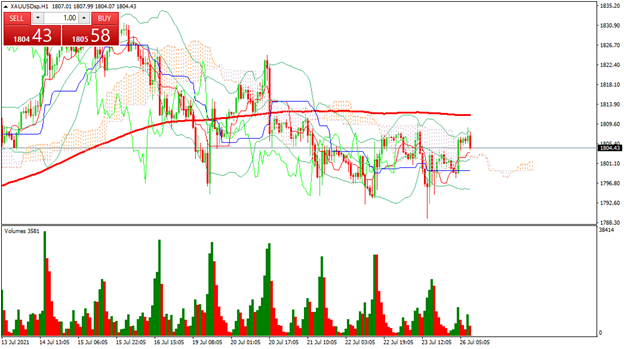 Support 1: 1,806.64
Support 2: 1,804.67
Support 3: 1,803.09
Resistance 1: 1,810.19
Resistance 2: 1,811.77
Resistance 3: 1,813.74
Pivot Point: 1,808.22
The price is below the 200-day moving average. The metal formed a bearish channel towards the level of 1,788. From this point it bounced towards 1,809. If it manages to overcome this point, the next target is 1,826. Pivot point at 1,808. RSI neutral.
---
Sources
Reuters
Market watch
Bloomberg
Capitalix Market Research
Risk Disclaimer
Any information/articles/materials/content provided by Capitalix or displayed on its website is intended to be used for educational purposes only and does not constitute investment advice or a consultation on how the client should trade.
Although Capitalix has ensured that the content of such information is accurate, it is not responsible for any omission/error/miscalculation and cannot guarantee the accuracy of any material or any information contained herein.
Therefore, any reliance you place on such material is strictly at your own risk. Please note that the responsibility for using or relying on such material rests with the client and Capitalix accepts no liability for any loss or damage, including without limitation, any loss of profit which may arise directly or indirectly from the use of or reliance on such information.
Risk Warning: Forex/CFDs trading involves significant risk to your invested capital. Please read and make sure that you fully understand our Risk Disclosure Policy.
You should ensure that, depending on your country of residence, you are allowed to trade Capitalix.com products. Please ensure that you are familiar with the company's risk disclosure.
Want to read more?
Login and enjoy all Daily Analysis articles