Daily Review for July 23, 2021
July 23, 2021, 7:51
American Express (DJIA), Kimberly Clark (S&P500), Schlumberger (S&P500) and Caixa Bank (IBEX35) will report results today.
Global equities markets continue to trend higher on the back of the ECB announcements.
The ECB keeps interest rates at 0% and sets an inflation target of 2% per year.
Traders are looking forward to manufacturing PMI data in the Eurozone and the US.
The market is waiting for announcements from the FED, to evaluate whether or not to continue with the ECB strategy.
Bitcoin for the moment manages to defend the USD$32,000 zone. The pressure decreases and companies begin to re-evaluate the implementation of the cryptocurrency in their payment or investment sources.
---
NASDAQ 100 +0.35%
Global market is turning positive following the ECB's decision to keep interest rates at 0%. Investors know that this means cheap financing for companies and also for traders. Corporate earnings announcements continue. Today we will have the results of American Express (DJIA), Kimberly Clark (S&P500), Schlumberger (S&P500) and Caixa Bank (IBEX35), among others. At the moment the equities market continues to rally. The Nasdaq 100 is up 0.35% and is trading at 14,978.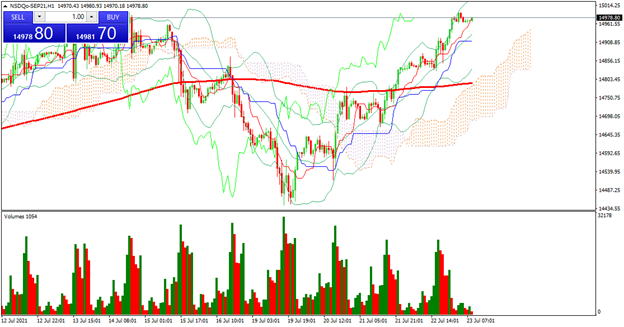 Support 1: 14,967.84
Support 2: 14,963.17
Support 3: 14,959.84
Resistance 1: 14,975.84
Resistance 2: 14,979.17
Resistance 3: 14,983.84
Pivot Point: 14,971.17
The Bulls have managed to gain momentum. Price is close to the 15,000 point mark. Expected trading range between 14,959 and 14,938. Pivot point at 14,971. RSI in overbought zone. Bullish trend.
---
EUROSTOXX 50 +0.33%
The ECB will continue with an expansionary monetary policy strategy, seeking economic growth in the Euro Zone. The Bank kept interest rates unchanged. It also stated that it will continue with bond purchases to stabilize fixed income yields. The markets favored the decision, considering that the financial cost of companies and investors should be as low as possible in times of crisis, in order to encourage investment and seek growth. The Eurostoxx 50 is up 0.33% and is trading at 4,064. Traders are aware on the Euro Zone manufacturing PMI.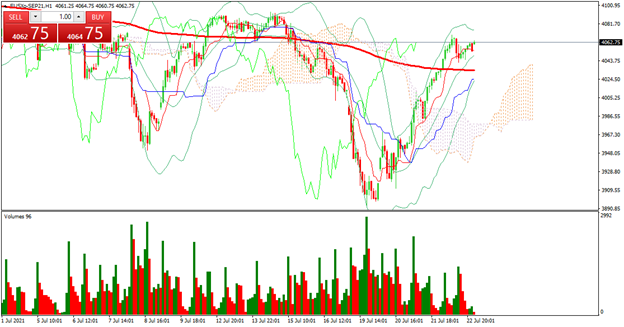 Support 1: 4,059
Support 2: 4,058
Support 3: 4,058
Resistance 1: 4,060
Resistance 2: 4,062
Resistance 3: 4,062
Pivot Point: 4,060
The price continues above the 4,000 point mark. The Ichimoku cloud forecasts a trading range between 3,986 and 4,043 points. Pivot point for trend change at 4,060. RSI in overbought zone.
---
DOW JONES +0.22%
The equities markets are favored by the ECB's decision to keep interest rates at 0%. Analysts expect the Fed to keep rates unchanged in the short term as well. For the equities market this is the best possible scenario, given the low financing costs for companies and investors. Therefore, it is possible to see continuous rallies in the short term in the stock markets. Today, traders are aware to the manufacturing PMI data in the United States. The Dow Jones is up 0.22%.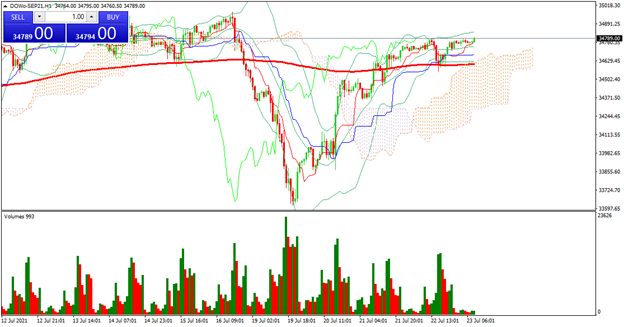 Support 1: 34,751.9
Support 2: 34,743.7
Support 3: 34,734.4
Resistance 1: 34,769.4
Resistance 2: 34,778.7
Resistance 3: 34,786.9
Pivot Point: 34,761.2
Expected trading range between 34,734 and 34,786. Pivot point at 34,761. RSI neutral. Price has presented an interesting bounce from the 33,613 area, to the actual level of 34,787. A total of 1,174 points of recovery, thus confirming this week's rally. The Bulls are now looking for the 35,000 level.
---
BITCOIN +1.80%
Bitcoin price continues to make gains today. This time it is up 1.80%, reaching a trading price of USD$32,615. At the moment it is already passing the pressure it had due to regulation and GBTC. Companies continue to evaluate the use of the cryptocurrency. JPM, for its part, is going to start offering Bitcoin and Ethereum to its clients, which is a fundamental announcement that favors the crypto market.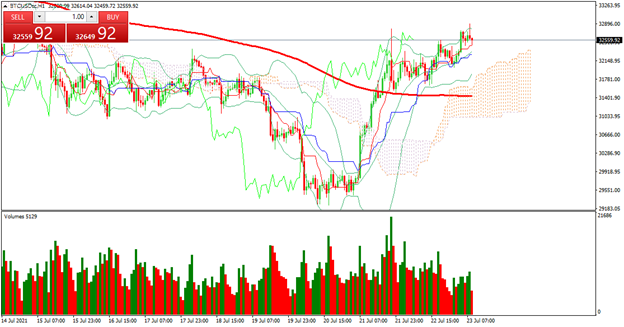 Support 1: 32,564.3
Support 2: 32,484.6
Support 3: 32,354.0
Resistance 1: 32,774.7
Resistance 2: 32,905.4
Resistance 3: 32,985.1
Pivot Point: 32,695.0
The price is above the 200-day moving average. The next target for the Bulls is the resistance at 33,038. If this zone is achieved, the price could climb to 40,000 then. Interesting moves are expected over the weekend. Pivot point at 32,695.
---
Sources
Reuters
Market watch
Bloomberg
Capitalix Market Research
Risk Disclaimer
Any information/articles/materials/content provided by Capitalix or displayed on its website is intended to be used for educational purposes only and does not constitute investment advice or a consultation on how the client should trade.
Although Capitalix has ensured that the content of such information is accurate, it is not responsible for any omission/error/miscalculation and cannot guarantee the accuracy of any material or any information contained herein.
Therefore, any reliance you place on such material is strictly at your own risk. Please note that the responsibility for using or relying on such material rests with the client and Capitalix accepts no liability for any loss or damage, including without limitation, any loss of profit which may arise directly or indirectly from the use of or reliance on such information.
Risk Warning: Forex/CFDs trading involves significant risk to your invested capital. Please read and make sure that you fully understand our Risk Disclosure Policy.
You should ensure that, depending on your country of residence, you are allowed to trade Capitalix.com products. Please ensure that you are familiar with the company's risk disclosure.
Want to read more?
Login and enjoy all Daily Analysis articles