Daily Review for July 22, 2021
July 22, 2021, 7:33
Corporate results continue on Wall Street. Today it is the turn of large companies such as Microsoft, Intel, AT&T, Twitter and American Airlines.
The Nasdaq 100 is looking for 15,000 points.
Traders are aware of the ECB's interest rate decision. Markets are expecting the view of the bank on monetary policy and the strategy to achieve the 2% inflation target per year.
Bitcoin is looking to stay in the USD32,000 zone. According to Elon Musk, Tesla can accept again Bitcoins as a way of payment as crypto mining becomes environmentally sustainable.
Gold continues to trend lower, following the Equities rally of the last two days.
The market awaits for a consolidation of the uptrend or a correction. All depends on the ECB.
---
NASDAQ 100 +0.12%
The financial results of companies on Wall Street continue. Today, traders eyes are on technology companies. Among them Microsoft (Nasdaq/DJIA), Intel (DJIA), AT&T (S&P500) and Twitter (Nasdaq). American Airlines (S&P500) will also report results. The company's revenue is expected to outperform Q1 2021. At the moment the Nasdaq 100 is up 0.12% and is trading at 14,844.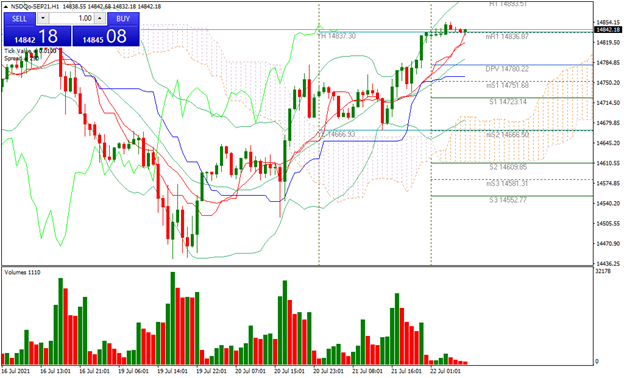 Support 1: 14,837.91
Support 2: 14,834.58
Support 3: 14,830.91
Resistance 1: 14,844.91
Resistance 2: 14,848.58
Resistance 3: 14,851.91
Pivot Point: 14,841.58
The index continues in uptrend, approaching resistance 1. The next target is the 14,950 zone, to finally reach 15,000 points then. Trading range between 14,830 and 14,851. Pivot point at 14,841. RSI in overbought zone.
---
EUROSTOXX 50 +0.51%
The market is aware of the ECB's interest rate decision. Analysts expect the Bank to leave interest rates unchanged, keeping them at 0%. After the decision, the Bank will present its arguments, so we can expect volatility in the European indices, as well as in the EURUSD. At the moment the Eurostoxx50 is up 0.51% and is trading at 4,040.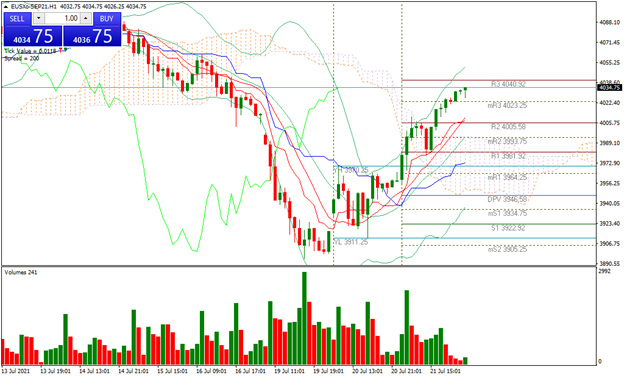 Support 1: 4,036
Support 2: 4,034
Support 3: 4,034
Resistance 1: 4,038
Resistance 2: 4,038
Resistance 3: 4,040
Pivot Point: 4,036
The index reached and surpassed the 4,000 point resistance. Uptrend continues, at least until the ECB statement. The supports and resistances are close, so a change of trend could occur or a consolidation above the current level can happen, meaning the Bulls are winning. Pivot point at 4,036. RSI overbought.
---
BITCOIN +3.96%
The price of Bitcoin is up 3.96% at the moment, following Elon Musk's positive comments during the B Conference, an event developed to clarify doubts about Bitcoin and the cryptocurrency market. Musk stated that Tesla may return to accepting Bitcoin payments as cryptocurrency mining becomes more sustainable. Bitcoin is currently trading at USD$31,990.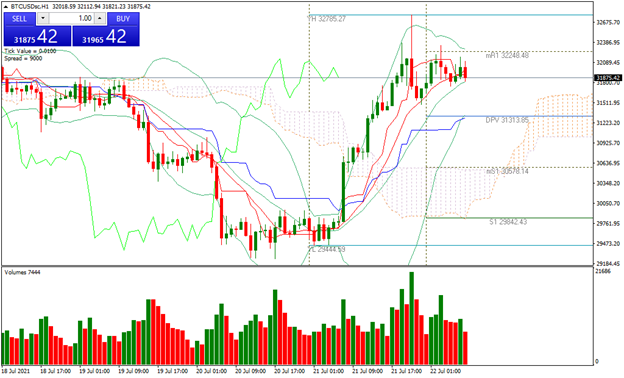 Support 1: 31,918.8
Support 2: 31,781.9
Support 3: 31,626.8
Resistance 1: 32,210.8
Resistance 2: 32,365.9
Resistance 3: 32,502.8
Pivot Point: 32,073.9
The price reached 32,785. Bulls are looking to gain momentum and take Bitcoin up to 50,000. Expected trading range between 31,626 and 32,502. Pivot point at 32,073. RSI approaching the overbought level. Price continues above the 200-day moving average.
---
GOLD -0.27%
The price of gold corrected during the Asian session, after the second day of upward movements in the Equities market. Gold is currently down 0.27% and is trading at USD$1,798 per Troy ounce. If the equity market continues to rise, the price of metals will continue to be under pressure, mainly gold, as it has no industrial usage. Traders are aware of the ECB interest rate decision and statement, which could confirm the uptrend or change it.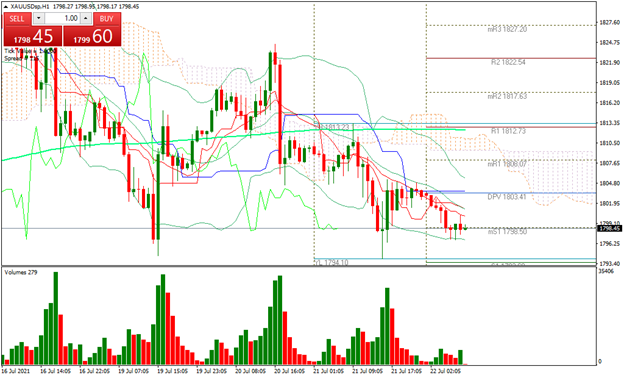 Support 1: 1,797.30
Support 2: 1,796.15
Support 3: 1,794.45
Resistance 1: 1,800.15
Resistance 2: 1,801.85
Resistance 3: 1,803.00
Pivot Point: 1,799.00
Gold is marking a double bottom in the 1,798 area, which could lead to a change in trend. Trading range between 1,794 and 1,803. Bulls are looking for a rebound towards 1,822. Pivot point at 1.799. RSI neutral.
---
Sources
Reuters
Market watch
Bloomberg
Capitalix Market Research
Risk Disclaimer
Any information/articles/materials/content provided by Capitalix or displayed on its website is intended to be used for educational purposes only and does not constitute investment advice or a consultation on how the client should trade.
Although Capitalix has ensured that the content of such information is accurate, it is not responsible for any omission/error/miscalculation and cannot guarantee the accuracy of any material or any information contained herein.
Therefore, any reliance you place on such material is strictly at your own risk. Please note that the responsibility for using or relying on such material rests with the client and Capitalix accepts no liability for any loss or damage, including without limitation, any loss of profit which may arise directly or indirectly from the use of or reliance on such information.
Risk Warning: Forex/CFDs trading involves significant risk to your invested capital. Please read and make sure that you fully understand our Risk Disclosure Policy.
You should ensure that, depending on your country of residence, you are allowed to trade Capitalix.com products. Please ensure that you are familiar with the company's risk disclosure.
Want to read more?
Login and enjoy all Daily Analysis articles