Daily Review for July 21, 2021
July 21, 2021, 7:46
Bitcoin holders are looking to keep the price above USD$30,000. The downward pressure continues, as the holders of the 16,000 GBTC Bitcoins seek to make profits.
Jeff Bezos and Blue Origin achieve space travel, opening the door to space tourism. Amazon's stock closed higher and, in the aftermarket, buying volume was strong, so the stock's trend could remain bullish.
The Nasdaq 100 is looking to continue its rally, driven by Ebay's results.
The Dow Jones is also looking for upward movement, this time on the back of J&J and Coca Cola results.
European stock markets also drove the market rally. Iberdrola will present its results today, looking for growth for the IBEX35.
---
BITCOIN +3.04%
On July 18, 2021, 16,000 Bitcoins were released by the Crypto investment fund, GBTC. Since then, holders have started to sell part of these, with the result that the price of Bitcoin has dropped from the USD$30,000 mark. At the moment the price is up 3.04% and is trading at USD$30,655. The pressure on the price continues. The Bears are looking for USD$24,000. Bulls are analyzing a possible significant rebound in the price as a result of the decrease in supply given the restrictions on crypto miners.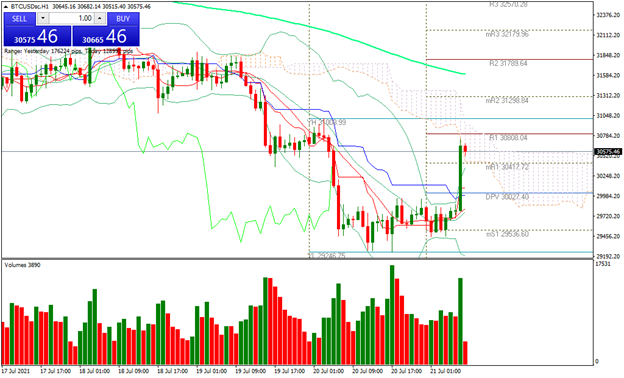 Support 1: 30,104.2
Support 2: 29,519.5
Support 3: 29,162.1
Resistance 1: 31,046.3
Resistance 2: 31,403.7
Resistance 3: 31,988.5
Pivot Point: 30,461.6
The price is below the 200-day moving average. Bulls are trying to gain momentum above the 29,536 support. If they manage to reach the resistance 1, the price could climb towards the 32,179 level. Conversely, if sales continue, the price could drop below 30,000.
---
NASDAQ 100 -0.09%
The index rose 223 points yesterday, equivalent to a gain of 1.57%. Traders drove the market rebound. At the NY close, the market was watching Jeff Bezos' space travel. His company, Blue Origin, successfully completed the launch and return of the spacecraft. Amazon stock closed with a gain of 0.66%. Today we will have financial results from Ebay (Nasdaq100). Yesterday reported Netflix, who had an EPS of 2.97 not beating the market expectations of 3.18. The company commented that a higher number of sales had occurred reaching USD$7.34 Billion, however a lower number of users were presented.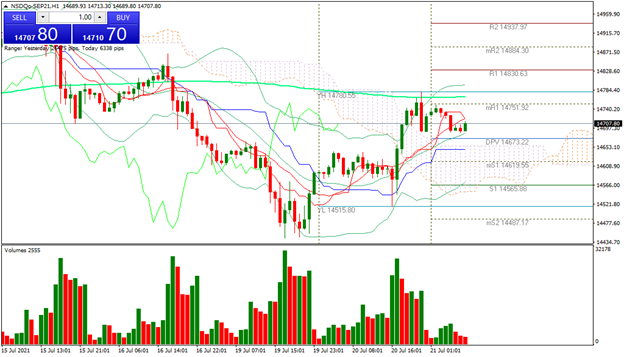 Support 1: 14,681.54
Support 2: 14,675.33
Support 3: 14,662.91
Resistance 1: 14,700.17
Resistance 2: 14,712.59
Resistance 3: 14,718.80
Pivot Point: 14,693.96
The index is between the pivot point of 14,693 and resistance 1 at 14,700.17. The price is below the 200-day moving average. Expected trading range between 14,662 and 14,718. RSI neutral.
---
DOW JONES +0.04%
Traders managed to recover part of Monday's sharp market decline. Dow Jones closed yesterday with a gain of 549 points, equivalent to 1.62%. The S&P500 reached its highest level in recent months at 4,323. The uptrend continues for the time being. Today J&J (DJIA) and Coca Cola (DJIA) will present their results. Interesting results are expected due to the rebound of domestic demand in the US during Q2 2021.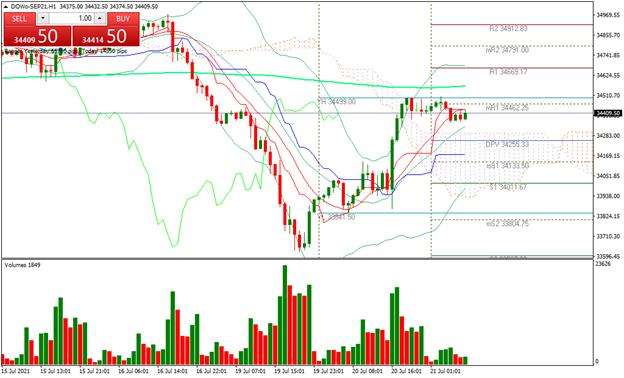 Support 1: 34,346.0
Support 2: 34,326.0
Support 3: 34,286.5
Resistance 1: 34,405.5
Resistance 2: 34,445.0
Resistance 3: 34,465.0
Pivot Point: 34,385.5
The index is below the 200-day moving average. Expected trading range between 34,286 and 34,465. Pivot point at 34,385. RSI neutral. If momentum continues, possible climb towards 34,912 resistance. Next target level 35,000.
---
EUROSTOXX 50 +0.16%
At yesterday's close, the European market evidenced a bullish rally, driven by traders who saw the opportunity for a rebound in the market. The Eurostoxx50 closed with a gain of 27.81 points, equivalent to 0.71%. At the moment the index continues to rise 0.16% and is trading at 3,960. Today, Iberdrola (Ibex35) will present its financial results. If the rally continues, we could see important movements in the European stock market indexes.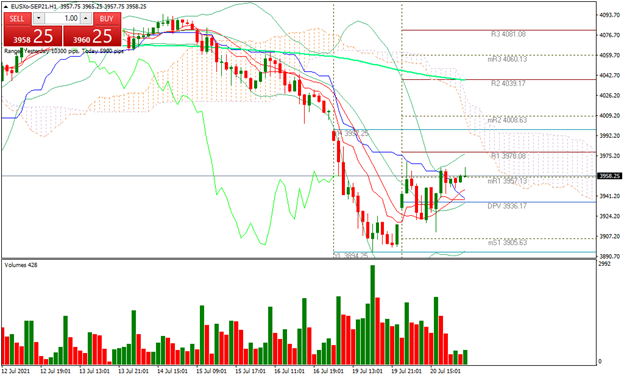 Support 1: 3,940
Support 2: 3,936
Support 3: 3,928
Resistance 1: 3,953
Resistance 2: 3,962
Resistance 3: 3,966
Pivot Point: 3,949
Price bounced from support 2. At the moment it is at resistance 1 level. Expected trading range between 3,928 and 3,966. Pivot point at 3,949. RSI neutral, so the index has room to grow. The zone to be attacked by the Bulls is 4,040.
---
Sources
Reuters
Market watch
Bloomberg
Capitalix Market Research
Risk Disclaimer
Any information/articles/materials/content provided by Capitalix or displayed on its website is intended to be used for educational purposes only and does not constitute investment advice or a consultation on how the client should trade.
Although Capitalix has ensured that the content of such information is accurate, it is not responsible for any omission/error/miscalculation and cannot guarantee the accuracy of any material or any information contained herein.
Therefore, any reliance you place on such material is strictly at your own risk. Please note that the responsibility for using or relying on such material rests with the client and Capitalix accepts no liability for any loss or damage, including without limitation, any loss of profit which may arise directly or indirectly from the use of or reliance on such information.
Risk Warning: Forex/CFDs trading involves significant risk to your invested capital. Please read and make sure that you fully understand our Risk Disclosure Policy.
You should ensure that, depending on your country of residence, you are allowed to trade Capitalix.com products. Please ensure that you are familiar with the company's risk disclosure.
Want to read more?
Login and enjoy all Daily Analysis articles