Daily Review for July 20, 2021
July 20, 2021, 7:15
Black Monday. Dow Jones fell 725 points. Traders are looking for a bounce today.
OPEC+ decided to increase oil production from August 2021. The market sees this as a hasty decision in the face of pressure from the Delta variant. The price corrected 6.63%.
The financial results on Wall Street continue. Today it is the turn of Netflix (Nasdaq 100) and Halliburton (S&P500).
Gold prices start to rise as traders anticipate market volatility. If the pressure on Equities continues, gold could reach USD$1,850 per Troy ounce.
European markets are looking to recover yesterday's losses. The Eurostoxx 50 is currently up 0.52%.
Traders test opportunities in Fixed Income.
---
CRUDE OIL +0.35%
Crude oil prices fell 6.63% yesterday as a result of OPEC+ decision to increase production from August 2021. The market punished the price of crude oil, as a result of the delay of the cartel decision, and also due to the pressure that the Delta variant is generating on the demand for physical crude oil. Crude oil supply is expected to increase by 5.3 million barrels per day, reaching a total of 96.4 mbd. Analysts assess the probability of demand to consume much of the level of supply. The increase of cases of the Delta variant in the UK is increasing sharply.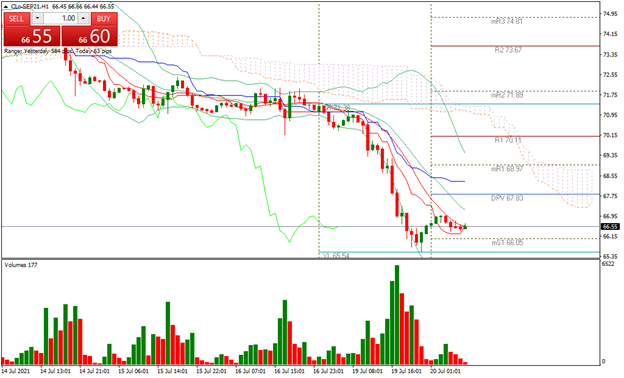 Support 1: 66.41
Support 2: 66.29
Support 3: 66.19
Resistance 1: 66.63
Resistance 2: 66.73
Resistance 3: 66.85
Pivot Point: 66.51
The price is above support 1, at the level of 66.65. Expected trading range between 66.19 and 66.85. RSI in oversold zone. Pivot point at 66.51. Sideways trend, with possible bearish movements.
---
DOW JONES +0.25%
Black Monday. Global stock markets fell and closed in negative territory, mainly due to the spread of the Delta variant. The Dow Jones fell 725 points, the S&P500 fell 68 points and the Nasdaq 100 fell 152 points. At the moment the Dow Jones futures are up 0.25% and are trading at 33,918. Traders are looking for find rebound opportunities for today's trading session. Meanwhile, opinions are divided on the full opening and the implementation of new pandemic restrictions. Today we will have financial results from Netflix (Nasdaq 100) and Halliburton (S&P500).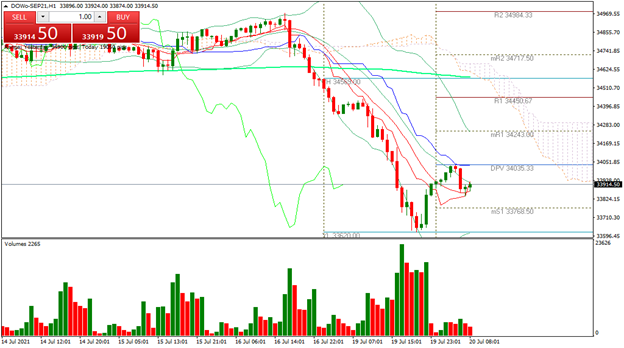 Support 1: 33,861.4
Support 2: 33,818.7
Support 3: 33,792.9
Resistance 1: 33,929.9
Resistance 2: 33,955.7
Resistance 3: 33,998.4
Pivot Point: 33,887.2
The index bounced from support 1 to the pivot point, then dropped a few points and held above the 33,908 mark. The Bears are starting to look at 32,000 points. The Bulls are looking to regain 34,000. Pivot point at 33.887. RSI neutral.
---
GOLD +0.36%
The price of gold is currently up 0.36% and is trading at USD$1,816.20 per Troy ounce. Yesterday, the metal closed in negative territory, falling 0.39%. Traders are buying gold today, expecting more volatility. On the macroeconomic data, we will have US building permits for June 2021. If the permits increase with respect to the estimate (1.7 M), it would mean that the domestic demand in the US is increasing, giving a positive signal to the market. If, on the contrary, it decreases, it is possible that demand will remain constant or even decrease.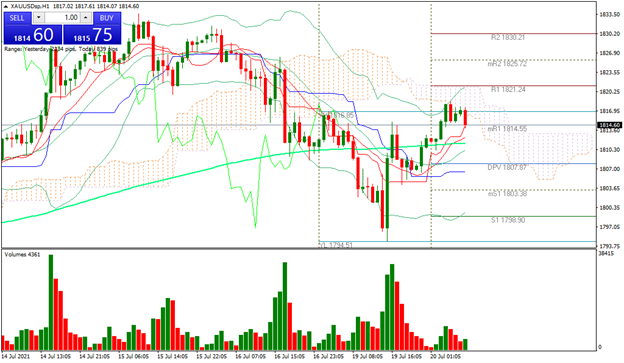 Support 1: 1,817.49
Support 2: 1,816.47
Support 3: 1,815.74
Resistance 1: 1,819.24
Resistance 2: 1,819.97
Resistance 3: 1,820.99
Pivot Point: 1,818.22
The price is above the 200-day moving average. At the moment it is testing resistance 1. If it manages to consolidate this zone, the next target is 1,830. If volatility and downward pressure on the stock markets increases, the price of gold could have a chance towards 1,850.
---
EUROSTOXX 50 +0.52%
Economic sectors are once again under pressure from the Delta variant. The increase in cases globally could slow the economic recovery momentum of the last few months. If the trend continues, the greatest impact could be seen in the real sector. Due to cash flow pressure, the financial sector could also see an increase in stress ratios. Today, European markets are trying to recover some of yesterday's losses. The Eurostoxx 50 is up 0.52% and is trading at 3,937.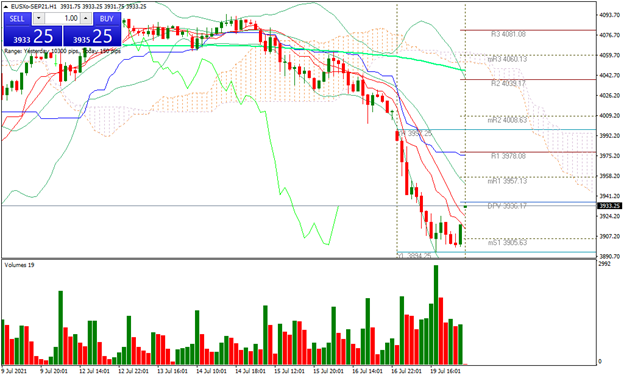 Support 1: 3,924
Support 2: 3,918
Support 3: 3,915
Resistance 1: 3,933
Resistance 2: 3,936
Resistance 3: 3,942
Pivot Point: 3,927
The price is at the Pivot Point, so there could be a change of trend. Trading range between 3,915 and 3,942. Pivot point at 3,927. RSI coming out of the oversold zone. Traders are aware of the UK financial market and the impact due to the easing of the pandemic restrictions.
---
Sources
Reuters
Market watch
Bloomberg
Capitalix Market Research
Risk Disclaimer
Any information/articles/materials/content provided by Capitalix or displayed on its website is intended to be used for educational purposes only and does not constitute investment advice or a consultation on how the client should trade.
Although Capitalix has ensured that the content of such information is accurate, it is not responsible for any omission/error/miscalculation and cannot guarantee the accuracy of any material or any information contained herein.
Therefore, any reliance you place on such material is strictly at your own risk. Please note that the responsibility for using or relying on such material rests with the client and Capitalix accepts no liability for any loss or damage, including without limitation, any loss of profit which may arise directly or indirectly from the use of or reliance on such information.
Risk Warning: Forex/CFDs trading involves significant risk to your invested capital. Please read and make sure that you fully understand our Risk Disclosure Policy.
You should ensure that, depending on your country of residence, you are allowed to trade Capitalix.com products. Please ensure that you are familiar with the company's risk disclosure.
Want to read more?
Login and enjoy all Daily Analysis articles