Daily Review for July 19, 2021
July 19, 2021, 9:59
Pressure on the crypto market continues. Bitcoin broke the USD$32,000 area and is now approaching USD$30,000. The Bears are looking for the USD$24,000 support. Bulls look to recover the bullish rally.
Financial results for Q2 2021 continue on Wall Street. IBM reports today. Nasdaq 100 seeks 15,000 points driven by tech results.
Inflation in the U.S. and Europe is at the highest level since 2008. However, safe-haven assets such as silver have not rebounded.
Europe starts the week in negative territory. Traders are looking to Wall Street to set the next market trend.
OPEP+ has announced a raise in production from August 2021.
---
BITCOIN -1.67%
Bitcoin starts the week down 1.67%. The cryptocurrency is currently trading at USD$31,616. Traders continue aware for the release of 16,000 Bitcoins by GBTC. At the moment the industry remains divided. The Bears keep looking for USD$24,000, while the Bulls are looking to regain the uptrend. For the time being, the market awaits the possible impact on GBTC.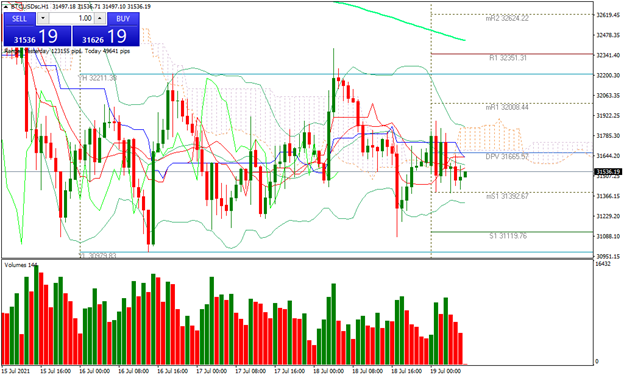 Support 1: 31,501.4
Support 2: 31,424.7
Support 3: 31,321.4
Resistance 1: 31,681.4
Resistance 2: 31,784.7
Resistance 3: 31,861.4
Pivot Point: 31,604.7
Bitcoin has formed a shoulder head shoulder pattern in the last few sessions, which is a bearish signal. Expected trading range between 31,321 and 31,861. Pivot point at 31,604. RSI neutral.
---
NASDAQ 100 -0.21%
The week starts with an important view in the shares of technology companies listed on the Nasdaq 100. Today, IBM will announce its financial results for Q2 2021. The market expects EPS of 2.32 and analysts have forecasted an operating income of USD$18.29 billion. At the moment the Nasdaq 100 index is down 0.21% and is trading at 14,642.25.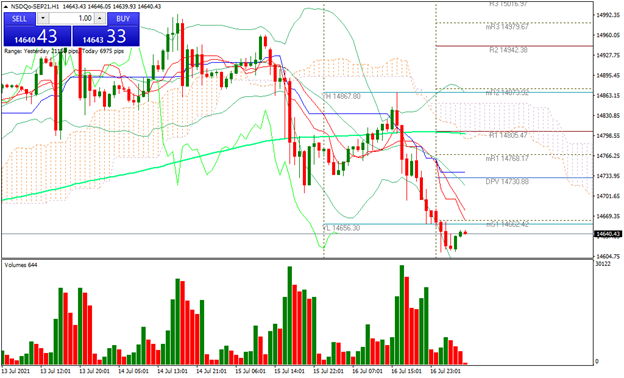 Support 1: 14,638.80
Support 2: 14,630.91
Support 3: 14,626.56
Resistance 1: 14,651.04
Resistance 2: 14,655.45
Resistance 3: 14,663.28
Pivot Point: 14,643.21
Price is just below support 1. Possible correction towards the pivot point level at 14,643, where a change of trend could occur. Trading range between 14,651 and 14,663. Pivot point at 14,643. RSI leaving the oversold zone.
---
SILVER -0.81%
Despite the highest level of inflation in the United States since 2008, silver, considered a safe-haven asset, has failed to rebound. The price is currently down 0.81% and is trading at USD$25.58. During this week, traders will be paying close attention to the Fed and ECB monetary policy announcements. Also, on the increase of Delta variant cases, which can generate interesting volatility and commodities rally.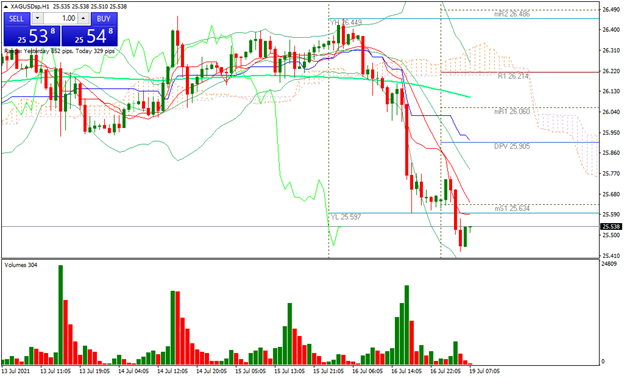 Support 1: 25.51
Support 2: 25.43
Support 3: 25.40
Resistance 1: 25.62
Resistance 2: 25.65
Resistance 3: 25.73
Pivot Point: 25.54
Expected trading range between 25.40 and 25.73. Main support is at the level of 25.52. RSI in oversold zone. Possible level for longs above this level. Bulls are looking for 26.21.
---
EUROSTOXX 50 -0.66%
The market starts the week in negative territory in Europe. The Eurostoxx 50 is currently down 0.66% and is trading at 3,992. Traders in Europe are aware of the corporate results in the United States, which may create a new rally or a correction in equities markets. At the moment the market is waiting for Wall Street to set the next trend. Analysts are also keeping a close eye on EU inflation level and the ECB's stance on it.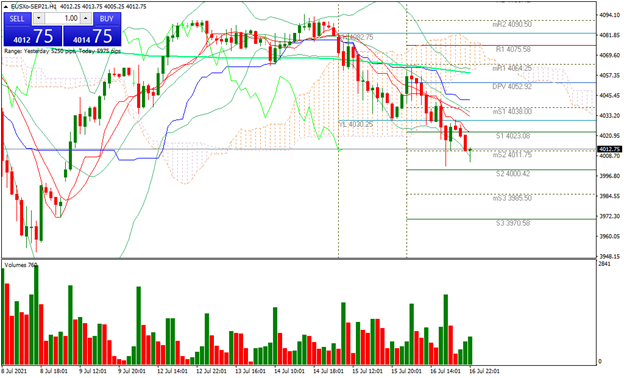 Support 1: 3,996
Support 2: 3,993
Support 3: 3,992
Resistance 1: 4,000
Resistance 2: 4,001
Resistance 3: 4,004
Pivot Point: 3,997
Price is at support 2. Expected trading range between 3,992 and 4,004. Pivot point at 3,997. RSI in oversold zone. Possible recovery above 4,000 points. Bulls are looking to regain the zone, while bears are targeting 3,800.
---
Sources
Reuters
Market watch
Bloomberg
Capitalix Market Research
Risk Disclaimer
Any information/articles/materials/content provided by Capitalix or displayed on its website is intended to be used for educational purposes only and does not constitute investment advice or a consultation on how the client should trade.
Although Capitalix has ensured that the content of such information is accurate, it is not responsible for any omission/error/miscalculation and cannot guarantee the accuracy of any material or any information contained herein.
Therefore, any reliance you place on such material is strictly at your own risk. Please note that the responsibility for using or relying on such material rests with the client and Capitalix accepts no liability for any loss or damage, including without limitation, any loss of profit which may arise directly or indirectly from the use of or reliance on such information.
Risk Warning: Forex/CFDs trading involves significant risk to your invested capital. Please read and make sure that you fully understand our Risk Disclosure Policy.
You should ensure that, depending on your country of residence, you are allowed to trade Capitalix.com products. Please ensure that you are familiar with the company's risk disclosure.
Want to read more?
Login and enjoy all Daily Analysis articles