Daily Review for January 28, 2021
January 28, 2021, 11:18
Markets remain in red and the VIX index is starting to gain strength. It is currently at 1.26%
FED impacted the market with the announcement of the deterioration of the US economy
FTSE 100 awaits US corporate results
The Dow Jones fell 600 points and traders are looking for a possible rebound today
For the moment, Gold and Bitcoin have not entered as safe haven assets at investors' portfolios
---
FTSE 100 -0.92%
Global market witnessed a sharp fall in all stock exchanges due to the lack of clarity on the covid-19 vaccines. The index is currently down 0.92% and is trading at 6,466.75. The market also fell due to the Fed's warning that the US economy will enter a period of deterioration in the coming months. This affects the FTSE, as most of its companies do business in the US.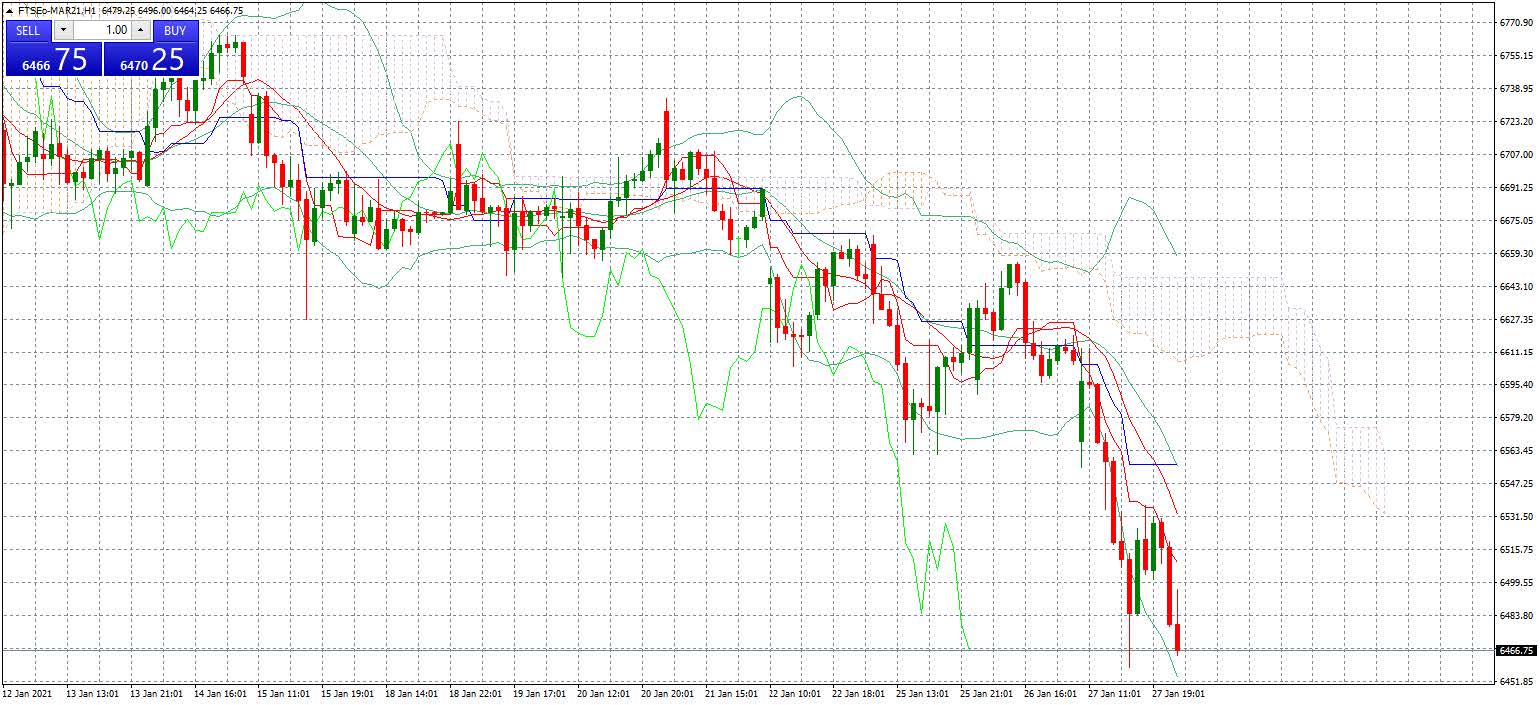 Support 1: 6,447.1
Support 2: 6,438.6
Support 3: 6,428.4
Resistance 1: 6,465.8
Resistance 2: 6,476.0
Resistance 3: 6,484.5
Pivot Point: 6,457.3
Bearish trend. The index is trading at the 6,466 support. Price is below the 25 and 15-day moving averages. RSI is in the oversold zone. The next target for the Bears is 6,437. Pivot point at 6,457.
---
DOW JONES -0.10%
Yesterday, the Dow Jones fell 600 points following the Fed's announcement. The index is currently trading at 30,185. Fear and Greed ratio has moved into the fear zone of 40 over 100. The FED kept the interest rate unchanged. However, it warned about the US economy. The Dow Jones also fell on fears of a bubble. For example, during the last five trading sessions, Gamestop stock has risen 635%, valuing the company at USD$24 Billion.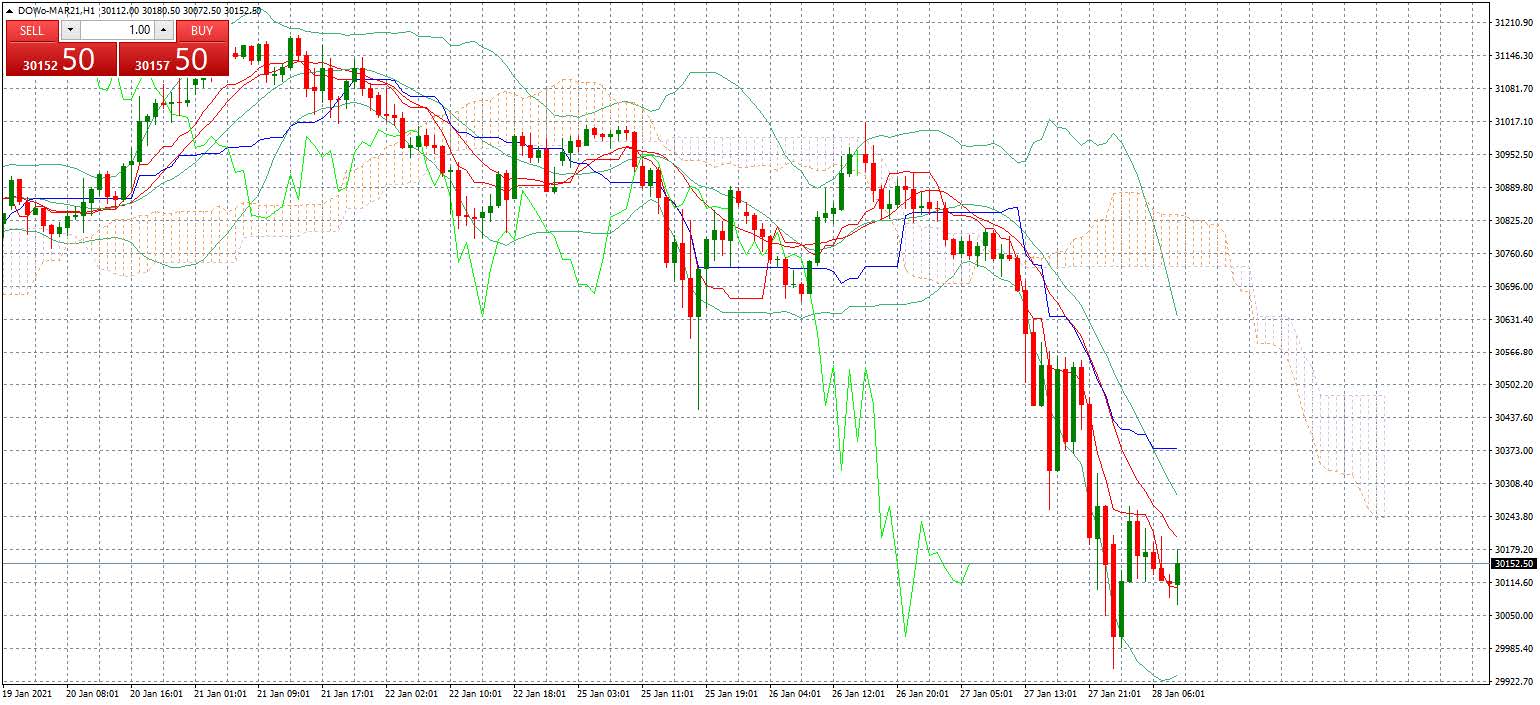 Support 1: 30,100
Support 2: 30,068
Support 3: 30,048
Resistance 1: 30,152
Resistance 2: 30,172
Resistance 3: 30,204
Pivot Point: 30,120
The upward trend of the index has slowed down. Despite the fall, the index has managed to hold above the support of 30,000 points. Bears are targeting a break of that support. Expected trading range between 30,048 and 30,204. Pivot point at 30,120.
---
GBPUSD -0.18%
Following the Fed's decision to leave interest rate unchanged, the currency fell 0.65% and is currently down 0.18% from yesterday's close. The currency is currently trading at 1.3663. The FED also announced that they will maintain their QE program with an actual value of USD$120 Billion per month. Today the US GDP data for Q4 2020 is going to be announced. Market analysts estimate a 4% growth.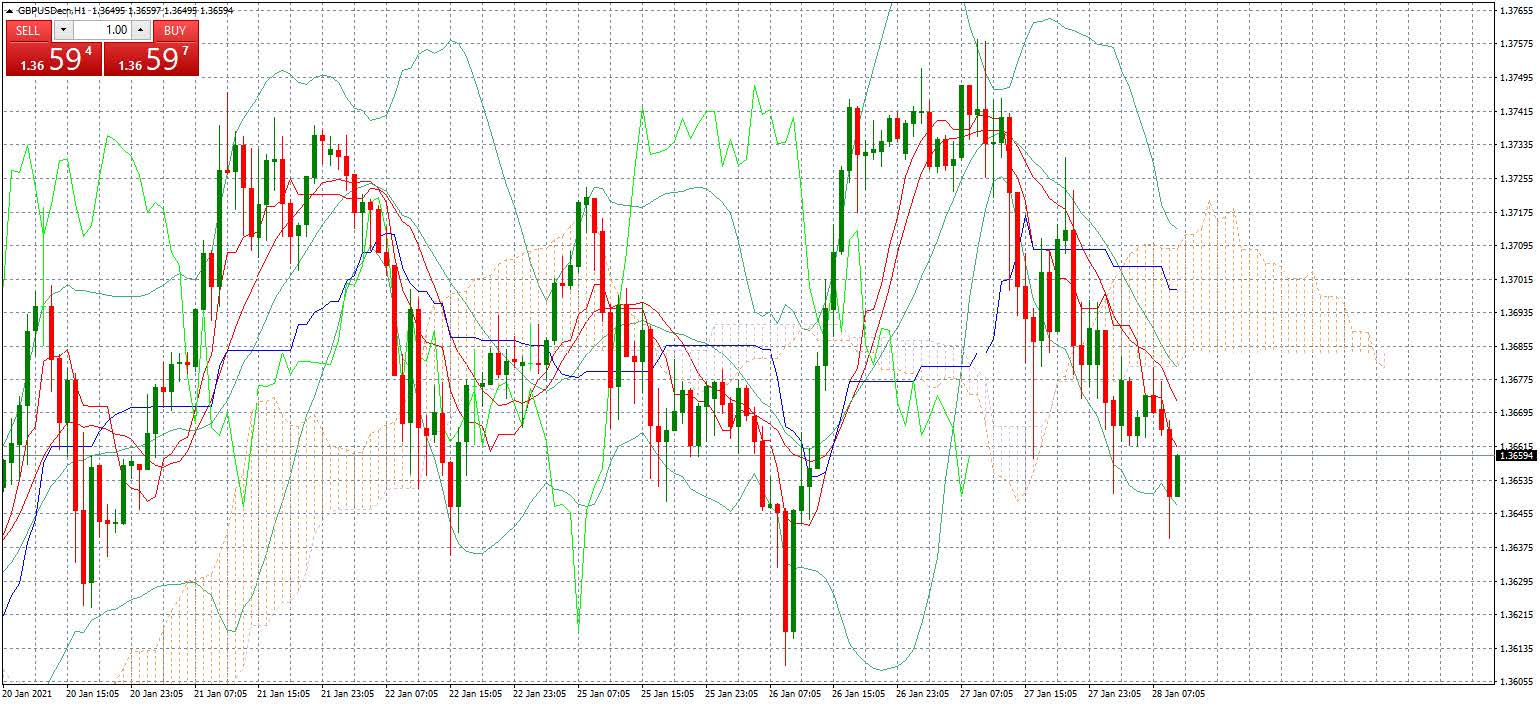 Support 1: 1.3639
Support 2: 1.3621
Support 3: 1.3602
Resistance 1: 1.3676
Resistance 2: 1.3695
Resistance 3: 1.3713
Pivot Point: 1.3658
The currency formed a double roof. The price is below the short and medium-term moving average. Bulls maintain the target at 1.3747. Pivot point at 1.3658. Expected trading range between 1.3602 and 1.3713.
---
XAUUSD -0.36%
At the moment the price of gold is down 0.36% and is trading at USD$1,839.77. Gold didn't follow the stock market. The market showed yesterday that investors preferred to sell equities in their portfolios instead of hedging positions with gold. Today, if the market does not rebound, we could see long positions in the metal.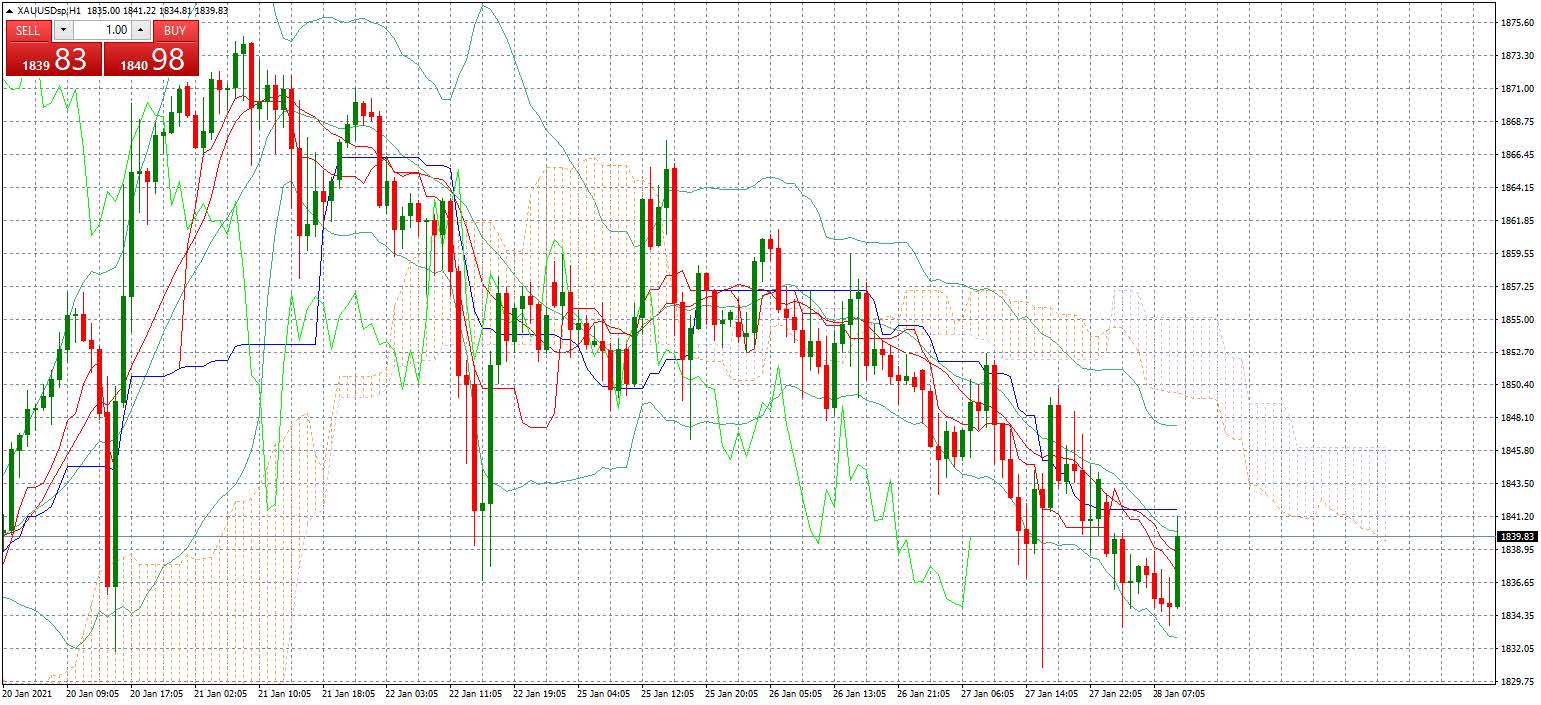 Support 1: 1,832
Support 2: 1,830,50
Support 3: 1,829,10
Resistance 1: 1,834,90
Resistance 2: 1,836,30
Resistance 3: 1,837,80
Pivot Point: 1,833,40
Gold broke the 1,850 support. The bear's new target is 1,800. In the meantime Bulls start to take long positions, anticipating more volatility in the market. Pivot point for change in trend at 1,833.
---
Sources
Reuters
Market watch
Bloomberg
Capitalix Market Research
Risk Disclaimer
Any information/articles/materials/content provided by Capitalix or displayed on its website is intended to be used for educational purposes only and does not constitute investment advice or a consultation on how the client should trade.
Although Capitalix has ensured that the content of such information is accurate, it is not responsible for any omission/error/miscalculation and cannot guarantee the accuracy of any material or any information contained herein.
Therefore, any reliance you place on such material is strictly at your own risk. Please note that the responsibility for using or relying on such material rests with the client and Capitalix accepts no liability for any loss or damage, including without limitation, any loss of profit which may arise directly or indirectly from the use of or reliance on such information.
Risk Warning: Forex/CFDs trading involves significant risk to your invested capital. Please read and make sure that you fully understand our Risk Disclosure Policy.
You should ensure that, depending on your country of residence, you are allowed to trade Capitalix.com products. Please ensure that you are familiar with the company's risk disclosure.
Want to read more?
Login and enjoy all Daily Analysis articles