Daily Review for January 27, 2021
January 27, 2021, 13:37
EURUSD remains in uptrend and is awaiting today's FED meeting
Metal traders managed to keep gold above the support of USD$1,850 per troy ounce, and expect volatility derived from FED announcements
Crude oil recovers its upward trend and is on its way to reach USD$54 per barrel
Traders anticipate financial results from Apple, Facebook and Tesla. The Nasdaq is in an uptrend
---
EURUSD -0.03%
Traders are awaiting for today's Fed meeting. Meanwhile the EURUSD is down 0.03% and is trading at 1.2158. The FED is going to announce the interest rate. Economists believe that the rate will remain unchanged. Expected interest rate range is between 0% and 0.25%. Analysts expect the FED to maintain its QE strategy.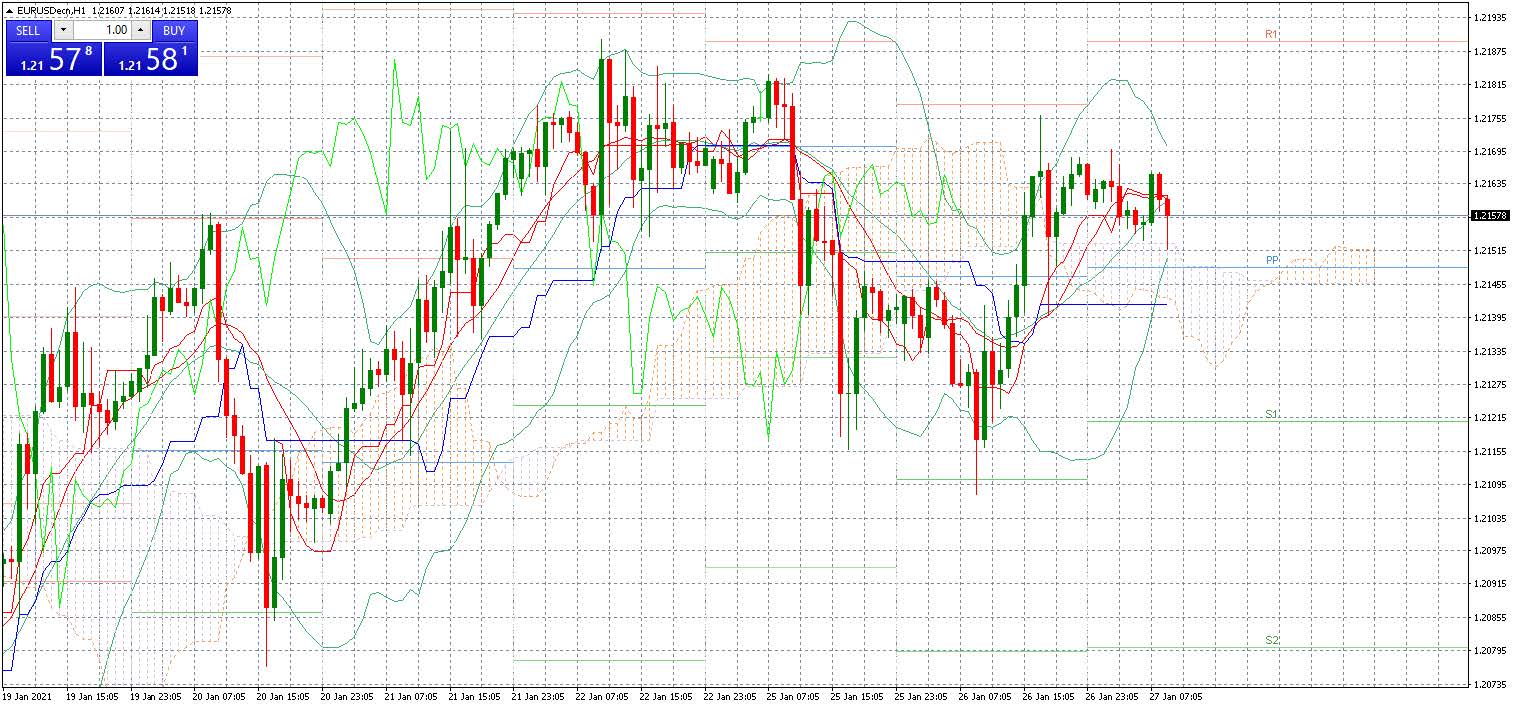 Support 1: 1.2157
Support 2: 1.2154
Support 3: 1.2149
Resistance 1: 1.2166
Resistance 2: 1.2170
Resistance 3: 1.2174
Pivot Point: 1.2162
Since it reached the support of 1.2058, the currency started an upward channel. The price is above the 25-day moving average. Bears are waiting for the Fed's impact on the currency. They keep their target at 1.2100. Meanwhile, the Bulls are looking at 1.2200. Pivot point at 1.2162.
---
XAUUSD -0.11%
Gold is currently trading at USD$1,850.20 per troy ounce, slightly above the USD$1,850 support. The USD rally has kept gold above the current level. Slight declines witnessed yesterday show that the metal is awaiting market volatility that may be generated from todays FED meeting. On the other hand, as Treasury yields decline, investors' appetite for fixed income is shifting to equities. Traders are also watching the US durable goods sales data, which is a leading indicator of the economy's performance.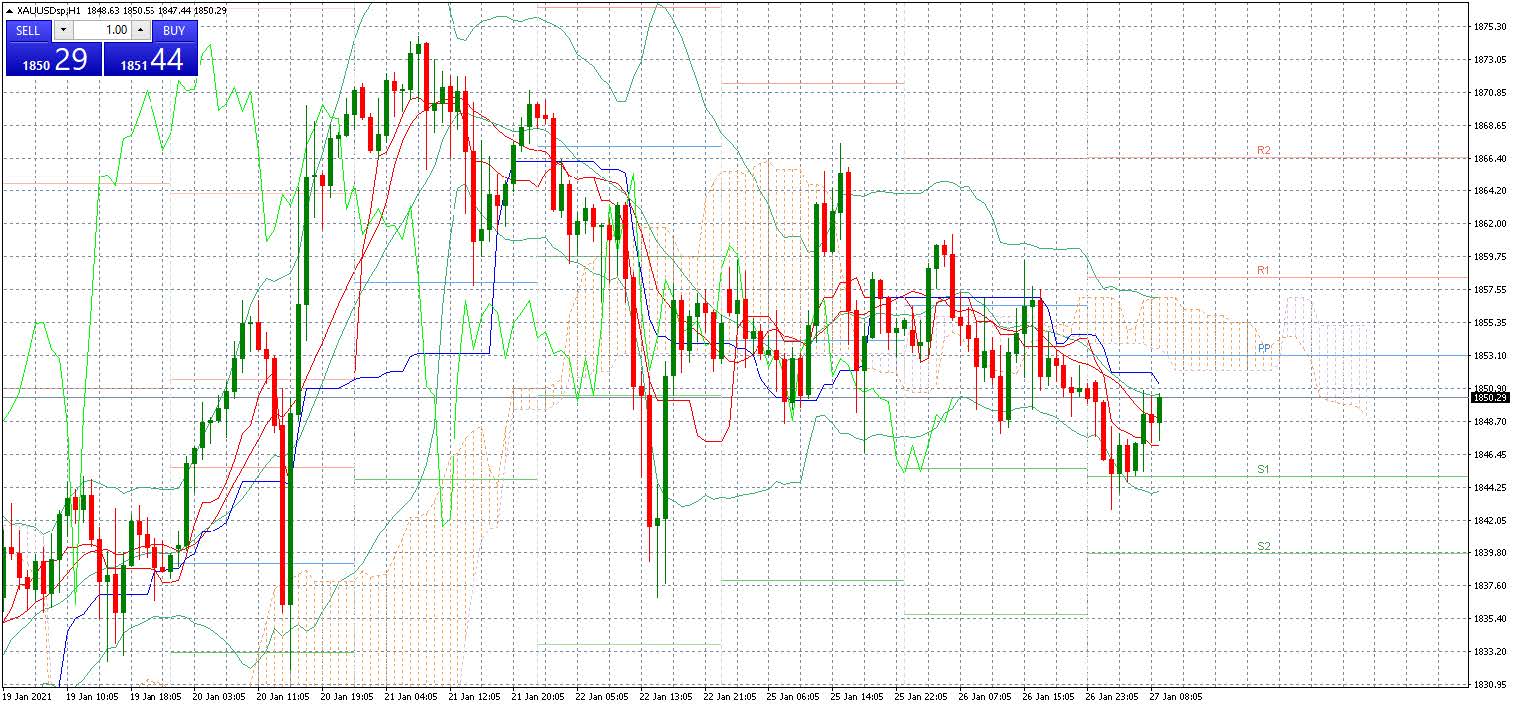 Support 1: 1,845.76
Support 2: 1,844.43
Support 3: 1,842.51
Resistance 1: 1,849.01
Resistance 2: 1,850.93
Resistance 3: 1,852.26
Pivot Point: 1,847.68
Expected trading range between 1,842.51 and 1,852.26 with pivot point for change in trend at 1,847.68. Ichimoku cloud projects price towards 1,855. The Bulls continue to defend the 1,850 support.
---
CRUDE OIL +0.72%
Crude oil price is currently up 0.72% and remains in an uptrend as a result of the decrease in US inventories. API reported yesterday a decrease of 5.3 million barrels in the US. The reduction was due to a greater transformation of crude oil into gasoline and distillates, which is evidence of a rise in market demand. Traders are keeping an eye on the crude balance sheet.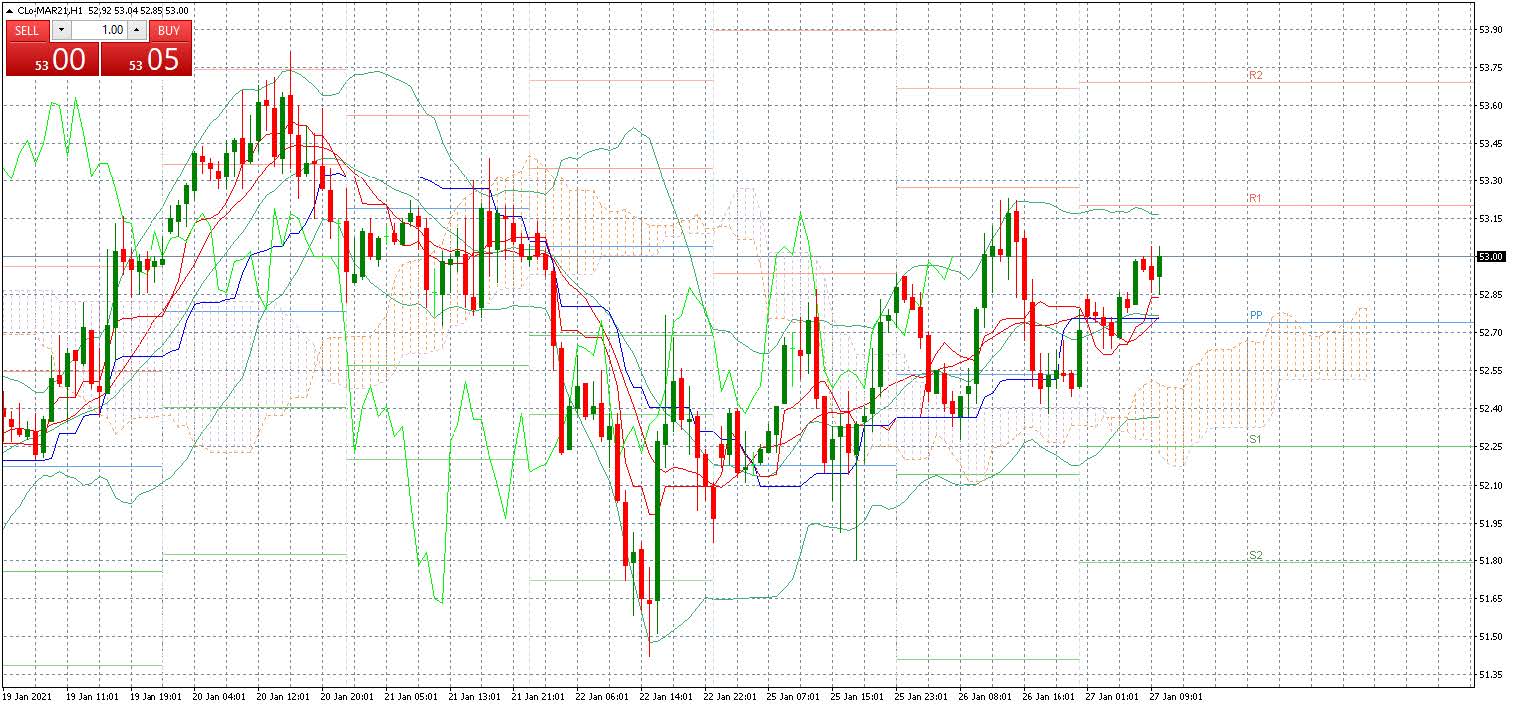 Support 1: 52.91
Support 2: 52.86
Support 3: 52.79
Resistance 1: 53.03
Resistance 2: 53.10
Resistance 3: 53.15
Pivot Point: 52.98
Expected trading range between 52.79 and 53.15. Pivot point for change in trend at 52.98. With news regarding the decrease in supply and increase in demand, we could see a price increase above the resistance of USD$53.75, even reaching the price of USD$55 per barrel.
---
NASDAQ 100 +0.36%
The index that groups the 100 largest local and international non-financial companies by market capitalization listed on the Nasdaq Stock Exchange, is currently up 0.36%, in anticipation of the possible good results of companies such as Apple, Tesla and Facebook that will present their Q4 2020 financial results today. The companies that compose Nasdaq have been favored by the restrictions and lockdowns caused by the pandemic.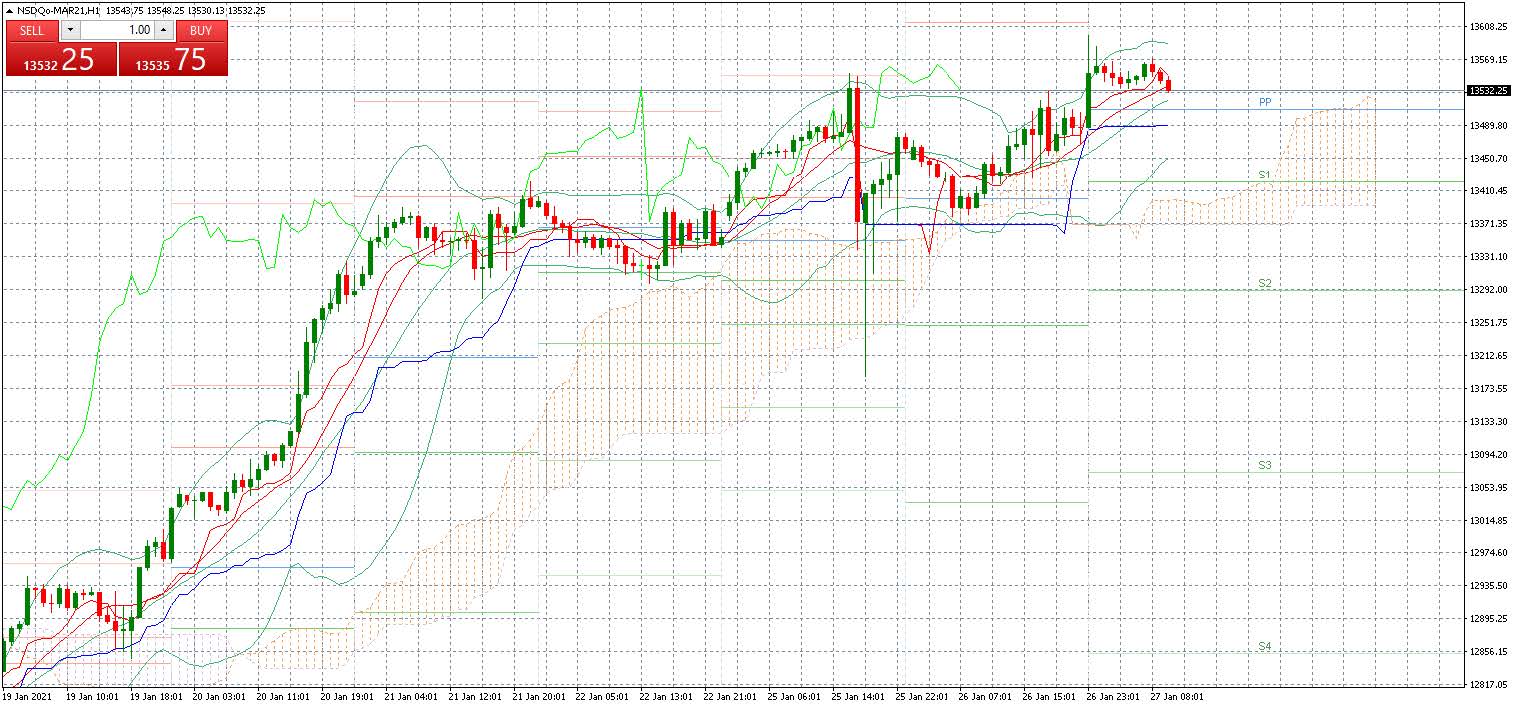 Support 1: 13,548.30
Support 2: 13,543.59
Support 3: 13,538.93
Resistance 1: 13,557.67
Resistance 2: 13,562.33
Resistance 3: 13,567.04
Pivot Point: 13,552.96
Upward trend. The index continues in the upward channel. Price is above the 20-day moving average. RSI is entering overbought level. Main resistance at 13,860 at the level of 161% Fibonacci extension. Main support at 13,360 at the 127% Fibonacci extension level. Pivot point at 13,552.
---
Sources
Reuters
Market watch
Bloomberg
Capitalix Market Research
Risk Disclaimer
Any information/articles/materials/content provided by Capitalix or displayed on its website is intended to be used for educational purposes only and does not constitute investment advice or a consultation on how the client should trade.
Although Capitalix has ensured that the content of such information is accurate, it is not responsible for any omission/error/miscalculation and cannot guarantee the accuracy of any material or any information contained herein.
Therefore, any reliance you place on such material is strictly at your own risk. Please note that the responsibility for using or relying on such material rests with the client and Capitalix accepts no liability for any loss or damage, including without limitation, any loss of profit which may arise directly or indirectly from the use of or reliance on such information.
Risk Warning: Forex/CFDs trading involves significant risk to your invested capital. Please read and make sure that you fully understand our Risk Disclosure Policy.
You should ensure that, depending on your country of residence, you are allowed to trade Capitalix.com products. Please ensure that you are familiar with the company's risk disclosure.
Want to read more?
Login and enjoy all Daily Analysis articles