Daily Review for January 26, 2021
January 26, 2021, 11:10
The market awaits the performance of US companies, mainly technology companies
Cases of coronavirus in Europe cause EURUSD correction
In the UK, traders analyze positions in Shell. The company's business plan is moving towards a more sustainable environment
GBPUSD awaits UK employment data
---
S&P 500 -0.59%
The index continues to correct. It is currently falling 0.59% and is trading at 3,825. The Bulls are holding the index above the 3,500 support level. Technology companies recovered the market yesterday, due to traders' long positions on major companies reporting results such as Apple, Microsoft, Tesla, Facebook, among others. The market is also awaiting this week's Fed meeting and virtual Davos.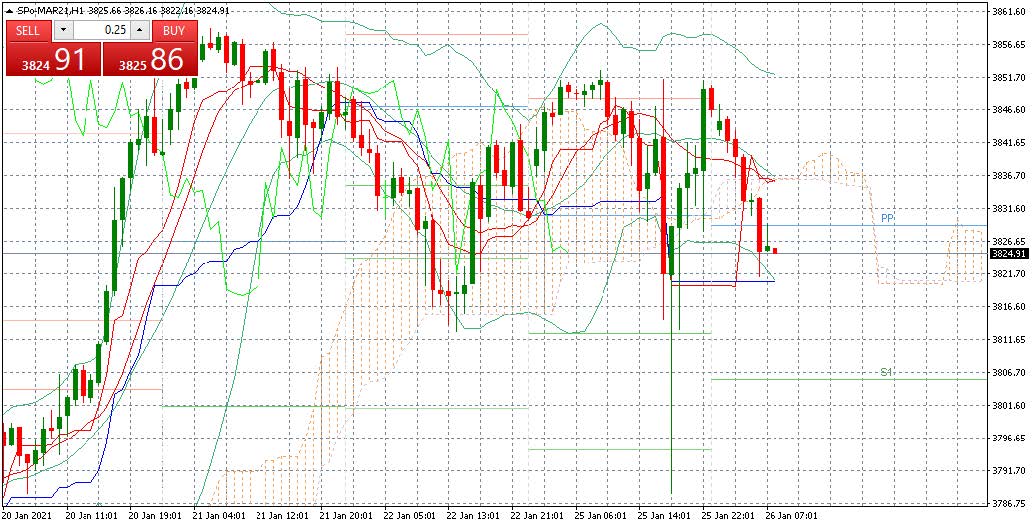 Support 1: 3,824.12
Support 2: 3,821.87
Support 3: 3,819.12
Resistance 1: 3,829.12
Resistance 2: 3,831.87
Resistance 3: 3,834.12
Pivot Point: 3,826.87
Bulls are holding the price above 3,500 and targeting 4,000. If this target is achieved, the next resistance is the 161.8% Fibonacci level at 4,006. Main resistance for this advance is the current level of 3,800. Major support at 3,765. Pivot Point in 3,826.
---
EURUSD -0.15%
Yesterday the currency had an interesting rally. It is currently trading at 1.2127 and is down 0.15% from yesterday's close. The currency is waiting for the FED interest rate decision to present a trend. Analysts expect the interest rate will remain unchanged and the FED will maintain the current monetary policy strategy. On the other hand, the increase of coronavirus cases in Europe is affecting the currency.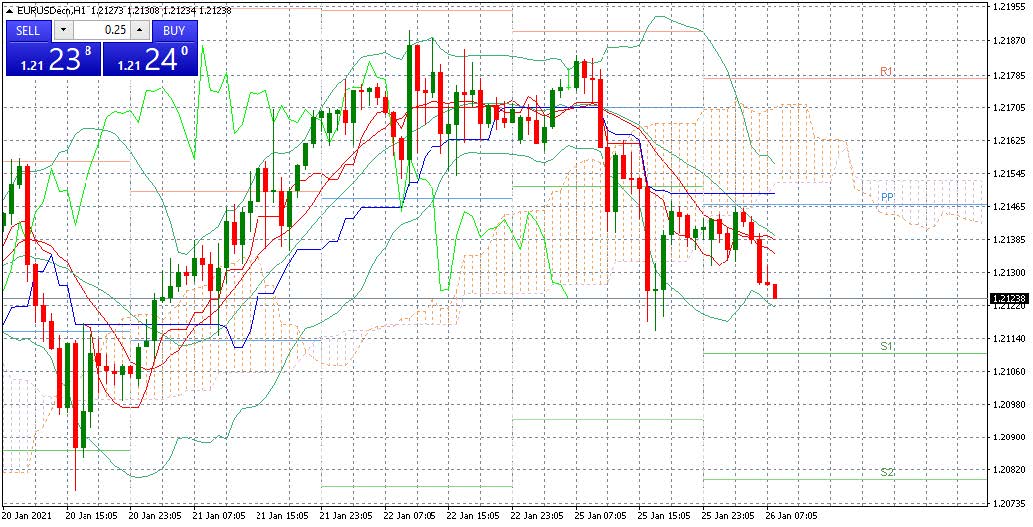 Support 1: 1.2110
Support 2: 1.2079
Support 3: 1.2010
Resistance 1: 1.2178
Resistance 2: 1.2213
Resistance 3: 1.2281
Pivot Point: 1.2146
The currency is forming a shoulder head shoulder pattern with a rising channel. However, bears are pointing to 1.2050 support. Expected trading range between 1.2010 and 1.2281. Pivot point at 1.2146.
---
FTSE 100 -0.10%
The FTSE 100 is currently trading at 6,632 and is down 0.10% from yesterday's close. Traders are watching Shell's acquisition of Ubitricity, the UK's largest charging station company. Traders are also analyzing today's results from General Electric and J&J.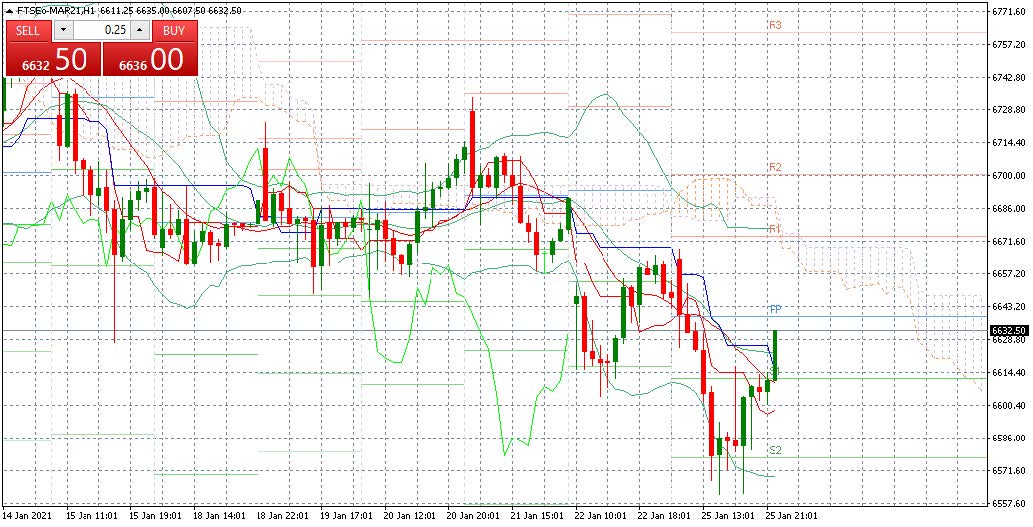 Support 1: 6,590.5
Support 2: 6,586.2
Support 3: 6,581.2
Resistance 1: 6,599.8
Resistance 2: 6,604.8
Resistance 3: 6,609.1
Pivot Point: 6,595.5
The index formed a downward channel and is above the 23.6% Fibonacci level. The price is also below the 25-day and 50-day moving averages. The RSI is falling. The bears are pointing to the 6,610 support.
---
GBPUSD -0.30%
At the moment the Sterling Pound against the USD is down 0.30% and is awaiting the UK unemployment data. Market analysts expect the unemployment rate to rise from 4.9% to 5.1%. Traders are watching US interest rates, which may affect the appreciation or depreciation of the USD.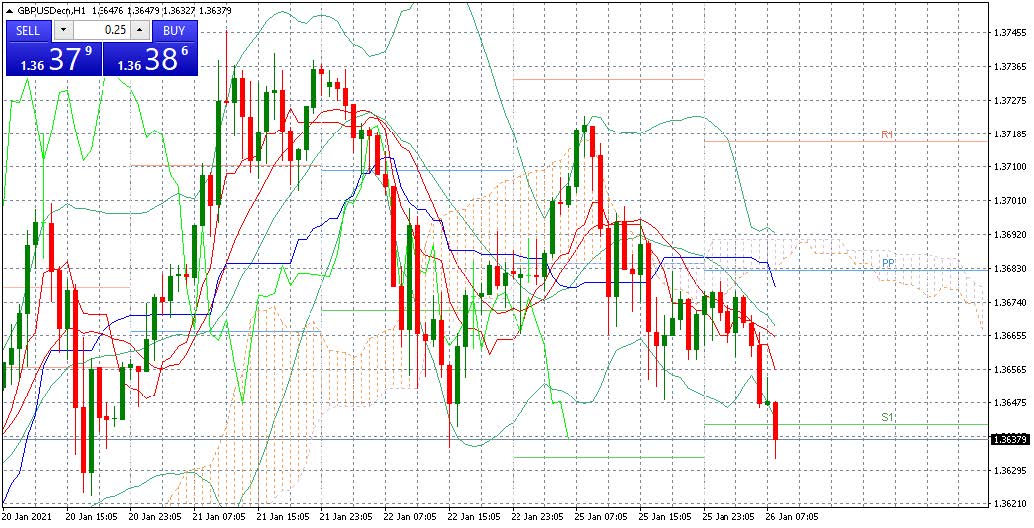 Support 1: 1.3641
Support 2: 1.3607
Support 3: 1.3531
Resistance 1: 1.3716
Resistance 2: 1.3757
Resistance 3: 1.3833
Pivot Point: 1.3681
Trading range is getting tighter, indicating that the currency is entering a period of increased volatility. The price is below the 25-day and 15-day moving averages. If the UK employment data is favorable, the currency could rise. If they are not favorable, the BOE is likely to move the interest rate, which would depreciate the currency.
---
Sources
Reuters
Market watch
Bloomberg
Capitalix Market Research
Risk Disclaimer
Any information/articles/materials/content provided by Capitalix or displayed on its website is intended to be used for educational purposes only and does not constitute investment advice or a consultation on how the client should trade.
Although Capitalix has ensured that the content of such information is accurate, it is not responsible for any omission/error/miscalculation and cannot guarantee the accuracy of any material or any information contained herein.
Therefore, any reliance you place on such material is strictly at your own risk. Please note that the responsibility for using or relying on such material rests with the client and Capitalix accepts no liability for any loss or damage, including without limitation, any loss of profit which may arise directly or indirectly from the use of or reliance on such information.
Risk Warning: Forex/CFDs trading involves significant risk to your invested capital. Please read and make sure that you fully understand our Risk Disclosure Policy.
You should ensure that, depending on your country of residence, you are allowed to trade Capitalix.com products. Please ensure that you are familiar with the company's risk disclosure.
Want to read more?
Login and enjoy all Daily Analysis articles