Daily Review for January 25, 2021
January 25, 2021, 9:47
FTSE companies will pay close attention to the results of US companies. Also to the UK unemployment data
GBPUSD remains in uptrend and is aware of this week's main economic events that may affect its trend. Traders aware at the FED, Davos and economic data on US interest rates, GDP in Germany, France and USA
Contagions continue to rise and the main fear of the market is the discovery of new strains of the coronavirus globally
Crude oil inventories increased, bringing the price back from the resistance of $53.85
---
FTSE 100 +0.29%
The index is currently up 0.29% and is trading at 6,647. Investors are aware of Q4 2020 financial results of companies listed on the US stock exchanges. Traders remain optimistic about the US economic stimulus package, which could begin to be implemented this week or next week. Many FTSE companies do business in the U.S., so the results of U.S. companies may generate volatility for U.K. companies.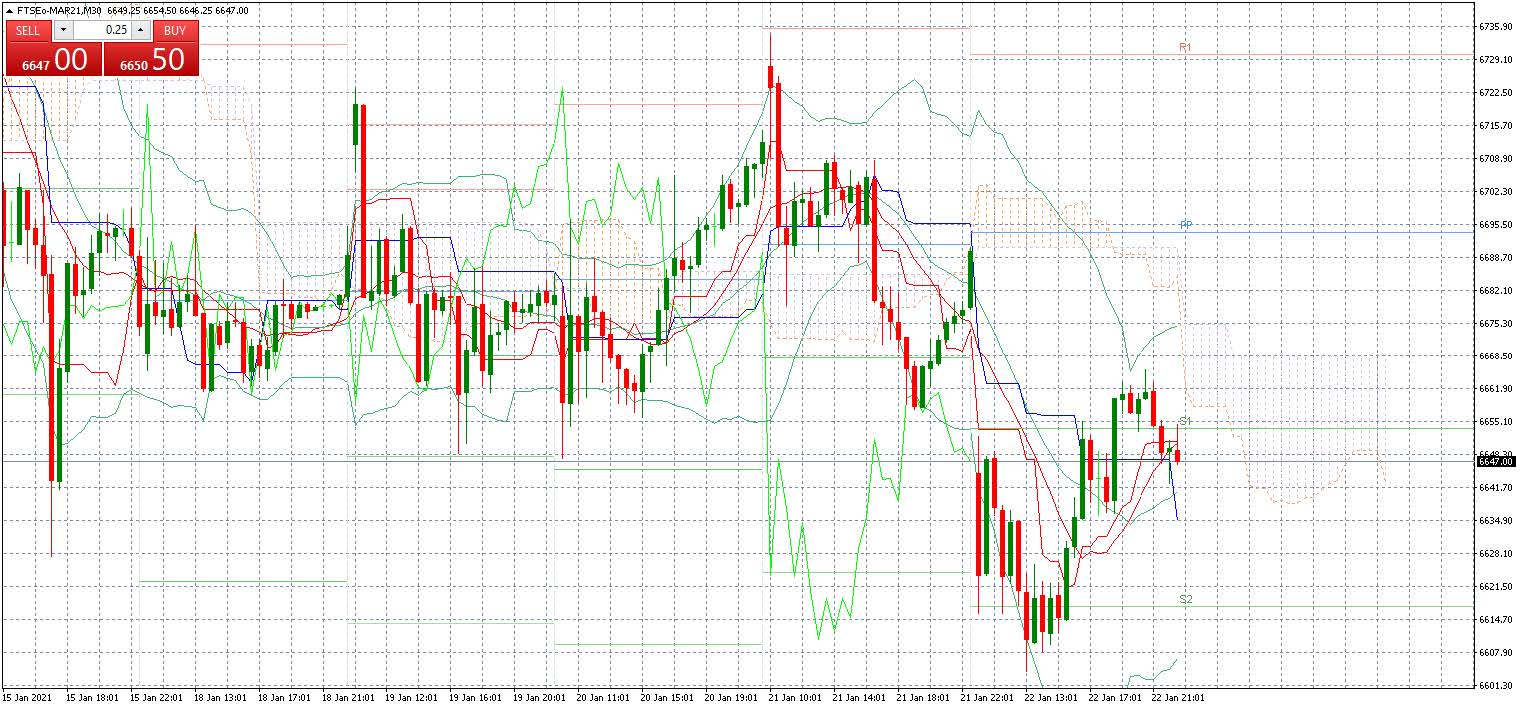 Support 1: 6,665.0
Support 2: 6,659.4
Support 3: 6,655.8
Resistance 1: 6,674.2
Resistance 2: 6,677.8
Resistance 3: 6,683.4
Pivot Point: 6,668.6
The index is forming a downward channel. Price is at the 25-day moving average and above the 23.6% Fibonacci retracement level. Main support at 6,655 and main resistance at 6,780. Pivot point at 6,668.

---
GBPUSD +0.26%
British Pound against the USD continues its bullish trend. It is currently up 0.26% and is trading at 1.3718. This week's UK unemployment data and the Fed's interest rate decision are crucial for the currency to maintain its upward trend. Tomorrow, the ONS (Office of National Statistics) will report unemployment data and on Wednesday the FED will state its monetary policy plan.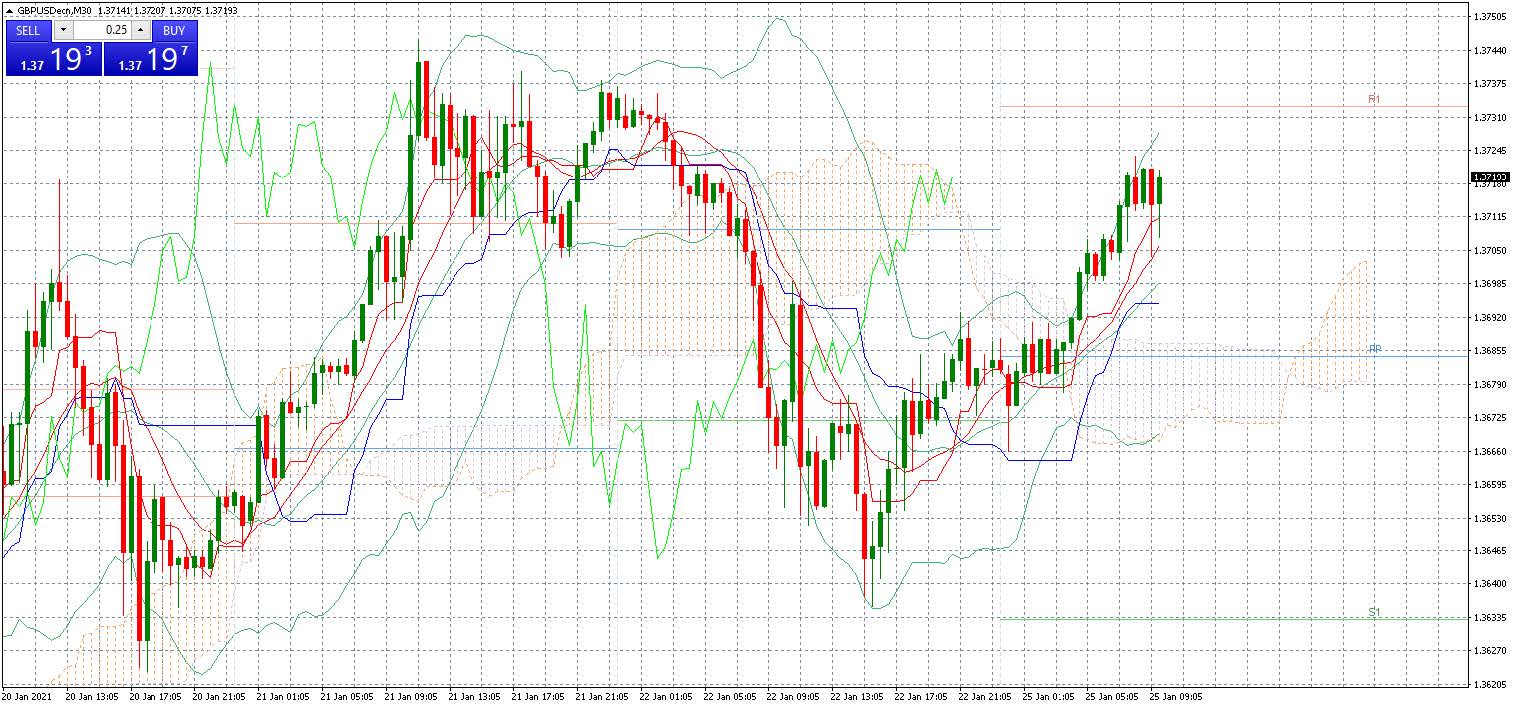 Support 1: 1.3703
Support 2: 1.3695
Support 3: 1.3685
Resistance 1: 1.3720
Resistance 2: 1.3729
Resistance 3: 1.3738
Pivot Point: 1.3712
The price is above the 25-day moving average. It continues to form a bullish pattern. Bulls keep the target at 1.3800. Expected trading range for today between 1.3703 and 1.3738. Pivot point at 1.3712.
---
DAX 30 +0.43%
In Europe, Covid-19 cases continue to rise and this week traders are keeping an eye on the FED, the start of DAVOS, Q4 2020 company results and GDP data from the US, France and Germany. Analysts know that the results of these three economies are an important thermometer to measure the global economic recovery. In the meantime, governments are analyzing new lockdowns, as fears of new strains keep the market on alert. Today the ECB will hold a press conference on the business climate in Europe.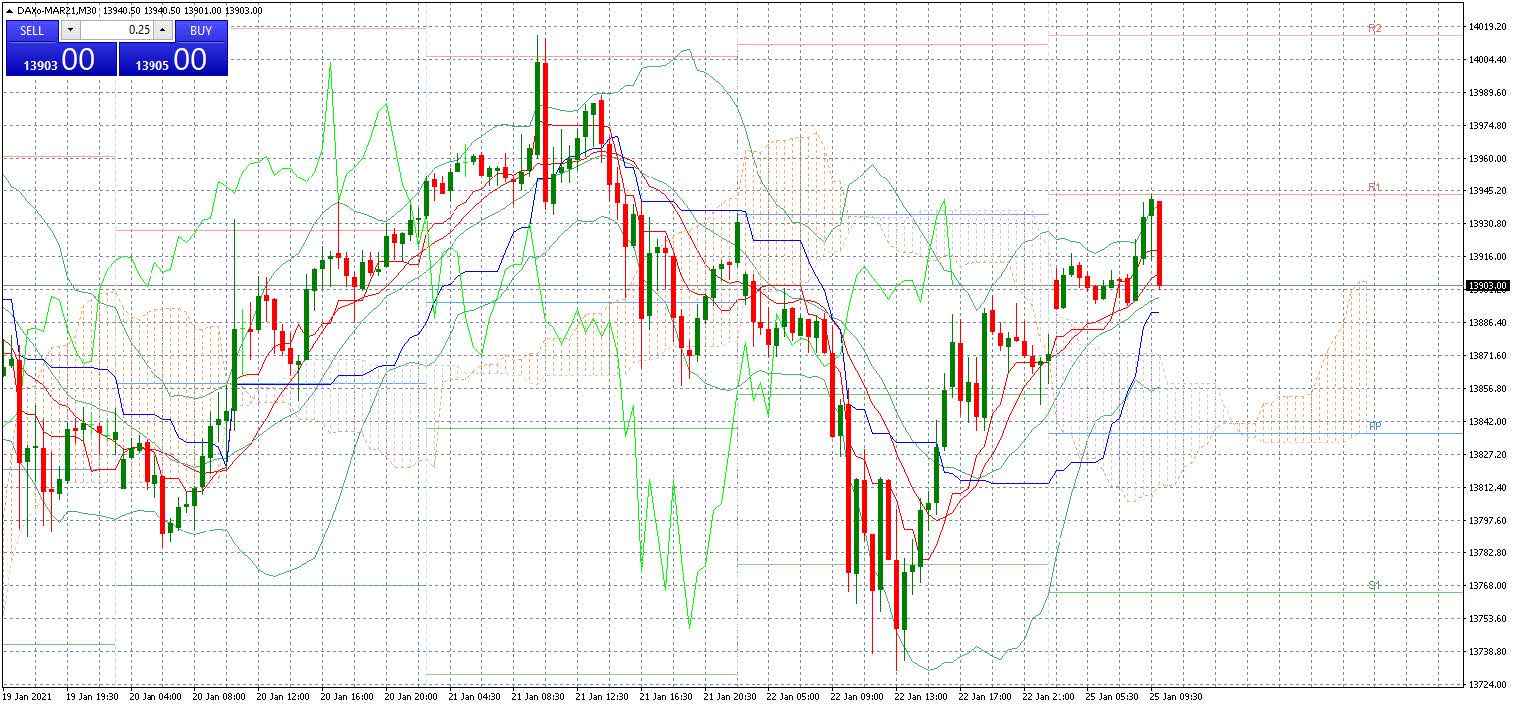 Support 1: 13,924.5
Support 2: 13,906.5
Support 3: 13,897.5
Resistance 1: 13,951.5
Resistance 2: 13,960.5
Resistance 3: 13,978.5
Pivot Point: 13,933.5
Expected trading range between 13,924 and 13,978. Pivot point for change in trend at 13,933. On Friday, the index reached the support at 13.738. After a day of important losses, the price recovered to the current level of 13.892.
---
CRUDE OIL +0.65%
Crude oil is currently up 0.65% and is trading at USD$52.56 per barrel. Last Friday, the EIA (Energy Information Administration) report showed that crude oil inventories increased by 4.3 million barrels in the US. The additional supply build-up was due to the shale oil wells coming back into production in the US. This supply build-up caused prices to fall to the support level of USD$51.50.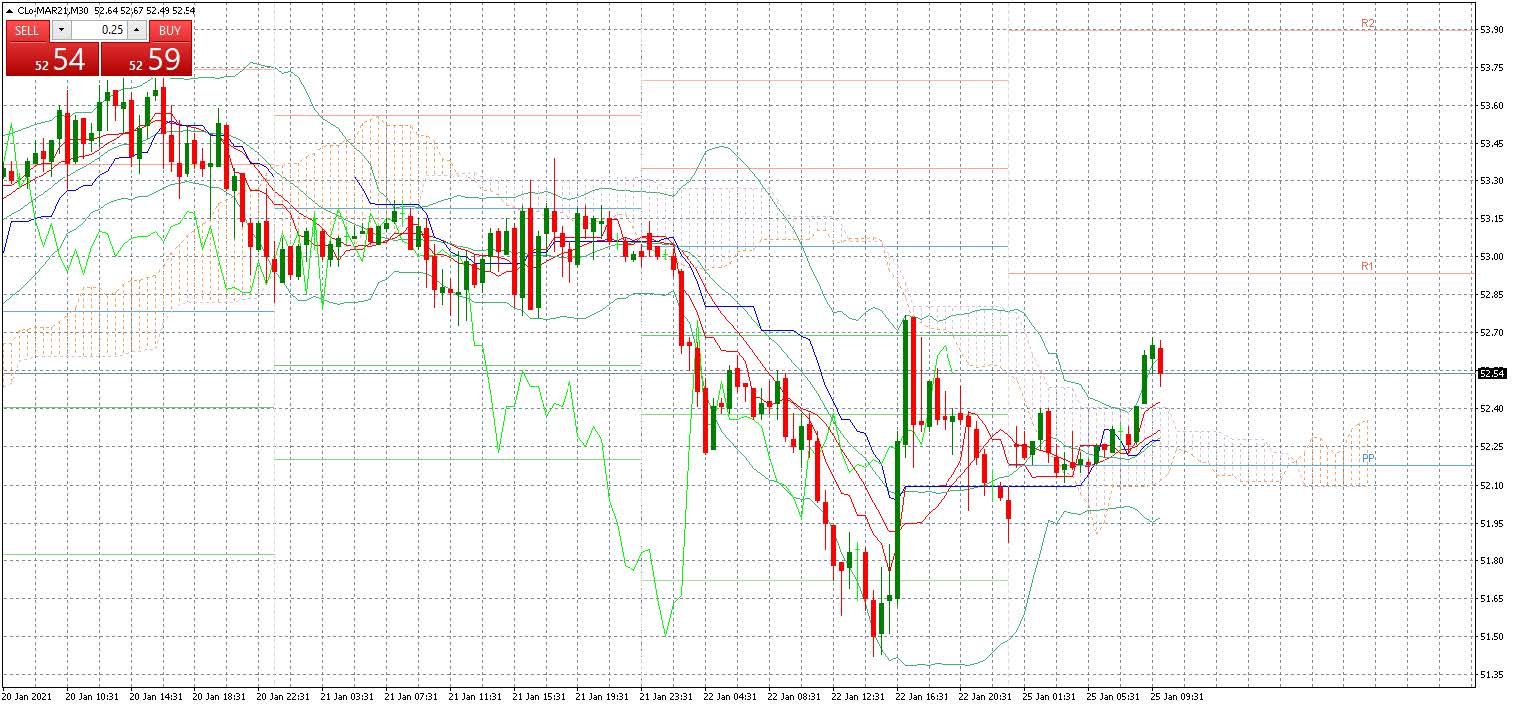 Support 1: 52.57
Support 2: 52.51
Support 3: 52.47
Resistance 1: 52.67
Resistance 2: 52.71
Resistance 3: 52.77
Pivot Point: 52.61
Price is forming a double roof. Support to measure is USD$ 49.52. Everything depends on this week's inventory liquidation. Pressure continues on the demand side. The more delayed the process of global vaccination, the more pressure for the oil market to recover, due to the slowdown of the industry.
---
Sources
Reuters
Market watch
Bloomberg
Capitalix Market Research
Risk Disclaimer
Any information/articles/materials/content provided by Capitalix or displayed on its website is intended to be used for educational purposes only and does not constitute investment advice or a consultation on how the client should trade.
Although Capitalix has ensured that the content of such information is accurate, it is not responsible for any omission/error/miscalculation and cannot guarantee the accuracy of any material or any information contained herein.
Therefore, any reliance you place on such material is strictly at your own risk. Please note that the responsibility for using or relying on such material rests with the client and Capitalix accepts no liability for any loss or damage, including without limitation, any loss of profit which may arise directly or indirectly from the use of or reliance on such information.
Risk Warning: Forex/CFDs trading involves significant risk to your invested capital. Please read and make sure that you fully understand our Risk Disclosure Policy.
You should ensure that, depending on your country of residence, you are allowed to trade Capitalix.com products. Please ensure that you are familiar with the company's risk disclosure.
Want to read more?
Login and enjoy all Daily Analysis articles